Delhi Public School, Gurugram hosts The New India Education Summit – Edition 2.0
The New India Education Summit – Edition 2.0 concludes in New Delhi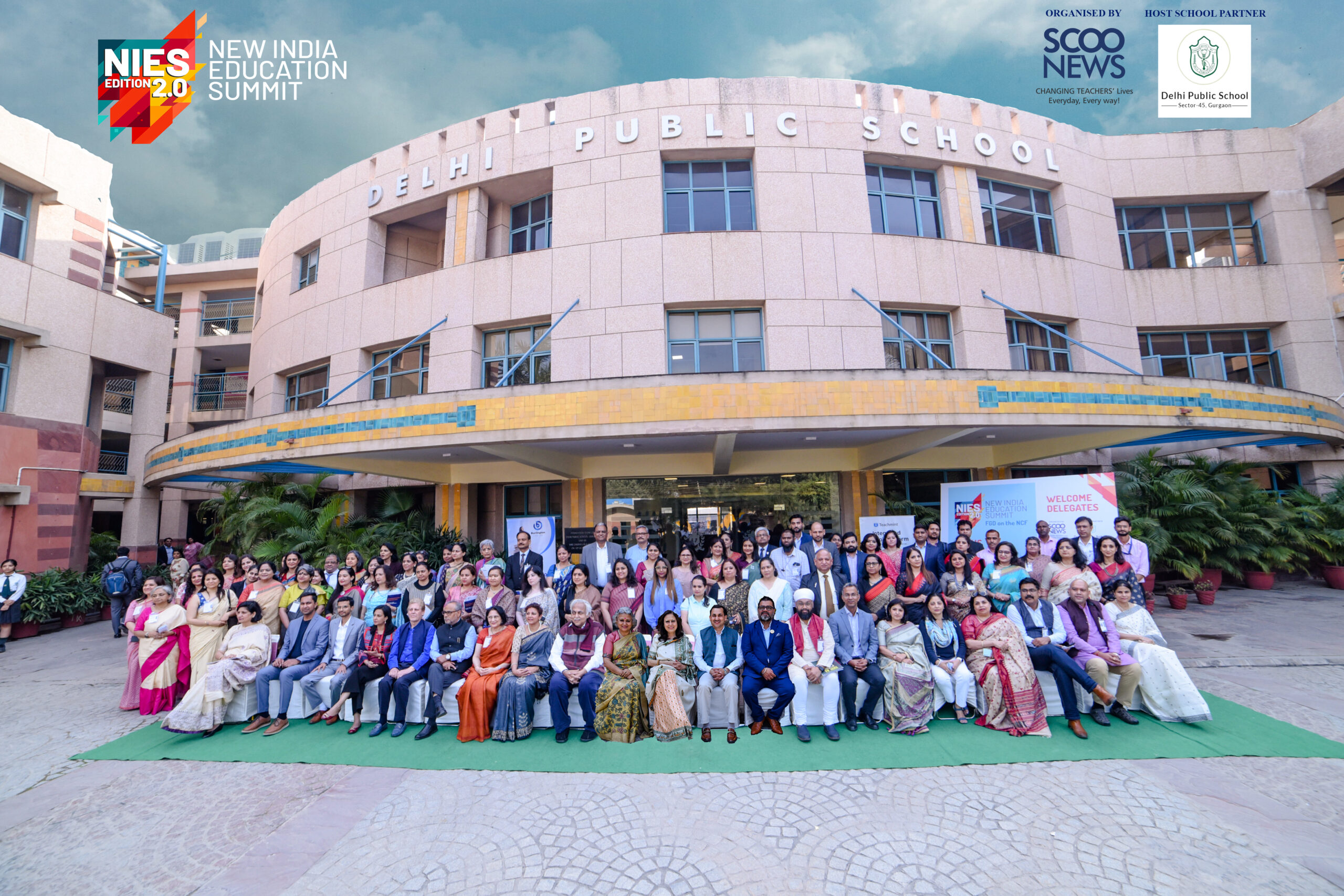 The New India Education Summit edition 2.0 was held on 25th February 2023 at Delhi Public School, Gurugram. To set a path towards a New India, NIES is focused on discussion, deliberation, and action. Over 150 educators from Delhi, Noida, Ghaziabad, Faridabad, Sonipat, Hisar, Jaipur and Hyderabad gathered to discuss the theme – 'Enabling New India's Aspirations with the NCF'.
After the morning coffee and registrations, educators gathered in the Plenary Hall. Aditi Misra, Director, DPS, Sec-45, Gurugram, delivered the welcome note. Ravi Santlani, CEO, ScooNews gave a brief introduction for the conference in his opening address. Context Setting was delivered by Dr. Arunabh Singh, Director, Nehru World School, Ghaziabad.
Mihir Gupta, Co-founder & CEO, Teachment delivered a presentation on Integrated School Platform. Dr. Ameeta Mulla Wattal, Chairperson, DLF Foundation Schools delivered the keynote address. Chief Guest Anurag Tripathi, Secretary, Central Board of Secondary Education (CBSE) greeted and addressed the educators.
Ratnesh Kumar Jha, MD & CEO, South East Asia, Burlington Group of Companies spoke about the Convergence of Design and Execution of NEP 2020 and NCF. He proceeded to introduce Anand Krishnaswamy, Innovator, Strategist & Educationist, Dr. Arunabh Singh, Director, NWS Ghaziabad, Anju Chazot & Pascal Chazot, Co-Founders, Mahatma Gandhi International School, Ahmedabad, the lead mentors for the focused discussion groups.
After a quick tea break, the school leaders were divided into groups in three separate breakout rooms for discussion. The first group was mentored by Anand Krishnaswamy on NCF-ECCE. The second breakout room was mentored by Dr. Arunabh Singh on the topic NCF-School Education. The third breakout room was mentored by Anju Chazot & Pascal Chazot on NCF-Teacher Education.
Post-lunch, the leaders assembled back to Plenary Hall where Anand Krishnaswamy talked about understanding and being equipped for various changes to the assessment system as initiated by NEP2020. Following this, each group shared findings on their respective topics led by their mentors. Dr. Arunabh Singh, chief mentor gave a brief summary of the NIES conference. Ravi Santlani and Aditi Misra delivered the thank you note. Educators gathered for a group photo and the evening concluded over tea and snacks.
GD Goenka's Shooting Championship 2023 to Honour the legacy of Abhinav Bindra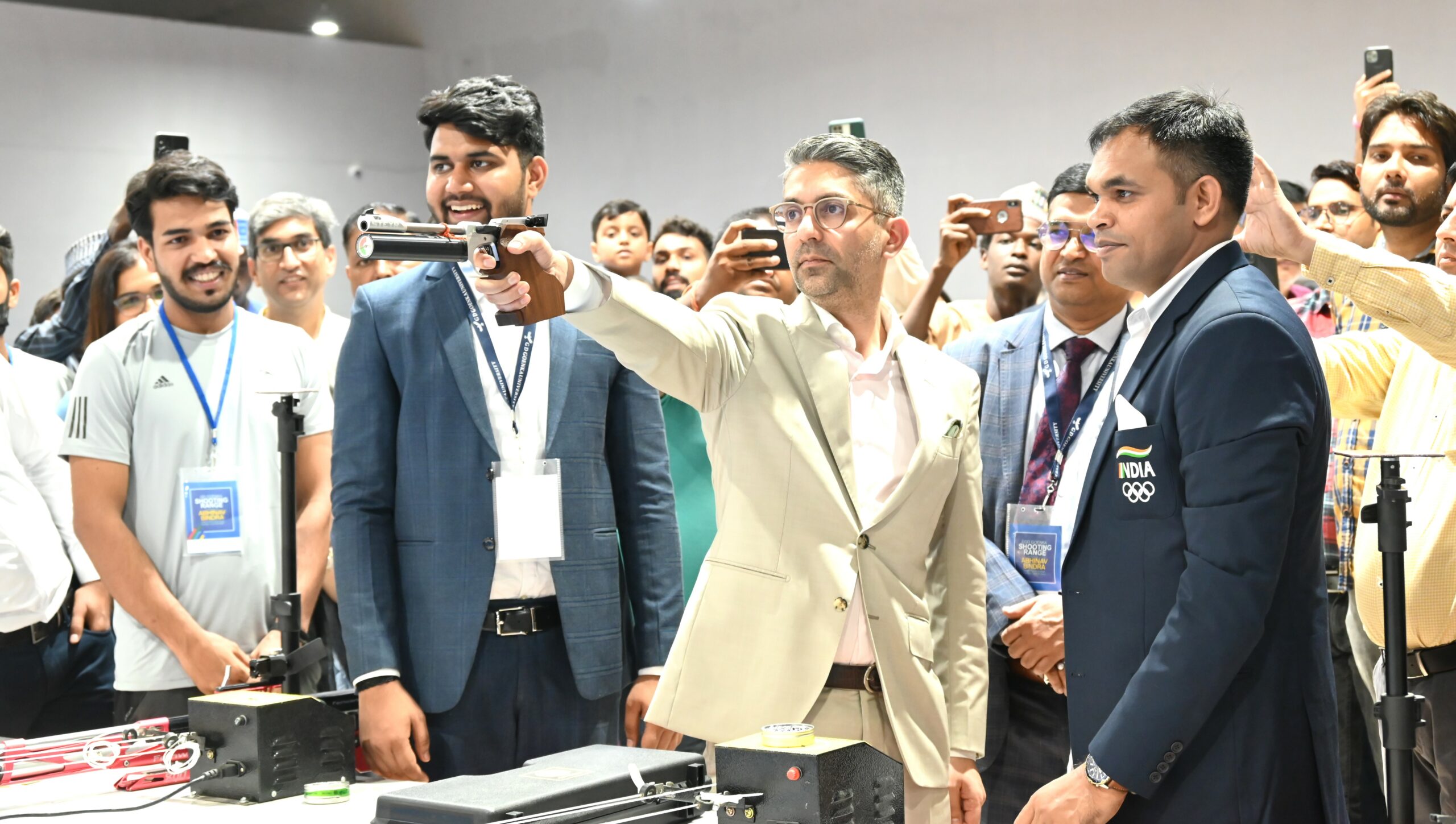 GD Goenka University is excited to introduce the inaugural Gayatri Devi Goenka Memorial Shooting Championship, a remarkable event that underscores the university's unwavering commitment to nurturing sports excellence and paying tribute to the exceptional sharpshooters from all corners of India. Set to be held from September 26 to September 29, 2023, at the GD Goenka Shooting Range featuring 25 professional lanes, this championship is poised to become one of the nation's most prestigious shooting competitions and will be conducted using Electronic Scoring Target System (EST).
This championship serves as a testament to promoting sportsmanship and fostering the talents of both emerging and seasoned shooters. With participation from over 500 competitors hailing from across India, the event promises to be a grand spectacle, celebrating the passion and precision of shooters who have honed their craft to perfection.
Notably, this championship holds particular significance as it pays homage to Abhinav Bindra, India's first individual Olympic gold medalist. The GD Goenka Shooting Range, dedicated in his honor in 2022, stands as a guiding light for aspiring shooters, offering world-class facilities and expert guidance to nurture their talents.
During the inauguration, Abhinav Bindra expressed his thoughts, stating, "I extend my heartfelt congratulations to GD Goenka for the remarkable facilities they have established and the emphasis they place on sports across their educational institutions. I am confident that the students will achieve remarkable success in various tournaments, but more importantly, they will imbibe the values that sports instill in us."
Nipun Goenka, Managing Director of GD Goenka Group, aptly remarked, "The Gayatri Devi Goenka Memorial Shooting Championship transcends mere competition; it's a celebration of the essence of sportsmanship, camaraderie, and unwavering dedication. We take immense pride in providing a platform for India's talented marksmen and markswomen to shine, and we firmly believe that this championship will serve as an inspiration to a new generation of shooting enthusiasts."