Agreement For Financial Support To STARS Project Signed Between DEA And World Bank
The project covers 6 States viz Himachal Pradesh, Rajasthan, Maharashtra, Madhya Pradesh, Kerala and Odisha.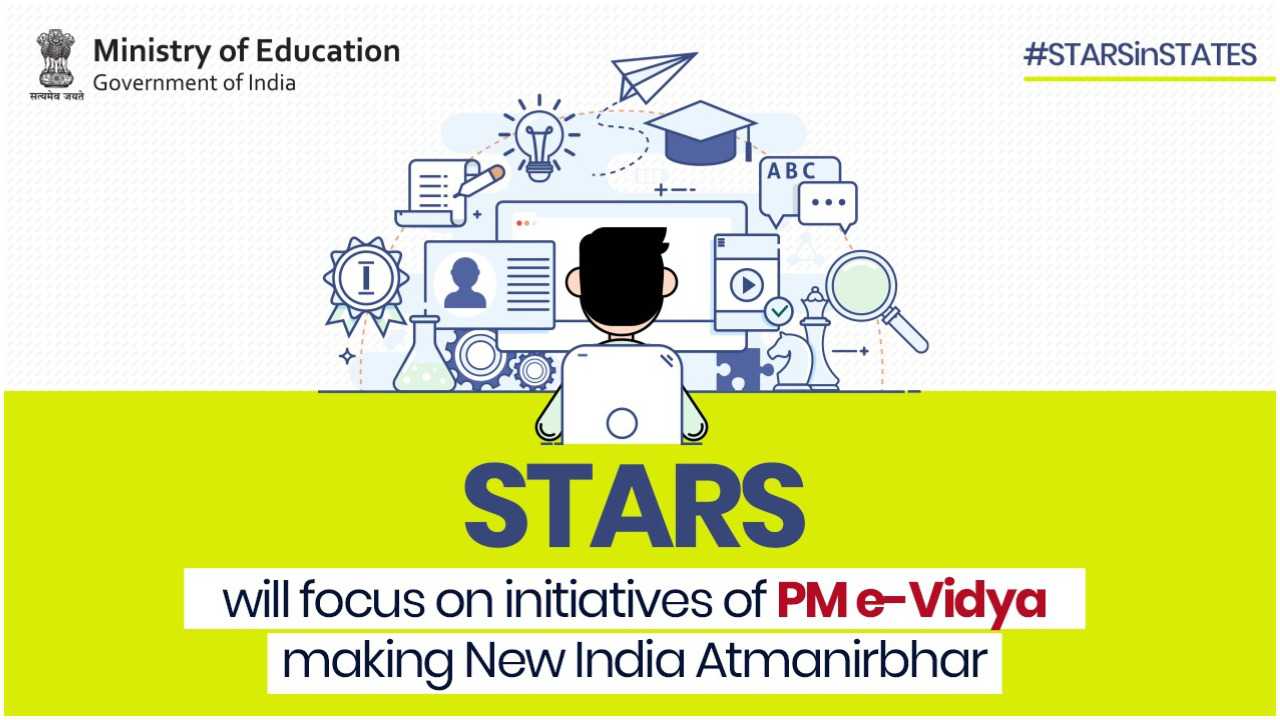 Agreement for the financial support of the implementation of Strengthening Teaching-Learning and Results for States (STARS) project of Ministry of Education was signed between Department of Economic Affairs (DEA) and World Bank along with Ministry of Education. The total project cost of STARS project is Rs 5718 crore with the financial support of World Bank amounting to the US $ 500 million (approximately Rs. 3700 crores) and rest coming as State share from the participating States, over a period of 5 years.
STARS project would be implemented as a new Centrally Sponsored Scheme under the Department of School Education and Literacy (DoSEL), MOE. Earlier Union Cabinet has approved the proposal of STARS project on 14th Oct 2020. The project covers 6 States viz Himachal Pradesh, Rajasthan, Maharashtra, Madhya Pradesh, Kerala and Odisha. The identified States will be supported by various interventions for improving the quality of education.
The Program envisions improving the overall monitoring and measurement activities in the Indian school education system through interventions in selected states. STARS will draw on the existing structure under Samagra Shiksha with the DoSEL, MoE as the main implementing agency at the national level. At the State level, the project will be implemented through the integrated State Implementation Society (SIS) for Samagra Shiksha.
The proposed World Bank support under STARS is primarily in the form of a results-based financing instrument called Program for Results (PforR). This will ensure major reforms at the State level through a set of disbursement-linked indicators (DLIs). A State Incentive Grant (SIG) will be used to encourage States to meet desired project outcomes. The SIG matrix has been aligned with the intermediate outcome indicators as per the requirement of the PforR instrument. The Independent Verification Agency (IVA) will verify each result before disbursement of funds.
STARS project will be instrumental in the implementation of various recommendations of National Education Policy 2020 i.e. Strengthening Early Childhood Education and Foundational Learning, Improving Learning Assessment System, ICT-enabled approaches in education, Teachers Development and Vocational education etc.
India's Data Science Education Market to Reach $1.39 BN by 2028: Report

Imarticus Learning, a leading Indian ed-tech platform, recently released the "Data Science Education Report 2023," forecasting a significant surge in the global data science education sector. According to the report, the sector is poised to reach an impressive $378.7 billion by 2030, with India's data science education market expected to reach $1.391 billion by 2028—a remarkable leap from $204.23 million in 2023, exhibiting a compound annual growth rate (CAGR) of 57.52%.
This substantial growth is attributed to a paradigm shift toward data-driven decision-making across diverse industries. Simultaneously, the online education sector is predicted to experience remarkable expansion, escalating from $76.20 million to $533.69 million.
In the realm of job market and recruitment trends, the report identifies data scientists, data analysts, business analysts, and big data engineers as the most in-demand roles. Presently, there are 215,793 open positions in the big data and analytics job market, with projections indicating a surge to over 338,000 by 2028. Key players such as Amazon, AWS, Bain and Company, Deloitte, Ernst & Young, and Google are actively seeking data science professionals, offering competitive annual remuneration packages ranging from Rs 6.5 lakh to Rs 35.1 lakh.
India is solidifying its position as a global powerhouse for big data analytics with an estimated 30.1% CAGR. The industry is set to grow from $5.7 billion in 2022 to a substantial $30.7 billion by 2027. During this period, India is expected to capture 32% of the global analytics market, creating significant educational and employment opportunities.
The report identifies key roles driving the expansion of the data science sector, with Data Scientists (10.9%), data analysts (10.7%), and business analysts (10%) leading the pack. Financial analysts (5.3%), big data engineers (4.2%), data specialists (1.2%), business intelligence analysts (1.2%), and data science managers (0.9%) are also in high demand. Furthermore, the report highlights a growing demand for professionals with expertise in natural language processing (NLP) and computer vision, technologies fueling innovation in AI applications across various industries.
Imarticus Learning recommends sustained investments in AI research and development as crucial areas for educational institutes to align with industry demands. Nikhil Barshikar, Founder and CEO of Imarticus Learning, emphasizes the importance of nurturing the data scientists of tomorrow, stating, "The Data Science Education Report 2023 reflects India's growing interest in data science education. It's more than simply education; it's a journey into the future, one data scientist at a time."