Beautifying Pakistan with Hope: Seema Aziz
When in Pakistan, being a woman is tough. Tougher is to be a successful woman in the country. Yet, here's one woman who proved herself tougher than all the tough situations thrown on her face … and succeeded.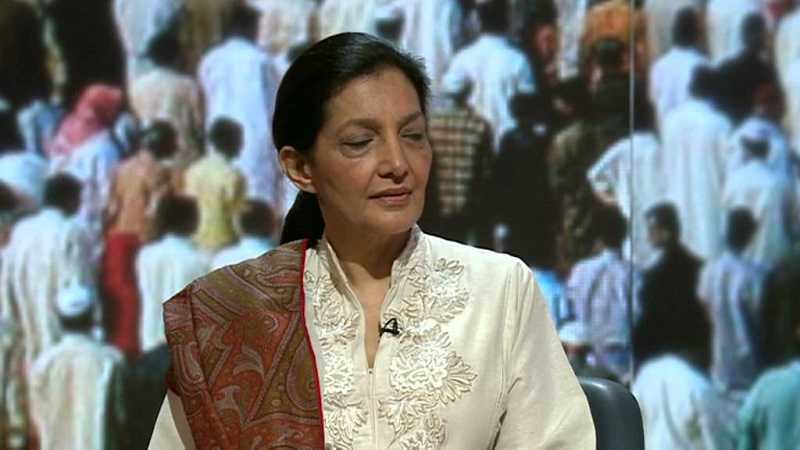 Children with runny noses, dried matted hair ran after her. Upon asking about these children, she was told that they had nothing better to do, so just running after her.
This, as a fact, struck her.
She then realized that the village she was in had no schools, so the children had all the time to linger around. Could she help? How?
None other than her could have helped. Starting way back in 1988, she today has a range of schools, as many as 256 schools, under the name of CARE Foundation.
Name: Seema Aziz
Nationality: Pakistan
Profile: One of the most celebrated entrepreneurs in the country, recognized internationally. She is a businesswoman since 1985.
A woman entrepreneur from Pakistan, dating back to a time when the term 'jihad' had just appeared in murmurs?! Yeah, and to surprise us all the more, this woman, a woman who must be an idol for many in the country is a well-educated. Well, it wasn't easy for her, she had to face opposition … a lot of it … from her own family too! Yet, she swam across all and did what sounded right to her mind and succeeded.
With the western influence coming out quite clear, Seema found the right opportunity to start her own shop in 1985. She was 34 then, enjoying the luxuries of a rich daughter-in-law and wife and mother. Year 2016 and she rules an empire … the empire of Bareeze, a haute couture high-end brand, running successfully all across Pakistan and Middle East, along with being a top-end successful brand in India, Malaysia and United Kingdom.
This isn't where her story ends; rather this is where her story starts. This is something she is well-known for, what she is lesser known for are her schools … schools that have transformed lives of many.
When the country was a breeding ground of grieves, anguish, terrorism, poverty, for some citizens it was added-on to by the flood in River Ravi. In one such washed-away village of Pakistan, which was around 15 miles from the well-developed Lahore, was Aziz's factory and thus she happened to visit it post the flood. In an effort to help out those who suffered in this village, she helped them with basic amenities, like sewerage, drinking water, electricity, etc. In a village like this, Aziz was no less than a ajooba. Yeah, people did watch her with wonder; a female in Pakistan wasn't supposed to do what she was doing, helping the poor, heading a factory. Untidy children without clothes followed her, leaving her wondering about them. And later she came to know that these children had nothing better to do. This was that moment that has today brought her to what she is today … one of the most respected lady of Pakistan.
She decided to setup a school for them. But will there be any students? The ones she was trying to setup the school for had no roof over them, will they like to have a school? "Everyone wants a better life for their children" was her though and thus she went forward with her idea of schools, without any support. Money poured in, though she had to ask her friends and family to put in funds. She had to be very careful for each and every penny that was spent and the items that were bought. And then finally, the school saw the first sunrise.
On the very first day there stood 250 students, or willing students; most of them lacked the basic clothing and hygiene and that is where their education started from. Hygiene. Along with, she laid the foundation of some of the basic principles of her schools. The first among which was to give an equal opportunity to both the genders, bringing girls and boys under the same roof.
And this was the time when citizens among themselves faced a lot of discrimination, specially the gender bias. Pakistan could only have single-sex schools back then. She was talked against for by political names, when came an attack by a politician, which led to the closure of the school. However, with as many as 500 parents supporting her, the school was never closed down! Her decision to educate her students in English was met with equal opposition at a national level.
Four years later, she had inaugurated her second school. With her rising success, she was approached by the Punjab government to help some of its failing school gain back. This was when she came to know what government school education in Pakistan actually meant and was shocked by it. With Seema Aziz taking over these schools, teachers were troubled. No more did she allow teachers to sleep in the class, students massaging the teachers, making tea for them, she rather made them work and work hard for the sake of students. Teaching unions stood against her. Who should have supported her, stood against her … the teachers. How were her schools supposed to be a success? With sheer honesty towards her work and the purpose brought her success. With 256 schools under CARE Foundation, she supports 175000 students see a dream and achieve it.
CARE doesn't only operate in easy zones, it has marked its presence and success in Pakistan's most troubled regions as well. Terror struck, poverty struck, corruption struck … CARE's been helping residents of any and all regions as much as possible. Aziz rather likes to where no one does.
Students passing out of Aziz's schools are proud to share their success-stories. Winning scholarships, working with top MNCs, going for a PhD, a career in music for a girl are some things that students boast of, what they don't is the way their mind-sets have changed. No more are the youth concerned about gender divisions, they don't study to get better marriage proposals, they have aims to fulfill, they have success and happiness awaiting them.
Seema Aziz definitely would like to see a sea of hope among the youth, a tide of change towards positivity … Her vision for her mission is to educate a million more children. To quote her, "Because I believe education is the right of every child. We must reach every child. We want to change the destiny of this country. Because the thing about education is that it's not one person that you are educating — it's forever. An educated person will never allow their child to be illiterate."
Image credits: BBC
Smile Foundation and Shell Launch STEM Project on Pi Day
The initiative will benefit less-privileged students from government schools.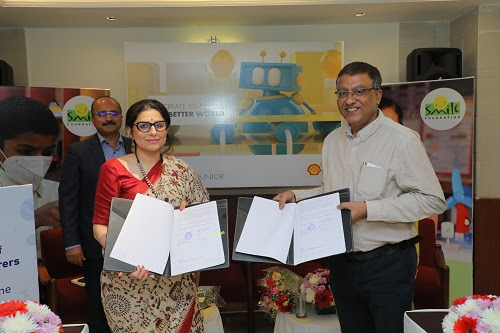 On the occasion of International Pi (π) Day, Smile Foundation and Shell launch 'NXplorers Junior' programme in three Indian states. NXplorers is Shell's global flagship Social Investment STEM (Science, Technology, Engineering, and Mathematics) educational programme aims to benefit over 25,000 children during the first year by enabling them to understand, navigate and address local and global challenges, as underlined in the Sustainable Development Goals (SDGs). NXplorers is also aligned with the National Education Policy 2020 and delivers societal benefits.
The innovative initiative will benefit less-privileged students from government schools and affordable private schools, studying in rural and hard-to-reach areas in the states of Andhra Pradesh, Telangana and Kerala. Its design also includes endeavour to create awareness amongst parents on the importance of STEM education, especially for girl children.
"Shell firmly believes that, provided with the necessary skills and guidance, young people can be a driving force to find sustainable solutions to the major global challenges of our time. Launched in 2018, Shell's global flagship STEM programme NXplorers is aligned with the National Education Policy 2020 that aims to transform India into an equitable and vibrant knowledge society. With the Smile Foundation partnership, we aim to expand this programme to Andhra Pradesh, Kerala, and Telangana and offer young minds the platform to design sustainable solutions to ease the pressure on food, water, and energy," said Ms. Latika Taneja, Head of Corporate Relations – India.
The programme is being rolled out in concurrence with the educational authorities of the respective state governments. Besides students, teachers, parents and communities are involved actively while implementing the programme so that it remains sustainable in the long-term.
"We are excited to roll out this innovative programme in India. We are hopeful that our children will not only leverage STEM education in building their future career but also will grow up and develop leadership ability in finding sustainable solutions in various walks of life," said Mr. Santanu Mishra, Co-founder & Executive Trustee, Smile Foundation.
The NXplorers Juniors will train both 6th and 7th grade students. NXplorers Juniors Level-I course will be delivered through a combination of teacher's guide, PowerPoint slides, and several instructional videos. The facilitator guide will outline the essentials to be covered in each session, exercises, discussion, checkpoint questions, a summary, assessment, and research to be undertaken by students after the session.
The United Nations Sustainable Development Goals (SDGs), exploring SDG Solutions, researching global goals, and developing a challenge and choosing a solution etc. are covered in the NXplorers Juniors Level-1.
NXplorers – Learning for a Life Time, envisions to provide a minimum of 3-5 years of NXplorers exposure to the students at various levels. The objectives include developing strong knowledge and skill set among students so that local and global challenges can be addressed by them. Developing sustainable models of implementation by engaging teachers, school leaders and communities effectively, creating awareness amongst parents regarding the importance of STEM education, especially concerning girl education are part of the overall goals.
About Smile Foundation
Smile Foundation is a national development organization directly benefiting over 1.5 million underprivileged children and their families every year through more than 400 welfare projects in education, healthcare, livelihood and women empowerment spread across 2,000 remote villages and urban slums in 25 states of India.
About Shell
Shell is one of the most diversified international energy company in India with over 10,000 employees and presence across upstream, integrated gas, downstream, renewable energy, and deep capabilities in R&D, digitalisation, and business operations; with a retail presence across six states – Karnataka, Tamil Nadu, Telangana, Maharashtra, Gujarat, and Assam.