Chief Minister Interacts With Teachers and Students on Teachers' Day
Chief Minister Smt. Vasundhara Raje expressed her respect to the teaching community by establishing a direct communication with them and their pupils on the occasion of Teachers' Day on Monday.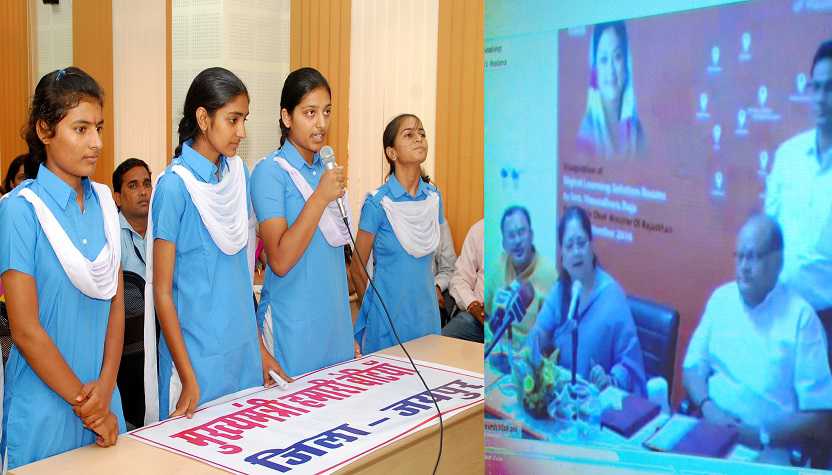 Jaipur – September 5, 2016
Chief Minister Smt. Vasundhara Raje expressed her respect to the teaching community by establishing a direct communication with them and their pupils on the occasion of Teachers' Day on Monday. She launched 12 Digital Learning Solution Rooms (DLSR) at different government institutes for an innovative initiative of promoting digital learning of teachers.
During the function for launch of these digital rooms, to be operated by CISCO, in the campus of Rajasthan State Textbooks Board at Jhalana Dungari, Smt. Raje interacted with the teachers, students, public representatives and officials at 12 locations in the state through Connected Learning Setup of CISCO.
The CM said that innovations and reforms in education sector had started yielding good results. These historical changes would make Rajasthan a leading state in revolutionizing education sector. The DLSR had started functioning at Jaipur, Ajmer, Baran, Bharatpur, Bikaner, Churu, Jhalawar, Jodhpur, Kota, Pali, Udaipur and Goner(Jaipur). During this, she also launched Project 'Utkarsh' at Pali for the government school students to learn latest educational technology.
Shri Dinesh Malkani, President CISCO India and SAARC, while talking to the CM announced for providing free wifi facility at 8 Industrial Training Institutes (ITIs) in the state. Smt. Raje also chatted with the students from remote areas of state and asked them about their studies and future plans. Girl students from Baran, Ajmer, Jhalawar, Udaipur, Jodhpur, Pali and Kota expressed their views with excitement and stated that they wished to be engineers, doctors, judge, IAS etc. When one girl said that she wanted to be politician like Smt. Raje, the CM laughed and wished her 'good luck' for a bright future.
The Chief Minister suggested the Collectors and school authorities to install pictures of good excellent teachers in their schools, so that the students could take inspirations and pay respect to them. She further asked for white washing and sanitization of all schools with the help of local community and putting mirror at the school entrance for the students and staff to have a look at their appearance before they enter the campus. She said that sanitary towel wending machines should be placed at the schools for the use of adolescent girls further adding that sports and yoga activities should also be practiced in the school campuses.
Image Courtesy: DIPR, CM's Office, Rajasthan
GD Goenka's Shooting Championship 2023 to Honour the legacy of Abhinav Bindra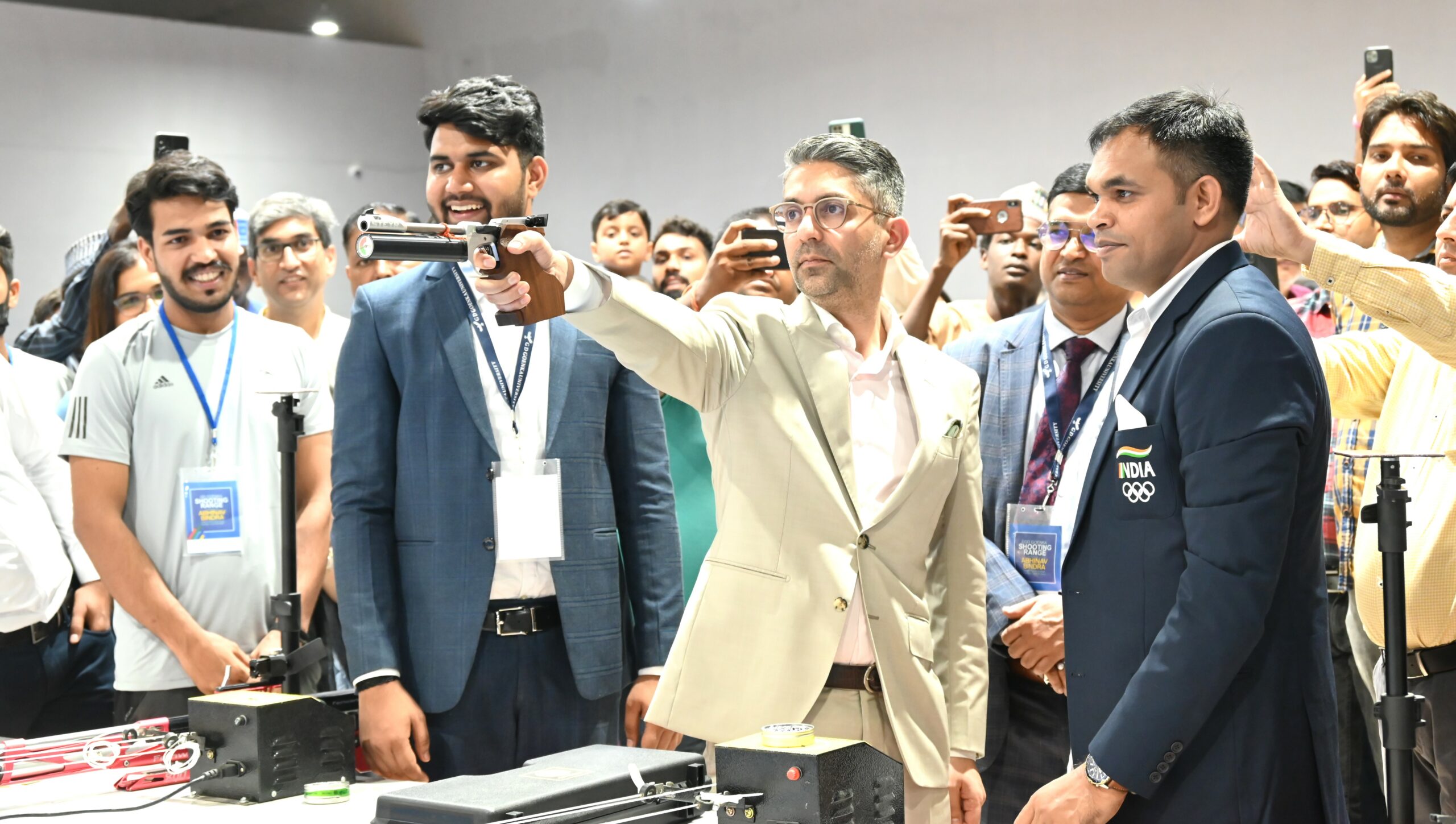 GD Goenka University is excited to introduce the inaugural Gayatri Devi Goenka Memorial Shooting Championship, a remarkable event that underscores the university's unwavering commitment to nurturing sports excellence and paying tribute to the exceptional sharpshooters from all corners of India. Set to be held from September 26 to September 29, 2023, at the GD Goenka Shooting Range featuring 25 professional lanes, this championship is poised to become one of the nation's most prestigious shooting competitions and will be conducted using Electronic Scoring Target System (EST).
This championship serves as a testament to promoting sportsmanship and fostering the talents of both emerging and seasoned shooters. With participation from over 500 competitors hailing from across India, the event promises to be a grand spectacle, celebrating the passion and precision of shooters who have honed their craft to perfection.
Notably, this championship holds particular significance as it pays homage to Abhinav Bindra, India's first individual Olympic gold medalist. The GD Goenka Shooting Range, dedicated in his honor in 2022, stands as a guiding light for aspiring shooters, offering world-class facilities and expert guidance to nurture their talents.
During the inauguration, Abhinav Bindra expressed his thoughts, stating, "I extend my heartfelt congratulations to GD Goenka for the remarkable facilities they have established and the emphasis they place on sports across their educational institutions. I am confident that the students will achieve remarkable success in various tournaments, but more importantly, they will imbibe the values that sports instill in us."
Nipun Goenka, Managing Director of GD Goenka Group, aptly remarked, "The Gayatri Devi Goenka Memorial Shooting Championship transcends mere competition; it's a celebration of the essence of sportsmanship, camaraderie, and unwavering dedication. We take immense pride in providing a platform for India's talented marksmen and markswomen to shine, and we firmly believe that this championship will serve as an inspiration to a new generation of shooting enthusiasts."