Disability and poverty no match for Bihar brothers as they crack IITJEE
Basant (18) has been carrying his elder brother, polio stricken Krishan on his shoulders to attend school since childhood. The brothers have cleared the IITJEE with high ranks on the dint of sheer hard work and determination.
Where there is a will, there is way. This proverb has been doubly proved by 2 brothers from Samastipur, Bihar. Krishan (19) and Basant (18) have cracked the IITJEE entrance test overcoming Krishan's polio and the extreme and abject poverty of the family.
For many years now, the brothers have ensured that they continue studying with Basant Kumar Pandit carrying his physically challenged elder brother on his shoulders to school and later to the coaching institute.
It is a matter of great pride for the family that Krishan has landed in IIT with 38th All India Rank in OBC, disabled quota in the JEE advanced results declared recently while Basant has achieved 3675 rank in OBC category.
The boys' family is engaged in agriculture as their father Madan Pandit owns 5 'bigas' of land in Paroriya village in Samastipur and their mother is a housewife.
Krishan lost his legs at the age of only 6 months to polio. Later, the younger Basant took upon himself to take Krishan on his shoulders to school. With dreams of becoming engineers someday, the brothers reached Kota 3 years ago and took admission in a coaching institute to prepare for the IIT entrance test.
Like always, Basant would carry his brother to the coaching classes in Kota as well and the 2 would study together. "When I left the village for coaching 3 years ago, people in the village suspected my abilities and whether we would be able to continue like this," Krishan said.
Krishan considers his younger sibling much more than his "legs" and gets overwhelmed while talking about him especially as the 2 brothers, who have been inseparable until now, will have to study in separate colleges.
"Basant does everything for me. I feel very sad when I think about living without him in the engineering college," said Krishan.
Basant admits to being overjoyed with the brothers' achievement however, the taste of success is soured by the forthcoming separation.
Recalling their school days, Basant reminisces. "Once while we were in class V, I participated in a residential camp for disabled in the village as my brother Krishan could not live there without me," he said.
There dream almost remained unfulfilled when they didn't make it in the first attempt and their father asked them to return home. However, their 2 elder brothers stepped in and assured them financial assistance encouraging them to not stop trying. Krishnan is thankful to the management of the institute who also exempted 75% of the fees for them and also granted scholarship.
"Basant aspires to join civil services after completing his engineering, while I want to be a computer engineer," Krishan said.
This Young Woman From A Tribal Village Is Teaching The Children While Schools Are Closed
The only graduate of a Tamil Nadu village has volunteered to teach the children of the village while the pandemic persists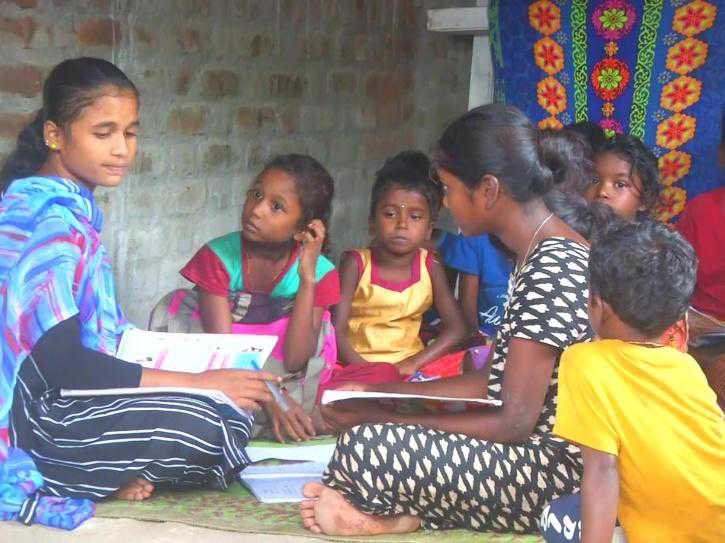 Where the digital network failed these tribal children in the southern part of India, their own stood to support them. Sandhya volunteers in teaching the kids of her village, Chinnampathy in Tamil Nadu. She is a graduate of B.Com, she is the only person from her village to have graduated college. Sandhya told India Today, "If it rains, we can't go to school. We only have one bus to our village and so after a certain age, people drop out of school."
Having gone through struggles herself, Sandhya knows how important a teacher and school is for growing children. So she volunteered to teach the children by herself, so they don't lag behind due to school closure. Sandhya said "When I was a child, I had no one to help me study. These children here have me to help them study."
One must ask the children from a remote rural or economically backward area, how it feels to not have the proper learning opportunities. The pandemic took more than the ability to roam about freely, it snatched away the ability to go to school for children on a global level. While it is easier for families with better income to support their child's online learning, most rural and financially challenged families are struggling.
The Indian government did start many projects for such students, but even learning via a television channel or free online course needs some basic gadgets and network connection. Many remote villages, like the tribal village, Chinnampathy, can not find enough network strength to have their children sit in front of a television and learn via the education channels.
On being asked how her classes are enduring she said, "The children come and ask me very freely all their doubt and they are not afraid of me. I see these children learning well and answering all the questions when I ask them."
Youth like Sandhya, who appreciate and signifies the work educators do and want to help the cause, are the future of the education sector!