Educational stalwarts share interesting ideas
The first day at Educarnival 2016, a much-awaited annual event to which ScooNews is a media partner, had an exciting start today with Prof. Balakrishnan's inaugural speech, who gave an eloquent account of the challenges being faced by today's teacher.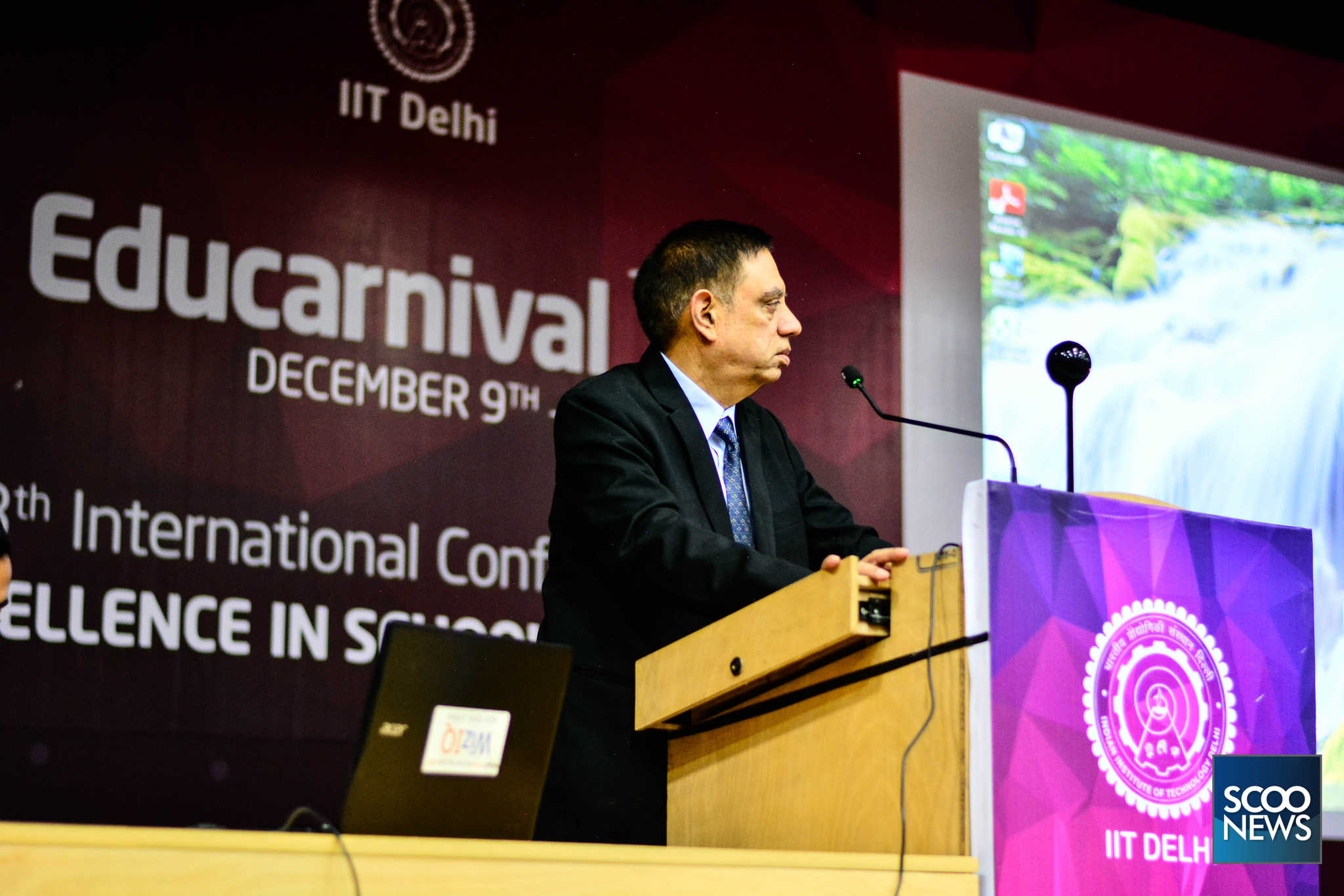 The first day at Educarnival 2016, a much-awaited annual event to which ScooNews is a media partner, had an exciting start today with Prof. Balakrishnan's inaugural speech, who gave an eloquent account of the challenges being faced by today's teacher. He touched upon a very pertinent issue of decreased attention span, which is normally talked about in almost all spheres of life today and suggested how it can be dealt with.
"More visuals, short content and videos are the key", he said. He even called upon teachers to take support from students stating that with their help it can be dealt with. Professor Balakrishnan stressed the need to incorporate professional ethics and social responsibility in the new curriculum.
Speaking on the goal of education, Pankaj Jalote, Director IIIT Delhi, said that it must primarily be producing and developing happy and responsible individuals. "School and higher education should work in partnership for delivering the best". Identifying bottlenecks in education, he said one of them was the stress on rote learning as opposed to learning and application. He stressed the need to build a forum which can help bridge the prevailing disconnect from school to college.
Dr Harish Chaudhary, professor of management at IIT Delhi and a key person behind Educarnival 2016 said in his inimitable humorous style that today's education is one without value. His lecture was interactive and he attempted to create his audience's involvement He cited an incident where he asked a bunch of students who their favourite teacher was, surprisingly all those responded were from coaching institutes and none from school. His thoughts on having a joint than a nuclear family were widely appreciated as he mentioned that 'grandparental form of education' was directly proportional to a child's performance. He lamented such an element was missing in today's education system.
Rick Smith's '2 by 10 strategy' generated a lot of interest in those present. In an impressive speech he said: "Pick the kids who drive you nuts and spend 2 minutes for 10 days". Rick Smith is an international education consultant and is known for sharing practical teaching strategies to tens of thousands of teachers and teacher-trainers worldwide, including two years training American Peace Corps Volunteer Teachers in Ghana, West Africa. He stated that personal conversation, ongoing nature of connection is a positive connection and added that one needs to speak to the heart than the head. "A child's choices must be valued as it increases focus, fun and productivity", he remarked.
Himanshu Manglik from Brand Building said, while speaking on branding of schools that brand has to promise and live up to it. "You need to have coherence and brand responsibility", he stated and added that in a school setting a student is the biggest brand ambassador.
To check event pictures please visit our Facebook page HERE
NIOS celebrates 33rd Foundation Day
Dr. Subhas Sarkar addresses the 33rd Foundation Day Celebrations of NIOS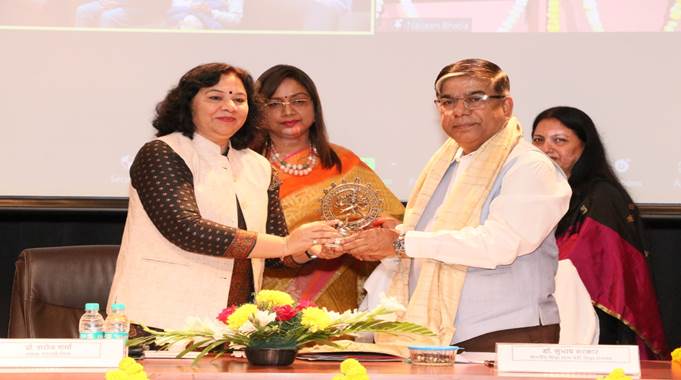 Union Minister of State for Education, Dr. Subhas Sarkar addressed the 33rd Foundation Day Celebrations of NIOS as the Chief Guest.
The function was attended by senior officials of the Ministry of Education, Chairpersons of educational institutions, Heads of Departments, officers, and staff of NIOS. Prof. Naval Kishore Ambasht, former Chairman, of NIOS and Pro-Vice Chancellor, of the Central University of Haryana, Prof. Sushma Yadav graced the occasion.
Dr. Subhas Sarkar in his address appreciated the various programmes and schemes of NIOS and said that NIOS is lighting the lamp of knowledge all over the world. Talking about the Azadi Ka Amrit Mahotsav, he mentioned that today's children will be young people in the age group of 30-40 years on the completion of 100 years of independence and will be responsible for building our nation.
He said that the Ministry of Education has entrusted NIOS with several responsibilities such as developing inclusive education resources, expanding the open and distance education system in states/UTs, translating all courses into more languages as required, creating Indian Knowledge Tradition based courses and propagating Indian culture by translating them into major foreign languages. He also praised the programmes of NIOS enrolling 10 crore adults under 'Basic Literacy Assessment', training of in-service teachers, Gender Green Project, and training in Yoga. He said that Indian Sign Language as a subject at the secondary level has been acknowledged on national and international platforms. He described the launch of an e-library called 'DEEP' by NIOS as a big step forward.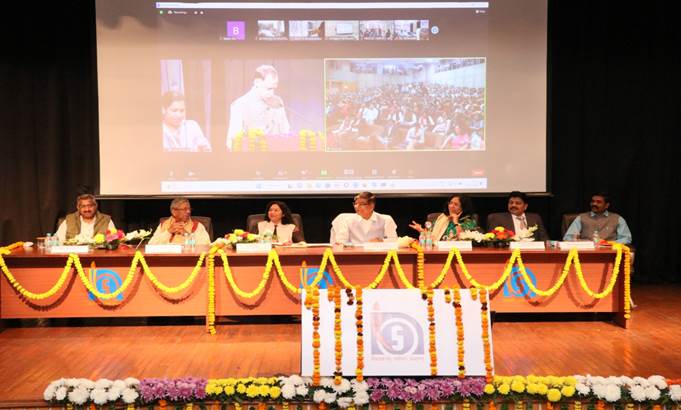 Prof. Saroj Sharma spoke about the journey of 33 years of NIOS and highlighted the special achievements. She said that NIOS is one of the two National Boards of Education under the Ministry of Education, which provides school education through Open and Distance Learning (ODL) for secondary, senior secondary, and vocational education. She elaborated on the role of NIOS in the field of education, efforts being made by NIOS for the successful implementation of the New Education Policy, Virtual Open School, Digital Library (DEEP), NEPIA Project, MoU with Ministry of Defence for Agniveer Project, setting up of Mukta Kaushal Kendras and subjects offered under Indian knowledge Tradition.
It was also conveyed by her that a curriculum called 'Aarambhika' is being developed by NIOS for catering to the Indian Diaspora.
A documentary based on the journey of 33 years of educational endeavours of NIOS was presented on the occasion. In this documentary, 'All England Badminton winner Pullela Gopichand said that most of the players in his badminton academy are getting an education from NIOS.
NIOS alumni, Ms. Niranjana and Vinod Kumar Chaudhary were also felicitated on the occasion. Shri Vinod Kumar said that only due to his education in NIOS, he was able to get the credit of making the Guinness Book of World Records 10 times (8 in Typing and 2 in sports). A proud learner of NIOS, Ms. Niranjana is a successful ventriloquist. Prof. N. K. Ambasht, former Chairman, NIOS said that in this age of technology, innovations must lead to developing 'standalone' courses for the Indian Diaspora, to achieve the goals of the National Education Policy- 2020. Pro-Vice Chancellor, Prof. Sushma Yadav said that the role of NIOS increases in the light of New Education Policy. NIOS has such potential that the institute will be able to achieve the ambitious goals of National Education Policy 2020 in the coming years.
The half-yearly magazine of NIOS 'Pragyan' was released by Dr. Subhas Sarkar on this occasion.