Education for All – A look at the Indian story (based on UNESCO GMR 2015)
We decided to study the EFA Global Monitoring Report with reference to India and highlight the achievements and challenges against the EFA Goals.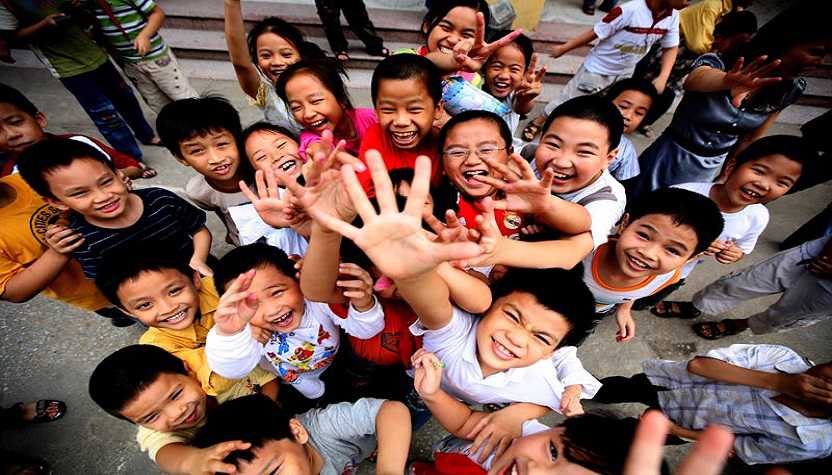 Governments from 164 countries, together with representatives of regional groups, international organizations, donor agencies, non-government organizations (NGOs) and civil society, adopted a Framework for Action ('the Dakar Framework') to deliver" Education For All" (EFA) commitments at the World Education Forum in Dakar, Senegal during April, 2000.
The Dakar Framework comprised two key elements: 6 goals, and associated targets, to be achieved by 2015 and 12 strategies to which all stakeholders would contribute.
The "Education for All" goals are:
Goal 1: Expand early childhood care and education
Goal 2: Provide free and compulsory primary education for all
Goal 3: Promote learning and life skills for young people and adults
Goal 4: Increase adult literacy by 50 percent
Goal 5: Achieve gender parity by 2005, gender equality by 2015
Goal 6: Improve the quality of education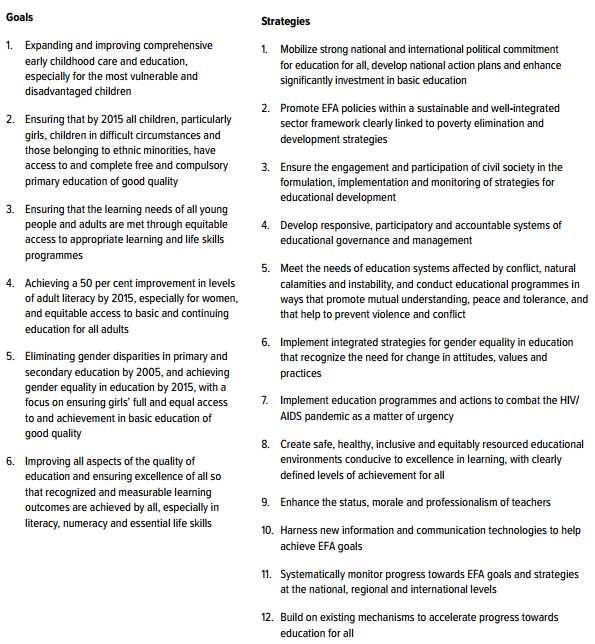 Image: UNESCO's Education for All Goals and Strategies
We decided to study the EFA Global Monitoring Report with reference to India and highlight the achievements and challenges against the EFA Goals. We have listed a few below:
Achievements:
India's new Early Childhood Education Curriculum Framework takes a developmental approach, with different activities for age groups 3 to 4 and 4 to 6.
The curriculum also includes activities to develop fine motor skills, physical coordination and fitness, as well as creativity through drama, music and more.
India made marked progress, increasing its net enrolment ratio significantly as GNP per capita improved, suggesting a more equitable distribution of economic gains.
Rural India saw substantial improvement in nearly all aspects of school facilities and infrastructure between 2003 and 2010. The share of schools with electricity more than doubled, from 20% to 45%. The availability of paved roads increased, so that 78% of schools had a road within 1 kilometre in 2010 compared with 69%in 2003.
Broad and specific strategies have been used to improve education for orphaned and vulnerable children.
To support retention, Tamil Nadu in India used welfare programmes to reduce the disparity between orphaned and vulnerable children and non-orphans, such as providing textbooks, uniforms, bus passes and financial assistance to children who have lost a breadwinning parent.
The RTE Act and the main EFA programme, Sarva Shiksha Abhiyan have created opportunities for people with disabilities to be included in mainstream schools.
India is among those countries that have legislated compulsory lower secondary education since Dakar WEF.
NIOS was set up to offer 'open basic education programmes' for those aged 14 and older. Courses and certification are geared for levels that are equivalent to grades3, 5 and 8 in the formal system.
The Pratham Open School of Education (POSE) was setup in 2011 and aims to reach young girls and women who have been marginalized from the mainstream education system and give theme second chance to complete their schooling.
POSE also addresses aspects like personality development and focuses on enhancing soft skills such as articulation, confidence and self-expression.
Challenges:
Poorly prepared teachers struggle to use the kind of curricula adopted by India. In addition, as these curricula can prove material-intensive, teacher training needs to address the making and maintenance of materials from the local environment.
Hand in hand with lack of teacher preparation are poor working conditions of ECCE teachers.
Delivery of grants has been at times inadequate. Monitoring of financing allocations and funding delivery to implement the RTE found that funds were not allocated on time because of banking delays, and did not always reach schools.
There were significant regional disparities in funding delivery: in 2011/12, 75% of all schools received the mandatory grants, but only 26% did in Meghalaya state.
In India, girls are more likely to enrol in public schools and sons are more likely to be sent to private schools, perpetuating gender inequity.
Only 35% of children from low income families in Hyderabad, India attended government schools
India is expected to achieve universal primary education in 2050, universal lower secondary education in 2060 and universal upper secondary education in 2085. This means that India would be more than half a century late for the 2030 Sustainable Development Goals deadline.
This article is an extract from the UNESCO GMR 2015 and parts of the GEM report, you can read the complete GMR 2015 here.
You can also read the recently published Global Education Monitoring (GEM) Report by visiting this link.
Image Courtesy: UNESCO
11 Free Mental Health Courses for Teachers
These free online courses on mental health will help teachers continue their development and improve the lives of their students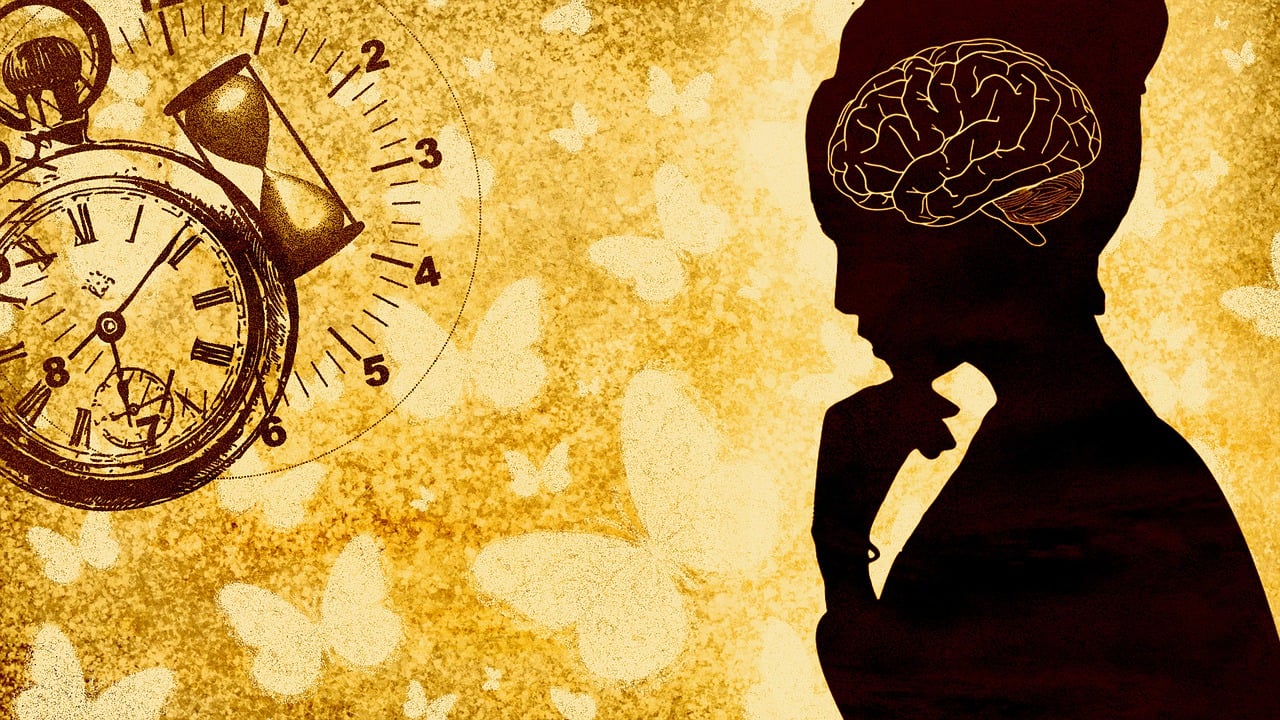 This article is a compilation of free mental health courses that seek to inspire teachers on handling mental health issues and provide mental health education and become better counsellors. 
What is mental health?
Mental health refers to people's cognitive, behavioral, and emotional well-being. It can be defined as a state of well-being in which an individual recognizes his or her abilities, can cope with everyday stresses, work productively, and contribute to their community.
"You don't have to be positive all the time. It's perfectly okay to feel sad, angry, annoyed, frustrated, scared, and anxious. Having feelings doesn't make you a negative person. It makes you human."

Lori Deschene
This article covers free online mental health courses. Some of these are available with free certification whereas a few allow you to learn for free, and charge a fee for the certificate.
Be There Certificate
The Be There Certificate is a free, self-paced learning experience designed to increase mental health literacy and provide the learner with the knowledge, skills, and confidence needed to safely support anyone who may be struggling with their mental health.
The Be There Certificate is offered by Jack.org, a Canadian youth mental health charity, in partnership with the Born This Way Foundation.
You can download a PDF of your certificate after completing all six modules of the free Be There Certificate online course.
Introduction to adolescent mental health
This course aims to raise awareness of mental health and a range of adolescent mental health problems. It has been designed with the latest research evidence in mind. It aims to provide you with the tools to explore different approaches which will help you reflect on the different ways that you can identify a young person who is struggling and consider how they can access support.
You will get a free Open University digital badge for completing the course and passing the quizzes! The badge can be displayed, shared, and downloaded as a marker of your achievement. 
Managing Happiness
What is happiness? What makes you happy?' Can you get happier through study and effort?
This, Harvard University designed course, answers these questions and shows you how you can use the answers to build a happier life. It introduces you to the modern science of human well-being and shows you how to practice it.
While the course is free to attend, you can get a verified certificate for $149 (on edX).
"Over the course of the past decade, there's been increased willingness to recognize mental health as an essential part of one's well-being."

Nicole Spector
Mental Health Training for Teachers
This free online training course will help you identify mental health issues in adults and children in a school setting.
This course trains you to recognize mental health problems in colleagues or students in a school setting. When you recognize mental health signs or symptoms, you can offer help or refer them to professionals. This course discusses the complexity of mental health and equips you with the skills to support others to manage their mental health effectively.
A digital certificate is available on successful course completion for €21.00.
Making sense of mental health problems
In this free course, Making sense of mental health problems, you will learn about how key perspectives in the field have made sense of mental health problems. By directly relating key perspectives to a case study, you will reflect on how the medical perspective, psychological perspective, and social need perspective come to make sense of mental ill-health.
A free statement of participation is issued on completion of this course.
The Science of Well-Being
This course by Yale will engage you in a series of challenges designed to increase your own happiness and build more productive habits. 
As preparation for these tasks, the instructor reveals misconceptions about happiness, annoying features of the mind that lead us to think the way we do, and the research that can help us change. 
Enrollment in this course is free, however, certification is available on a paid basis.
Supporting children's mental health and wellbeing
After studying this course, you should be able to:
understand the influences on mental health in young children aged 0–5

identify the factors that contribute to good mental health in children

explore national and global influences on children's mental health

develop knowledge about strategies and interventions to improve mental health in children

examine how adults and society can support children's mental health and well-being.
Enrolling in this course will give you the opportunity to earn an Open University digital badge. Badges are not accredited by The Open University.
"Things not to say to someone with mental illness: Ignore it. Forget about it. Fight it. You are better than this. You are overthinking."

Nitya Prakash
Suicide Prevention
This course explores the science of suicide research, prevention, and intervention.  
Topics will include terminology, epidemiology, historical and contemporary theories of suicide, modern approaches to suicide research, empirically supported approaches to prevention and intervention, and the lived experiences of those with suicidal thoughts and attempts.
Enrollment in this course is free, however, certification is available on a paid basis.
Teach Mental Health Literacy
In this course, educators will learn how to apply this classroom-ready, web-based, modular mental health curriculum resource as well as develop their own mental health literacy. 
Educators can then use this resource to successfully address mental health-related curriculum outcomes designed to be delivered by teachers to students aged 12 to 19.
Participation in this online course is free. An optional certificate of completion is available for $50 (Please select this option when you register as it cannot be selected once you finish the course).
Talk to Me: Improving mental health and suicide prevention in young adults
This course will help you learn strategies to improve the mental health of young people in your life, recognise concerning behaviours, and feel better prepared to have conversations about mental health.
Key topics in this MOOC include understanding contributing factors to poor mental health, how to talk about addressing poor mental health, and strategies to increase mental fitness.
Enrollment in this course is free, however, certification is available on a paid basis.
Mental Health and Nutrition
Interested in the fascinating interrelation between food and brain health?
This course is for you! This course is based on world-leading research into the links between nutrition and mental well-being. The course will cover evidence supporting the premise that eating better, and taking additional nutrients when appropriate, can improve mental health for many people.
Enrollment in this course is free, however, certification is available on a paid basis.