Educators Learn Productivity Tools at Tech Dive 2018
The Hyderabad Public School, Begumpet hosted top educators from across India at Tech Dive 2018 on October 5-6, 2018.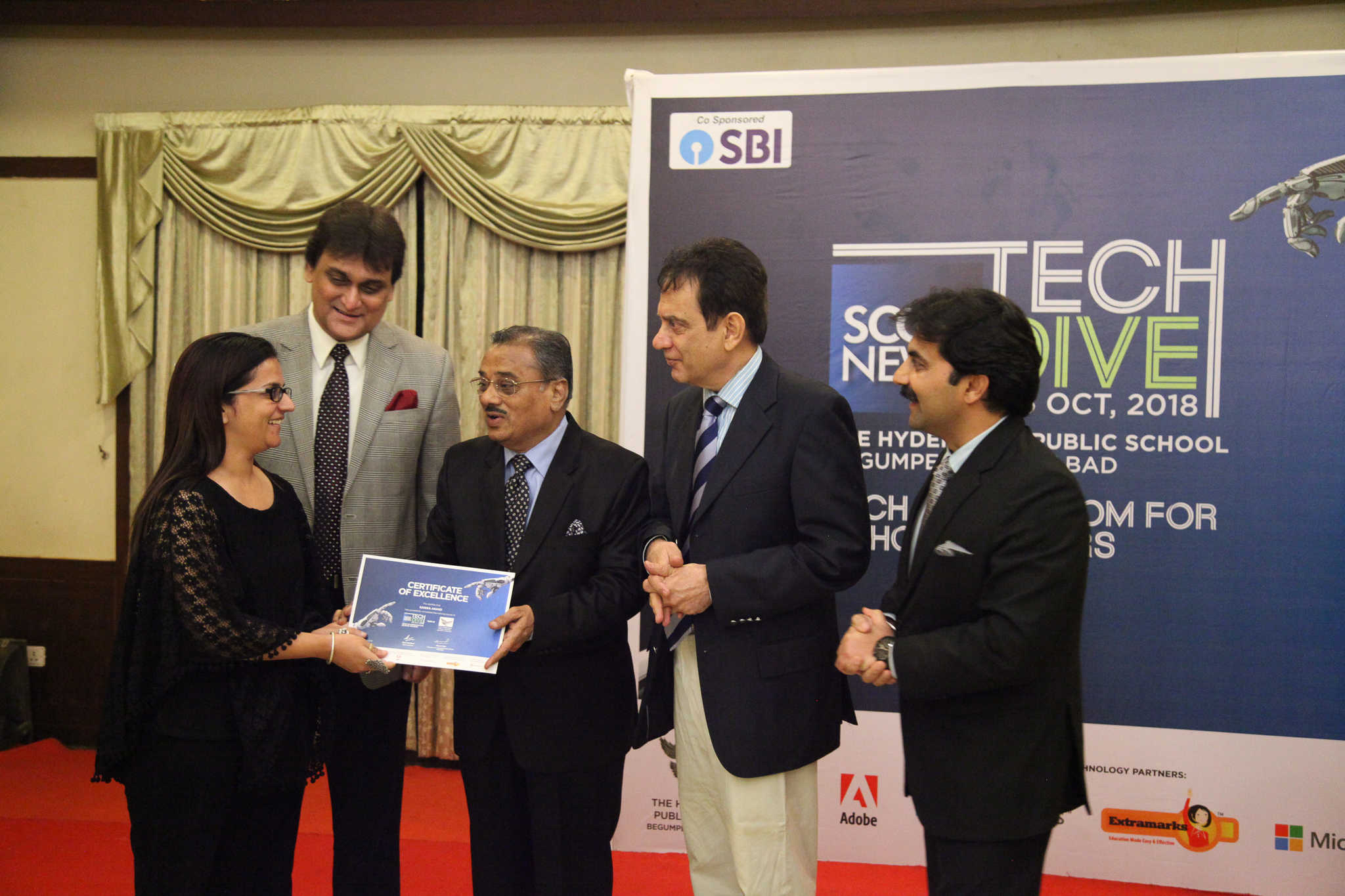 Photo caption – Certificate of Excellence Being Presented By The Guests of Honour at Tech Dive 2018
The Hyderabad Public School, Begumpet hosted top educators from across India at Tech Dive 2018 on October 5-6, 2018. Tech Dive 2018 is India's answer to technology classroom for school leaders where they are oriented by design in the most updated technology-enabled learning solutions available. It is a 2-day back-to-school platform for educators where experts from leading technology solutions held classroom sessions with live demonstrations.
Technology in schools is here to stay. How important is it to integrate using technology and skills related to search, learn and re-learn effectively to create lasting impressions in the way teachers teach and students learn. Thanks to technologies such as Augmented Reality, Virtual Reality, Robotics, 3D printing etc, possibilities to create a conducive learning environment in the classroom is possible.
According to Ravi Santlani, CEO, ScooNews, "Technology is all encompassing and is known to transform teaching & learning, accelerate innovation and solve tough problems in education. Tech Dive is a platform that will give the educators insight into tools, technology, and apps that best meet their learning objectives."
The principal of the host school The Hyderabad Public School, Mr. Skand Bali remarked, "As educational leaders, we need to create an atmosphere conducive for learning the latest actionable technology solutions. AI, VR, AR are the realities of future education system and cannot be ignored. My fundamental belief in a strong culture of learning & re-learning of the teachers will eventually benefit students and the society at large."
About Tech Dive 2018
Conceptualized as a two day, multi-geography, different-teacher assembly rolled out by ScooNews, Tech Dive is to serve as a Gold Standard for teacher training in Tech Skills. It was designed as a two-day residential learner-outcome assured event.
At Tech Dive, Technology enables learning to happen intuitively and self-paced for teachers who wish to take their learning forward to orient their students better. In the present times, school and teachers end up processing different types of data. Productivity tools (word processor, spreadsheet, database, and presentation software) are available on all computers and maybe the obvious tools to use for most teaching and learning tasks – and yet, it's probably true to say that 80 percent of computer users know only 20 percent of what a computer can do. The Tech Dive formula is designed to go to various cities.
About ScooNews
ScooNews is Media platform for the education sector comprising of print, online, online TV and events. ScooNews magazine has a monthly print run of 65,000 copies nationally with a targetted readership of 2,50,000. ScooNews also has an equal presence in the online medium at www.scoonews.com.
Indian Debating League 2023 Concludes After 6000 Debates Across 450 Schools, at IIT Delhi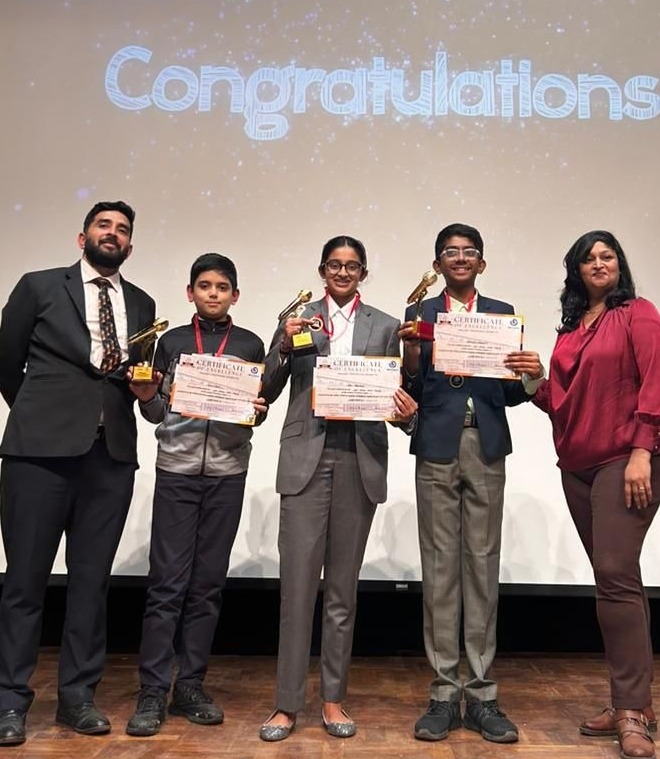 In a thrilling, high-energy competition, the Indian Debating League (IDL) 3.0, which brought together 450 schools across 25 States and Union Territories across the country, successfully concluded its highly anticipated Finale at IIT Delhi today. Team Maharashtra won the coveted title of Indian Debating League in the Middle school category (IDL) 2023- 3rd Edition while Team Haryana stood first in the Junior & Senior school category. This event has not only showcased the remarkable talent of our nation's young debaters but also underscored the importance of exploring our cultural roots across the Eras and reclaiming our heritage. The event promised a dynamic exchange of ideas, with a distinguished panel of Judges from IIT DebSoc. Global Language learning leader, Burlington English and Indian Debating League (IDL) hosted the finals of the Indian Debating League at IIT Delhi.
This year's edition attracted participation from schools from all corners of India, including Vasant Valley, New Delhi; Step by Step, Noida; Strawberry Fields High School, Chandigarh; Dhirubhai Ambani International School, Mumbai; Learning Paths School, Punjab; Jammu Sanskriti School; Kanha Makhan Public School, Vrindavan; Billabong High International, Jabalpur; American International School, Chennai; Woodstock School, Mussoorie; NASR School, Hyderabad and Jayshree Periwal International School, Jaipur.
Amit Baveja, MD, Burlington English India said, "As we conclude the exhilarating journey of the Indian Debating League 3.0 Finals, Burlington English is proud to stand alongside IDL and IIT Delhi in fostering a culture of eloquence, critical thinking, and collaborative learning. As an extension to our commitment towards the New Education Policy 2023 that strongly emphasizes developing oral, written, and digital communication skills, to enable effective expression of ideas and collaboration among students, we align seamlessly with the spirit of this competition. We believe that through platforms like IDL, we are not just shaping skilled debaters but contributing to the development of articulate leaders for tomorrow."
Renowned and celebrated for fostering 21st-century skills in a gamified, engaging format, the Indian Debating League is a unique format modeled on the IPL. Having partnered with Debate Coaches from the top 10 countries on the WSDC Leaderboard, they are keen to put Indian Student Talent on top, tangibility ensuring recognition.
Commending the IDL 3.0 Finale, Rajnish Kumar, co-author of "The Power and Curiosity" and COO, of National e-Governance Division, Digital India Corporation said "Curiosity and the art of debate are two powerful forces that drive intellectual exploration and foster a deeper understanding of the world around us. These interconnected aspects of learning not only stimulate critical thinking but also ignite a passion for knowledge and discovery. When combined with the art of debate, curiosity becomes even more potent. Debates like this can empower individuals to become lifelong learners, critical thinkers, and active participants in shaping a more informed and inclusive society.
Kamal Kashyap, Founder, and CTO of, Indian Debating League said, "In a month the Olympics of Debating will happen at WUDC Vietnam, setting the trend for the hiring of University Coaches at Harvard, Stanford, and Oxford, as well as National Debate Coaches and Judging Paradigm for contemporary themes around the world. Our national Debating Leagues like IDL 3.0, Republic Day Forensics, Frankenstein Sustainability, as well as mentoring the 350+ Adjudicator Landscape for India is the foundation upon which we look forward to leapfrog in building future skills."
The final Event at IIT Delhi was an electrifying display of oratory skills by contestants from 3rd to 12th grades, engaging with the theme The Odyssey of India- Ancient India to AI Led India, rethinking culture and reclaiming our heritage.