Experts at IPSEF to also highlight promising prospects of the early years sector
The UAE has led the Middle East's private K-12 growth. Dubai and Abu Dhabi account for 60% of the private K-12 market.

The UAE has led the Middle East's private K-12 growth. Dubai and Abu Dhabi account for 60% of the private K-12 market.
This data was released by L.E.K. Consulting, a leading global management consulting firm, ahead of the IPSEF Middle East conference taking place in Dubai this weekend (21 to 23 September at InterContinental Dubai Festival City).
According to the report, The Private K-12 Opportunity in the Middle East, the private K-12 market in the region has grown three times faster on average than GDP in the last three years alone and is even larger than the higher education market that is valued at $3.7b.
"A favourable regulatory environment, consumer willingness to pay, and promising demographics in both the local and expatriate populations make the region's K-12 opportunity highly attractive," said Ashwin Assomull, Partner, L.E.K. Consulting, who will present the full details of the report at IPSEF Dubai.
According to Assomull, the Middle East has benefited from the entry of large global chains such as Nord Anglia as well as prestigious independent school brands (e.g. NLCS, Brighton College), alongside the growth of homegrown private operators such as GEMS and Taaleem.
"Private K-12 in the UAE has been at the forefront of growth in the region and continues to experience unparalleled market expansion, with close to 24k seats added in the most expensive schools in the market over the last 3 years," he added.
The UAE has historically led the wave of growth in the region's education sector and still represents an attractive market opportunity. Dubai and Abu Dhabi are among the largest and have been popular with investors. These markets widely focus on expat students since they tend to offer international K-12 options across all price points (ranging from USD 1,000 to USD 25,000). They are different from markets such as Singapore and Hong Kong, which tend to cater to primarily wealthy expats. The availability of options in the UAE enables parents to move across price segments as household income changes. This broad coverage has given rise to strong, high-quality mid-priced and premium K-12 markets, contributing to the UAE's higher overall tuition revenue.
Meanwhile, early years education will also be in the spotlight at IPSEF Dubai, as experts see growth prospects within this segment. Courteney Donaldson, Managing Director – Childcare & Education, Christie & Co said, "The fragmented nature of 'for-profit' provision in the UAE, along with other factors, including economic, infrastructure and accessibility, and as a regulated sector, has meant that the UAE has become increasingly attractive to a number of international day nursery groups that are keen acquire high calibre early years businesses across the UAE, and additionally seek partners to facilitate organic growth and development of new early years ventures."
Donaldson's presentation at IPSEF will look at the different reasons as to why 'for-profit' trade buyers are 'going global' – buying and investing overseas – as well as other issues such as the establishment of international partnerships and acquisitions that can lead to the development of early years education.
Image source – IPSEF, used for representational purpose only.
Gender Inclusive Holistic Education in NEP
The NEP focuses on 'Equitable and Inclusive Education' which reverberates the idea that no child should be left behind in terms of educational opportunity because of their background and socio-cultural identities.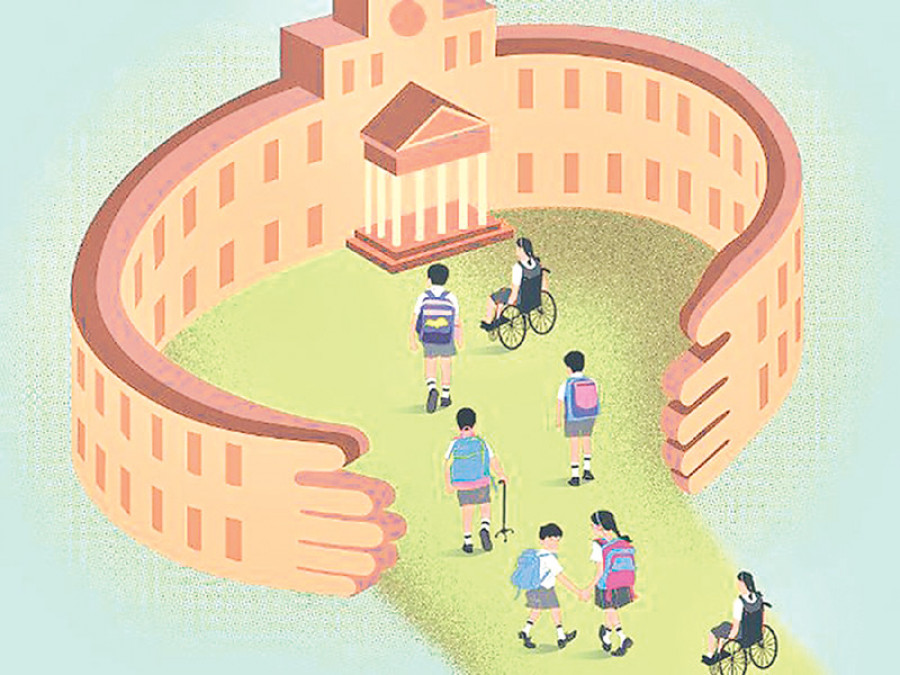 The National Education Policy 2020 envisages an inclusive and structural change in the educational system. It focuses on 'Equitable and Inclusive Education' which reverberates the idea that no child should be left behind in terms of educational opportunity because of their background and socio-cultural identities. It has taken into account the concerns of the Socio-Economically Disadvantaged Groups (SEDGs) which includes female and transgender individuals, Scheduled Castes, Scheduled Tribes, OBCs, minorities, and other categories. This policy aims at bridging the social category gaps in access, participation, and learning outcomes in school education.
The National Council of Educational Research and Training (NCERT) is implementing the Adolescence Education Programme (AEP) as part of the National Population Education Project (NPEP). One of the learning outcomes of AEP is to make the learners aware of the concerns of adolescence, i.e. process of growing up during adolescence & HIV/AIDS, and to inculcate in them a positive attitude regarding these concerns.
Further, the aspects related to gender-inclusive holistic education are covered through age-appropriate integration in different textual materials in the school curriculum, as well as in training and resource materials on the Health and Wellness of School Going Children, especially under the aegis of the School Health Programme under Ayushman Bharat.
As per UDISE+ 2019-20, a total of 61214 transgender children are enrolled in schools, of which 5813 and 4798 transgender children are enrolled in Class 10 and Class 12 respectively.
Department of School Education and Literacy (DoSEL), Ministry of Education is implementing Samagra Shiksha which is an overarching programme for the school education sector extending from pre-school to class XII and aims to ensure inclusive and equitable quality education at all levels of school education. Samagra Shiksha reaches out to girls, and children belonging to SC, ST, Minority communities, and transgender.
Further, National Education Policy (NEP) 2020 also identifies transgender children as Socio-Economically Disadvantaged Groups (SEDGs) and provides for equitable quality education, inter-alia, for all such students. This includes provisions for assisting transgender children in gaining access to education, and support for community-based interventions that address local context-specific barriers to transgender children's access to and participation in education, thereby aiming to eliminate any remaining disparity in access to education (including vocational education) for children from any gender or other SEDGs.
Additionally, under NISHTHA (National Initiative for School Heads' and Teachers' Holistic Advancement), a nationwide integrated teacher training program for teachers under Samagra Shiksha, teachers are trained on the relevance of Gender Dimensions in the Teaching and Learning Process which helps teachers to use and adapt learning activities that foster gender sensitive classroom environment.