Father murders 6-year-old daughter who couldn't recognise numeral 13.
The young girl died after her father allegedly forced an onion down her throat for failing to recognise the number '13'. As the days pass newer stories like an unwanted girl child and female foeticide, father's mental illness are coming to the fore.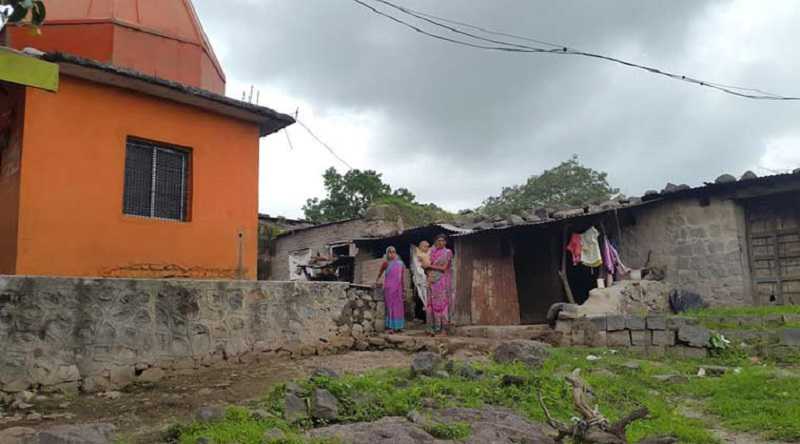 In the potholed lanes leading to Balapur village, about 10 km from Ahmednagar in Maharashtra there is a four-room, single-storey zila Parishad School from which emanate the sounds of children who are repeating concepts loudly after their teacher.
In the droning voices you will easily miss the deathly silence of the house near the school where 6-year-old Bharti Kute choked to death on July 9. The young girl died after her father allegedly forced an onion down her throat for failing to recognise the number '13'. Her body was exhumed and post mortem conducted after her mother filed a police complaint. The post mortem revealed the onion in her throat.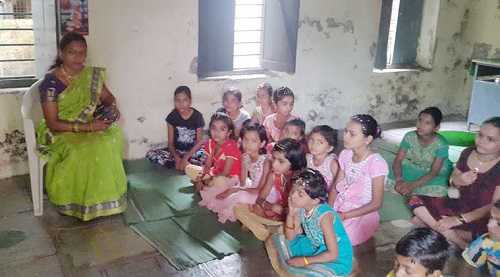 As the days pass the stories get hazier and hazier as newer versions do the rounds including that of an unwanted girl child and female foeticide, of a father suffering from mental illness, of a mother since turned out by her in-laws, and of parents desperately wanting their daughter to study.
The school teacher reveals that Bharti had attended school only for 23 days. "We don't have a pre-primary school here and kids directly come into Standard I. I don't know if Bharti attended balwadi (pre-school), but she did seem intelligent. In our school, that is how we have to start — by making them sit in class first. Expecting them to read alphabets or numerals is ridiculous," she says.
Bharti shared that house with her grandmother Purnabai, father Raju, uncle Sachin, mother Anusaya and younger brother Shivaay. While father Raju is now cooling his heels in jail, Anusaya, who lodged a police complaint, along with Shivaay no longer live here.
Purnabai believes Bharti herself stuffed the onion in her mouth. "I saw Bharti running out of the room holding her hand over her mouth. Her father, who was hitting her on the back, said an onion was stuck in her throat. I ran to call my younger son, who had gone to a local shop to buy pencils for Bharti," she says.
While some villagers have claimed Raju was suffering from a mental illness, Purnabai clears the air saying that he suffered from epilepsy. "He wasn't crazy. This story of Raju choking Bharti was made up by my daughter-in-law."
After Bharti fell unconscious, her uncle Sachin rushed her to Kamalnayan Bajaj Hospital at a distance of 5 km from the village. The hospital declared the girl dead on arrival and asked them to take the body to the government hospital. Sachin admits that since they didn't want a post mortem, they never went to the government hospital.
Police on their part are investigating why the private hospital didn't inform them considering it was a medico-legal case.
Like Purnabai, Sachin too is accusing Anusaya of cooking up the story and lying. "Maybe she stuffed the onion," Sachin says.
Police say there is no doubt Raju forced the onion into Bharti, killing her. "He has admitted to his guilt, saying it was over her studies that he got angry," says Inspector Chatrabhuj Kakade, at Chikhalthana police station.
Anusaya now resides in a small house in Satala village, with Shivaay. While her in-laws claim she left on her own, she says Purnabai threw her out.
Anusaya stands by her version of the incident which she narrated to the police: that Raju punished Bharti for stumbling on her counting. There was more, she adds. "Raju never wanted a girl child. He tried to kill her earlier as well by throwing her into a septic tank when she was 6-7 months old. Once, he left her alone at a lake while I was at work, but luckily, someone found her and brought her home. He used to beat us up and call us names and I had even complained to the women's grievance redressal cell of police."
Inspector Kakade says they have not heard of this foeticide angle.
Smile Foundation and Shell Launch STEM Project on Pi Day
The initiative will benefit less-privileged students from government schools.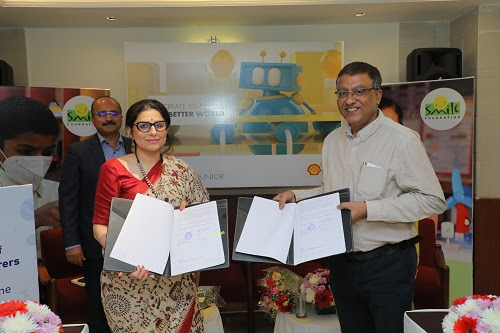 On the occasion of International Pi (π) Day, Smile Foundation and Shell launch 'NXplorers Junior' programme in three Indian states. NXplorers is Shell's global flagship Social Investment STEM (Science, Technology, Engineering, and Mathematics) educational programme aims to benefit over 25,000 children during the first year by enabling them to understand, navigate and address local and global challenges, as underlined in the Sustainable Development Goals (SDGs). NXplorers is also aligned with the National Education Policy 2020 and delivers societal benefits.
The innovative initiative will benefit less-privileged students from government schools and affordable private schools, studying in rural and hard-to-reach areas in the states of Andhra Pradesh, Telangana and Kerala. Its design also includes endeavour to create awareness amongst parents on the importance of STEM education, especially for girl children.
"Shell firmly believes that, provided with the necessary skills and guidance, young people can be a driving force to find sustainable solutions to the major global challenges of our time. Launched in 2018, Shell's global flagship STEM programme NXplorers is aligned with the National Education Policy 2020 that aims to transform India into an equitable and vibrant knowledge society. With the Smile Foundation partnership, we aim to expand this programme to Andhra Pradesh, Kerala, and Telangana and offer young minds the platform to design sustainable solutions to ease the pressure on food, water, and energy," said Ms. Latika Taneja, Head of Corporate Relations – India.
The programme is being rolled out in concurrence with the educational authorities of the respective state governments. Besides students, teachers, parents and communities are involved actively while implementing the programme so that it remains sustainable in the long-term.
"We are excited to roll out this innovative programme in India. We are hopeful that our children will not only leverage STEM education in building their future career but also will grow up and develop leadership ability in finding sustainable solutions in various walks of life," said Mr. Santanu Mishra, Co-founder & Executive Trustee, Smile Foundation.
The NXplorers Juniors will train both 6th and 7th grade students. NXplorers Juniors Level-I course will be delivered through a combination of teacher's guide, PowerPoint slides, and several instructional videos. The facilitator guide will outline the essentials to be covered in each session, exercises, discussion, checkpoint questions, a summary, assessment, and research to be undertaken by students after the session.
The United Nations Sustainable Development Goals (SDGs), exploring SDG Solutions, researching global goals, and developing a challenge and choosing a solution etc. are covered in the NXplorers Juniors Level-1.
NXplorers – Learning for a Life Time, envisions to provide a minimum of 3-5 years of NXplorers exposure to the students at various levels. The objectives include developing strong knowledge and skill set among students so that local and global challenges can be addressed by them. Developing sustainable models of implementation by engaging teachers, school leaders and communities effectively, creating awareness amongst parents regarding the importance of STEM education, especially concerning girl education are part of the overall goals.
About Smile Foundation
Smile Foundation is a national development organization directly benefiting over 1.5 million underprivileged children and their families every year through more than 400 welfare projects in education, healthcare, livelihood and women empowerment spread across 2,000 remote villages and urban slums in 25 states of India.
About Shell
Shell is one of the most diversified international energy company in India with over 10,000 employees and presence across upstream, integrated gas, downstream, renewable energy, and deep capabilities in R&D, digitalisation, and business operations; with a retail presence across six states – Karnataka, Tamil Nadu, Telangana, Maharashtra, Gujarat, and Assam.