Fr Maria Julian: Imparting computer education to underprivileged children in a self-sustainable bus
Taking on the idea from Fr. Jose Churavelikudilil and implementing it to its full potential, Chitra Don Bosco director Fr. Maria Julian has his bus, fitted with laptops and enthusiastic children, doing the rounds in Chitradurga, imparting basic computer education since 2012.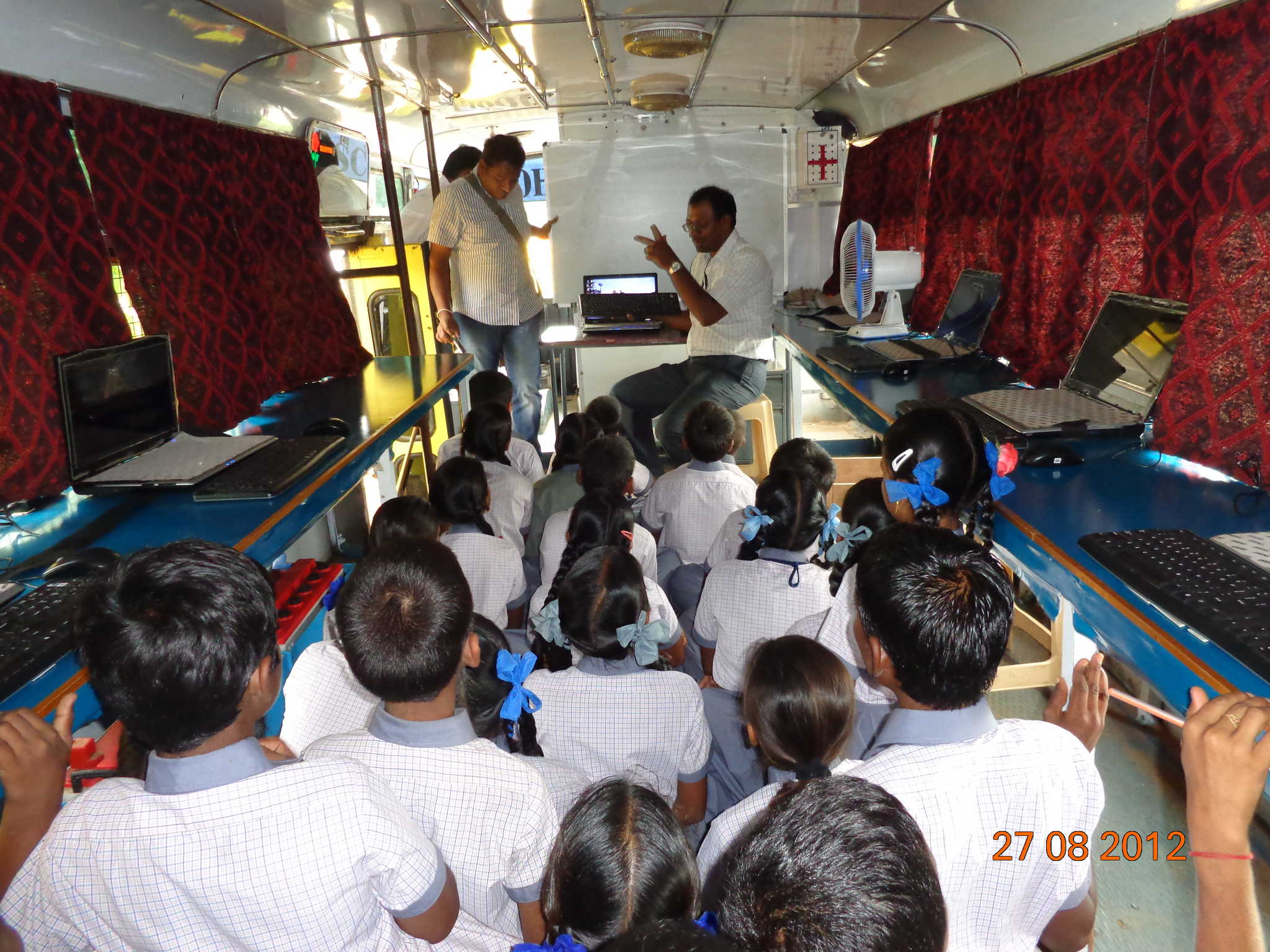 Our series "Teacher Warriors" honours some of the country's best and bravest teacher warriors, striving to give kids a fighting chance at a better present and a future floating with possibilities. In the fifth episode, Parvathy Jayakrishnan speaks to Fr Maria Julian, Chitra Don Bosco director :
Who would have thought of converting a bus into a computer lab for children from backward societies! Taking on the idea from Fr. Jose Churavelikudilil and implementing it to its full potential, Chitra Don Bosco director Fr. Maria Julian has his bus, fitted with laptops and enthusiastic children, doing the rounds in Chitradurga, imparting basic computer education since 2012. He is also into providing skill training for youth to empower them to do better.
How did this rather unusual, yet successful idea occur to you?
In this day of technology boom, I wanted to introduce computer education to children at a very young age. Children in backward districts do not even know what a computer is and it is hard for them to succeed in a world where computers are a bare necessity. I wanted them to get over their fear of computers and give them first-hand experience of computers – see, touch, feel and maybe do something on a computer and hence the project.
How was the bus converted into a classroom on wheels?
We had to remodel it to create a space similar to what you see in a computer centre. I got a carpenter and a welder to remove the seats and get desks in their place to place the computers. Initially, we thought of getting desktops, which was more popular at the time for being durable and easy to maintain. But we realised that keeping desktops stationary in a moving bus was almost impossible. That's when I suggested that we could use laptops instead. They are specifically made for travel and they also have three to four hours of power back-up, which was exactly suited to our need!
How do you source power to run the bus and the laptops?
Our original idea was to use a battery that would hold power for 10-12 hours and, at the end of the day, the bus could come back to our campus and we could charge the battery overnight so that we could use it the next day. But the battery alone would require an investment of Rs.2.5-Rs.3 lakh and again the charging would cost more money. Then we came up with an alternative and thought of using generators. But that would again mean someone had to start the generator and it would need fuel too, apart from the air and noise pollution that it would contribute to.
So how did you solve this problem of sourcing power?
I thought, why not make the bus solar-powered? Luckily, the same day that I came up with the idea, SELCO, a company dealing with solar panels came to visit me. I told them about my idea and they were ready to give it a shot. The process was simple. They fitted solar panels on the bus and set up batteries which would store the energy for future use.
What challenges did you face to set up the first bus for education?
We had to approach the RTO (Regional Transport Office) and get permission from them to set this up. Luckily, for us, they said that anyway a school bus is for education, be it transporting children to a school or teaching them in it. They gave us permission immediately. There were no major hitches for us.
What age-group of children do you concentrate on imparting computer education?
We teach children from 6-7 years up to high-school. I've heard that the Azim Premji foundation is doing work for high-school children. So we stick to the younger children.
How did you convince students and teachers to start learning inside a bus?
That was very simple. This was a new idea and the teachers were very interested, especially because we were ready to go to them and they did not require any effort from their side. We got permission from the Department of Education on the condition that we would not disturb regular classes.
What is your arrangement with schools currently?
During school hours, on a rotation basis, we take a class of students and educate them in our bus completely for free. We mostly approach government schools as they are the ones who lack computers. Private schools have at least one computer for children. Today we have a similar project happening in Ramanagara district.
How do you get funding for this project?
We received good funding from the Kinder Mission Work, Germany. During Christmas, children go around from house to house singing carols. They are given chocolates or money from these houses. These children from Germany donated to us all the money they collected, in tune with the true spirit of Christmas! So a part of this project is a Christmas gift from children to children.
This article was originally published in the June 2017 issue as a part of our cover story on Teacher Warriors. Subscribe to ScooNews Magazine today to have more such stories delivered to your desk every month.
This Young Woman From A Tribal Village Is Teaching The Children While Schools Are Closed
The only graduate of a Tamil Nadu village has volunteered to teach the children of the village while the pandemic persists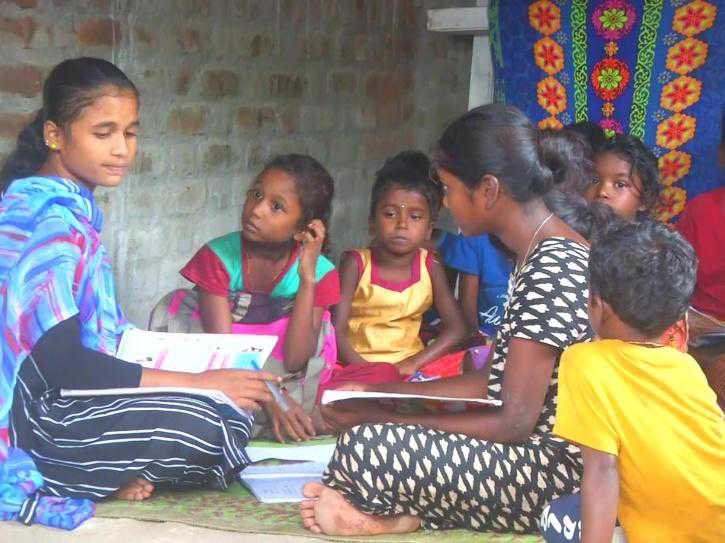 Where the digital network failed these tribal children in the southern part of India, their own stood to support them. Sandhya volunteers in teaching the kids of her village, Chinnampathy in Tamil Nadu. She is a graduate of B.Com, she is the only person from her village to have graduated college. Sandhya told India Today, "If it rains, we can't go to school. We only have one bus to our village and so after a certain age, people drop out of school."
Having gone through struggles herself, Sandhya knows how important a teacher and school is for growing children. So she volunteered to teach the children by herself, so they don't lag behind due to school closure. Sandhya said "When I was a child, I had no one to help me study. These children here have me to help them study."
One must ask the children from a remote rural or economically backward area, how it feels to not have the proper learning opportunities. The pandemic took more than the ability to roam about freely, it snatched away the ability to go to school for children on a global level. While it is easier for families with better income to support their child's online learning, most rural and financially challenged families are struggling.
The Indian government did start many projects for such students, but even learning via a television channel or free online course needs some basic gadgets and network connection. Many remote villages, like the tribal village, Chinnampathy, can not find enough network strength to have their children sit in front of a television and learn via the education channels.
On being asked how her classes are enduring she said, "The children come and ask me very freely all their doubt and they are not afraid of me. I see these children learning well and answering all the questions when I ask them."
Youth like Sandhya, who appreciate and signifies the work educators do and want to help the cause, are the future of the education sector!