Fun and Excitement Continues on Day 3 at St. Anslem's Pink City's Yuva Mahotsav
These days the fever of Yuva Mahotsav is on full swing at St. Anslem's Pink City School. The entire school with four of its houses seems to burn with the zeal to win over other houses. At the ongoing inter-house competition, the entire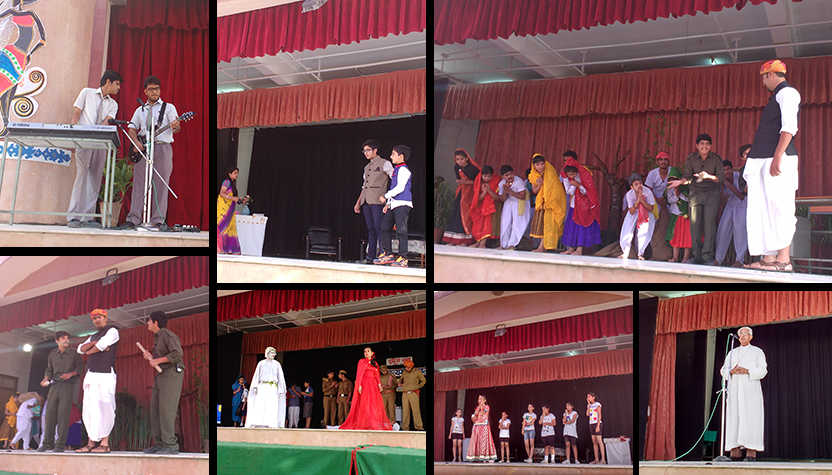 These days the fever of Yuva Mahotsav is on full swing at St. Anslem's Pink City School. The entire school with four of its houses seems to burn with the zeal to win over other houses. At the ongoing inter-house competition, the entire ground of the school turns brightly colored with students wearing the colour of their respective houses.
The school aims for an overall development of its students, an aim that comes out clear on each day of the Mahotsav. As the first day of the event was a quiz competition, today displayed the students' theatre and singing skills. The plays performed by students all had some inspirational or social message behind them.
One of the plays was all about women empowerment. It was an amalgamation of different stories, each highlighting the poor condition of women in the society. It showcased that even after touching heights of success professionally, the women suffer for many social evils, like, dowry, domestic violence, gender differentiation, female foeticide, etc.
In another such story, it talked about the disparity between male and female child. In showed how the boy, being the 'Chirag' of the home was fed with almond milk while the girl was termed as 'Bojh' and married off at an early age. The story ended with the 'Bojh' taking law as her career, leading a highly successful professional life as the city judge and the 'Chirag' landing-up in the jail.
In yet another play, the problems of illiterate peasants were highlighted, it was shown how the illiterate peasants were caught in the vicious circle of borrowing money due to lack of knowledge. The play ended with highlighting the importance of unity and education.
Refreshing everyone's mind and acting as fillers in between the plays were the melodious songs by the students representing different houses. The singers not only sung but also played guitar and keyboard, while many other singers got school guitarist and keyboard players playing for them in the background. And as soon as these singers were done with their singers, the audience full of students demanded for more of it, hoots for more were heard from every side of the ground.
Father Bishop Oswald Joseph Lewis, the chief guest of the day, was then invited to speak a few words of encouragement for students. He started with congratulating the participants, be it a winner or not. He specially mentioned the comperers of the day, suggesting that what impressed him the most about them was the way they had studied theatre and dramatics, giving the history of stage.
Finally, the third day of the Yuva Mahotsav came to an end with teaching its students various values that are needed to be a good human being. And in the end, the results were declared, and we saw the winners rushing towards the stage to grab their much deserved prize from the hands of Principal Father Edward. The exuberance and excitement with which they reached stage was incomparable and seeing it live is something that ScooTalks team thoroughly enjoyed.
Smile Foundation and Shell Launch STEM Project on Pi Day
The initiative will benefit less-privileged students from government schools.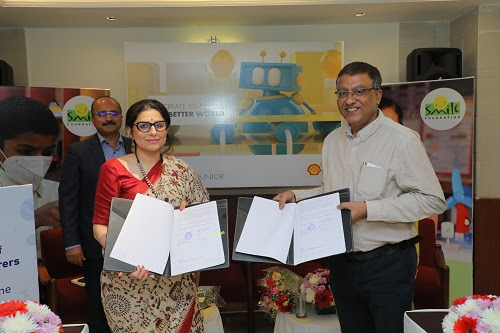 On the occasion of International Pi (π) Day, Smile Foundation and Shell launch 'NXplorers Junior' programme in three Indian states. NXplorers is Shell's global flagship Social Investment STEM (Science, Technology, Engineering, and Mathematics) educational programme aims to benefit over 25,000 children during the first year by enabling them to understand, navigate and address local and global challenges, as underlined in the Sustainable Development Goals (SDGs). NXplorers is also aligned with the National Education Policy 2020 and delivers societal benefits.
The innovative initiative will benefit less-privileged students from government schools and affordable private schools, studying in rural and hard-to-reach areas in the states of Andhra Pradesh, Telangana and Kerala. Its design also includes endeavour to create awareness amongst parents on the importance of STEM education, especially for girl children.
"Shell firmly believes that, provided with the necessary skills and guidance, young people can be a driving force to find sustainable solutions to the major global challenges of our time. Launched in 2018, Shell's global flagship STEM programme NXplorers is aligned with the National Education Policy 2020 that aims to transform India into an equitable and vibrant knowledge society. With the Smile Foundation partnership, we aim to expand this programme to Andhra Pradesh, Kerala, and Telangana and offer young minds the platform to design sustainable solutions to ease the pressure on food, water, and energy," said Ms. Latika Taneja, Head of Corporate Relations – India.
The programme is being rolled out in concurrence with the educational authorities of the respective state governments. Besides students, teachers, parents and communities are involved actively while implementing the programme so that it remains sustainable in the long-term.
"We are excited to roll out this innovative programme in India. We are hopeful that our children will not only leverage STEM education in building their future career but also will grow up and develop leadership ability in finding sustainable solutions in various walks of life," said Mr. Santanu Mishra, Co-founder & Executive Trustee, Smile Foundation.
The NXplorers Juniors will train both 6th and 7th grade students. NXplorers Juniors Level-I course will be delivered through a combination of teacher's guide, PowerPoint slides, and several instructional videos. The facilitator guide will outline the essentials to be covered in each session, exercises, discussion, checkpoint questions, a summary, assessment, and research to be undertaken by students after the session.
The United Nations Sustainable Development Goals (SDGs), exploring SDG Solutions, researching global goals, and developing a challenge and choosing a solution etc. are covered in the NXplorers Juniors Level-1.
NXplorers – Learning for a Life Time, envisions to provide a minimum of 3-5 years of NXplorers exposure to the students at various levels. The objectives include developing strong knowledge and skill set among students so that local and global challenges can be addressed by them. Developing sustainable models of implementation by engaging teachers, school leaders and communities effectively, creating awareness amongst parents regarding the importance of STEM education, especially concerning girl education are part of the overall goals.
About Smile Foundation
Smile Foundation is a national development organization directly benefiting over 1.5 million underprivileged children and their families every year through more than 400 welfare projects in education, healthcare, livelihood and women empowerment spread across 2,000 remote villages and urban slums in 25 states of India.
About Shell
Shell is one of the most diversified international energy company in India with over 10,000 employees and presence across upstream, integrated gas, downstream, renewable energy, and deep capabilities in R&D, digitalisation, and business operations; with a retail presence across six states – Karnataka, Tamil Nadu, Telangana, Maharashtra, Gujarat, and Assam.