GESS Dubai 2018 – Artificial Intelligence, Virtual Reality & Augmented Reality rule the roost!
Stay tuned to ScooNews for updates, buzz and the latest news from GESS Dubai 2018.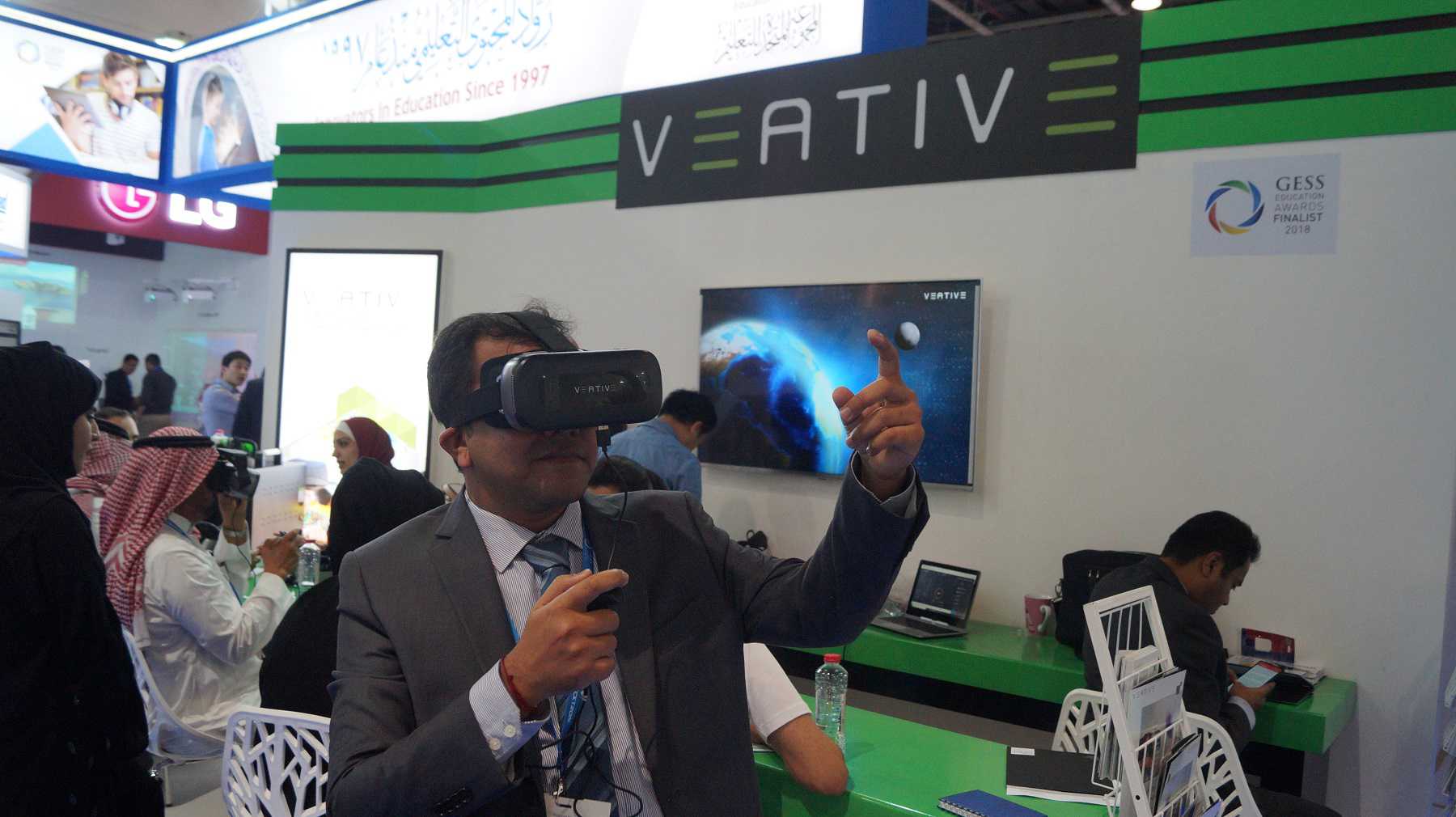 Every year, the Global Educational Supplies & Solutions (GESS Dubai) inspires us by showcasing the latest and greatest advancements in education technology – and this year was no different. We present to you a live account of the buzzwords that we heard while walking the show. Artificial Intelligence (AI), Virtual Reality (VR) and Augmented Reality (AR) were the most discussed among the visitors and exhibitors featuring these or related technologies, which saw heavy footfalls at their stands.
Addressing education professionals from around the world at the GESS Dubai 2018 education show and conference, His Excellency Eng. Hussain Ibrahim Al Hammadi, UAE Minister for Education emphasised the efforts being undertaken by the Ministry to develop the education sector in the UAE as it is one of the foundations of the country's aspirations to achieve a formidable knowledge-based economy. "At the Ministry of Education, we strive to improve and develop education because it is one of the most important pillars of a knowledge-based economy. It is a significant foundation of the fourth industrial revolution launched by the government recently," the Minister said while also stating that efforts are ongoing to continuously improve quality of education "through the supervision plan involving various educational zones to ensure compliance with the MOE's laws, regulations and legislations, and through the inspection framework that delivers a high-quality school evaluation system."
Some of the transformations being seen across schools include not just curriculum enhancements, "but proactive projects that apply advances in technology, such as artificial intelligence and robotics. Cutting-edge studies in learning spaces and furniture design are also changing the look and feel of classrooms. We are providing teachers and schools administrators leadership sessions designed to help them manage their schools and the changes they are experiencing to be more equipped to handle future challenges," said Matt Thompson, Project Director, Tarsus F&E LLC Middle East, organisers of GESS Dubai.
School-based projects showcasing the wide range of initiatives being done by students and teachers in the field of artificial intelligence, augmented and virtual realities; along with the latest research and insights from leading international experts as well as education-focused products and solutions are in the spotlight at this year's edition of the leading education show and conference in the region.
Steve Bambury, Head of Digital Learning and Innovation, JESS Dubai presented the latest insights on how Virtual Reality is transforming students' learning experience in school. 'Students can grasp concepts more readily and retain information for longer. They can virtually travel to places they may not be able to visit in reality."
The Teach Assist robot display at the Atlab Stand at GESS Dubai 2018 was buzzing with activity and visitors' interest in a live demonstration of its teaching abilities.
Students are also more focused on content and improved performance in school has been observed. Other notable benefits observed with the use of VR in classrooms include being able to travel through time to explore past culture and events in a more meaningful way; and being able to direct their own learning while within virtual environments.
Amira Al Balooshi, a teacher from Al Ain, attended the hands-on, interactive workshop using Lego® bricks and was pleased with the insights she gained from the session. "Hands-on learning develops skills textbooks are not able to provide and encourages students to develop their imagination. I am happy these workshops are sharing not just wonderful insights but also practical tips on how we can improve our performance and that of our students."
The personalization, gamification and micro-learning elements of the solutions like Alef enable students to absorb ideas and lessons into bite-sized information chunks, carefully interweaving skills, character, and knowledge across and within subjects.
The start-up pavilion features some of the best edtech startups like Browzly, Kamkalima, Smart Apps Creator and many more. Here again we noted that the focus was on Gamification, AI, VR & AR.
We also visited the new and exciting Innovation Pods area at stand F60, featuring companies that have never exhibited at GESS Dubai before. From STEM, to Digital & Interactive Technology, Games and Online/e-learning resources, the range of products on display was mind boggling.
We came across Fieldwork Education at stand Q42, which provides international curriculum and professional learning to more than 15,000 teachers, in over 2000 schools, in 98 countries globally.
GESS Dubai continues until March 1 at the Sheikh Saeed Halls of Dubai World Trade Centre featuring an exhibition of the latest educational products and solutions from 550 local and international companies and brands. Its conference programme has over 200 sessions and presentations from education, leadership and technology experts for which teachers can avail of CPD certification.
Stay tuned to ScooNews for updates, buzz and the latest news from GESS Dubai 2018.
NIOS celebrates 33rd Foundation Day
Dr. Subhas Sarkar addresses the 33rd Foundation Day Celebrations of NIOS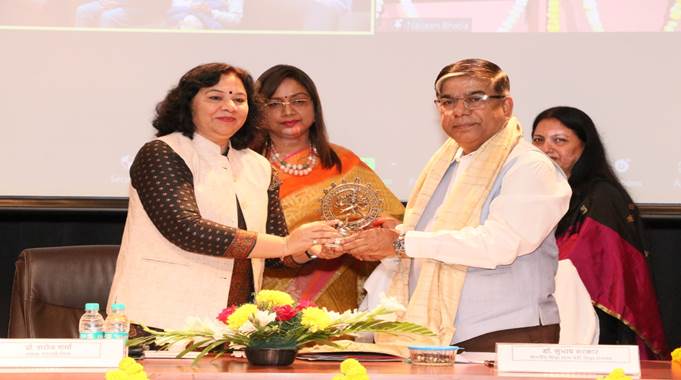 Union Minister of State for Education, Dr. Subhas Sarkar addressed the 33rd Foundation Day Celebrations of NIOS as the Chief Guest.
The function was attended by senior officials of the Ministry of Education, Chairpersons of educational institutions, Heads of Departments, officers, and staff of NIOS. Prof. Naval Kishore Ambasht, former Chairman, of NIOS and Pro-Vice Chancellor, of the Central University of Haryana, Prof. Sushma Yadav graced the occasion.
Dr. Subhas Sarkar in his address appreciated the various programmes and schemes of NIOS and said that NIOS is lighting the lamp of knowledge all over the world. Talking about the Azadi Ka Amrit Mahotsav, he mentioned that today's children will be young people in the age group of 30-40 years on the completion of 100 years of independence and will be responsible for building our nation.
He said that the Ministry of Education has entrusted NIOS with several responsibilities such as developing inclusive education resources, expanding the open and distance education system in states/UTs, translating all courses into more languages as required, creating Indian Knowledge Tradition based courses and propagating Indian culture by translating them into major foreign languages. He also praised the programmes of NIOS enrolling 10 crore adults under 'Basic Literacy Assessment', training of in-service teachers, Gender Green Project, and training in Yoga. He said that Indian Sign Language as a subject at the secondary level has been acknowledged on national and international platforms. He described the launch of an e-library called 'DEEP' by NIOS as a big step forward.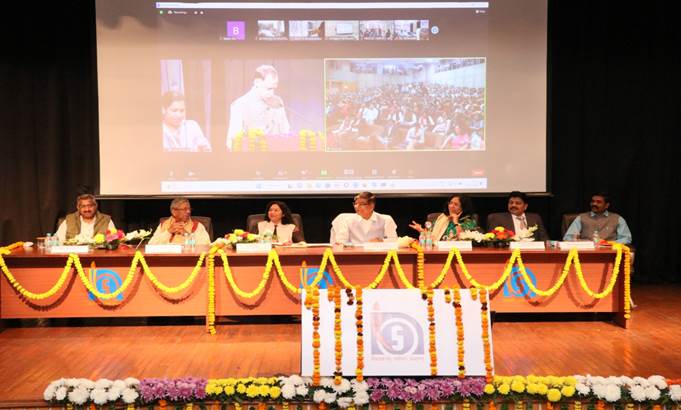 Prof. Saroj Sharma spoke about the journey of 33 years of NIOS and highlighted the special achievements. She said that NIOS is one of the two National Boards of Education under the Ministry of Education, which provides school education through Open and Distance Learning (ODL) for secondary, senior secondary, and vocational education. She elaborated on the role of NIOS in the field of education, efforts being made by NIOS for the successful implementation of the New Education Policy, Virtual Open School, Digital Library (DEEP), NEPIA Project, MoU with Ministry of Defence for Agniveer Project, setting up of Mukta Kaushal Kendras and subjects offered under Indian knowledge Tradition.
It was also conveyed by her that a curriculum called 'Aarambhika' is being developed by NIOS for catering to the Indian Diaspora.
A documentary based on the journey of 33 years of educational endeavours of NIOS was presented on the occasion. In this documentary, 'All England Badminton winner Pullela Gopichand said that most of the players in his badminton academy are getting an education from NIOS.
NIOS alumni, Ms. Niranjana and Vinod Kumar Chaudhary were also felicitated on the occasion. Shri Vinod Kumar said that only due to his education in NIOS, he was able to get the credit of making the Guinness Book of World Records 10 times (8 in Typing and 2 in sports). A proud learner of NIOS, Ms. Niranjana is a successful ventriloquist. Prof. N. K. Ambasht, former Chairman, NIOS said that in this age of technology, innovations must lead to developing 'standalone' courses for the Indian Diaspora, to achieve the goals of the National Education Policy- 2020. Pro-Vice Chancellor, Prof. Sushma Yadav said that the role of NIOS increases in the light of New Education Policy. NIOS has such potential that the institute will be able to achieve the ambitious goals of National Education Policy 2020 in the coming years.
The half-yearly magazine of NIOS 'Pragyan' was released by Dr. Subhas Sarkar on this occasion.