Highlights from the Bett Asia Leadership Summit and Expo in Kuala Lumpur, Malaysia
This year, the Bett Asia Leadership Summit and Expo took place at the Mandarin Oriental, Kuala Lumpur, Malaysia. The two-day conference on November 15 and 16 was witness to individuals and organisations in the forefront of innovation.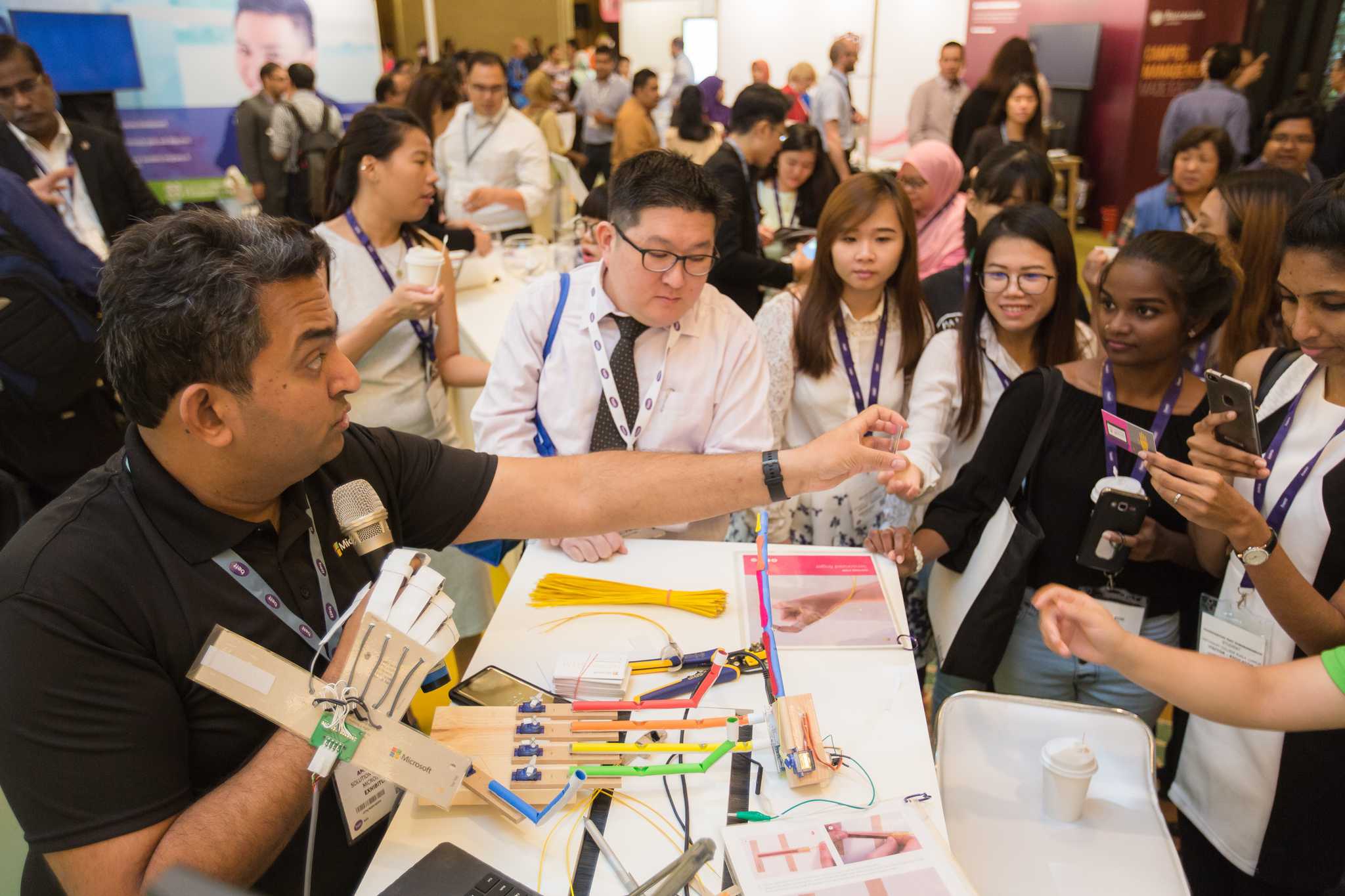 This year, the Bett Asia Leadership Summit and Expo took place at the Mandarin Oriental, Kuala Lumpur, Malaysia. The two-day conference on November 15 and 16 was witness to individuals and organisations in the forefront of innovation. Experts discussed topics nominated by policy and decision-makers from K-12 to TVET (Technical and Vocational Education and Training) which addressed key opportunities to improve education systems and further student outcomes across the region. Along with the summit, an expo showcased the latest tools and technologies set to transform the learning environment. Educators could drop into CPD (Continuing Professional Development) accredited Learn Live sessions and attend practical hands-on demonstrations which provide opportunities to network, collaborate and share with peers.
This year truly saw the convergence of technology and education. Addressing key opportunities to support collaboration and improve education systems across the Asia Pacific region, the action-packed event paved the way for thought-provoking discussions, interactive exhibits and business opportunities.
Bett Asia was officiated by YB Dato' Seri Mahdzir bin Khalid, Minister of Education – Malaysia, and brought together over 1,700 attendees comprising policy makers, leaders and experts in education and technology sectors around the world. The two-day event was themed 'Cultivating Global Collaboration in Education' in honour of the 50th anniversary of ASEAN.
Simon Presswell, Managing Director for Education, Technology and Broadcasting at Ascential (Bett Asia) commented, "We are delighted with the participation and support that we received for this year's event. It is Bett Asia's intention to make a positive impact in transforming and advancing the educational system to one that meets and exceeds the challenges of modern times."
Esteemed panellists at the event included Sir Michael Wilshaw, Her Majesty's Former Chief Inspector of Schools, Ofsted, and Senior Advisor, GEMS Education; H. E. Mme Sengdeuane Lachanthaboun, Minister of Education and Sports – Laos; and Dr Sophon Napathorn, Vice Minister for Education – Thailand. Throughout the empowering discussion, the panellists reflected on ASEAN's past successes and shared their outlook on the Work Plan on Education 2016-2020, which was designed to unify collaborative efforts on education and develop a coordinated ASEAN position on global education issues.
Leaders at Bett Asia talked about the great need for new methods of teaching and learning because the accelerated pace of technological development in the new millennium demands an education system that has a focus beyond just examinations and discipline.
Malaysian Education Minister Mahdzir Khalid said, "We must widen the focus of our education system beyond examinations and discipline, reconceptualise teaching and learn to maximise positive social transformation and innovation."
He referred to studies that suggest that 65 per cent of children in primary school today will have jobs that do not yet exist. This is why students should be given the opportunity to apply their learning experience in ways that are relevant to their future, he said. In addition to digital literacy, education should give learners the understanding of how to apply and innovate technology.
A keynote session by Anthony Salcito, Vice President – Worldwide Education, Microsoft USA on Digital transformation in Learning, device demos, partner solutions, the passport adventure competition, and the Microsoft School Leaders and the Teachers Academy was one of the highlights of the event.
There were panel discussions on topics such as 'Shifting cultural expectations around traditional learning' which explored the idea of adjusting the emphasis from rote memorisation to project-based, holistic learning to stimulate critical thinking in students; 'Encouraging self-direction in Higher and Vocational Education', where the idea of how to stimulate students to take responsibility and identify gaps in their own learning and plan their own trajectory to the workforce was discussed; and 'Smashing gender stereotypes', a discussion which celebrated the pivotal role women have in STEM, Higher Education and research positions and the importance of encouraging female students to follow suit.
The expo attracted over 1,700 educators of all levels, education professionals and decision-makers from across ASEAN to share intelligence on how to improve learning in the 21st century. Educators from 175+ schools and universities and 160+ Government leaders attended to discover, experiment and source new technologies and resources.
The Bett Asia Awards celebrated and rewarded the creativity and innovation found throughout Asia's education sector. The game changer award was won by Apurba Kumar Das – Assistant Teacher, Faridpur Govt. Girls' High School, Bangladesh, GL Education – Whole Student View Assessments, United Kingdom won the award for innovation, Raymond Mitchel Africa – Science and Design Educator, CAS and Personal Project Coordinator, Manila Xiamen International School, Philippines won the award for leadership and Yayasan Generasi Gemilang – Malaysia won the award for collaboration.
The Bett Asia Leadership Summit and Expo was powered towards enhancing the quality of education through innovation and global collaborations. Bett is a leading global technology exhibition and congress series for teaching and learning-related data and management tools. Covering the breadth of lifelong learning, the series brings together industry leaders, practitioners, professionals and inspirational figures to share ideas on how to support learning together through technology. The Bett global series covers events in the United Kingdom, Latin America, Asia and the Middle East.
SHE STEM 2022 honours and celebrates women
SHE STEM 2022 encourages students to 'Unleash their imagination' as part of the Sweden India Nobel Memorial Week.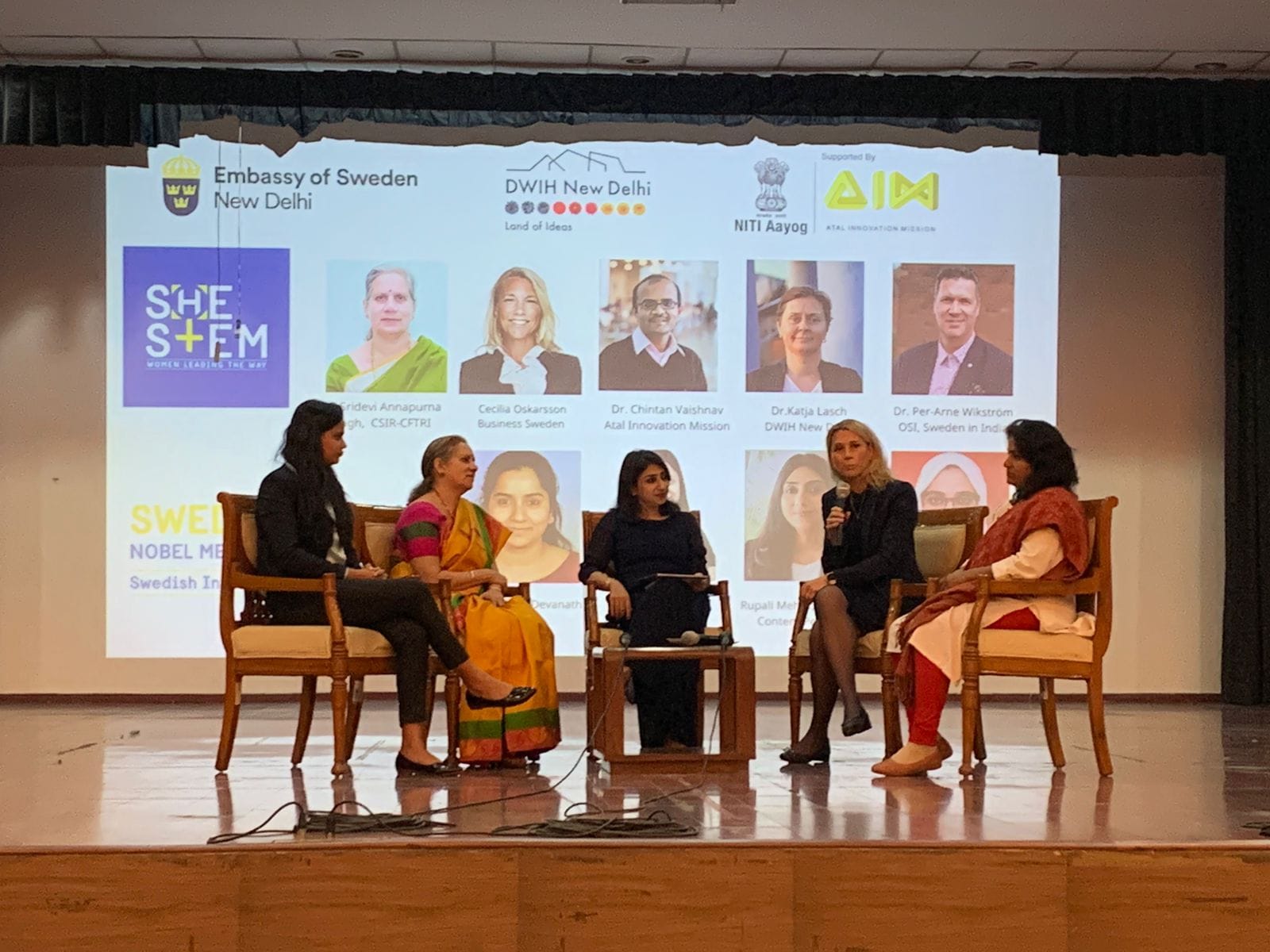 As part of the Sweden-India Nobel Memorial Week, SHE STEM, the annual event to celebrate women in the fields of science, technology, engineering, mathematics, and sustainability, was successfully held for the third year in a row.
The annual event is organized by the Sweden Embassy in India in partnership with the Atal Innovation Mission of the Government of India and the German Centre of Innovation and Research (DWIH New Delhi).
Ambassador of Sweden to India H.E. Jan Thesleff, who also addressed the students via a video message said, "We are very happy to continue the tradition of SHE STEM – it is a flagship event of the Sweden-India Nobel Memorial Week. Congratulations to all the winners of this year's SHE STEM Video challenge."
Dr. Chintan Vaishnav, Director of ATAL Innovation Mission said, "Today, the face of women's involvement in STEM is changing and the rate of participation has increased. It was in ATL Marathon 2021, that there was a spike where the women's participation was 49%. A strong STEM education will go a long way in cultivating such critical thinkers."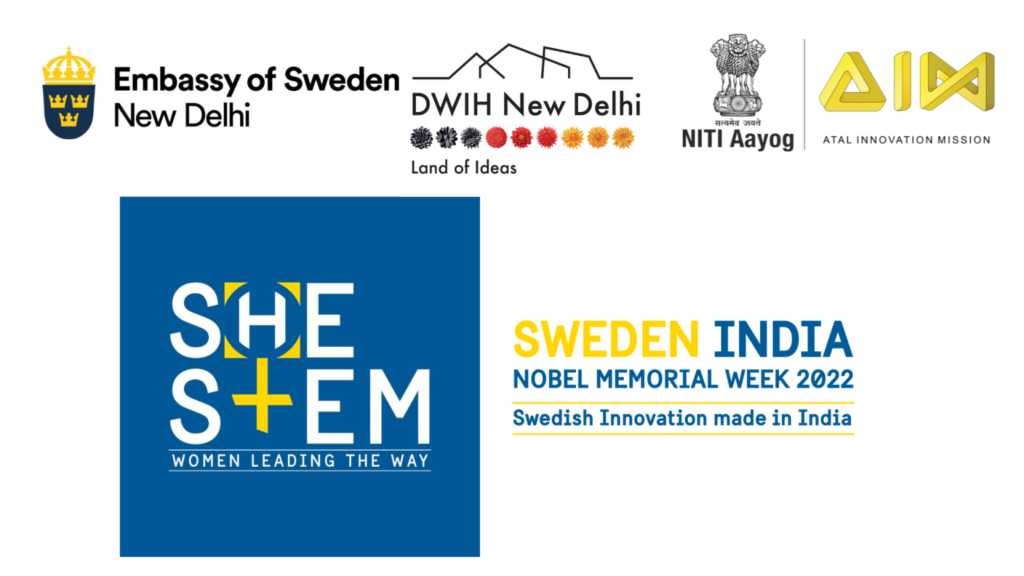 SHE STEM 2022 began with a musical performance by the students of Darbari Lal DAV Model School, New Delhi, the host school for SHE STEM 2022, followed by talks, and a panel discussion with women in the fields of STEM and business, including D. Sridevi Annapurna Singh, Director of Council of Scientific and Industrial Research – Central Food Technological Research (CSIR-CFTRI), Ministry of Science and Technology, Government. of India.
Dr. Annapurna Singh has done extensive work in the development of supplementary foods for undernourished children and in studying the impact of protein-rich food on children. She spoke to the audience about the need for women in fields of STEM to bring in their unique perspectives to problem-solving for a sustainable future.
Other participants included Cecilia Oskarsson, Trade, and Invest Commissioner of Sweden to India, who shared her thoughts on the role of diversity in triggering and enabling positive changes for girls and women, Mamta Kumari, co-founder and CEO of Prepbytes, an ed-tech company in India, and Dr. Vasudharani Devanathan, Neurobiologist and Professor of Biology at the Indian Institute of Science Education Research (IISER). Rupali Mehra, Founder of Content People AB moderated the event.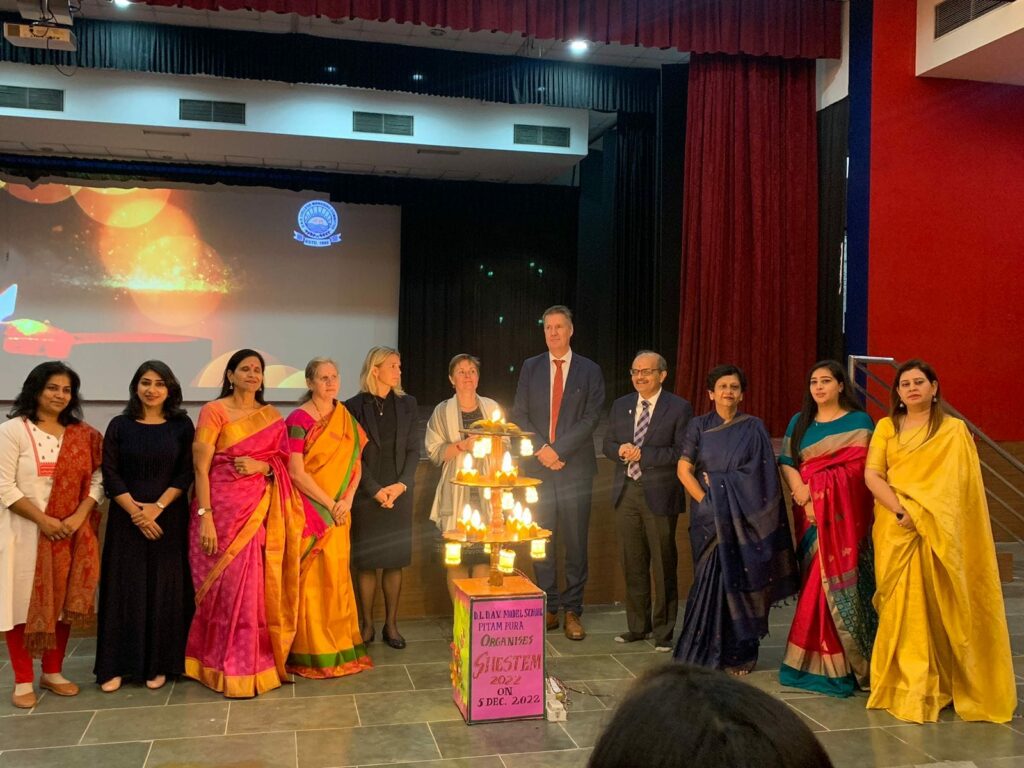 Dr. Per-Arne Wikström, Head of Office of Science & Innovation, Embassy of Sweden in New Delhi said: "When women and girls provide their talent, their knowledge, and their capabilities to science and technology on equal terms with men and boys, then we know that societies prosper and that innovation capacity actually increases. So for us, gender equality is an integrated part and an important aspect of everything that we do. We would like to thank our Indian partners for their support for this very important initiative."
"As Johann Wolfgang von Goethe said, 'who is not curious will not gain knowledge,' so keep your curiosity on, drive your knowledge forward and who knows maybe one or other idea will be implemented," said Dr. Katja Lasch, responsible for Strategy Management at the German Centre for Research and Innovation (DWIH New Delhi) and head of German Academic Exchange Service (DAAD) Regional Office in New Delhi.
Following the success of the Insta-reels Video Challenge in 2021, SHE STEM hosted the #SHESTEM2022 Video Challenge across Instagram, Youtube, Facebook, and Google Drive for students of ages 13 to 17, asking them to imagine themselves in the year 2047, and speak about an innovation of theirs that has helped in tackling climate change. The response was overwhelming with over 930 videos of which 15 were shortlisted. SHE STEM had an extensive jury round of 3 jury teams; Atal Innovation Mission Team led by Dr. Chintan Vaishnav, the Swedish Embassy team, led by Dr. Per-Arne Wikström, and the German Centre for Research and Innovation, represented by Dr. Katja Lasch.
The videos were assessed on the:
Novelty of idea
Clarity of thought and articulation
Sustainability or climate action angle
G. Nivethiga Rani who created a video on how she as a STEM Leader in 2047 had invented a robot that collected and converted biodegradable and non-biodegradable waste into electricity, won the first prize in the video challenge. The second prize was tied between T Shatananda Dhanwantari and Shreya Singh and Nistha Aswal, who participated as a team. Gaurav Hanjoora won third place.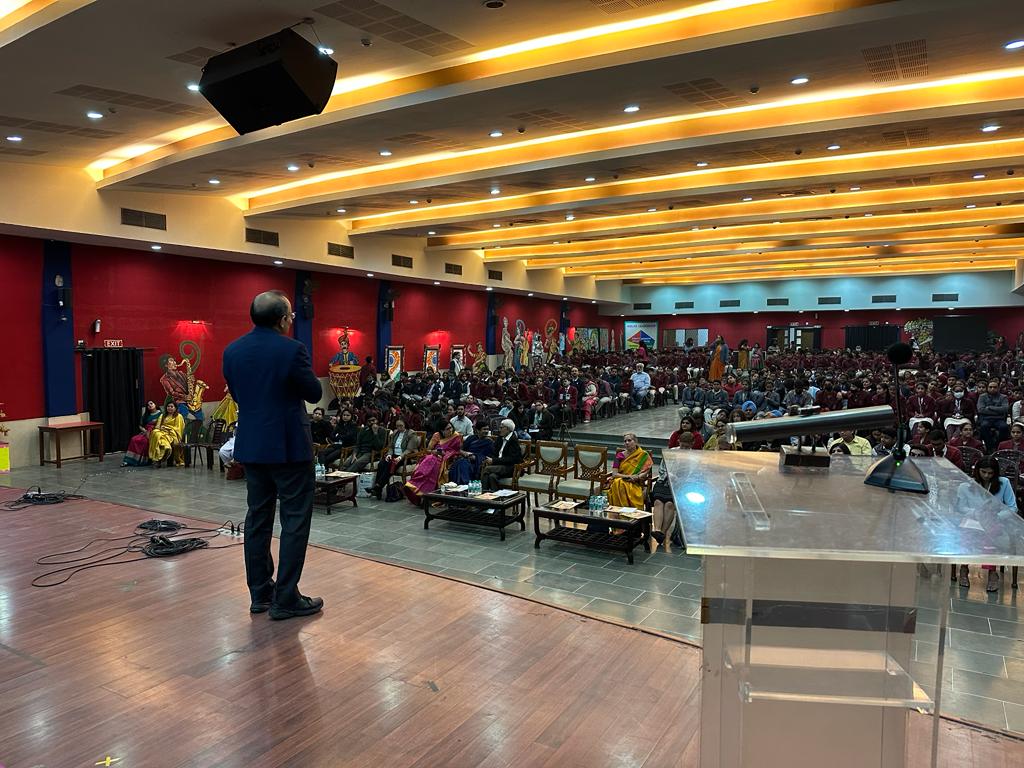 "I congratulate all the winners of the SHE STEM 2022. I have to say what caught my attention was that every single idea was addressing a fundamental constraint confronting us," said Dr. Chintan Viashnav.