It is always good to share knowledge, in any way possible
Revathi Balakrishnan makes the whole India, especially the teachers, proud of her achievement by bagging the title of "The Texas Teacher of the Year 2016"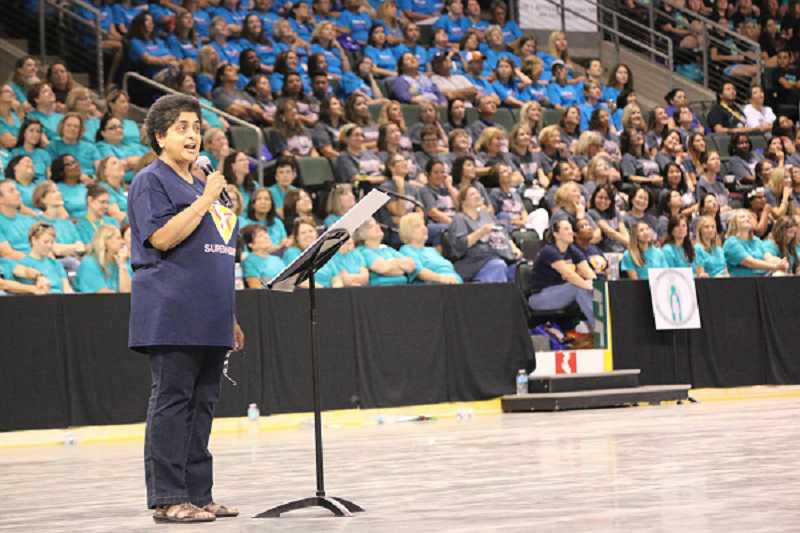 "We think of teacher-heroes that taught us the academics but we don't often think of those teachers that taught us life's lessons." — Maria Wale, My Teacher My Hero
I absolutely second the above statement. As a student, my relationship with my teacher is just as common as every other student-teacher relationship is. And I think I am not the only one, everyone I look around shares the same relationship. What we fail to recognize is the teachers' efforts to love us dearly and endlessly, to put up with us when we study late in the night, be there for us in our happiness when we pass our exams, to encourage and lift our spirits with their hugs when we fail. We might have a favourite teacher but no teacher has a favourite student. At least I have never seen a teacher having only one favourite student. And that's the beauty of teachers. They keep sharing their knowledge, selflessly to look at us fly high in the world as they prepare themselves for the next batch which will annoy, irritate, perhaps give her a headache, but will stand on his/her expectations.
This article is to address one such teacher who's done a tremendous job not just in her field but in her life too. Revathi Balakrishnan, a teacher at Patsy Sommer Elementary School, has been named 'Texas Elementary Teacher of the Year' 2016.
"It is not work for me. It is actually a passion," said 53-year-old Austin-based Ms Balakrishnan.
Ms Balakrishnan was a systems analyst with Liberty Mutual, managing databases and programming for about 12 years before becoming a teacher. When she decided to take up a teaching job on the elementary level, people popped up questions to her, which was but natural. To silence the questions, all she said was
"Let me just put my foot in the third door."
And she did! Her interview at the Patsy Sommer Elementary School went great and she was asked to join the school as a talented and gifted (tag) teacher. It surprised her because she had never taught in a school before. But the confidence that she had in herself and her techniques of teaching not only made her the school's favourite teacher, it also helped her earn the title – Teacher of the Year.
She follows a pattern called Independent study in her class which means the students choose the topic they want to learn or research about. Her idea of this unique technique is to understand the child's interest and motivate him/her to think about it. This technique insures that the child is interested in learning and he/she will not wait for anyone. She believes that the excitement is enough motivation to take up the challenges and if there's a problem, Ma'am Revathi is there. Look out for the "No Nonsense!" format in her teaching skills!
According to her, the excitement of teaching, learning with students and the opportunity to shape students who are the "leaders of tomorrow" drives her.
If any of us were in her class now, we would be more than just grateful! This also means that we call up our teachers right away to thank them for who we are and where we are. (Just a thought!)
Ms. Balakrishnan was honoured by US President Barack Obama at the White House in the first week of May 2016 and will now represent Texas in the 'National Teacher of the Year' competition.
Here's wishing her the best of everything!
Image Courtesy: Revathi Balakrishnan – Kickoff 2015 – Round Rock ISD, www.tasanet.org
NIOS celebrates 33rd Foundation Day
Dr. Subhas Sarkar addresses the 33rd Foundation Day Celebrations of NIOS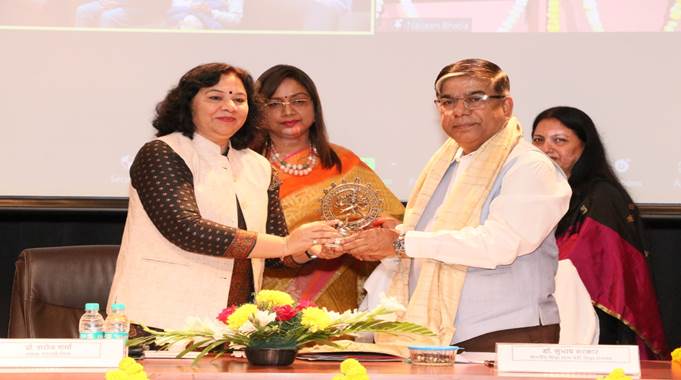 Union Minister of State for Education, Dr. Subhas Sarkar addressed the 33rd Foundation Day Celebrations of NIOS as the Chief Guest.
The function was attended by senior officials of the Ministry of Education, Chairpersons of educational institutions, Heads of Departments, officers, and staff of NIOS. Prof. Naval Kishore Ambasht, former Chairman, of NIOS and Pro-Vice Chancellor, of the Central University of Haryana, Prof. Sushma Yadav graced the occasion.
Dr. Subhas Sarkar in his address appreciated the various programmes and schemes of NIOS and said that NIOS is lighting the lamp of knowledge all over the world. Talking about the Azadi Ka Amrit Mahotsav, he mentioned that today's children will be young people in the age group of 30-40 years on the completion of 100 years of independence and will be responsible for building our nation.
He said that the Ministry of Education has entrusted NIOS with several responsibilities such as developing inclusive education resources, expanding the open and distance education system in states/UTs, translating all courses into more languages as required, creating Indian Knowledge Tradition based courses and propagating Indian culture by translating them into major foreign languages. He also praised the programmes of NIOS enrolling 10 crore adults under 'Basic Literacy Assessment', training of in-service teachers, Gender Green Project, and training in Yoga. He said that Indian Sign Language as a subject at the secondary level has been acknowledged on national and international platforms. He described the launch of an e-library called 'DEEP' by NIOS as a big step forward.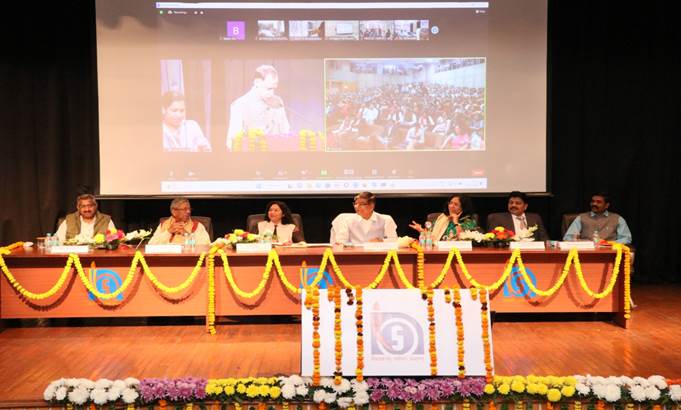 Prof. Saroj Sharma spoke about the journey of 33 years of NIOS and highlighted the special achievements. She said that NIOS is one of the two National Boards of Education under the Ministry of Education, which provides school education through Open and Distance Learning (ODL) for secondary, senior secondary, and vocational education. She elaborated on the role of NIOS in the field of education, efforts being made by NIOS for the successful implementation of the New Education Policy, Virtual Open School, Digital Library (DEEP), NEPIA Project, MoU with Ministry of Defence for Agniveer Project, setting up of Mukta Kaushal Kendras and subjects offered under Indian knowledge Tradition.
It was also conveyed by her that a curriculum called 'Aarambhika' is being developed by NIOS for catering to the Indian Diaspora.
A documentary based on the journey of 33 years of educational endeavours of NIOS was presented on the occasion. In this documentary, 'All England Badminton winner Pullela Gopichand said that most of the players in his badminton academy are getting an education from NIOS.
NIOS alumni, Ms. Niranjana and Vinod Kumar Chaudhary were also felicitated on the occasion. Shri Vinod Kumar said that only due to his education in NIOS, he was able to get the credit of making the Guinness Book of World Records 10 times (8 in Typing and 2 in sports). A proud learner of NIOS, Ms. Niranjana is a successful ventriloquist. Prof. N. K. Ambasht, former Chairman, NIOS said that in this age of technology, innovations must lead to developing 'standalone' courses for the Indian Diaspora, to achieve the goals of the National Education Policy- 2020. Pro-Vice Chancellor, Prof. Sushma Yadav said that the role of NIOS increases in the light of New Education Policy. NIOS has such potential that the institute will be able to achieve the ambitious goals of National Education Policy 2020 in the coming years.
The half-yearly magazine of NIOS 'Pragyan' was released by Dr. Subhas Sarkar on this occasion.