Literate, educated, empowered population can build a 'New India' says the Vice-President of India, M. Venkaiah Naidu
The National level function to celebrate 51st International Literacy Day was organised by the Ministry of Human Resource Development, Government of India in New Delhi today.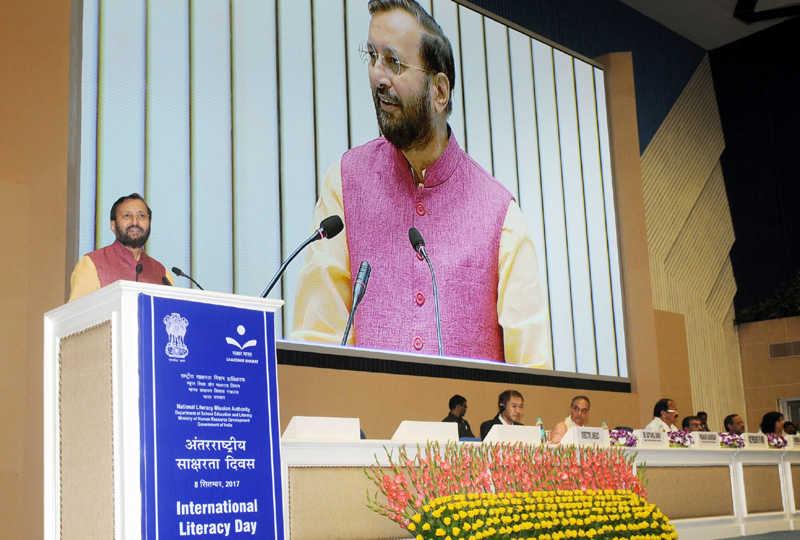 The National level function to celebrate 51st International Literacy Day was organised by the Ministry of Human Resource Development, Government of India in New Delhi today. Honorable Vice President of India, Shri M. Venkaiah Naidu was the Chief Guest on this occasion. The Vice President, Shri M. Venkaiah Naidu also presented the Saakshar Bharat Awards – 2017 to the winners at state, district and panchayat level.
Speaking on the occasion, Shri M. Venkaiah Naidu congratulated the winners of Sakshar Bharat Awards – 2017 for their contribution in promoting literacy at grass root levels. He said that literacy can play an important role of empowering, transforming and improving quality of life of individuals as well as society. He said that the development has no meaning in democracy without literacy. He added that we have committed to the implementation of the 2030 Agenda for Sustainable Development adopted by all nations at the United Nations in January 2016. The global agenda envisages a "world with universal literacy" and one of the targets set in the agenda, to be achieved by 2030, is specifically focused on youth and adult literacy.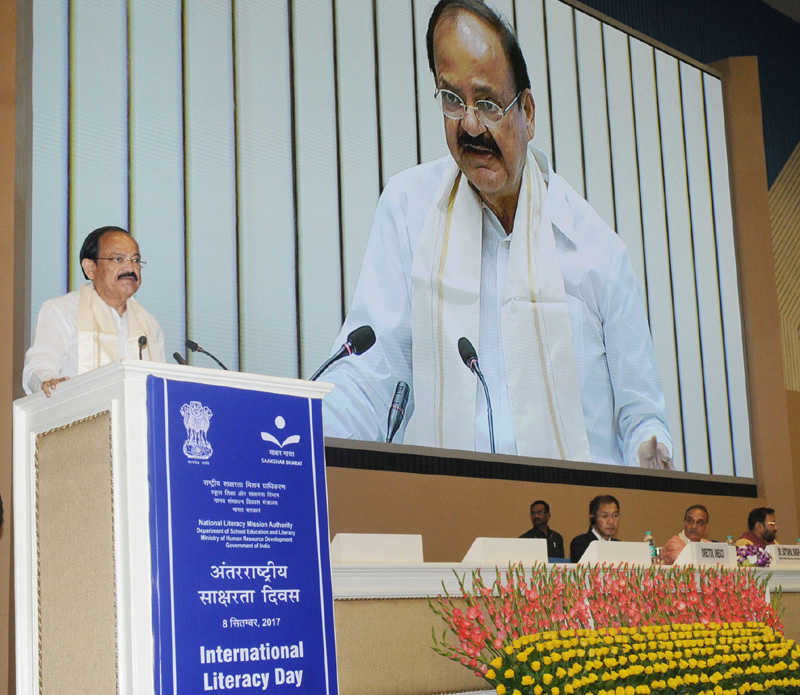 Shri Naidu said we have a long way to go as nearly 35 crore youth and adults are outside the literate world. The Vice President suggested ways to achieve universal literacy; firstly to improve the quality of pre-primary and school education; secondly, we must provide opportunities for learning to those who have never been to school or have dropped out of school. He also congratulated Human Resource Development Ministry for taking various successful initiatives to promote quality education and literacy in the country.
On the occasion Shri Prakash Javadekar told that literacy rate from 18% in 1947 has now reached to 81% approximately till date. He said that we should identify the potential children who are not going to school and must get them enrolled in schools. Also every literate person in the family must educate other illiterate persons of the family. The minister assured that next year government will start 'School Chalo Abhiyan programme. These efforts will help overcoming the remaining 19 % illiteracy and we will be able to achieve 100 % literacy and 100% digital literacy by 2022 which is a dream of our Prime Minister Shri Narendra Modi.
Minister of State for Human Resource Development, Shri Upendra Kushwaha said that the time has come when the last man in the line has understood the importance of education in our life and even an underprivileged person wants his child to be educated and literate. He assured that the ministry is making efforts to achieve 100 % literacy in our country. He also said presently apart from functional literacy we are also focusing on various other kinds of literacy like Financial literacy, Digital literacy etc.
Addressing on the occasion Minister of State for Human Resource Development, Dr. Satya Pal Singh said it is the responsibility of the government to provide schools, colleges, teachers and infrastructure to ensure quality education but it is the responsibility of the parents to send their children to schools. He requested to follow our ancient education system in which the aim of education were to provide good training of skills to the students and to enrich their knowledge, character and personality for overall development.
Smt Rina Ray, Special Secretary, Department of School Education and Literacy gave vote of thanks on the occasion.
Among the dignitaries Shri Anil Swarup, Secretary (Department of School Education & Literacy), Mr. Shigeru Aoyagi, Director, UNESCO, New Delhi were present on the occasion.
The message of Ms. Irina Bokova, Director – General, UNESCO was circulated on the occasion. In the message she said that the International Literacy Day offers a moment to review the progress and come together to tackle the challenges ahead. She highlighted that the digitally-mediated knowledge societies are changing what it means to be literate, calling for new and higher-level literacy skills. Therefore, this year, the event is devoted to better understanding the type of literacy required in a digital world to build more inclusive, equitable and sustainable societies.
Saakshar Bharat Awards were instituted to encourage a healthy competition for better performance among the programme implementing and support agencies. The Awards also recognize the achievements and invaluable contributions of functionaries and volunteers in the field of adult education and skill development. Each Award carries a trophy and a certificate. A total of 11 Saakshar Bharat Awards were given this year.
Following are the winners of Saakshar Bharat Awards – 2017
SLMA (State)

1. State Literacy Mission Authority, Bhopal, MP.

Zilla Lok Shiksha Samitis (Districts)

Jashpur District of Chhattisgarh
Dantewada District of Chhattisgarh
Tikamgarh District of Madhya Pradesh

Gram Panchayat Lok Shiksha Samitis (GPLSSs)

1. Vellampalli Gram Panchayat, Parakala Block, Warangal Rural Dist., Telangana

2. Karmaha Gram Panchayat, Surguja, Chhattisgarh

3. Dumari Kalan Gram Panchayat, Majorganj Block, Sitamarhi Dist., Bihar

4. Temri Gram Panchayat, Dharsiva Block, Raipur Dist., Chhattisgarh

5. Gadamallaiah Guda Gram Panchayat, Yacharam Block, Ranga Reddy Dist., Telangana

Resource Support Organisations

State Resource Center, Indore, Madhya Pradesh
Jan Shikshan Sansthan, Mahbubnagar, Telangana
Source – PIB, Govt of India
SHE STEM 2022 honours and celebrates women
SHE STEM 2022 encourages students to 'Unleash their imagination' as part of the Sweden India Nobel Memorial Week.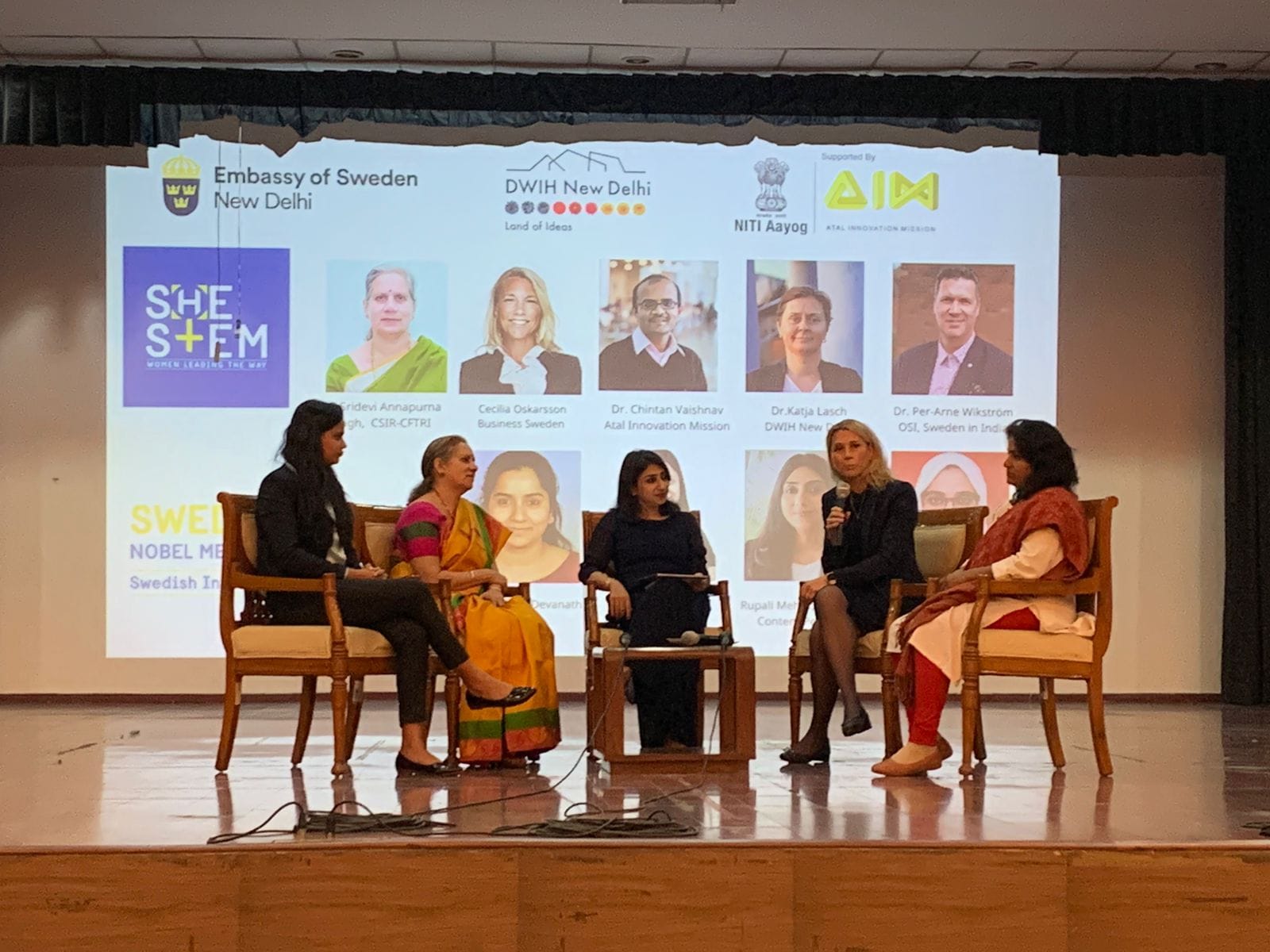 As part of the Sweden-India Nobel Memorial Week, SHE STEM, the annual event to celebrate women in the fields of science, technology, engineering, mathematics, and sustainability, was successfully held for the third year in a row.
The annual event is organized by the Sweden Embassy in India in partnership with the Atal Innovation Mission of the Government of India and the German Centre of Innovation and Research (DWIH New Delhi).
Ambassador of Sweden to India H.E. Jan Thesleff, who also addressed the students via a video message said, "We are very happy to continue the tradition of SHE STEM – it is a flagship event of the Sweden-India Nobel Memorial Week. Congratulations to all the winners of this year's SHE STEM Video challenge."
Dr. Chintan Vaishnav, Director of ATAL Innovation Mission said, "Today, the face of women's involvement in STEM is changing and the rate of participation has increased. It was in ATL Marathon 2021, that there was a spike where the women's participation was 49%. A strong STEM education will go a long way in cultivating such critical thinkers."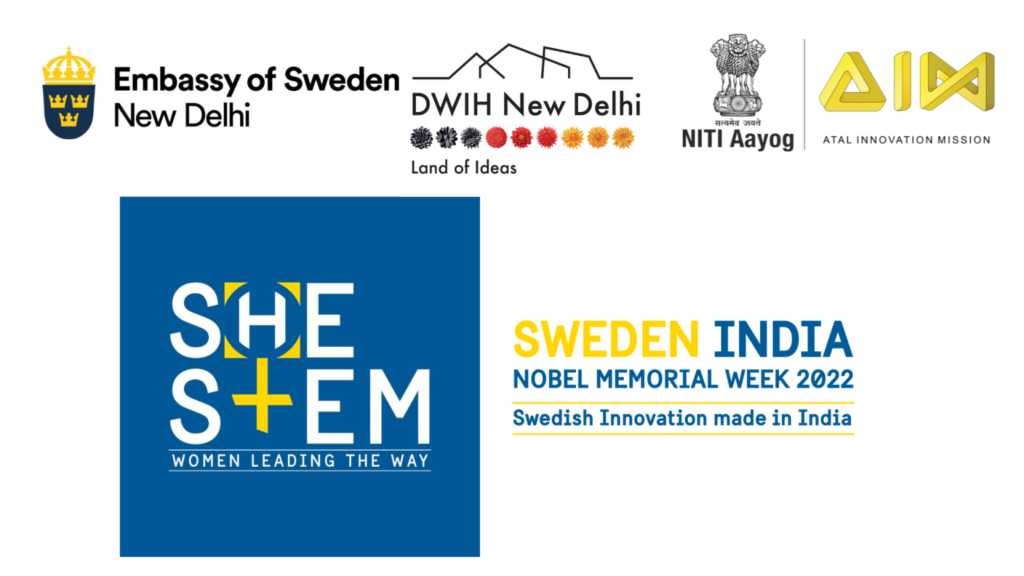 SHE STEM 2022 began with a musical performance by the students of Darbari Lal DAV Model School, New Delhi, the host school for SHE STEM 2022, followed by talks, and a panel discussion with women in the fields of STEM and business, including D. Sridevi Annapurna Singh, Director of Council of Scientific and Industrial Research – Central Food Technological Research (CSIR-CFTRI), Ministry of Science and Technology, Government. of India.
Dr. Annapurna Singh has done extensive work in the development of supplementary foods for undernourished children and in studying the impact of protein-rich food on children. She spoke to the audience about the need for women in fields of STEM to bring in their unique perspectives to problem-solving for a sustainable future.
Other participants included Cecilia Oskarsson, Trade, and Invest Commissioner of Sweden to India, who shared her thoughts on the role of diversity in triggering and enabling positive changes for girls and women, Mamta Kumari, co-founder and CEO of Prepbytes, an ed-tech company in India, and Dr. Vasudharani Devanathan, Neurobiologist and Professor of Biology at the Indian Institute of Science Education Research (IISER). Rupali Mehra, Founder of Content People AB moderated the event.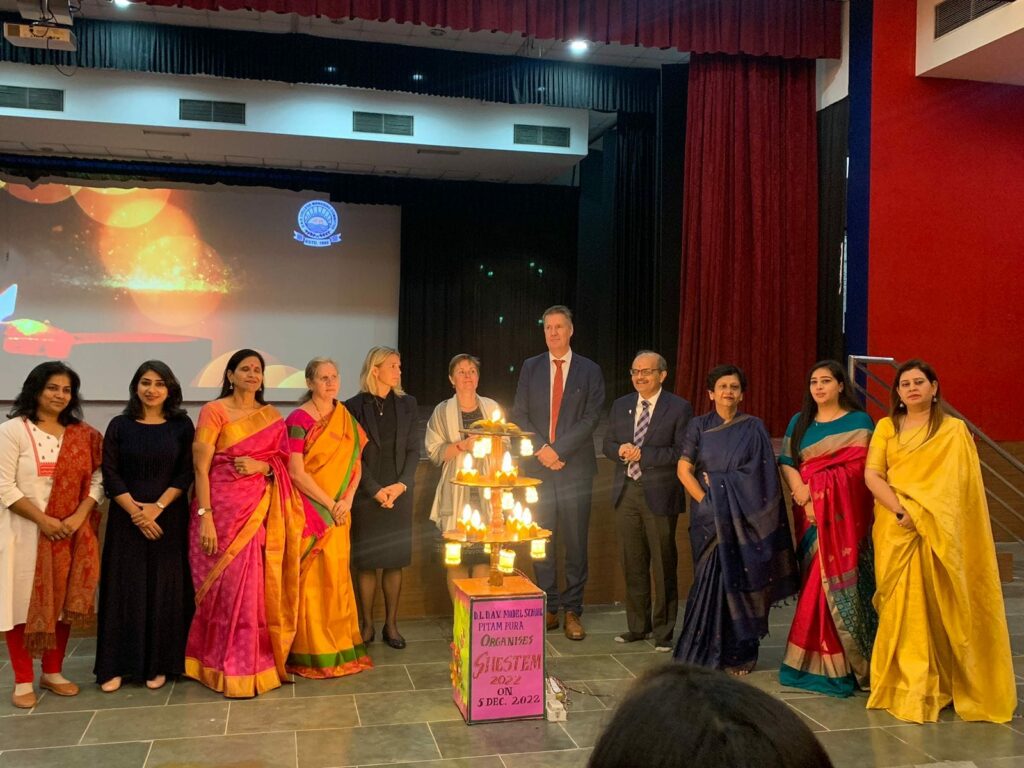 Dr. Per-Arne Wikström, Head of Office of Science & Innovation, Embassy of Sweden in New Delhi said: "When women and girls provide their talent, their knowledge, and their capabilities to science and technology on equal terms with men and boys, then we know that societies prosper and that innovation capacity actually increases. So for us, gender equality is an integrated part and an important aspect of everything that we do. We would like to thank our Indian partners for their support for this very important initiative."
"As Johann Wolfgang von Goethe said, 'who is not curious will not gain knowledge,' so keep your curiosity on, drive your knowledge forward and who knows maybe one or other idea will be implemented," said Dr. Katja Lasch, responsible for Strategy Management at the German Centre for Research and Innovation (DWIH New Delhi) and head of German Academic Exchange Service (DAAD) Regional Office in New Delhi.
Following the success of the Insta-reels Video Challenge in 2021, SHE STEM hosted the #SHESTEM2022 Video Challenge across Instagram, Youtube, Facebook, and Google Drive for students of ages 13 to 17, asking them to imagine themselves in the year 2047, and speak about an innovation of theirs that has helped in tackling climate change. The response was overwhelming with over 930 videos of which 15 were shortlisted. SHE STEM had an extensive jury round of 3 jury teams; Atal Innovation Mission Team led by Dr. Chintan Vaishnav, the Swedish Embassy team, led by Dr. Per-Arne Wikström, and the German Centre for Research and Innovation, represented by Dr. Katja Lasch.
The videos were assessed on the:
Novelty of idea
Clarity of thought and articulation
Sustainability or climate action angle
G. Nivethiga Rani who created a video on how she as a STEM Leader in 2047 had invented a robot that collected and converted biodegradable and non-biodegradable waste into electricity, won the first prize in the video challenge. The second prize was tied between T Shatananda Dhanwantari and Shreya Singh and Nistha Aswal, who participated as a team. Gaurav Hanjoora won third place.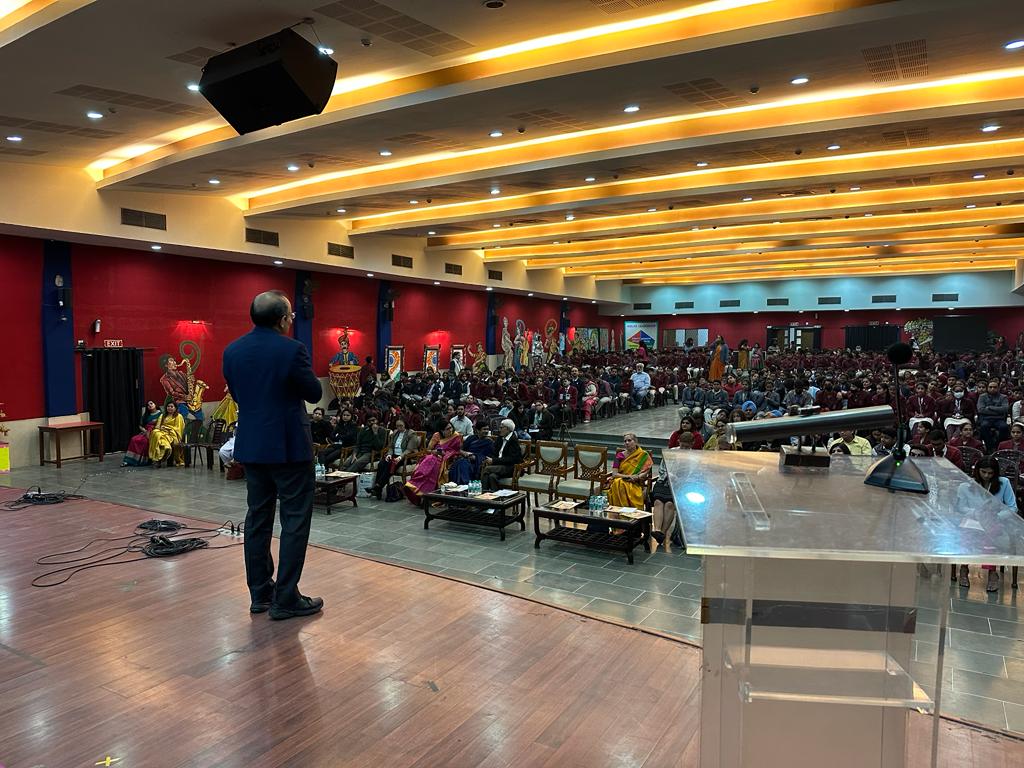 "I congratulate all the winners of the SHE STEM 2022. I have to say what caught my attention was that every single idea was addressing a fundamental constraint confronting us," said Dr. Chintan Viashnav.