Outrage in Switzerland as OK for Muslim students not to shake hands with female teachers
A Therwil school has exempted 2 muslim students from shaking hand with female teachers after they complained it was against Islam to do so. It has created a national debate. The county council though has the power to intervene had decided not to.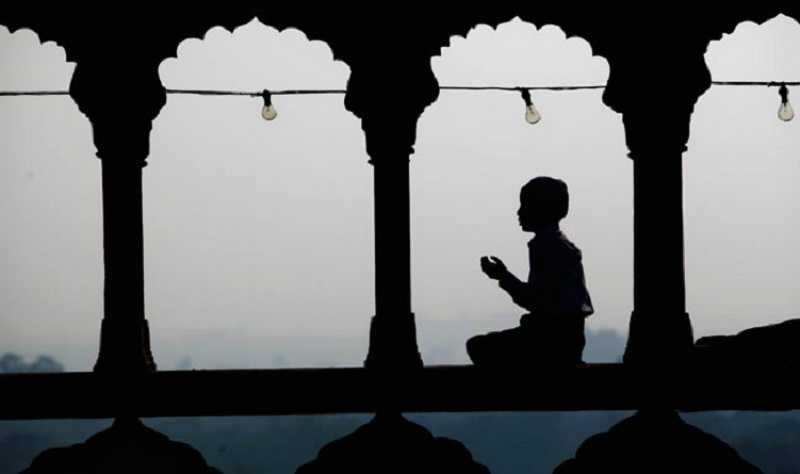 A school in the northern municipality of Therwil, in the canton of Basel, reached the controversial decision that male Muslim students will no longer have to shake hands with their female teachers. This decision was taken after two male students, aged 14 and 15, and complained that the Swiss custom of shaking hands with the teacher is counter to their religious beliefs if the teacher is a woman.
They argued that Islam does not permit physical contact with a person of the opposite sex, with the exception of certain immediate family members. The local Therwil council did not support the school's decision, "but will not intervene as (it) is the responsibility of the school to set the rules," spokeswoman Monika Wyss told AFP in a statement.
The decision triggered an outcry across liberal Switzerland with Justice Minister Simonetta Sommaruga insisting on Swiss public television yesterday that "shaking hands is part of our culture." Felix Mueri, who heads the parliamentary commission on science, education and culture, meanwhile described the custom to the 20Minuten news site as "a gesture of respect and good manners." Christoph Eymann, who heads the Swiss Conference of Cantonal Ministers of Education, agreed, insisting: "We cannot tolerate that women in the public service are treated differently from men."
The canton's education chief Monica Gschwind told media she viewed the school's decision as "pragmatic" although "not a lasting solution". Muslim groups meanwhile decried the polemic around the issue. "One would think that the continued existence of Switzerland's core values was at stake, when this particular case in fact involves just two high school students who have said they wish to greet their teacher in a different way than with a handshake," the Islamic Central Council of Switzerland said. The Federation of Islamic Organizations in Switzerland (FIOS) however maintained that handshakes between men and women were "theologically permissible" and were common in some Muslim countries, insisting the issue should not be problematic in Switzerland.
Once again the issue over religious sanction versus national etiquette has raised it head and this time in seemingly liberal Switzerland. Where do we draw the line? While adherence to our religious belief helps us live our individuality, however, should they come at the cost of compromising the national flavour of our citizenship? Seems no country has yet come up with a solution to this.
NIOS celebrates 33rd Foundation Day
Dr. Subhas Sarkar addresses the 33rd Foundation Day Celebrations of NIOS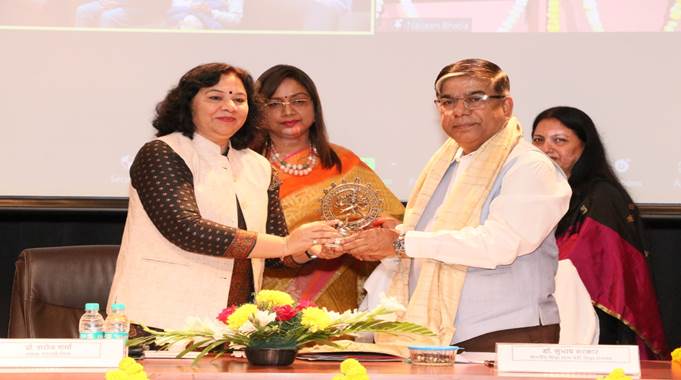 Union Minister of State for Education, Dr. Subhas Sarkar addressed the 33rd Foundation Day Celebrations of NIOS as the Chief Guest.
The function was attended by senior officials of the Ministry of Education, Chairpersons of educational institutions, Heads of Departments, officers, and staff of NIOS. Prof. Naval Kishore Ambasht, former Chairman, of NIOS and Pro-Vice Chancellor, of the Central University of Haryana, Prof. Sushma Yadav graced the occasion.
Dr. Subhas Sarkar in his address appreciated the various programmes and schemes of NIOS and said that NIOS is lighting the lamp of knowledge all over the world. Talking about the Azadi Ka Amrit Mahotsav, he mentioned that today's children will be young people in the age group of 30-40 years on the completion of 100 years of independence and will be responsible for building our nation.
He said that the Ministry of Education has entrusted NIOS with several responsibilities such as developing inclusive education resources, expanding the open and distance education system in states/UTs, translating all courses into more languages as required, creating Indian Knowledge Tradition based courses and propagating Indian culture by translating them into major foreign languages. He also praised the programmes of NIOS enrolling 10 crore adults under 'Basic Literacy Assessment', training of in-service teachers, Gender Green Project, and training in Yoga. He said that Indian Sign Language as a subject at the secondary level has been acknowledged on national and international platforms. He described the launch of an e-library called 'DEEP' by NIOS as a big step forward.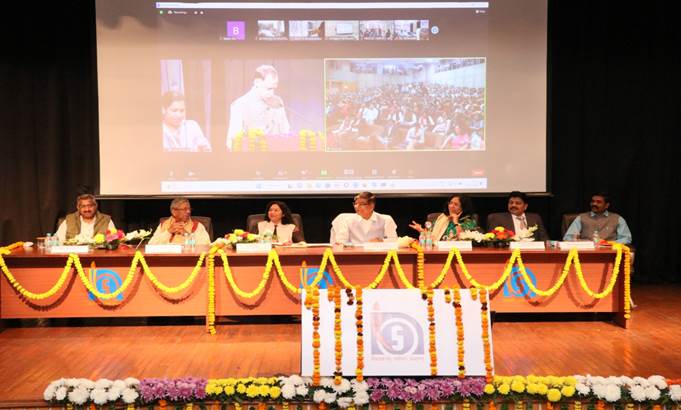 Prof. Saroj Sharma spoke about the journey of 33 years of NIOS and highlighted the special achievements. She said that NIOS is one of the two National Boards of Education under the Ministry of Education, which provides school education through Open and Distance Learning (ODL) for secondary, senior secondary, and vocational education. She elaborated on the role of NIOS in the field of education, efforts being made by NIOS for the successful implementation of the New Education Policy, Virtual Open School, Digital Library (DEEP), NEPIA Project, MoU with Ministry of Defence for Agniveer Project, setting up of Mukta Kaushal Kendras and subjects offered under Indian knowledge Tradition.
It was also conveyed by her that a curriculum called 'Aarambhika' is being developed by NIOS for catering to the Indian Diaspora.
A documentary based on the journey of 33 years of educational endeavours of NIOS was presented on the occasion. In this documentary, 'All England Badminton winner Pullela Gopichand said that most of the players in his badminton academy are getting an education from NIOS.
NIOS alumni, Ms. Niranjana and Vinod Kumar Chaudhary were also felicitated on the occasion. Shri Vinod Kumar said that only due to his education in NIOS, he was able to get the credit of making the Guinness Book of World Records 10 times (8 in Typing and 2 in sports). A proud learner of NIOS, Ms. Niranjana is a successful ventriloquist. Prof. N. K. Ambasht, former Chairman, NIOS said that in this age of technology, innovations must lead to developing 'standalone' courses for the Indian Diaspora, to achieve the goals of the National Education Policy- 2020. Pro-Vice Chancellor, Prof. Sushma Yadav said that the role of NIOS increases in the light of New Education Policy. NIOS has such potential that the institute will be able to achieve the ambitious goals of National Education Policy 2020 in the coming years.
The half-yearly magazine of NIOS 'Pragyan' was released by Dr. Subhas Sarkar on this occasion.