Patriotric Fervour's Re-energisation in Universities and Colleges is need of the Hour – Prakash Javadekar
Shri Javadekar said through this campaign a wall of valour will be built in colleges and universities across the country and this will be built on contributory   funding by students and teachers on voluntary basis.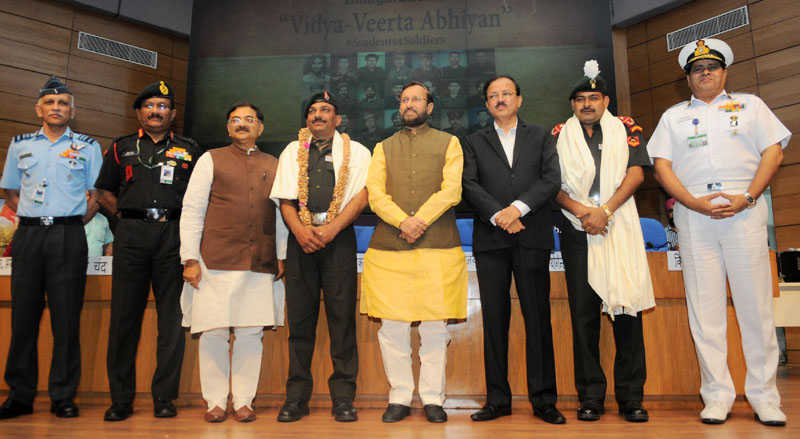 Union Minister of Human Resource Development Shri Prakash Javadekar today launched the VIDYA VEERTA ABHIYAN here in New Delhi. He was accompanied by Minister of State for Defence Dr. Subhash Ramrao Bhamre, writer Shri Tarun Vijay, Senior Officers from Indian Army, Air Force and Navy Lt. General Sarat Chandra, Air Marshal H.N.Bhagwat, Rear Admiral K.K.Pandey, Paramveer Chakra recipient Grenadier Sanjay Kumar and Subedar Yogendra Singh Yadav on this occasion. A collage of photo portraits and book on Paramveer Chakra recipients was also released and presented to Vice-Chancellors of universities.

Highlighting the importance of the occasion Shri Javadekar expressed his gratitude towards the most difficult service rendered by our armed forces. He said we feel secure just because of the continuous vigil and alertness of our forces busy in securing our borders. The Minister said these are our real post independence heroes while the freedom fighters who laid their lives and faced atrocities for the cause of freedom are the natural heroes since the days of Satyagraha which culminated in the revolution for getting independence from the foreign rule.

Shri Javadekar said through this campaign a wall of valour will be built in colleges and universities across the country and this will be built on contributory funding by students and teachers on voluntary basis. He said this wall will be 15X20 feet in size and will depict the portraits of all the 21 Paramveer Chakra recipients. The Minister expressed the hope that this will help revive and re-energize the patriotic fervour in our young minds.

The Minister said organising of such events help in changing atmosphere in our colleges and universities. It is just to revive the patriotic feeling in our youth. He said we are not interested to teach lessons of patriotism to anyone as it is innate in every individual. But its continuous revival is a dire need. Shri Javadekar said we do not want to force it.

The event was attended by several vice-chancellor of universities, scholars, ex-servicemen and school children. Paramveer chakra recipient Shri Sanjay Kumar and Shri Yogendra Singh Yadav who also shared their war memories and experiences with the audience and instilled patriotic feelings in the young ones.

The function was also addressed by Dr. Subhash Ramrao Bhamre MoS Defence and Shri Tarun Vijay, the convener of the event.
Following are the Param Vir Chakra recipients:
Major Somnath Sharma, 4 Kumaon, (Posthumous), 1947
Second Lieutenant Rama Raghoba Rane, Bombay Sappers, 1948
Company Havildar Major Piru Singh, 6 Rajputana Refiles, (Posthumous), 1948
Lance Naik Karam Singh, 1 Sikh, 1948
Naik Jadunath Singh, 1 Rajput, (Posthumous), 1948
Captain Gurbachan Singh Salaria, 3/1 Gorkha Rifles, (Posthumous), 1961
Major Shaitan Singh, 13 Kumaon, (Posthumous), 1962
Subedar Joginder Singh, 1 Sikh, (Posthumous), 1962
Major Dhan Singh Thapa, 1/8 Gorkha Rifles, 1962
Company Quartermaster Havildar Abdul Hamid, 4 Grenadiers, (Posthumous), 1965
Lieutenant Colonel A B Tarapore, Poona Horse, (Posthumous), 1965
Flying Officer Nirmal Jit Singh Sekhon, 18 Squadron, (Posthumous), 1971
Major Hoshiar Singh, 3 Grenadiers, 1971
Second Lieutenant Arun Khetarpal, Poona Horse, (Posthumous), 1971
Lance Naik Albert Ekka, 14 Guards, (Posthumous), 1971
Major Ramaswamy Parameswaran, 8 Mahar, (Posthumous), 1987
Naib Subedar Bana Singh, 8 JAK LI, 1987
Grenadier Yogender Singh Yadav, 18 Grenadiers, 1999
Captain Vikram Batra, 13 Jammu and Kashmir Rifles, (Posthumous), 1999
Rifleman Sanjay Kumar, 13 Jammu and Kashmir Rifles, 1999
Lieutenant Manoj Kumar Pandey, 7/11 Gorkha Rifles (Posthumous), 1999
ASER2022 – The 'Asar (impact)' of the Pandemic
The ASER report shows the 'asar (impact)' of the pandemic and years of neglect of early years education.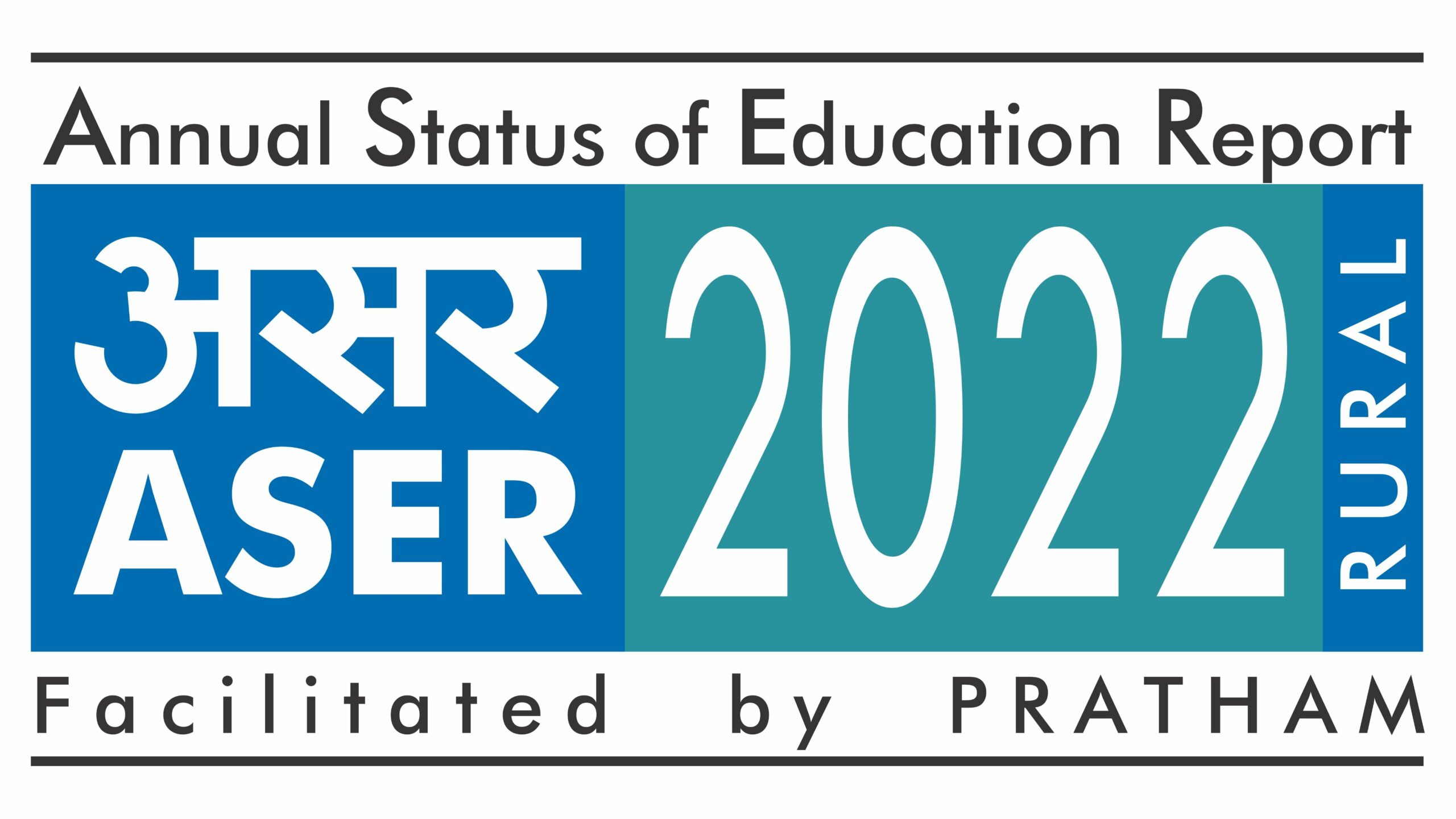 The ASER a very comprehensive report on education outcomes in government schools is out and as usual, the press is lamenting the fact of how children of grade 4 cannot do division or how children of grade 2 cannot read!
Well, what most journalists, parents, and policymakers do not understand is that till the foundation is weak, the building will always have cracks and be structurally unsound!
And that is exactly what is the problem with education in our country, which hopefully will now be rectified with NEP 2020 and NCF 2022.
Of course, children in grade 4 cannot do division, because these children were not taught numeracy skills in their early years. Of course, they cannot read in grade 2 because they were not given foundational literacy in their early years.
But let's focus on the positives in the report, page 27 talks about the early years, it states the following-
  The new education policy and its foundational stage emphasis– The impetus for integrating preschool and school education took another giant step forward with the release of the National Education Policy, or NEP, in 2020. This new policy did three things simultaneously: it acknowledged the vital importance of early childhood education, elevated it to the status of school education, and integrated it into the continuum of educational opportunities offered to children. It did this by envisioning age 3-8 as a single integrated 'foundational' stage in a child's education, consisting of 3 years of pre-primary education and the first two years of primary school. This stage would offer a continuum of access, to be provided by expanding and strengthening the existing network of standalone AWCs, co-located AWCs, and pre-primary classes in schools; as well as a continuum of learning opportunities, to be achieved by developing a new curricular and pedagogical framework for the foundational stage.
  Enrolment of 3- and 4-year-olds increased – Many observers expected that after remaining closed for such a long period, children and their families would find it difficult to return to school, resulting in higher dropout rates and lower enrolments in educational institutions. An important finding that emerges for all age groups, including the youngest learners, is that this is far from the case.
  Shift from private to government, especially in early years-ASER 2022 enrolment data shows a shift from private to government institutions at all levels of schooling, unsurprising given the loss of livelihoods and financial distress experienced by households during the pandemic as well as the reported closure of many low-cost private schools. This pattern is visible among young children as well.
  Stress on the appropriate age of entry to grade 1-Major national policy documents – the Right to Education Act (2009), the Early Childhood Care and Education policy (2013), and the National Education Policy (2020) all reiterate that children should enter Std I of primary school at age 6. However, on the ground, institutional guidelines for what 5-year-olds can do vary both by the state as well as by type of institution. For example, ICDS Anganwadis offer preschool education to children in the 3-6 age group, while many state governments allow children to enter Std I at age 5. These ambiguities have resulted in 5-year-old children being enrolled in many different forms and levels of educational provision
It is clear from the above that if the focus, as defined in the NEP 2020, is given on the early years, 3-6 years then the learning foundation will be strengthened, and to do that all states need to do the following-
Uniform age of entry to grade 1 and nursery– Ensure that the age of entry to grade 1 is 6 and above and not 5. Sadly most of the states take children at age 5 in grade 1 and that robs them of a strong foundation in ECE and Foundational Literacy and Numeracy.
Ensure that Anganwadis are linked with the schools, so that transition is smoother both in settling and curriculum, this is clearly envisioned, planned, and detailed in the NEP 2020 with Balvatika and the new 5+3+3+4 age breakup, where 3 years of preprimary and 2 years of primary are clubbed together. But only 23 states have accepted the NEP 2020!
Train the teachers– Presently the Anganwadi teachers do not get training about ECE, they are involved in care, nutrition, health, election, and many other duties. The NEP 2020 has given a plan for teacher training too and it will soon be implemented. With trained teachers, children will learn in developmentally appropriate ways and then the ASER report would have more positives to celebrate.
ASER is always a wake-up call to our governments, SCERT, and policy makers, it's time that we wake up and implement the right age, curriculum, and teacher training in the early years to become a country that invests in its littlest citizens.
The author is Dr. Swati Popat Vats, a child rights activist with over 33 years of experience in early years education and research. She serves as President of Early Childhood Association and Association for Primary Education and Research. She leads over 500 preschools of Podar Education Network that are completely in line with NCF 2022 and FLN goals.