PM Narendra Modi gives example of 11th class girl during his "Mann ki Baat" session on 26th March
Narendra Modi urges fellow countrymen to pay heed to Gayatri's message in his 'Mann Ki Baat' session and to follow her example and take it as a message for what we must do to keep our country clean.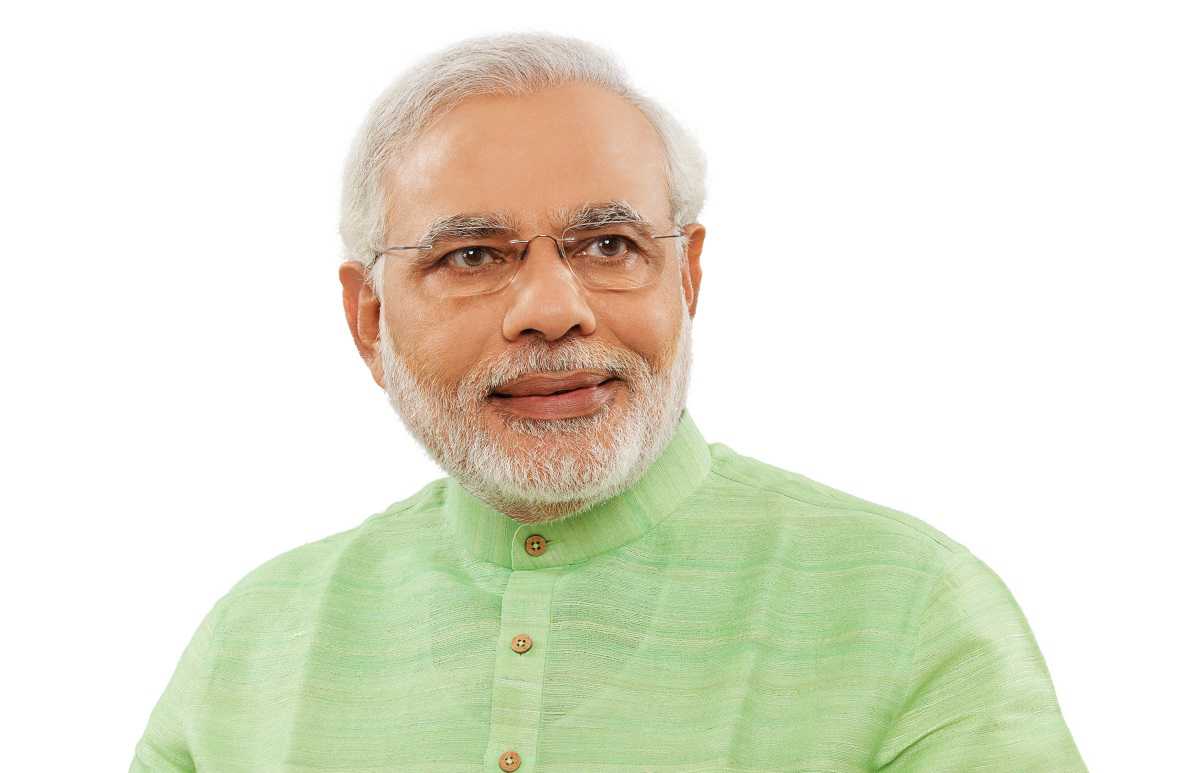 Gayatri, a young girl from Dehradun, who is a student of class 11 phoned in with a message during the Mann Ki Baat session (on20th March 2017) of Shri Narendra Modi, Prime Minister, India.
She said, "Esteemed Principal, Prime Minister Sir, my respectful greetings to you. To begin with, heartiest congratulations on your victory in the elections, with a huge margin. I wish to share the issue close to my heart with you. I want to say that people will have to be made aware about the importance of cleanliness. Every day I pass by a river, in which people dump a lot of garbage and pollute rivers. The river flows under the Rispana Bridge before passing by my home. For the sake of this river we went to settlements on its banks, spoke to people and took out rallies too, but to no avail. I want to request you to kindly highlight this issue by sending a team there, or through the newspapers. Thank you."
The PM was deeply affected by the request of the child and he requested his fellow country people to work towards cleanliness and be working towards a country which has no place for filth and dirt.He felt that the resolve that has arisen in the younger generation augurs well for achieving good results in the Cleanliness Movement.
Here is what he said, "Brothers and sisters, look at the agony of this young daughter, the 11th class student. How enraged she is by seeing the river strewn with trash. I consider this to be a good omen. This is exactly what I want – – that 125 crore countrymen be angered by filth. Once there is anger, dissatisfaction, rage, we will be compelled to act against this scourge. The good thing is that Gayatri is expressing her own anger, and giving suggestions to me, but she also goes on to say, that she has made several efforts but could not succeed. There has been an awareness ever since the launch of the Cleanliness Movement. Each person has become associated with it in a positive manner. This has now truly taken the form of a movement. There has been an increase in the disgust towards squalor. When there is awareness and active participation in the movement, it has its own significance. But cleanliness is more about a habit than a movement. This movement is geared towards bringing about a change in the habit, a movement to inculcate the HABIT of cleanliness. This movement can be accomplished collectively. It is a difficult task, but we have to do it. I am sure that this resolve that has arisen in the younger generation, in children, in students, in the youth, augurs well for achieving good results. I would urge my fellow countrymen, who have heard Gayatri's message in my 'Mann Ki Baat' today, that it should be a message to all of us."
You can read the complete transcript of Mann Ki Baat session of 26th March 2017 here
– Hindi
– English
NIOS celebrates 33rd Foundation Day
Dr. Subhas Sarkar addresses the 33rd Foundation Day Celebrations of NIOS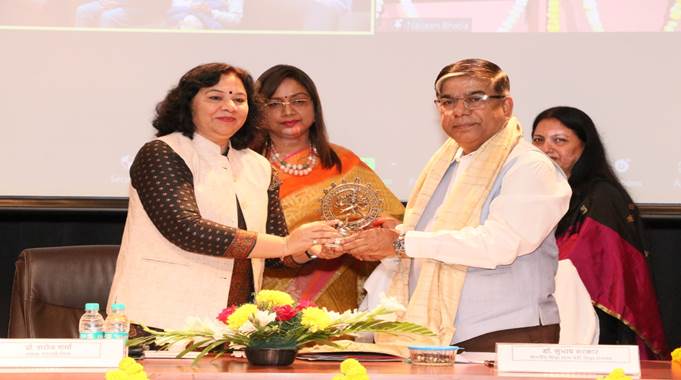 Union Minister of State for Education, Dr. Subhas Sarkar addressed the 33rd Foundation Day Celebrations of NIOS as the Chief Guest.
The function was attended by senior officials of the Ministry of Education, Chairpersons of educational institutions, Heads of Departments, officers, and staff of NIOS. Prof. Naval Kishore Ambasht, former Chairman, of NIOS and Pro-Vice Chancellor, of the Central University of Haryana, Prof. Sushma Yadav graced the occasion.
Dr. Subhas Sarkar in his address appreciated the various programmes and schemes of NIOS and said that NIOS is lighting the lamp of knowledge all over the world. Talking about the Azadi Ka Amrit Mahotsav, he mentioned that today's children will be young people in the age group of 30-40 years on the completion of 100 years of independence and will be responsible for building our nation.
He said that the Ministry of Education has entrusted NIOS with several responsibilities such as developing inclusive education resources, expanding the open and distance education system in states/UTs, translating all courses into more languages as required, creating Indian Knowledge Tradition based courses and propagating Indian culture by translating them into major foreign languages. He also praised the programmes of NIOS enrolling 10 crore adults under 'Basic Literacy Assessment', training of in-service teachers, Gender Green Project, and training in Yoga. He said that Indian Sign Language as a subject at the secondary level has been acknowledged on national and international platforms. He described the launch of an e-library called 'DEEP' by NIOS as a big step forward.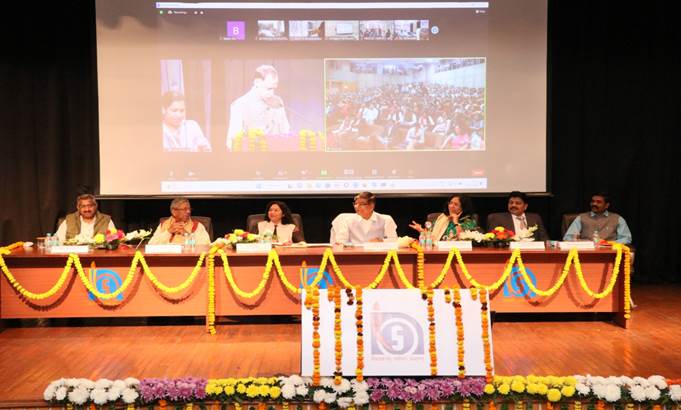 Prof. Saroj Sharma spoke about the journey of 33 years of NIOS and highlighted the special achievements. She said that NIOS is one of the two National Boards of Education under the Ministry of Education, which provides school education through Open and Distance Learning (ODL) for secondary, senior secondary, and vocational education. She elaborated on the role of NIOS in the field of education, efforts being made by NIOS for the successful implementation of the New Education Policy, Virtual Open School, Digital Library (DEEP), NEPIA Project, MoU with Ministry of Defence for Agniveer Project, setting up of Mukta Kaushal Kendras and subjects offered under Indian knowledge Tradition.
It was also conveyed by her that a curriculum called 'Aarambhika' is being developed by NIOS for catering to the Indian Diaspora.
A documentary based on the journey of 33 years of educational endeavours of NIOS was presented on the occasion. In this documentary, 'All England Badminton winner Pullela Gopichand said that most of the players in his badminton academy are getting an education from NIOS.
NIOS alumni, Ms. Niranjana and Vinod Kumar Chaudhary were also felicitated on the occasion. Shri Vinod Kumar said that only due to his education in NIOS, he was able to get the credit of making the Guinness Book of World Records 10 times (8 in Typing and 2 in sports). A proud learner of NIOS, Ms. Niranjana is a successful ventriloquist. Prof. N. K. Ambasht, former Chairman, NIOS said that in this age of technology, innovations must lead to developing 'standalone' courses for the Indian Diaspora, to achieve the goals of the National Education Policy- 2020. Pro-Vice Chancellor, Prof. Sushma Yadav said that the role of NIOS increases in the light of New Education Policy. NIOS has such potential that the institute will be able to achieve the ambitious goals of National Education Policy 2020 in the coming years.
The half-yearly magazine of NIOS 'Pragyan' was released by Dr. Subhas Sarkar on this occasion.