Prakash Javadekar inaugurates National Consultation on revised Accreditation Framework
Union Minister of Human Resource Development Shri Prakash Javadekar today inaugurated the one day National Consultation on Revised Accreditation Framework here in New Delhi.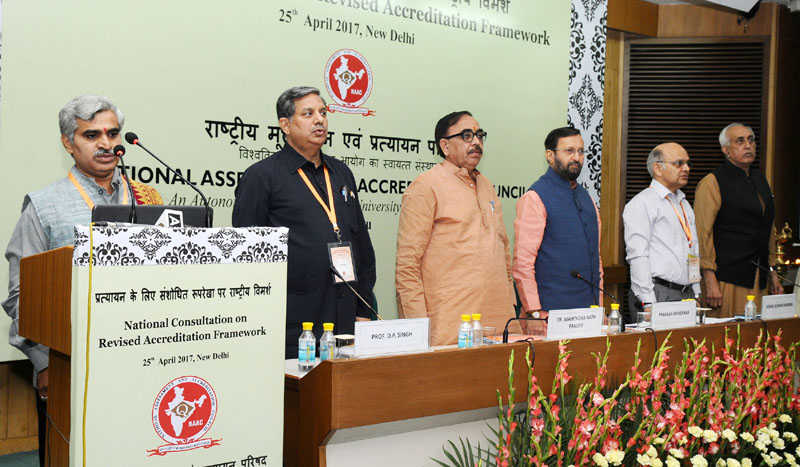 Union Minister of Human Resource Development Shri Prakash Javadekar today inaugurated the one day National Consultation on Revised Accreditation Framework here in New Delhi. Highlighting the importance of quality education the Minster said any accreditation process or any certification or assessment process must also take into account the final product of it. Subject knowledge is one thing, the delivery of subject knowledge, infrastructure and building skill component in a student are another part. But ultimately the aim of education should be to build a good human being and only that kind of education could be termed creative that is capable of doing so and hence it should also be checked whether the parameters of intention, policy and schemes are getting reflected in the very institution, he said.
Shri Javadekar appreciated the observations of MoS Dr. Mahendra Nath Pandey in this connection and emphasised to think of education in totality and said it must reflect in the ranking of institutions He said quality of education imparted by any institution will be reflected in its adaptability to change.
The Minister referred to the recent advertisements of institutions citing its NAAC ranking, its certifications and assessment reports and on its basis the trend of students in selecting institutes for further education. He said now the institutes have also added up NIRF ranking as a feather in their caps. The Minister said now the students as well as the society can't be misguided any more as the pressure of quality is now working. He said there is no substitute for quality and it must be sharpened regularly.
Shri Javadekar said our government exists not merely on the majority mandate we have got, rather we are here to reform, transform and perform. He said complete transformation of education is a dire need now. He advised NAAC authorities to expand its team in order to make inroads into reaching out more and more institutions. He also stressed upon the cross checking of data collected and ensure sanctity and authenticity of Data Base created in this area.
The Minister said the system created for this purpose must be transparent with clear cut rules and regulations and there should be no scope for fraudulent means. He hoped that today's deliberations will pave way for a new transparent accreditation system. Shri Javadekar also pressed for using Aadhar linking and gave examples of stopping of malpractices in LPG distributions, Neem coated urea distributions to farmers thereby savings checking of syphoning of funds. He also cited the example of 4.5 lakh fake registrations in Mid Day Meal schemes in Jharkhand and Andhra Pradesh after the scheme was linked with Aadhar. He said so far 112 crore Aadhar cards have been made which is a glaring proof of our nation's changing and marching ahead.
The Minister also suggested for having more than 4-5 agencies for issuing rankings of higher education institutes as it will give more credibility. The Minister informed that in the forthcoming meeting of IIT Council on 28th April this month we will see whether IITs can also have a say in granting accreditation to institutions. Shri Javadekar said "If we want to reach institutions in a time bound manner and assess them properly we need more valuators and therefore we want to build at least 3-4 more institutes and we should also give a message to institutions in this regard".
He further said that the commitment of Modi Government towards quality of education is unmatched and final as only the quality improvement will lead the nation in marching ahead. He said research and innovations are possible only there we respect the talent. He said the new ranking assessment system being chartered today is very important. The Minister urged the participants to complete this process in next three months preferably before next Independence Day.
Today's meeting was also addressed by MoS HRD Shri Mahendra Nath Pandey and Secretary Higher Education Shri K.K.Sharma.
The National Consultation is being organized to discuss the revised Accreditation Framework developed recently by the NAAC. The foci of the revised framework are augmented use of technology, greater objectivity, and transparency of the process. Working groups of experts have deliberated and developed the formats for universities, autonomous colleges and affiliated colleges. The outcome of pilot study to validate the framework and feedback by stakeholders will also be considered in National Consultation. Approximately 100 experts comprising of eminent educationists, current and former Vice Chancellors / Directors, Statutory Bodies, Academics, Principals of Colleges will participate in the National Consultation. The inputs of the National Consultation would be used to fine-tune and finalise the revised Accreditation Framework which is slated to be launched from July 2017.
Source: Press Information Bureau, Govt. of India
ASER2022 – The 'Asar (impact)' of the Pandemic
The ASER report shows the 'asar (impact)' of the pandemic and years of neglect of early years education.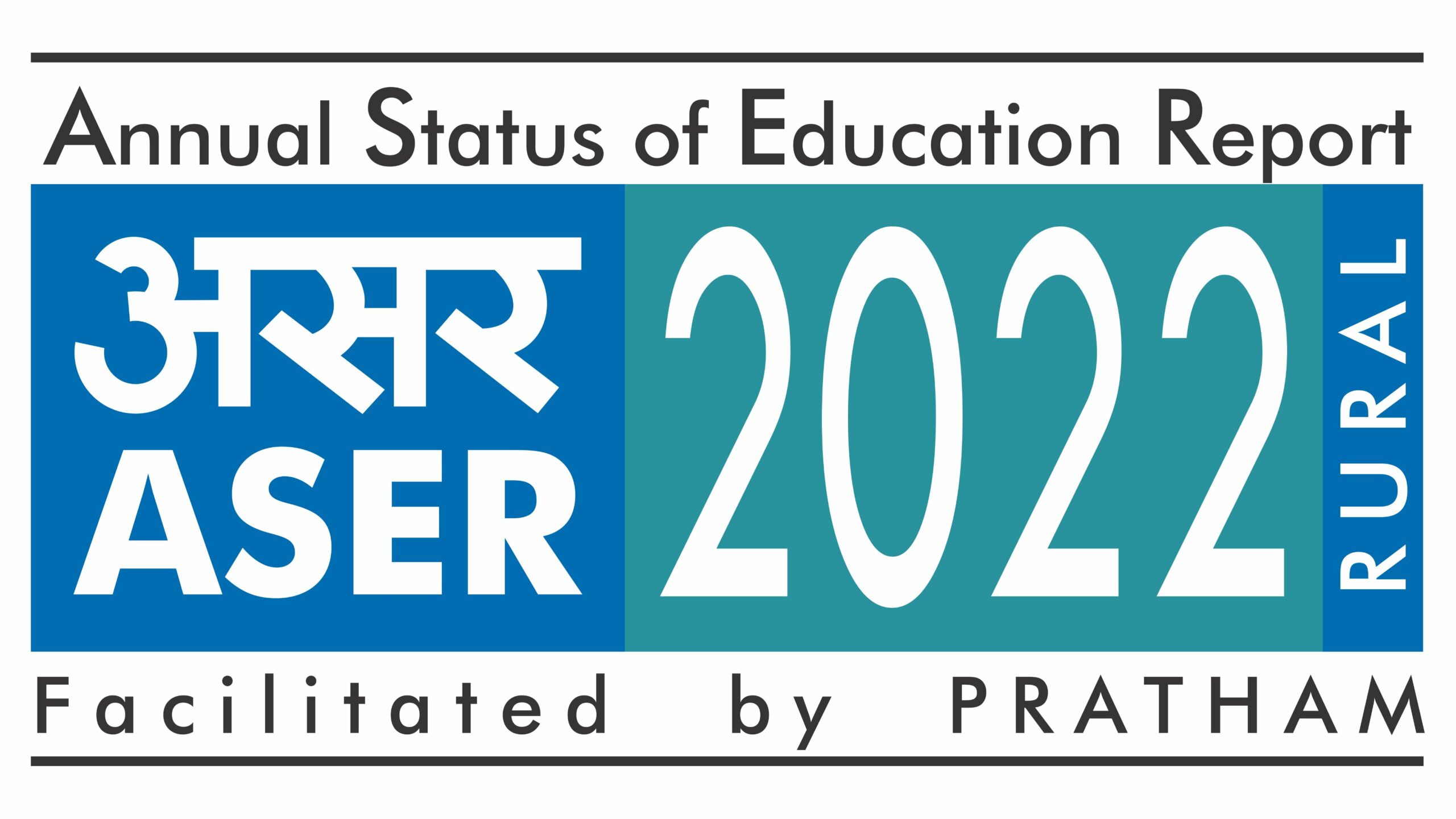 The ASER a very comprehensive report on education outcomes in government schools is out and as usual, the press is lamenting the fact of how children of grade 4 cannot do division or how children of grade 2 cannot read!
Well, what most journalists, parents, and policymakers do not understand is that till the foundation is weak, the building will always have cracks and be structurally unsound!
And that is exactly what is the problem with education in our country, which hopefully will now be rectified with NEP 2020 and NCF 2022.
Of course, children in grade 4 cannot do division, because these children were not taught numeracy skills in their early years. Of course, they cannot read in grade 2 because they were not given foundational literacy in their early years.
But let's focus on the positives in the report, page 27 talks about the early years, it states the following-
  The new education policy and its foundational stage emphasis– The impetus for integrating preschool and school education took another giant step forward with the release of the National Education Policy, or NEP, in 2020. This new policy did three things simultaneously: it acknowledged the vital importance of early childhood education, elevated it to the status of school education, and integrated it into the continuum of educational opportunities offered to children. It did this by envisioning age 3-8 as a single integrated 'foundational' stage in a child's education, consisting of 3 years of pre-primary education and the first two years of primary school. This stage would offer a continuum of access, to be provided by expanding and strengthening the existing network of standalone AWCs, co-located AWCs, and pre-primary classes in schools; as well as a continuum of learning opportunities, to be achieved by developing a new curricular and pedagogical framework for the foundational stage.
  Enrolment of 3- and 4-year-olds increased – Many observers expected that after remaining closed for such a long period, children and their families would find it difficult to return to school, resulting in higher dropout rates and lower enrolments in educational institutions. An important finding that emerges for all age groups, including the youngest learners, is that this is far from the case.
  Shift from private to government, especially in early years-ASER 2022 enrolment data shows a shift from private to government institutions at all levels of schooling, unsurprising given the loss of livelihoods and financial distress experienced by households during the pandemic as well as the reported closure of many low-cost private schools. This pattern is visible among young children as well.
  Stress on the appropriate age of entry to grade 1-Major national policy documents – the Right to Education Act (2009), the Early Childhood Care and Education policy (2013), and the National Education Policy (2020) all reiterate that children should enter Std I of primary school at age 6. However, on the ground, institutional guidelines for what 5-year-olds can do vary both by the state as well as by type of institution. For example, ICDS Anganwadis offer preschool education to children in the 3-6 age group, while many state governments allow children to enter Std I at age 5. These ambiguities have resulted in 5-year-old children being enrolled in many different forms and levels of educational provision
It is clear from the above that if the focus, as defined in the NEP 2020, is given on the early years, 3-6 years then the learning foundation will be strengthened, and to do that all states need to do the following-
Uniform age of entry to grade 1 and nursery– Ensure that the age of entry to grade 1 is 6 and above and not 5. Sadly most of the states take children at age 5 in grade 1 and that robs them of a strong foundation in ECE and Foundational Literacy and Numeracy.
Ensure that Anganwadis are linked with the schools, so that transition is smoother both in settling and curriculum, this is clearly envisioned, planned, and detailed in the NEP 2020 with Balvatika and the new 5+3+3+4 age breakup, where 3 years of preprimary and 2 years of primary are clubbed together. But only 23 states have accepted the NEP 2020!
Train the teachers– Presently the Anganwadi teachers do not get training about ECE, they are involved in care, nutrition, health, election, and many other duties. The NEP 2020 has given a plan for teacher training too and it will soon be implemented. With trained teachers, children will learn in developmentally appropriate ways and then the ASER report would have more positives to celebrate.
ASER is always a wake-up call to our governments, SCERT, and policy makers, it's time that we wake up and implement the right age, curriculum, and teacher training in the early years to become a country that invests in its littlest citizens.
The author is Dr. Swati Popat Vats, a child rights activist with over 33 years of experience in early years education and research. She serves as President of Early Childhood Association and Association for Primary Education and Research. She leads over 500 preschools of Podar Education Network that are completely in line with NCF 2022 and FLN goals.