Rapid advances in technology have brought limitless technological tools at the teacher's disposal
In the classroom of 2017, educators across the country adopt tech to inject efficiency combined with fun into the learning process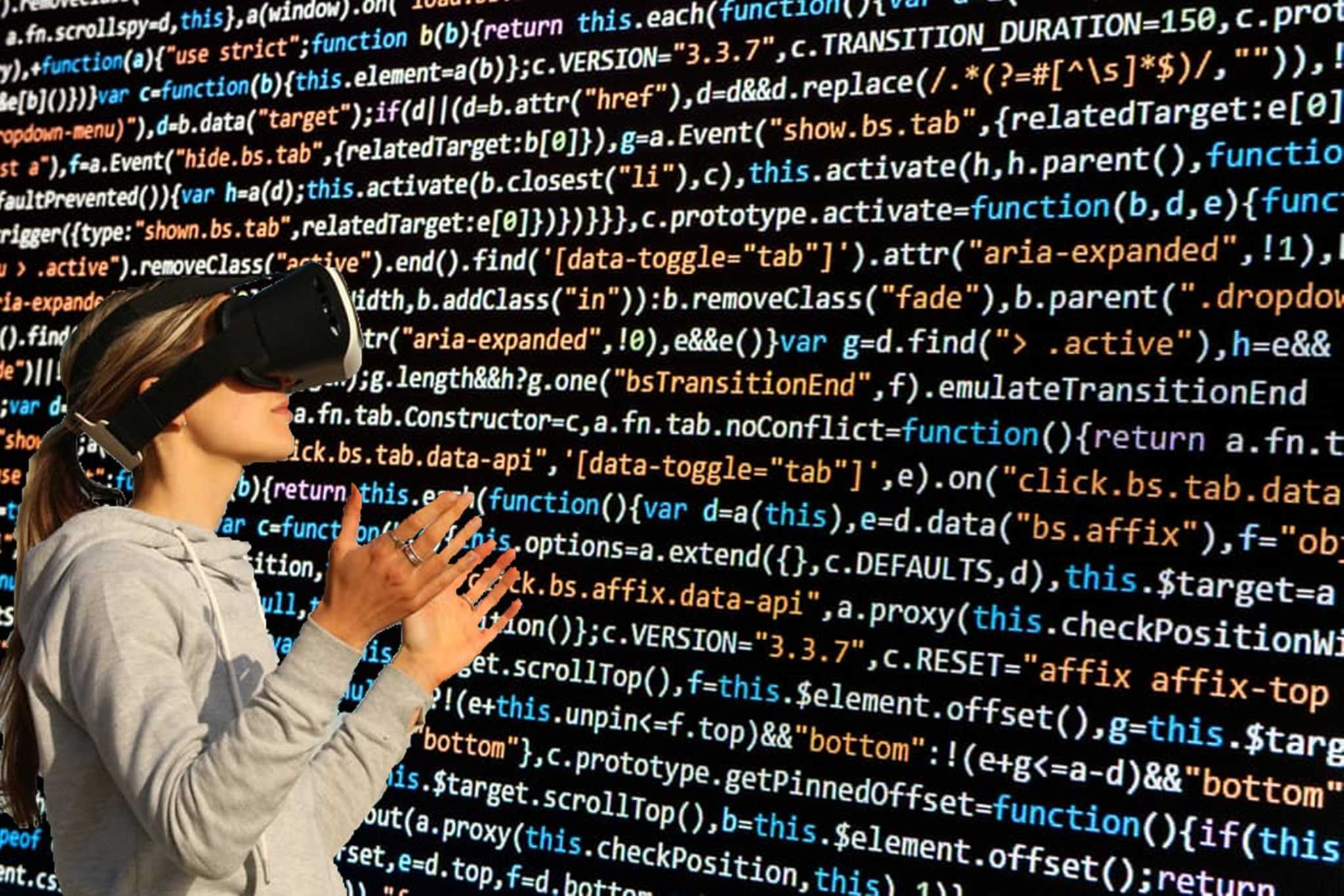 "Technology is just a tool. In terms of getting the kids working together and motivating them, the teacher is most important." – Bill Gates
Blackboards and chalk are so passé. Classrooms have converted themselves into a futuristic space that we would have thought impossible a mere 10 years ago. The way we learnt is very different from the way our children learn. It is like the brain's development is at a breakneck speed to absorb and process as much information as it can in the shortest amount of time! The pros are enormous.
According to Yatharth Gautam, Head – Marketing, Birla Edutech, "Technology has brought efficiency, and fun into the process of learning. Students who struggled to gain a better understanding of aspects that cannot be visualised such as vibrations of particles and how they interact with each other, now have the platform to virtually see those interactions. Research has time and again proved that cognitive learning plays an important part in ensuring our brain registers new concepts and learnings. Through technology today, the process of learning has evolved from the days of memorising text from textbooks towards a more holistic approach of visualising, interacting and practising. This ensures that the process of learning is never mundane and the students have assistance in learning from teachers and technology!"
Neeta Bali, Director-Principal GD Goenka World School Gurgaon, opines, "Technology allows students to exercise independent choices in learning. Consider a book report delivered with Prezi, Glogster or a video. Students make a decision as to which approach is best suited to their communication and learning style. Also, students become active learners, not just consumers. Technology makes that happen by asking them to publish, share and collaborate."
Rohini Aima, Principal cum Vice-Chairperson, Jammu Sanskriti School, Jammu shares, "We, as education leaders and academicians, have adopted technology to deliver concepts better which has given birth to the desire to achieve efficiency through digitization, the power to deliver one on one learning environments to our learners."
When we talk about a classroom, our minds immediately conjure up a room in a school/ university, but today we have various classrooms that are not physically present in a building. Classrooms can be anywhere. With the growing popularity of online or distance learning, virtual classrooms are sprouting in all corners of the world, helping millions of students to access teachers, lectures, expert opinions and information on subjects online.
Classroom tech gadgets and their uses
The only technology that we probably experienced during our time of learning was the calculator. Today, there is a plethora of gadgets being used to enhance the teaching and learning experience. Educators are spoilt for choice, given the range of options available to make the classroom smarter and to help fast-track the process of learning…
Tech Tools
Hariharan Bojan, CEO, Sirena Technologies, which provides new age tech solutions for classrooms to enhance the students' learning experience, avers, "As part of SKIP, Sirena Technologies implements the complete Robotic lab in the schools. As part of the lab, we introduce students to Nino – the first Indian Humanoid Robot developed by us, robotic kits, robotic ARMs, software tools, 3D printers and hardware tools. In the lab, we offer two models as part of the package – SKIP inquiry, where students get to learn about Robotics through lab exercises and programming; and SKIP inception, where the students get to learn from our Robots – Nino delivering Science, Maths and English classes and assisting teachers. Nino is the study buddy who is going to be introduced to kids in schools and eventually become very personal to each kid and help in interactive learning."
According to Neeta Bali, "Staff are encouraged to enhance learning through 'Connected Learning' – a model of learning that holds out the possibility of re-imagining the experience of education in the Information Age, which draws on the power of today's technology to fuse young people's interests, friendships and academic achievement."
Education in the true sense is adaptation to change and many schools have tried to keep pace with the changing scenario, by integrating technology in the implementation of curriculum to facilitate learning. Some of the areas in which technology has been implemented successfully and the teachers have been trained are Wiki Spaces, Google Classrooms, Khan Academy.com, Course Era.com, British Council Programme, and Connecting Classrooms.com.
According to Poonam Arora, Principal, Bombay Cambridge International School, "The teachers' support CIE website is being accessed by teachers to upgrade their knowledge and keep abreast of the latest in education."
Smartphones: Though controversial as to whether smartphones are actually of use or more a distraction, there are various 'smart' uses for this gadget in a classroom. Students can use it for on the go online research. A dedicated Twitter feed can be set up by the teacher where they can post assignments and due dates. They can move on to share newsfeeds or track hashtags on a particular topic as a class project to examine and discuss contrasting viewpoints.
Setting a calendar app on students' phones is a good way to learn the essence of time management for class assignments and test preparations. Photos and videos can also help in augmenting class assignments in interesting ways and can be uploaded to sites such as YouTube or Vimeo. The audio recording app can help students to record lectures or add in an audio recording with their photos or videos.
Smartphones are compelling tools in the hands of students. Tech savvy educators using them in classrooms, provides new opportunities for students and teachers to work together on leveraging these devices.
Laptops and tablets: Forget about a backpack stuffed with books, it is now the era of laptops and tablets making their way into the traditional school set-up. Though some conservative educators are apprehensive about the use of this technology, others say that it is a revolutionizing versatile tool helping in delivering instruction. There are over 15,000 educational apps in the Apple App Store and Google Play is not far behind.
These gadgets are not only easy to use but help in connecting all stakeholders: students, teachers and parents. It forms a live knowledge base where students can access information in a couple of taps and is available at their fingertips. Teachers can also use the device to deliver a lesson in different ways thereby catering to the different learning paces of children, be it fast or slow, by using videos or playing edu games.
These devices also cater to the differently abled students who will appreciate its flexibility, freedom of access and tailored curriculums. Students become creative forces rather than being passive knowledge recipients. It also solves the problem of conserving the environment to a large extent by encouraging going 'paperless'.
Interactive Whiteboards: With an interactive digital whiteboard, instructors have the capabilities of a computer, including web access, as well as the ability to draw, make notes, and share ideas with the classroom.
Classroom applications for using interactive whiteboards include:
Multimedia lessons and presentations including audio and video
Collaborative problem solving
Showcasing student projects and presentations
Virtual field trips
Recorded lessons that can be used by substitute teachers
Documentation of student achievement
Interactive whiteboards provide an extraordinary opportunity to create classroom environments where students with different learning styles can engage and learn from each other. Some leading brands of this technology are SMART, Promethean, Mimio, Numonics, eInstruction, Polyvision etc. This easy-to-learn technology ensures that both students and teachers are developing 21st century skills.
Document Cameras: These are an amazing addition to classrooms. Teachers can help students look at objects in a more interesting and fun way. Small objects can be zoomed and can be viewed by the entire class at once rather than having to pass around an object. There is no need to make copies of a particular text. The book or passage can be placed under the camera and students can discuss it without the need for excess papers. Great news for the environment!
Digital copies of students' work can be taken, which can be uploaded to a classroom website to be accessed by teachers or parents. The record feature also plays a major role in sharing of information. Digital field trips can be taken helping students and teachers connect with one another around the world.
Podcasting in Classrooms: The term 'Podcasting' comes from the amalgamation of the words 'iPod and Broadcasting'. A podcast can be created with the help of a digital device, microphone, an internet connection and the topic that needs to be podcasted. There are various sites for creating podcasts. The two popular sites are Audacity and Garageband. Once it has been created it is then saved as an MP3 and can be played through any program that accepts this kind of file, eg. SoundCloud, Windows Media and even Google Drive.
Podcasts ensure easy accessibility to information where a student can download the information required at their time and on a device of their choice for later use and this requires basic technical knowledge and skill. This can also be a boon for students who miss a lesson. They can access the information directly without depending on others. Similarly, if a teacher misses a class, they can post the lesson online and make it available to the students. Podcasting enables easy sharing of information to all its members.
It stimulates different types of learners, as students can learn visually through videos and PDFs, auditory through audio clips, and also by the very act of doing it physically. Thus students are motivated to learn and excel.
The above mentioned gadgets are just the top few that are presently being used in classrooms all over the world. Ragini Bhatnagar, Principal, Modern Defence Sen. Sec. School, Luhakana Kurad, says, "Using technology in the classroom gives teachers and other faculty members the opportunity to develop their students' digital citizenship skills. It's one thing to use mobile devices, it's a completely different thing to know how to use them correctly and responsibly."
Saadhana Malik, Principal Bodhi Taru International School, Greater Noida maintains that technology has played an active role in her school. "It has greatly helped my students in learning the subjects and gain additional knowledge. It has greatly helped in teaching the students by all the three methods; Visual, Auditory and Kinaesthetic (VAK). Technology helps in the satisfaction of student curiosity and they can now explore the subjects with greater enthusiasm."
Is There A Downside?
As they say, there are two sides to a coin and technology also has its cons. Kamaljeet Yadav, Principal, Subodh Public School, Airport, Jaipur talks about some of the negatives of technology in school…
Misuse of technology by young learners
Students' diversion from the main motive, lack of focus, not giving satisfactory performance
Students wasting time
Leads to bad handwriting; breaks the writing habit and reduces speed, which is important for development of motor skill at a young stage
Can lead to temptation – adopting technology for cheating in exams and other sinful acts
Possibility of students becoming lethargic
Possible behavioural changes like loss of respect for elders and moral values, leading to over confidence and aggression.
Overdependence on technology, which in harmful
Future Classrooms
Ever wondered what the future holds for classrooms? Some predictions would be that the layout of the classrooms would change, VR and AR will change the educational landscape, the introduction to flexible assignments will accommodate multiple learning styles and MOOCs and other online learning options will impact secondary education.
Due to the rapid advances in technology students, teachers and parents have limitless technological tools at their disposal to make learning a lasting experience. Though with technology we see a huge difference in learning, it is not enough that these tools are used – it is critical to develop a plan for their use and have regular checks to ensure that a student is gaining the most value possible and is not becoming overly dependent on these tools.
Though the advancement in technology in classrooms is promising, the human touch is still required, where teachers play a huge part in getting the kids together, motivating them and enabling them to use the tools of technology. And in this scenario, as Bill Gates pointed out, the teacher is most important.
This story featured as the Tech Focus in our November 2017 issue.
The Mental Health Algorithm
Before we talk about how to help children with their mental health it is important to remind ourselves of a safety instruction used on airplanes- put on your oxygen mask first before helping others.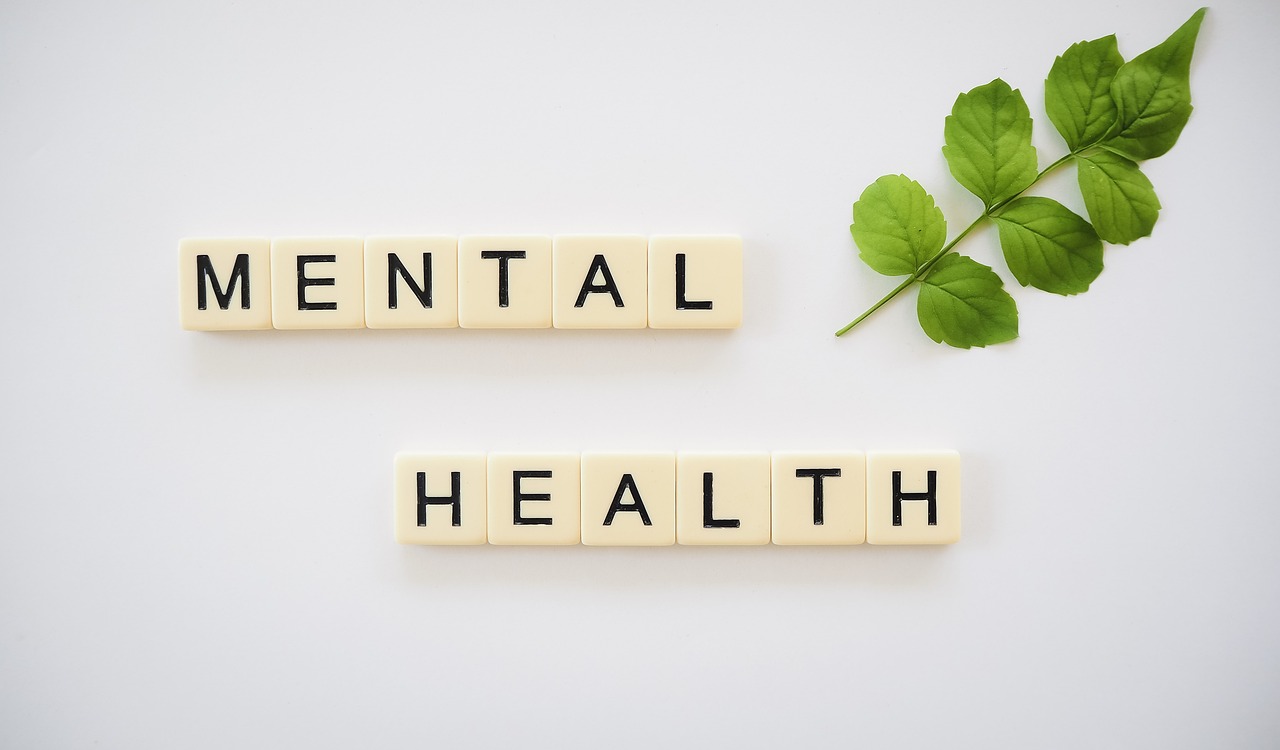 Why have I called it an algorithm? Because mental health needs the following –
Decomposition- breaking the task into smaller, manageable tasks. Breaking mental health into smaller, manageable things to do every day
Pattern recognition- finding a pattern in how children behave when confronted with certain situations or stress
Abstraction- teaching ourselves to focus on what matters and ignore the other things, so when children misbehave focus on the why and not the how, what, and other clutter.
Algorithmic thinking- creating a set of steps to follow to help children cope with their emotions, talk about mental health and be happy.
Can young children suffer from depression, anxiety, stress, and trauma? The answer is yes. But what does this look like? It can be any of these behaviors or a combination of them-
Children start having tantrums and start misbehaving
Become moody
Become aggressive
They start bedwetting, and nail-biting.
They are unable to focus or remember new learning
They start over or undereating.
Suffer from lack of sleep and start dozing off during the day.
Parents and teachers should be worried if these last for more than two weeks consistently.
Dr. Maria Kovacs, professor of psychiatry at the University of Pittsburgh School of Medicine says that when young children are depressed "the primary mood is irritability not sadness- children come across as being very cranky. The best way for parents and teachers to recognize depression in young children is not so much by what a child says as by what the child does- or stops doing."
Dr. Helen Egger until recently the chair of child and adolescent psychiatry at NYU Langone Health says, " in a preschool-aged child depression may look like a behaviour problem but is really driven by what the child is feeling inside."
But before we talk about how to help children with their mental health it is important to remind ourselves of a safety instruction used on airplanes- put on your oxygen mask first before helping others. Adults who take care of children especially teachers must first take care of their mental health and give it importance because if they do not consider it an important aspect of holistic health then they will never be able to take care of the mental health of their students. Teachers go through a lot of stress, and anxiety which if bottled up for a long time can trigger serious mental health issues.
Causes of stress in teachers-
Inability to handle workplace politics
Struggling with issues at the home and family front
The guilt of not being able to give their best to the special needs children in their class
Inability to handle workload due to lack of time management, prioritization and other issues.
Nervousness about handling upset parents.
So let's code teacher's mental health-
Taking care of your mental health should become a part of your daily routine, make time for it and prioritize it –
Set some time aside every day to unwind.
Plan and prioritize – time management is an extremely important life skill, but is not taught to us in any course. Learn and imbibe it. Don't use your brain to remember tasks, for that keep a diary or a reminder on your phone. Brains get stressed when we only use them to remember things, brains are for logic and thinking.
Set boundaries- especially for your texts, messages and emails, and most importantly social media.
Appreciate your skills and learn new ones- never stop learning, as they say still water stagnates.
Move. Move. – don't ignore physical exercise.
Seek help. Seek support. Seek advice- don't struggle alone with your personal or professional dilemmas, seek the right support.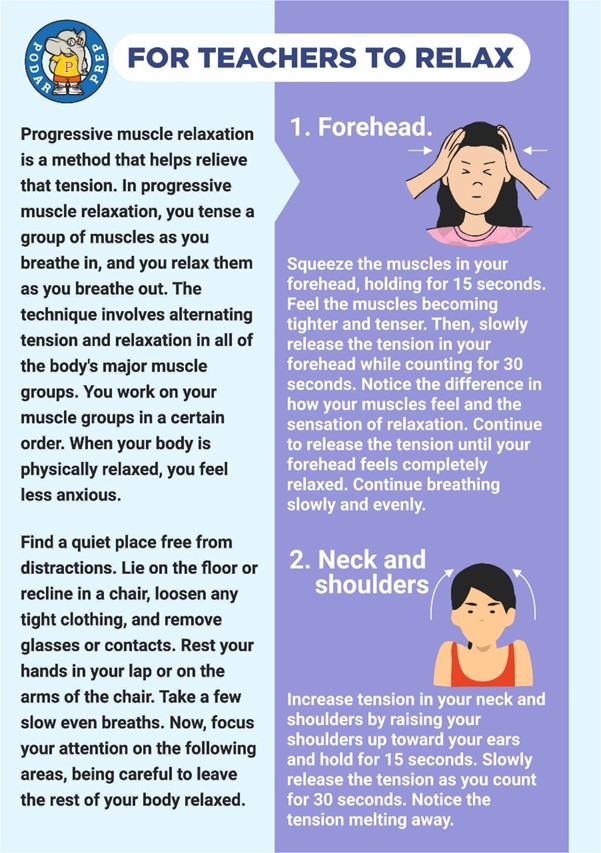 Teaching Coping and resilience-
It is said that those who survived the pandemic without facing mental health issues are those who were resilient. What is resiliency? It means the ability to bounce back from difficult situations, it means the ability to feel the negative emotions, let them wash over you like a super wave but not allowing them to engulf or drown you, it means surviving with your emotional health intact.
To be resilient one has to learn coping skills, and these need to be taught to children from a young age. Children learn by imitation so they will learn how to cope with the adults in their environment, hence it is important that we display good coping skills.
Coping is nothing but the ability to 'turn down' your reaction to a situation, emotion, or stress.
Some coping skills to teach children are-
Self-soothing- engage the body in a ritual of natural calming- deep breathing, counting to ten etc
Distraction- redirecting your attention to something more interesting and positive- look outside the window, start dancing, clap your hands, etc
Mindfulness- focussing on your feelings and what is happening to your body and how to calm down and reclaim your emotions. – deep breathing, labelling the emotion, knowing positive ways to react to that emotion instead of choosing negative ways.
Try these breathing games with children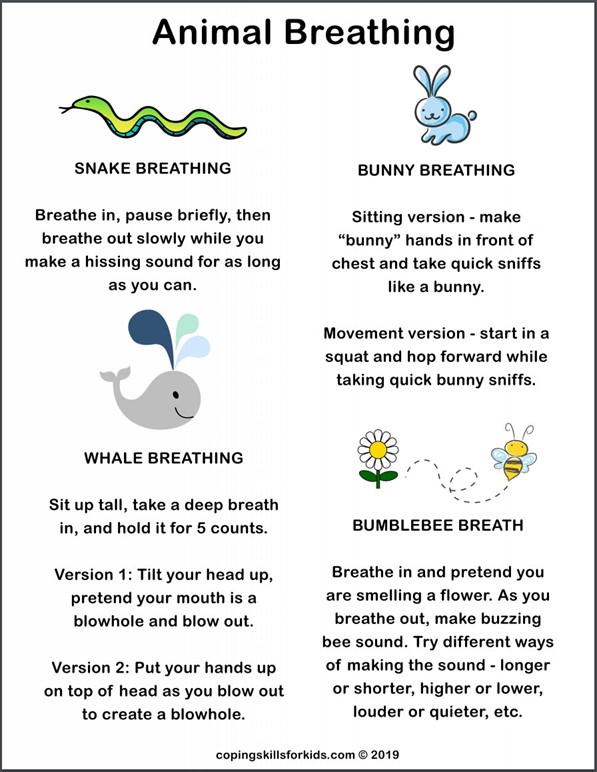 Mindfulness is the key…
The ability to reflect upon what is happening, while it is happening is called Mindfulness.  Mindfulness helps children be aware of their emotions and feelings and they are then better able to control and voice out their emotions. It works for everyone, have you ever said something that you later regret? Well, it means you were not 'mindful' about your speech, you blurted out whatever you were thinking and feeling! You responded to a stimulus without pausing and 'thinking'. Mindfulness is the pause that you take between a stimulus and a reaction. Teaching this to children will help them move from 'I can't, I don't want." to understanding 'I can, Why I don't want, what should I do.'
Mindfulness is being aware or mindful of your body and its needs and condition and meditation is the ability to control your body to calm your thoughts. That is why meditation requires an upright-seated posture. Deep breathing exercises while sitting upright with the eyes closed, is a great combination of both mindfulness and meditation.
One of the simplest mindfulness activities is to get children to close their eyes and listen to their breathing. Ask questions like-
Can you hear your breathing?
How is it fast or slow?
Put your hand on your chest, can you feel your heartbeat?
Now make them do rigorous jumping and then stop and again ask them the same questions, and ask them what is the difference in their breathing and heartbeat now? Now make them sit down, close their eyes, and take deep breaths in and out – now how do they feel?
The above will help children feel their breath, and their heartbeat and understand how their breathing and heartbeat change when they do any physical activity, it also changes when they are upset or angry. Explain to them what to do when they experience these feelings…take a deep breath to calm down and think.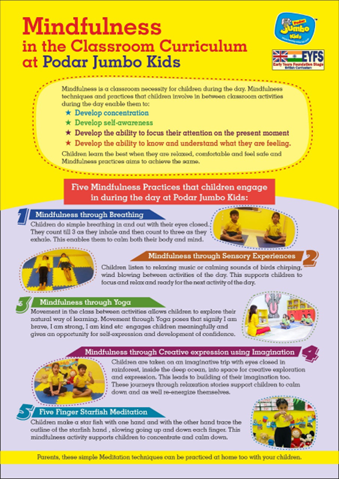 Emotional labelling –
Out-of-control emotions can make smart people stupid.- Daniel Goleman
In the early years, emotions and feelings are something that children are experiencing for the first time and it can lead to a lot of confusion if we always ask them to 'behave', 'don't cry' etc. because then they throw tantrums and have meltdowns. But there is a way we can have a balance between ignoring a strong emotion and completely indulging in it, it is called 'affect labelling' or 'emotion labelling'. By labelling something we are able to understand and acknowledge it and thus able to deal with it or quell it.
In any stressful situation, children experience a range of emotions and feelings of fear, boredom, irritability, sadness, etc. How we help them acknowledge those feelings or help them find acceptable ways of releasing them, will define their positive emotional development, which will also impact their social and cognitive development.
How can early childhood educators and parents help enhance emotional development in the early years?
Help children identify and label their feelings and thus enable them to deal with them appropriately. Use sentences like these to help them label emotions, "I see you are angry because you did not get the blue crayon…..", or "I see you are sad that your friend did not sit next to you….." and then extend the sentences to help enable them to cope with the emotions, "….but you can colour with the red one till the blue one is available." Or "….but you can sit with Yash today and maybe share with him all the fun."
Stories and story characters can be used as an important tool to help kids cope with and understand emotions. Use appropriate stories and then use discussion starters like-
Talking and discussing the emotions shown by the story characters, both positive and negative.
Asking the children how they think a character felt at the end of a story or when something important happened in the story. E.g. "How do you think baby bear felt on seeing his chair broken?"
Asking the children what they would do to help the character in the story feel better. E.g. "If you were Goldilocks what would you do to make the baby bear feel better?"
Accept emotional responses; learn to teach them to reject the emotional behaviour or to channel it. For example, if a child bites someone, the feeling is of anger or frustration. So teach the child to acknowledge the emotion by saying, "I know you are feeling angry or frustrated that you are unable to get a chance on the slide but you can talk to me about it but it is not acceptable to bite or hit someone."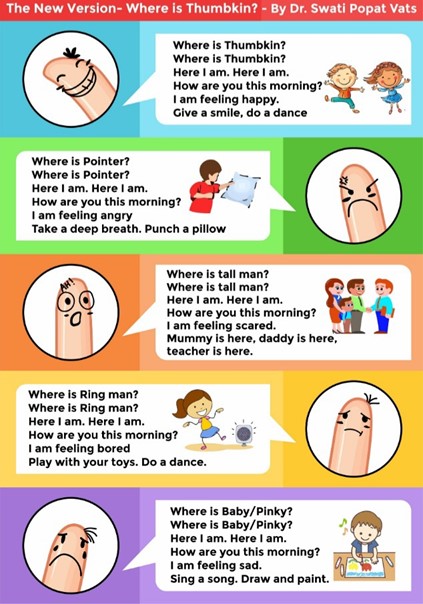 Use this new version of 'Where is Thumbkin?' to help children label emotions and understand safe and acceptable ways of showing emotion or dealing with it.
Let's talk about mental health and arm the child with the ability to cope, and this comes from emotional intelligence,  so understand children's emotional needs and give the support and care required to strengthen their emotional armour and mental health.
Happiness can always be found, even in the darkest of times, if only one remembers to turn on the light." – Dumbledore.
About the author:
Dr. Swati Popat Vats is President, Early Childhood Association India, Association for Primary Education & Research, and Podar Education Network.