Read About The Teacher Who Set A New Record In Cycling
Gurpreet Singh, a teacher from Jalandhar cycled 32,000 km in the lockdown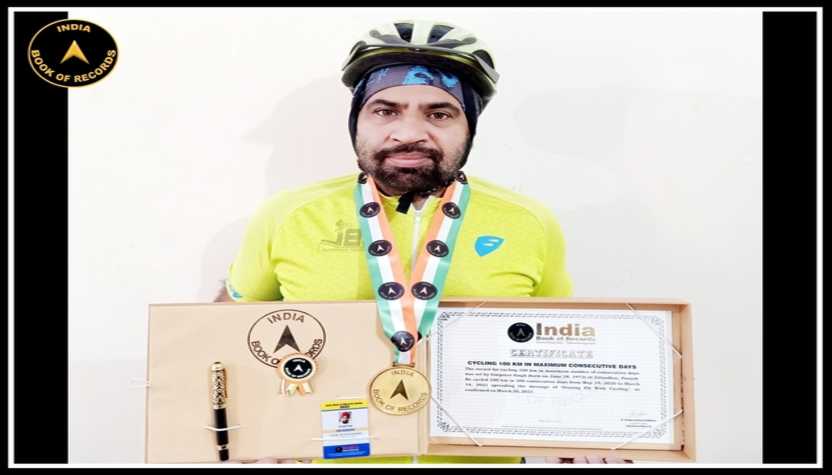 3 June is known as World Bicycle Day since the United Nations declared it in 2018. Apart from being a world-class sport cycling is also considered a good alternative to no pollution transportation. This physical activity is known for supporting a healthy way of living while also backing emotional and mental well being.
Gurpreet Singh, an accountancy teacher at Apeejay School, Jalandhar, is an inspiration to us all. At the age of 48, he has set a new world record by bicycling for over 100 km daily for 300 consecutive days. In his own words, a 'teacher by profession and a cyclist by heart' Singh is one of the most active members of the Jalandhar Biking Club.
Singh told The Tribune "From May 19, 2020, to March 14, 2021, I cycled 100 km to 400 km every day. I have cycled more than 32,000 km during this period. During this journey, I had faced scorching sun, dense fog of the nipping weather, strong thunderstorms and rain but never gave up. I used to cycle four to 15 hours a day, come what may."
He applied to be named in the Limca Book of Records and India Book of Records, for his accomplishments. Apart from that Singh is also a three-time Super Randonneur having completed rides of 200-300-400-600 km in one season.
He was not a health fanatic all his life, rather weighed a lot and has many medical conditions. His decision to begin cycling came from his son who had an accident and eventually feared riding two-wheelers. The dawn time cycling became a thing for Singh and soon he realised he loves to ride. Aside from becoming fit health-wise, Singh found a new way of living. Today he is being celebrated for his dedication and resilience.
Singh is an inspiration to all the educators who find it difficult to take some time out for themselves. This World Bicycle Day, educators must promise themselves some individual time and maybe go cycling once in a while to promote their mental, emotional and physical wellness.
This Young Woman From A Tribal Village Is Teaching The Children While Schools Are Closed
The only graduate of a Tamil Nadu village has volunteered to teach the children of the village while the pandemic persists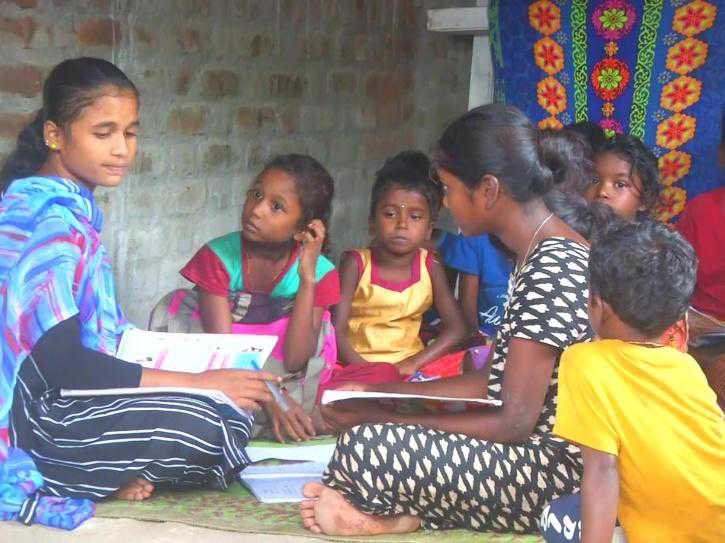 Where the digital network failed these tribal children in the southern part of India, their own stood to support them. Sandhya volunteers in teaching the kids of her village, Chinnampathy in Tamil Nadu. She is a graduate of B.Com, she is the only person from her village to have graduated college. Sandhya told India Today, "If it rains, we can't go to school. We only have one bus to our village and so after a certain age, people drop out of school."
Having gone through struggles herself, Sandhya knows how important a teacher and school is for growing children. So she volunteered to teach the children by herself, so they don't lag behind due to school closure. Sandhya said "When I was a child, I had no one to help me study. These children here have me to help them study."
One must ask the children from a remote rural or economically backward area, how it feels to not have the proper learning opportunities. The pandemic took more than the ability to roam about freely, it snatched away the ability to go to school for children on a global level. While it is easier for families with better income to support their child's online learning, most rural and financially challenged families are struggling.
The Indian government did start many projects for such students, but even learning via a television channel or free online course needs some basic gadgets and network connection. Many remote villages, like the tribal village, Chinnampathy, can not find enough network strength to have their children sit in front of a television and learn via the education channels.
On being asked how her classes are enduring she said, "The children come and ask me very freely all their doubt and they are not afraid of me. I see these children learning well and answering all the questions when I ask them."
Youth like Sandhya, who appreciate and signifies the work educators do and want to help the cause, are the future of the education sector!