Scindia Kanya Vidyalaya's low-cost sanitary napkins' manufacturing unit, spearheaded by Principal Nishi Misra, has engendered a host of positive outcomes
SKV has established a manufacturing unit to produce low-cost sanitary napkins to provide an unbroken supply to 250 women in an impoverished village of snake-charmers in Madhya Pradesh. Alongside, the project has helped break taboos, improve standards of women's hygiene…
It is heartening when schools fulfil their larger purpose as institutions of learning and change. The idealism of youth, powered by the proactive guidance of dynamic educators, can lead to dramatic social transformation. SKV – Sankalp, the initiative by Scindia Kanya Vidyalaya (SKV), Gwalior, is a classic example. SKV has established a manufacturing unit to produce low-cost sanitary napkins to provide an unbroken supply to 250 women in an impoverished village of snake-charmers in Madhya Pradesh. Alongside, the project has helped break taboos, improve standards of women's hygiene, inculcate gender-sensitization, boost indigenous machines, provide jobs in an entrepreneurial venture, and encourage community service. Here is how they went about it…
Research
The girls at SKV Gwalior, under the guidance of Principal Nishi Misra, sought opportunities to provide meaningful community service in and around their city. With her help, they conducted research and surveys for over 15 months. Their data showed that a large population of Gwalior lives in slums, with no access to basic services like water and sanitation, imposing severe hardship, especially on the female population. Hygiene and cleanliness, which is vital to women's health, is poor and on the lowest priority. Awareness and availability of hygiene products like sanitary napkins is absent. When satisfying the basic needs of life is a constant struggle, buying expensive sanitary napkins available in the market is out of the question. As a result, the women resort to unhygienic alternatives ranging from rags, to leaves and even sand!
Project Identification
The Principal and the students recognized this problem and applied themselves to finding a way to supply sanitary napkins to the underprivileged women of two villages. After intense brainstorming and research, they identified a low cost sanitary napkin manufacturing unit. This fully indigenous machine was designed, created and tested by A. Muruganantham of Jayaashree Industries, Coimbatore. The machine uses bio degradable materials like banana fibre to make low cost sanitary napkins and can be run by students after minimal training. The Principal travelled to Coimbatore to inspect the machine. Convinced of its efficacy, she set the ball rolling to procure it.
Funding
Excited at the prospect of this hugely meaningful service, the team set about finding ways to finance this machine and the first consignment of raw material. Funds were raised from funfairs, house sales, contributions from alumni and from The Friends of Round Square, an international organisation, of which the school is a member. The machine arrived and was installed amidst great curiosity and enthusiasm among the students and staff. The simple training for working the machines was imparted to a pioneering group of staff and students.
Manufacturing
The simple machines are laid out on 8 stations – each the size of a student's study desk. The process begins with tearing the raw-cotton sheets and mixing with binding cotton in a Mixer Jar. The material is weighed and 12 grams of material is portioned into moulds, which are compressed under an air-powered stamp. After inserting a water-proof strip, this initial napkin is sealed into absorbent tissue-cloth. An adhesive is applied and covered with a strip of oil-paper which can be stripped off to set the napkin in place. A maternity version with longer 'tails' is also being manufactured. At the end of the assembly line, the napkin is sterilised in a UV chamber. Sets of 8 napkins are packed together with cling-film and are ready for distribution.
Distribution
The team targets the distribution of the napkins to 250 women in the village of Zagra on the outskirts of Gwalior with a sustained and unbroken supply. The Principal created batches of students whom she trained to spend time with the women to educate them about the use and disposal of the napkins.
Entrepreneurship Model
Many hospitals, NGOs and Missions have approached Principal Nishi Misra, expressing interest in purchasing this product on account of its unbelievably low cost. The huge demand for the product has set her thinking of working out a small scale industry model in order to make it self-sustaining. The Principal commissioned her Commerce students to develop a Business Model Summary to set up the unit in villages as an entrepreneurial venture. The women of the village are organised into Self Help Groups around this undertaking. They gain livelihood as well as raise the standards of hygiene over a larger area.
Outreach
The first unit has been set up in Jarga. The Davies Peace Project has recognised this initiative and funded units for one more village: Veerpur. Mrs Misra has been awarded the Alexander Award by the Common-wealth Association for Science, Technology, Mathematics & Education (CASTME) for this initiative.
Gender Sensitization
Though SKV is an all-girls school, Mrs Misra encourages students of both genders to contribute 'shram-daan' (service by labour) and earn 'volunteer hours'. She has invited boys and girls of many schools in the country and abroad, to sign up for the 'shram-daan' by building it as an activity during Youth Festivals that are held at the school. She has trained the school Biology teacher to impart a briefing and sensitisation regarding the menstrual cycle of the human female and its implications to students of both genders. They work on manufacturing the napkins and assist in their distribution at the village. This will certainly go a long way in gender sensitization of the youth.
The initiative of setting up this unit to produce and distribute sanitary napkins to underprivileged women, is named SKV-Sankalp – which in Sanskrit means, a resolution taken by SKV to help women live with dignity.
Breaking Taboos
There are several taboos attached to menstruation in our country. Nishi Misra shares, "We experienced this first hand during the planning and roll-out of this project. Curiously, it was not the young students or the young village women who had issues regarding it. It was the middle-aged women, both in the village and at school, whose reactions ranged from hushed tones to outright derogatory comments. Some of my own female staff in our school spoke to me about it in hushed, almost conspiratorial tones, saying, 'Why are we putting up this machine where men will be able to see it?' At the village, an elderly woman shouted at me, 'Don't you have any shame at distributing items like this?'
"At first, I thought that this was the case only in our country. But when I was making a presentation on the project at an international conference in Johannesburg, South Africa, several women came up to me asking for more details. When we were planning a time slot for me to address their questions, a teacher from Australia said, 'Let's have the session when the men are not around!'
"The taboo is obviously present across classes and countries. But the most astonishing was the fact that this was the reaction only of the women, not the men. What's more, the students and their parents have all been very open and excited about the project."
This article was originally published in the July 2017 issue of ScooNews magazine. Subscribe to ScooNews Magazine today to have more such stories delivered to your desk every month.
SHE STEM 2022 honours and celebrates women
SHE STEM 2022 encourages students to 'Unleash their imagination' as part of the Sweden India Nobel Memorial Week.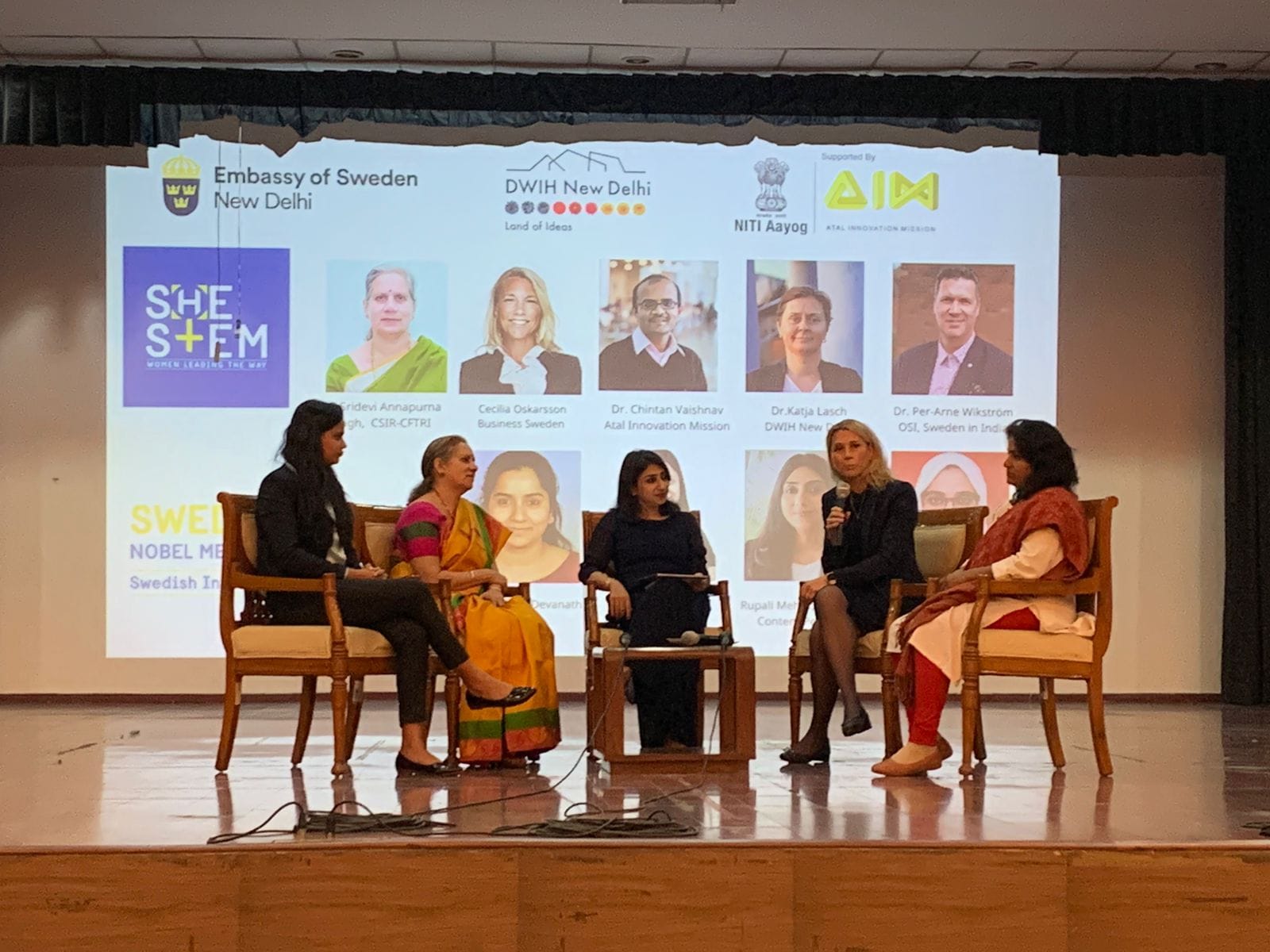 As part of the Sweden-India Nobel Memorial Week, SHE STEM, the annual event to celebrate women in the fields of science, technology, engineering, mathematics, and sustainability, was successfully held for the third year in a row.
The annual event is organized by the Sweden Embassy in India in partnership with the Atal Innovation Mission of the Government of India and the German Centre of Innovation and Research (DWIH New Delhi).
Ambassador of Sweden to India H.E. Jan Thesleff, who also addressed the students via a video message said, "We are very happy to continue the tradition of SHE STEM – it is a flagship event of the Sweden-India Nobel Memorial Week. Congratulations to all the winners of this year's SHE STEM Video challenge."
Dr. Chintan Vaishnav, Director of ATAL Innovation Mission said, "Today, the face of women's involvement in STEM is changing and the rate of participation has increased. It was in ATL Marathon 2021, that there was a spike where the women's participation was 49%. A strong STEM education will go a long way in cultivating such critical thinkers."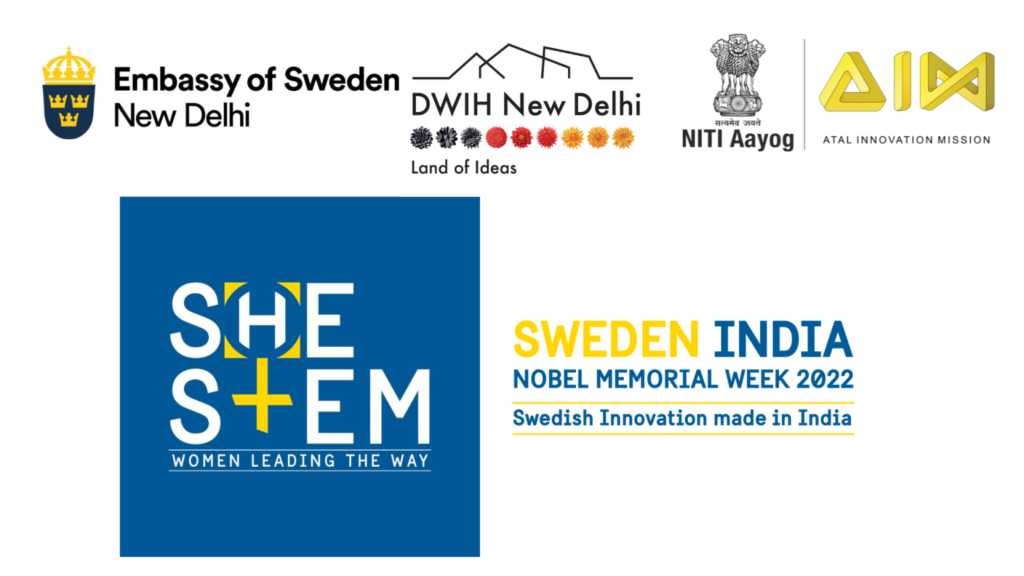 SHE STEM 2022 began with a musical performance by the students of Darbari Lal DAV Model School, New Delhi, the host school for SHE STEM 2022, followed by talks, and a panel discussion with women in the fields of STEM and business, including D. Sridevi Annapurna Singh, Director of Council of Scientific and Industrial Research – Central Food Technological Research (CSIR-CFTRI), Ministry of Science and Technology, Government. of India.
Dr. Annapurna Singh has done extensive work in the development of supplementary foods for undernourished children and in studying the impact of protein-rich food on children. She spoke to the audience about the need for women in fields of STEM to bring in their unique perspectives to problem-solving for a sustainable future.
Other participants included Cecilia Oskarsson, Trade, and Invest Commissioner of Sweden to India, who shared her thoughts on the role of diversity in triggering and enabling positive changes for girls and women, Mamta Kumari, co-founder and CEO of Prepbytes, an ed-tech company in India, and Dr. Vasudharani Devanathan, Neurobiologist and Professor of Biology at the Indian Institute of Science Education Research (IISER). Rupali Mehra, Founder of Content People AB moderated the event.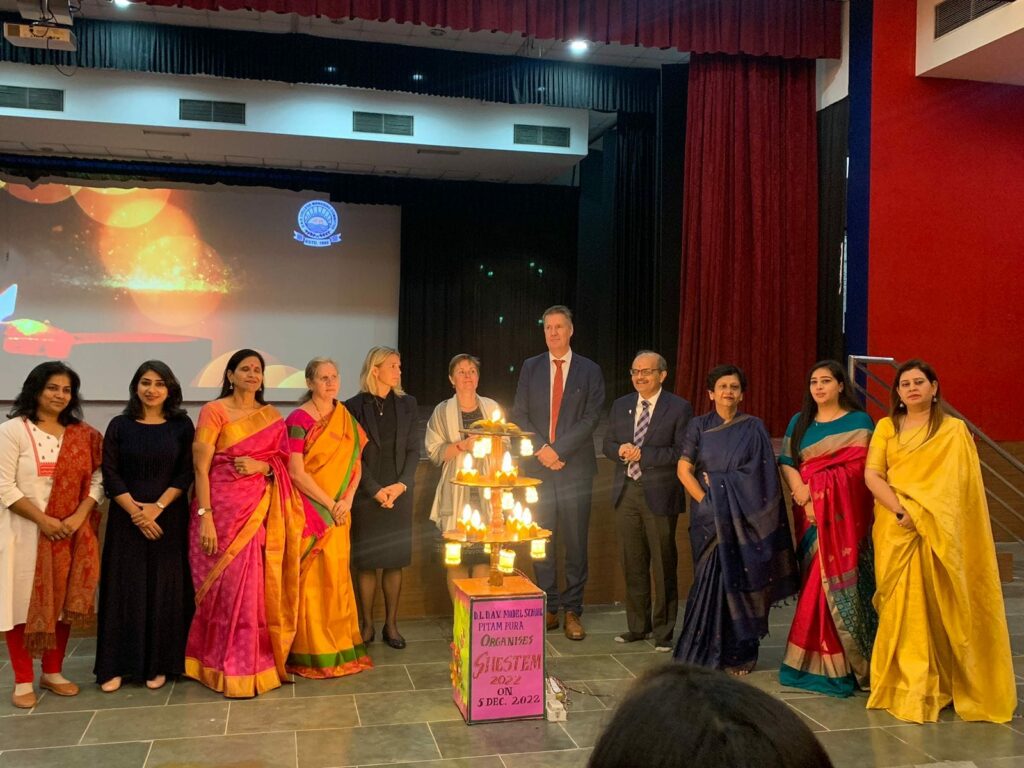 Dr. Per-Arne Wikström, Head of Office of Science & Innovation, Embassy of Sweden in New Delhi said: "When women and girls provide their talent, their knowledge, and their capabilities to science and technology on equal terms with men and boys, then we know that societies prosper and that innovation capacity actually increases. So for us, gender equality is an integrated part and an important aspect of everything that we do. We would like to thank our Indian partners for their support for this very important initiative."
"As Johann Wolfgang von Goethe said, 'who is not curious will not gain knowledge,' so keep your curiosity on, drive your knowledge forward and who knows maybe one or other idea will be implemented," said Dr. Katja Lasch, responsible for Strategy Management at the German Centre for Research and Innovation (DWIH New Delhi) and head of German Academic Exchange Service (DAAD) Regional Office in New Delhi.
Following the success of the Insta-reels Video Challenge in 2021, SHE STEM hosted the #SHESTEM2022 Video Challenge across Instagram, Youtube, Facebook, and Google Drive for students of ages 13 to 17, asking them to imagine themselves in the year 2047, and speak about an innovation of theirs that has helped in tackling climate change. The response was overwhelming with over 930 videos of which 15 were shortlisted. SHE STEM had an extensive jury round of 3 jury teams; Atal Innovation Mission Team led by Dr. Chintan Vaishnav, the Swedish Embassy team, led by Dr. Per-Arne Wikström, and the German Centre for Research and Innovation, represented by Dr. Katja Lasch.
The videos were assessed on the:
Novelty of idea
Clarity of thought and articulation
Sustainability or climate action angle
G. Nivethiga Rani who created a video on how she as a STEM Leader in 2047 had invented a robot that collected and converted biodegradable and non-biodegradable waste into electricity, won the first prize in the video challenge. The second prize was tied between T Shatananda Dhanwantari and Shreya Singh and Nistha Aswal, who participated as a team. Gaurav Hanjoora won third place.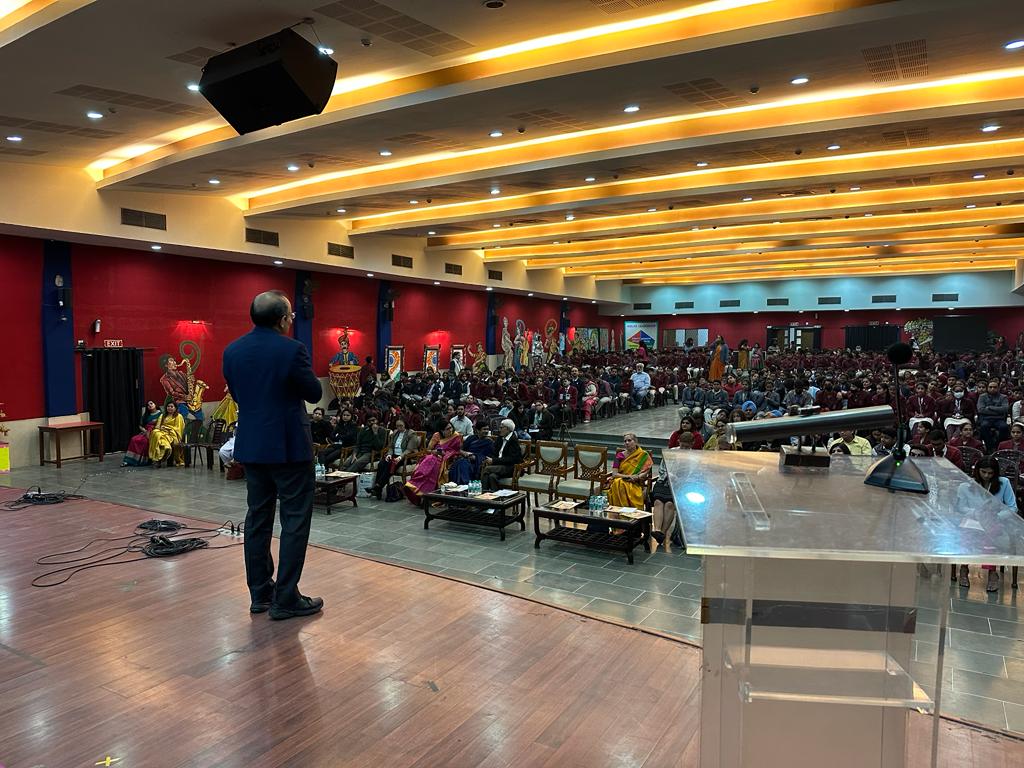 "I congratulate all the winners of the SHE STEM 2022. I have to say what caught my attention was that every single idea was addressing a fundamental constraint confronting us," said Dr. Chintan Viashnav.