Secretary of Higher Education Decided on Digital Ways For Ek Bharat Shreshtha Bharat
Ek Bharat Shreshtha Bharat programme to be taken forward using innovative ways for the betterment of students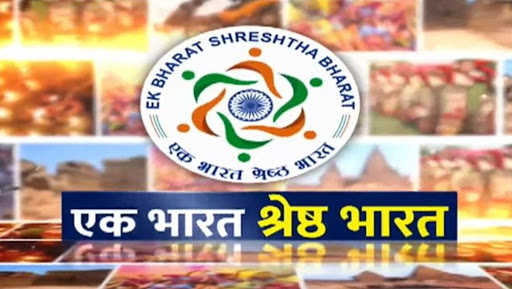 It has been decided to take forward the Ek Bharat Shreshtha Bharat programme of the Government by using innovative ways in view of the prevailing conditions of COVID 19. This was decided at a recent meeting of Secretaries via videoconferencing, of partner ministries under the Ek Bharat Shreshtha Bharat programme of the Government. The meeting was chaired by Secretary, Higher Education, M/o HRD, Shri Amit Khare. M/o HRD is the nodal ministry for the EBSB programme. The meeting was attended by Secretary, Tourism Shri Yogendra Tripathi; Secretary Culture, Shri Anand Kumar; Secretary Department of Youth Affairs, Smt Usha Sharma; Secretary, SE & L Smt Anita Karwal; CEO, MyGov Shri Abhishek Singh and senior officers of ministries of I & B, Railways, Home, Defence, Parliamentary Affairs and department of Sports.
Welcoming the participants, Shri Amit Khare briefed about the implementation of the programme so far, stressing on the need to have innovative ways to carry it forward in view of the prevailing conditions of COVID 19. Secretary D/o SEL, Smt. Anita Karwal also emphasized upon the need to show tangible outputs.
During the meeting, a presentation was made on the progress of EBSB so far.
Speaking at the meeting, Secretary, Ministry of Tourism, Shri Yogendra Tripathi informed that institutions under Tourism ministry are organising webinars on various aspects of tourism. The ministry is doing a series of webinars under the series "Dekho Apna Desh", being hosted on MyGov portal. These webinars are being attended by thousands of people. He also suggested that such webinars can be organised for tourism stakeholders of different states such as Tour Operators etc. Secretary, Higher Education suggested that the recordings of "Dekho Apna Desh" and other webinars can be displayed on the educational channels and in breaks during online classes.
Secretary, Ministry of Culture, Shri Anand Kumar stated that they are also organising various webinars. He suggested all webinars of different Ministries should be brought under a common platform of Ek Bharat Shreshtha Bharat. He further suggested that e- programmes can be prepared on various topics such as writing dramas, paintings, virtual tours of monuments, etc He further informed that the Culture Ministry proposes to develop E- Heritagepedia and E- Artistpedia and also suggested that renowned artists can do virtual programme modules to teach their art. Secretary D/o SEL welcomed the idea and said that schools would be very interested in classes on indigenous art like Worli and Madhubani paintings.
Secretary, Department of Youth Affairs, Smt. Usha Sharma appreciated the use of the digital medium for conducting the EBSB programmes. She said with this, the reach of these programmes can be enhanced greatly. She also suggested for sharing of digital material prepared by different departments. Secretary, HE suggested that the inputs may be collected from all the Ministries at a single platform. Secretary, D/O SEL suggested they could be hosted on a digital platform.
CEO, My Gov.in, Shri Abhishek Singh said that they are developing a mobile App for learning 100 sentences in different languages. He also said that MyGov can host webinars of various departments and also disseminate information about their programmes.
Joint Secretary, Ministry of Information & Broadcasting, Shri Vikram Sahai suggested that apart from the information of various states being shared through TV, Radio and Print Media, good practices and success stories of each state may also be shared with the partner states. He also suggested all departments can pool in their digital resources and DD News can use their weekly EBSB programme to host destination based programmes. JS (ICC), Ms Neeta Prasad suggested that each Ministry should share their future monthly action plan in advance with the Ministry of Information & Broadcasting for wider coverage.
Executive Director, Ministry of Railways Smt. Vandana Bhatnagar briefed about the steps taken by them for providing concessions to the students participating in various EBSB programmes and on displaying the logo, Video display etc on railways property. She said that these activities will be uptaken afresh once the regular movement of trains starts.
The officers of Ministry of Home Affairs, Ministry of Defence, Ministry of Parliamentary Affairs and Department of Sports briefed about the activities taken up prior to the lockdown period and activities proposed to be started.
At the end of the meeting, Secretary, HE summarised important actionable points as follows:
To move towards digital mediums for the carrying on the activities under EBSB by each participating Ministry/ Department.
To organise webinars on Ek Bharat Shreshtha Bharat themes for their wide dissemination.
To have a common repository for the Ek Bharat Shreshtha Bharat digital resources that can be used by every Ministry. This repository may be hosted on a common portal.
iv A revised communication plan needs to be made and Doordarshan's 30-minute weekly programme on EBSB should be destination-based with inputs from all ministries
Source: pib.gov.in
SHE STEM 2022 honours and celebrates women
SHE STEM 2022 encourages students to 'Unleash their imagination' as part of the Sweden India Nobel Memorial Week.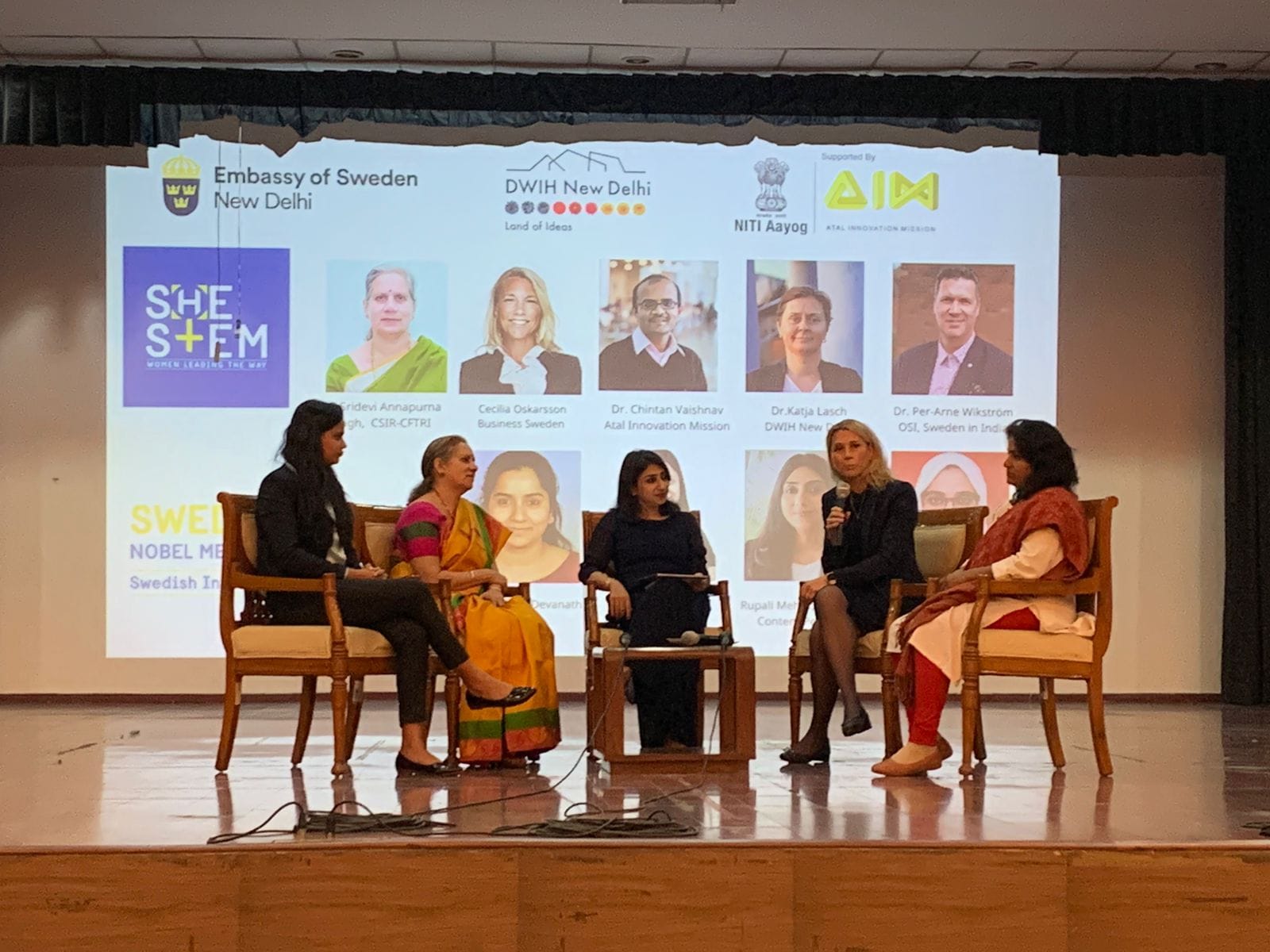 As part of the Sweden-India Nobel Memorial Week, SHE STEM, the annual event to celebrate women in the fields of science, technology, engineering, mathematics, and sustainability, was successfully held for the third year in a row.
The annual event is organized by the Sweden Embassy in India in partnership with the Atal Innovation Mission of the Government of India and the German Centre of Innovation and Research (DWIH New Delhi).
Ambassador of Sweden to India H.E. Jan Thesleff, who also addressed the students via a video message said, "We are very happy to continue the tradition of SHE STEM – it is a flagship event of the Sweden-India Nobel Memorial Week. Congratulations to all the winners of this year's SHE STEM Video challenge."
Dr. Chintan Vaishnav, Director of ATAL Innovation Mission said, "Today, the face of women's involvement in STEM is changing and the rate of participation has increased. It was in ATL Marathon 2021, that there was a spike where the women's participation was 49%. A strong STEM education will go a long way in cultivating such critical thinkers."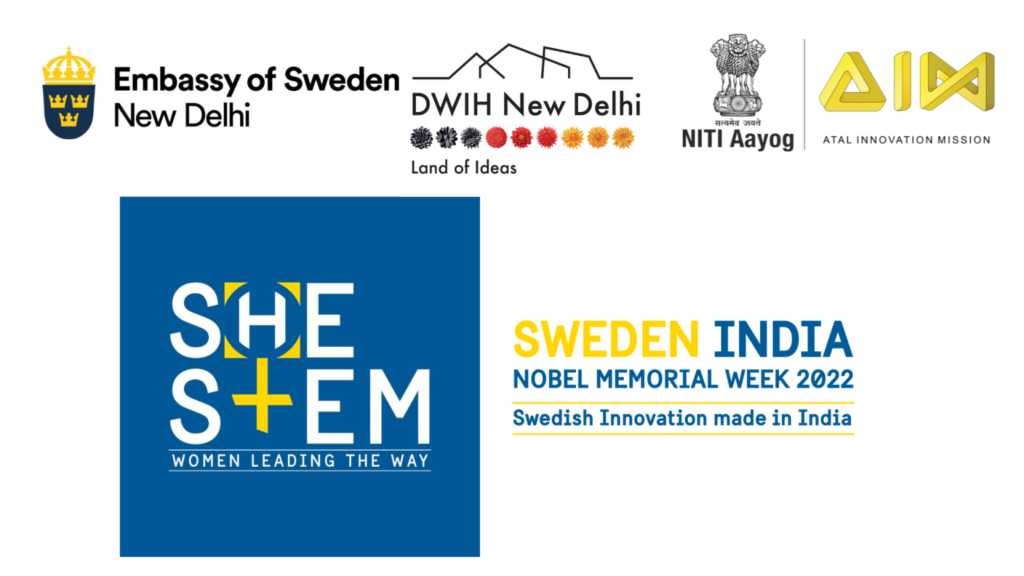 SHE STEM 2022 began with a musical performance by the students of Darbari Lal DAV Model School, New Delhi, the host school for SHE STEM 2022, followed by talks, and a panel discussion with women in the fields of STEM and business, including D. Sridevi Annapurna Singh, Director of Council of Scientific and Industrial Research – Central Food Technological Research (CSIR-CFTRI), Ministry of Science and Technology, Government. of India.
Dr. Annapurna Singh has done extensive work in the development of supplementary foods for undernourished children and in studying the impact of protein-rich food on children. She spoke to the audience about the need for women in fields of STEM to bring in their unique perspectives to problem-solving for a sustainable future.
Other participants included Cecilia Oskarsson, Trade, and Invest Commissioner of Sweden to India, who shared her thoughts on the role of diversity in triggering and enabling positive changes for girls and women, Mamta Kumari, co-founder and CEO of Prepbytes, an ed-tech company in India, and Dr. Vasudharani Devanathan, Neurobiologist and Professor of Biology at the Indian Institute of Science Education Research (IISER). Rupali Mehra, Founder of Content People AB moderated the event.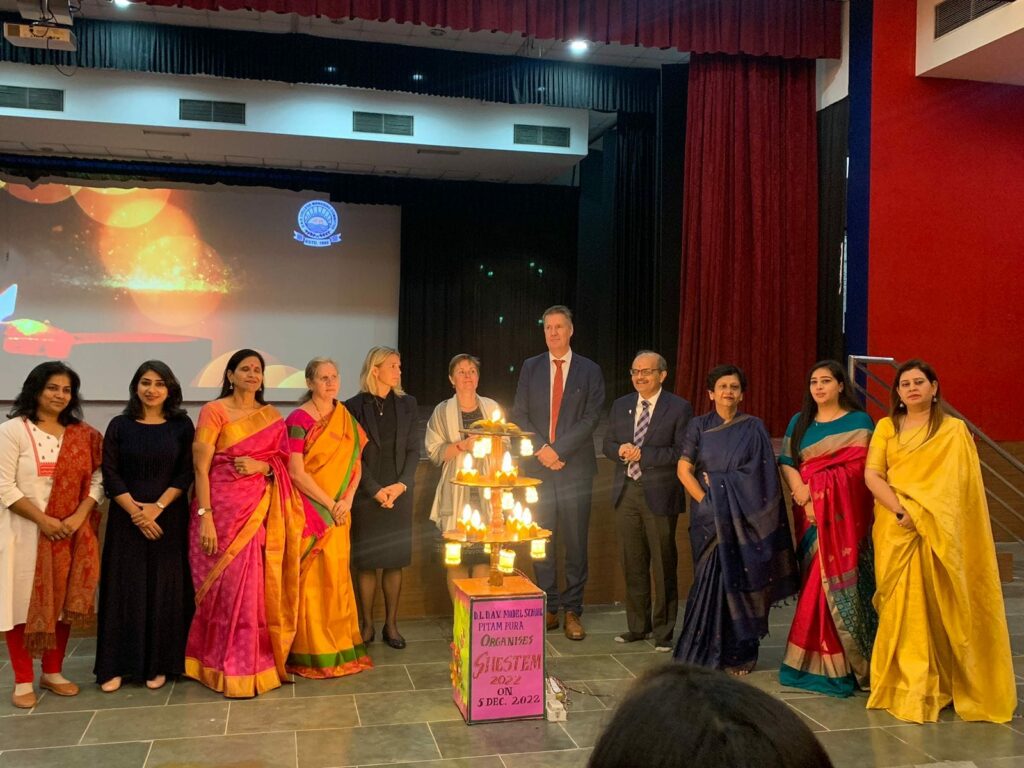 Dr. Per-Arne Wikström, Head of Office of Science & Innovation, Embassy of Sweden in New Delhi said: "When women and girls provide their talent, their knowledge, and their capabilities to science and technology on equal terms with men and boys, then we know that societies prosper and that innovation capacity actually increases. So for us, gender equality is an integrated part and an important aspect of everything that we do. We would like to thank our Indian partners for their support for this very important initiative."
"As Johann Wolfgang von Goethe said, 'who is not curious will not gain knowledge,' so keep your curiosity on, drive your knowledge forward and who knows maybe one or other idea will be implemented," said Dr. Katja Lasch, responsible for Strategy Management at the German Centre for Research and Innovation (DWIH New Delhi) and head of German Academic Exchange Service (DAAD) Regional Office in New Delhi.
Following the success of the Insta-reels Video Challenge in 2021, SHE STEM hosted the #SHESTEM2022 Video Challenge across Instagram, Youtube, Facebook, and Google Drive for students of ages 13 to 17, asking them to imagine themselves in the year 2047, and speak about an innovation of theirs that has helped in tackling climate change. The response was overwhelming with over 930 videos of which 15 were shortlisted. SHE STEM had an extensive jury round of 3 jury teams; Atal Innovation Mission Team led by Dr. Chintan Vaishnav, the Swedish Embassy team, led by Dr. Per-Arne Wikström, and the German Centre for Research and Innovation, represented by Dr. Katja Lasch.
The videos were assessed on the:
Novelty of idea
Clarity of thought and articulation
Sustainability or climate action angle
G. Nivethiga Rani who created a video on how she as a STEM Leader in 2047 had invented a robot that collected and converted biodegradable and non-biodegradable waste into electricity, won the first prize in the video challenge. The second prize was tied between T Shatananda Dhanwantari and Shreya Singh and Nistha Aswal, who participated as a team. Gaurav Hanjoora won third place.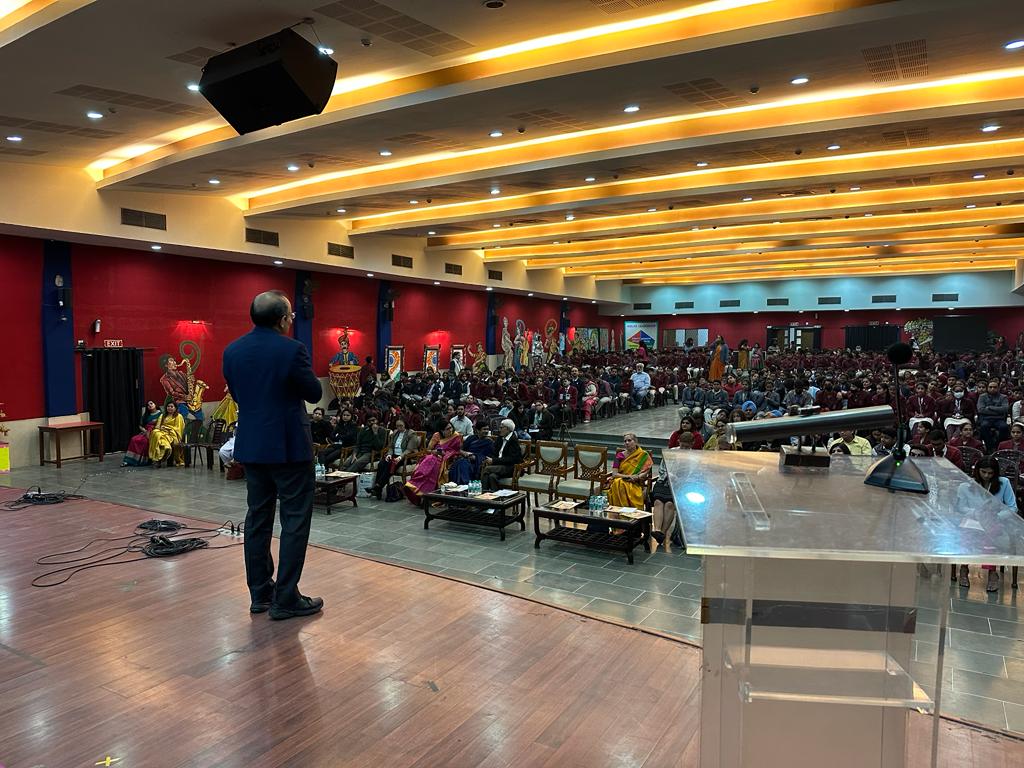 "I congratulate all the winners of the SHE STEM 2022. I have to say what caught my attention was that every single idea was addressing a fundamental constraint confronting us," said Dr. Chintan Viashnav.