Students themselves tell us what they want in a school! Are we ready to listen, minus judgement?
Forget about what students 'need'. Students themselves tell us what they want! Are we ready to listen, minus judgement? This is the first part in our series on children's views on their dream school.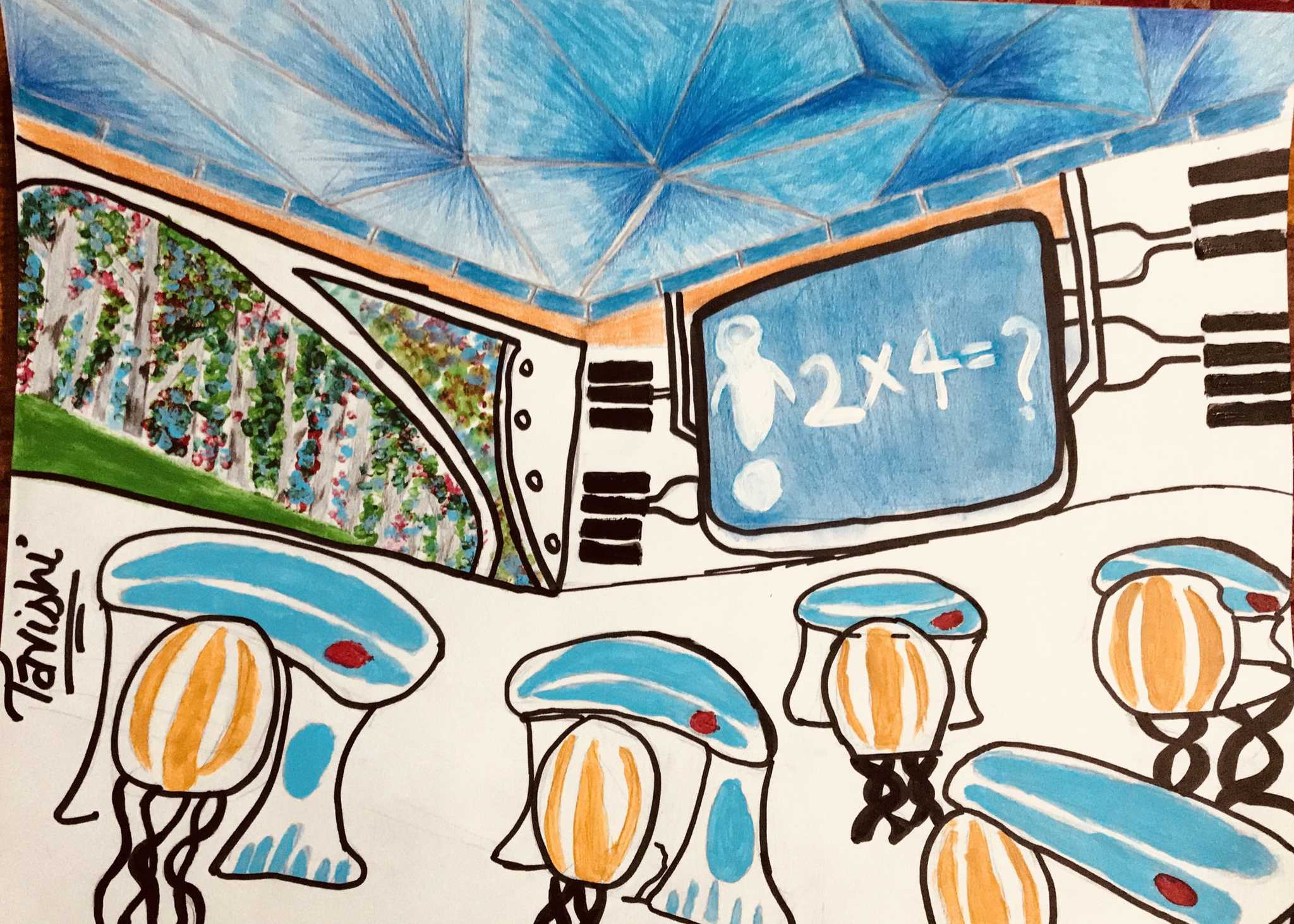 From the government to the management to educators to parents – everyone seems to have a say in the school system but for the main stakeholders: the children themselves. With World Children's Day (November 20) and National Children's Day (November 14) this month, ScooNews threw open its pages, inviting this long-neglected and most important segment – children – to tell us exactly how they envision their dream school. Read on, educators, there might be nuggets of value for us all in here…
"A boarding school on a mountain cliff by the sea…"
Omkar Mantri
School, a place which we all have a love-hate relationship with! There are days we love it and days we don't. School can be annoying, boring but on some days it can be exciting and nice. But can you imagine that perfect school or a perfect school day? How much fun would it be to play board games or eat pizzas in school every day?
If I could design my perfect school, it would be a boarding school in the middle of the woods or what would be way more cool and mystical is if our school was perched on a mountain cliff by the sea. That way, we would have amazing views from our classroom windows. Imagine this school with a huge library with all kinds of books and no one to tell you what you can or cannot read. Field trips would not involve long bus rides on Bangalore roads, but rather we can apparate to different interesting places. This incredible school will allow us to bring pets and our favourite toys. Sports activities could mean a variety of board games instead of getting sweaty on a basketball court.
Obviously there would be no homework and exams will be discussions with our teachers where they will actually have to pay heed to our opinions (don't think that will ever happen!). Lunch breaks would be awesome with pizza delivery straight to our classrooms from our favourite pizzerias and food from all over the world. We wouldn't be forced to eat watery sambar and rice. Our curriculum would not include mundane subjects that can be looked up on Google, but rather more interesting things like ancient scriptures and scrolls or ancient magic that proficient people will come teach.
But can such a school exist? Is it even possible to make schools that let children decide what they want to know, and how they want to learn? Oh well, it sure was nice to imagine that perfect school. But till then let's keep imagining and let our dreams be made of perfect schools and perfect schools days, after all dreams do come true!
(Omkar Mantri, 12, is a student of class VII, Vibgyor High.)
"My school will focus on two things: coding and sports"
Pranav Ramanathan
My dream school would be located in the hills where the climate would be very cold. This would help the students who are interested in sports to adapt to the cold weather which will help them play in all conditions and progress in their field of sport. The teachers must go through training at the end of which they must appear for an exam. Teachers who score 95% and above will be the chosen ones, who will teach at my school! If any student is lagging behind then the teachers will be held responsible and could be suspended. This will allow the teacher to work harder and make sure that they do their best to make sure that no student fails. There will be over 10 subjects from grade V – ITC, Math, English, Javascript, C and AI. The school will focus only on two things: coding and sports. There will be different kinds of sports such as American football, soccer, rugby, basketball, cricket, tennis, baseball, swimming, water polo, polo, athletics, kho-kho and kabaddi.
The reason I am adding a lot of sports to the curriculum is because when you think of a topper you think of a fat boy drinking soda all day and getting good marks. So in my school it will be made compulsory that every student plays a sport and that all students must score above 90% and that's the only way you can stay in this school.
I recommend that you send your child to my dream school from pre-KG so they are accustomed to the lifestyle of sport and study. As many of you will know, the mission of Olympics is to combine academics, body, will and mind… and to live in this world we would need these four attributes.
(Pranav Ramanathan studies in grade VII at Yellow Train, under the IGCSE syllabus. His passions are football and computers)
"I hope we will be treated in a way that we rightfully deserve"
Nicole Fernandes
If I had the opportunity to have my own dream school, wow, how wonderful childhood would be! Just imagine, I would go and come from school with glee. I would not have to take the burden of a heavy bag, as everything would be digitalised. The classrooms would have the comforts of home as they would be well-furnished and air-conditioned. I wish there were no exams at all, just a simple evaluation. At the end of the day, it is our knowledge that has to be tested, not our by-hearting skills and patience. I wish all teachers would be sweet and child-friendly, with proper teaching skills and would handle the class with etiquette… rather than treating us like a bunch of animals. I hope that soon people realise the value of education and ensure that we get the proper ambience for the same, and will be treated in a way that we rightfully deserve. My dream school is not just a dream but a possibility. And I hope it comes true one day; if not for my benefit then at least for the next generation.
(Nicole Fernandes studies in class VII at St. Joseph's School, Malad, Mumbai)
"Love and acceptance would radiate all around"
Diya Menon
In an ideal world where the possibilities are endless, there would be things like "dream schools." But what would a dream school look and be like? I believe, the campus would be filled with students walking around together in harmony with genuine smiles on their faces. There would be teachers with their classroom doors open for students to come in, learn, inquire, bond, and step into a realm of endless opportunities. There would be clean facilities, a clean campus, clean bathrooms, clean cafeterias, clean people, and more for students to be safe and healthy. Positivity, love, acceptance, and happiness would be radiating from all around, causing the vicious waves of cruelty brought on by things like bullying, racism, and discrimination, to fail to survive. Students would learn every day and be inspired to learn more. They would learn to challenge and question many of society's norms. They would learn not just the facts, but how to apply these facts in the real world. They would master crucial life skills. They would be able to dive deep into their area of passion, whether that be by getting the opportunity to share their emotions through music, convey their thoughts by writing in the school newsletter, or channel their excess energy into playing a sport. A dream school would be somewhere people can interact, motivate, teach, learn, share, make an impact, laugh, and discover themselves. A dream school would have a strong support system for students, with programs that help students that are not as socially or academically gifted as their peers. It would provide a strong foundation for every aspect of life, the humanities, STEM, and more. It would have days where you can relax and take a breather. It would have fun field trips, dances, socials, even games. A dream school should be a home away from home, somewhere people can feel safe, loved, and happy. It would teach you not how to become the smartest in a class, but how to become a good person, someone who can make a positive impact on society. There would be clubs of all sorts, a place where every single student belongs. A dream school would be a place where kids find their purpose, a place where the future leaders of the world are born.
(Diya Menon is a freshman – IX grader – at Monta Vista High School in Cupertino, CA. She is passionate about academics, music, and writing. She aspires to become a cardiothoracic surgeon, but also wants to pursue her love for the humanities, singing and writing. She has written a book, available on Amazon, called Unfolding Love in Oppression and hopes to continue to develop her writing and singing skills with any opportunity that comes her way.)
Header image courtesy – Tavishi Saxena
This story was our Childrens' Day special feature in the November 2017 issue.
What is Hybrid/Blended Learning?
We are lifelong learners and need to keep pace with the fast-paced technology so that our students are ready to take the next leap. Our classrooms have to echo that thought and vision at all times through new pedagogies and teaching-learning strategies.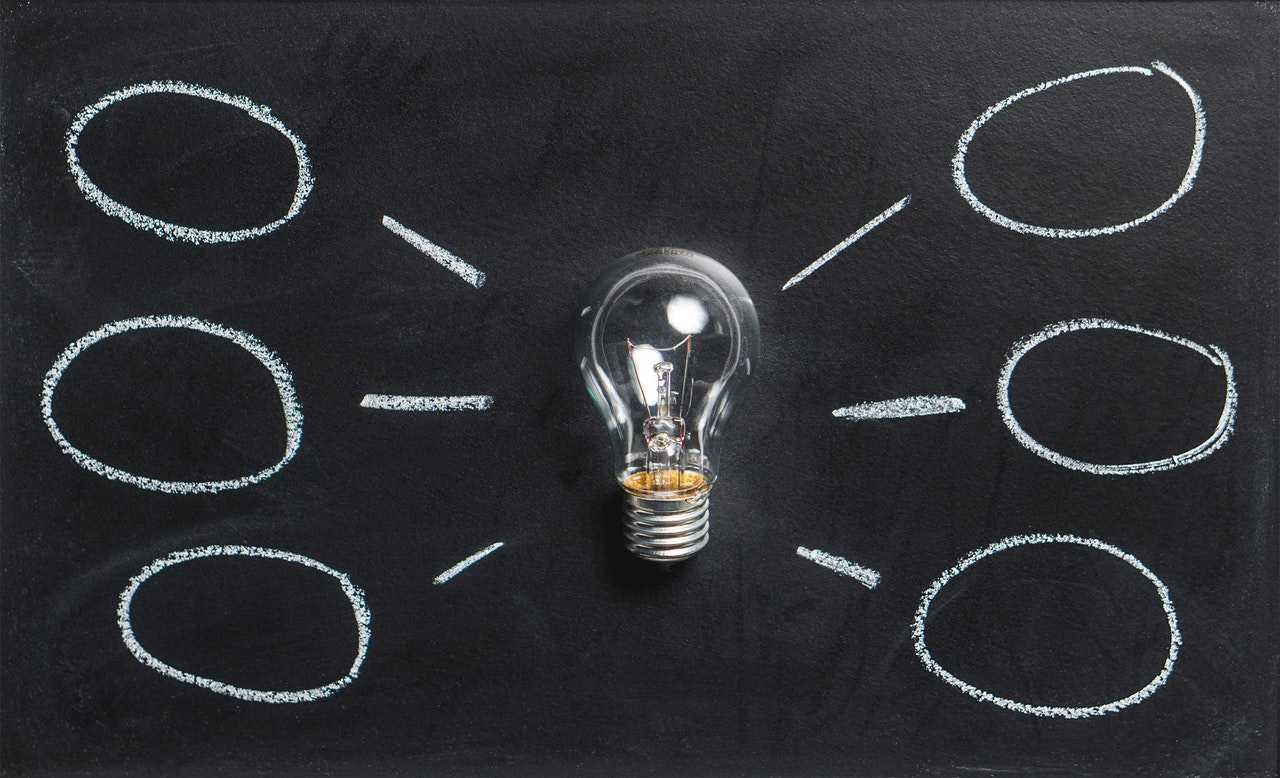 The COVID wave – consider it a bane or boon – but it somersaulted us to an array of digital world experiences. It propelled us to rethink and reorganize our mindsets, our practices, and our expectations. Overnight, we moved from an offline teaching mode to online, and credit to the teaching community for doing it so seamlessly. Now, we are back to offline teaching but do we continue with our old practices? An obvious no so we need to infuse our online experiences within the offline to ensure that quality education reaches one and all.
One key pedagogy to achieve the goal is blended learning, an approach that combines face-to-face learning with online learning incorporating certain elements that support students to have control over the pace, time, and place. The material resource investment is minimal but human resource investment is high till the ethos is assimilated within all.
So let's understand the varied types of blended learning and its implementation in the school teaching-learning process.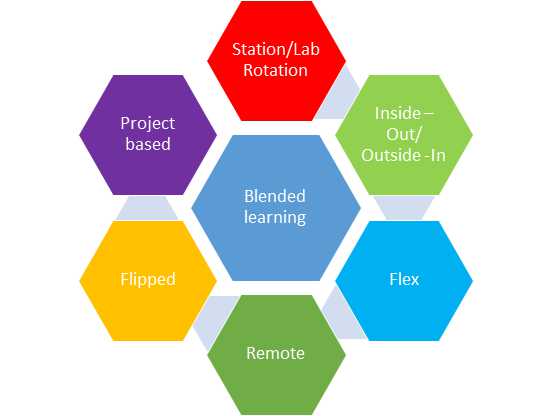 1. Station Rotation
In Station Rotation, students will rotate on a fixed schedule as per the teacher's discretion. The teacher begins her class of 40 students with instruction on narrative writing from 9:00 am to 9:15 am. She then splits the class into three groups where one group continues to learn with her. The second group works on a collaborative assignment on narrative writing and the third use their laptops or computers placed in the class and researches blended learning and after 15 minutes the group switches so that every group has varied experiences. A block class of English can support the various transactions and supports students to build research, collaborative and knowledge skills.
In the same format, if computers or laptops are not available in class then students use the computer laboratory in school and this rotation would then be called as Lab Rotation.
In this methodology, all students with varied learning needs are supported. The only challenge is the Technology and time management skills.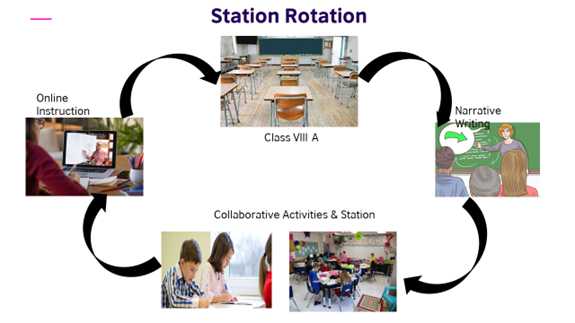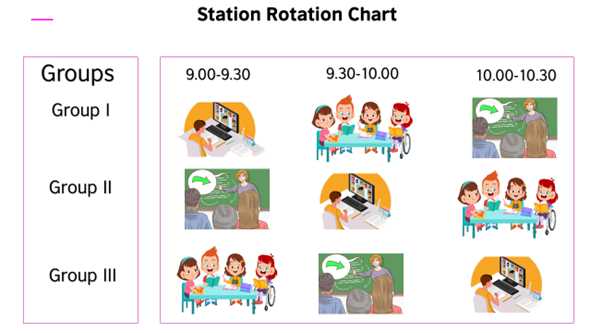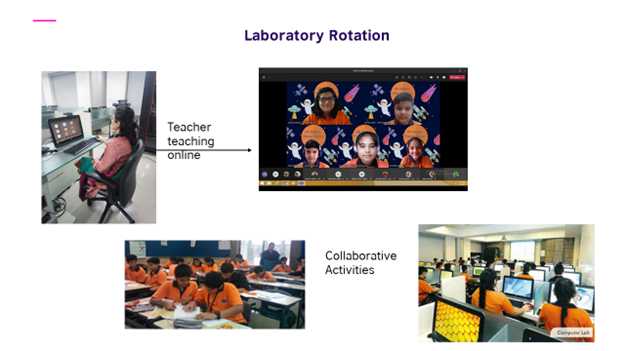 2. Remote & enriched virtual learning
It is a course or subject in which students have required face-to-face learning sessions with their teacher of record and then are free to complete their remaining coursework remote from the face-to-face teacher. In class, the teacher gives a project to students on 'Analysing any work of Shakespeare's or Rabindranath Tagore's Kabuliwalla' w.r.t. the criterion of plot, characters, theme, language, thought and values.
She briefs students on works of Shakespeare and the elements of a play within the school timetable and they complete all the work at home.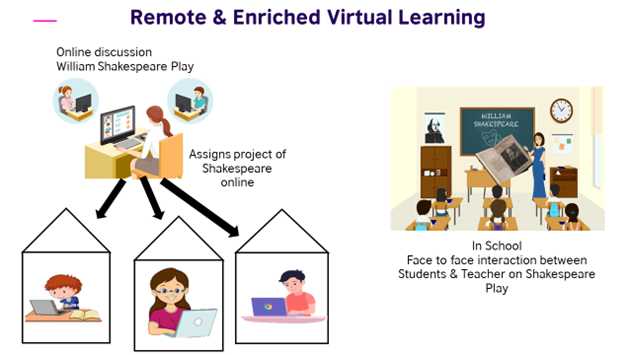 3. Flex blended learning
During certain weekends if the teacher wishes to support the students further in class especially if the concept has been challenging or students have underperformed in an evaluation, the teacher records her remedial teaching and uploads in-class computers. She designs a task around remedial teaching. She expects students to report to school wherein students enter the class on their own time, access the teaching, complete the task and leave. If they have any further doubts, they could approach the teacher in the school or their peers. A useful TIP would be for the teacher to Collaborate with their colleagues in club activities.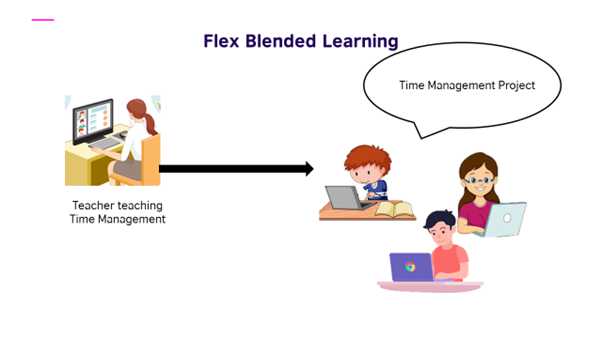 4. Flipped learning
As per TeachThought, a flipped classroom is a type of blended learning where students are introduced to content at home and practice working through it at school. This is the reverse of the more common practice of introducing new content at school, then assigning homework and projects to be completed by the students independently at home.
This methodology is most useful when you want students to have some knowledge of the content before analyzing it further. So if a teacher wishes to conduct a 'Book review'. She shares the e-book, 'Totto-chan' with the students. She asks them to read and shares certain discussion points. In school, students discuss the book and write personal book reviews. The teacher has used her class time constructively and has been to achieve greater learning outcomes.
5. Individual rotation blended learning
As per https://www.blendedlearning.org/models/, the Individual Rotation model allows students to rotate through stations, but on individual schedules set by a teacher or software algorithm. Unlike other rotation models, students do not necessarily rotate to every station; they rotate only to the activities scheduled on their playlists.
The teacher allows students to rotate through different kinds of classrooms called stations. A specific ILP [Individual learning plan] is created for each student. For example: Parth and Mona's examples work on clauses, Mona is struggling with Clauses so she attends classes and solves assignments whereas Parth will attend classes, watch a few videos, and also complete a research project on clauses. Thus the teacher knows her students' skills in greater depth and supports them individually to achieve her target learning outcomes.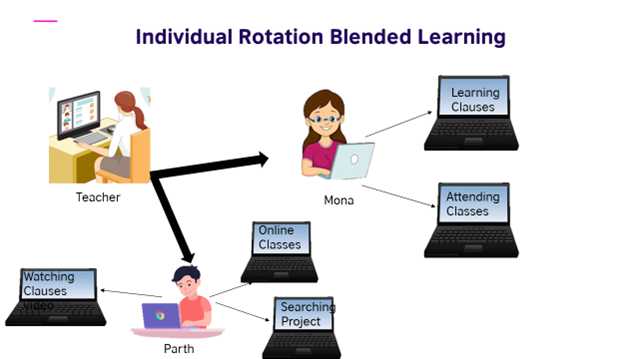 6. Inside-out and outside-in blended learning
In Inside-out, teaching and learning begin inside the classroom and move to an outside environment and in an outside-in classroom, it begins in an outside environment and moves inside the classroom. In a class environment, the Teacher discusses with students about 'Sound of Music' in class and ends the lesson by taking them to the theatre to watch the play. In Outside-In, Students watch the play in a digital environment and end the lesson in a physical environment by conducting role-plays.
The list of models is many but one has to review their resources and plan accordingly.
One can mention that they may face challenges in terms of technology, lack of training on digital platforms, lack of resources to create self-paced learning environments, or time management with vast syllabuses to complete.
Certain tips that can come useful are:
1. Teachers can begin with easily available digital content like Khan Academy, Pinterest, discovery Education, PBS Learning Media, and much more.
2. Review the available resources and plan a timetable. Most importantly, a team achieves more so collaborate with your colleagues in club activities.
3. Take small simple steps – "The journey of a thousand miles begins with one step." Lao Tzu. Choose the model that you are comfortable executing and then move forward.
As teachers, we are ever-evolving and we are that one profession that creates more professions so our responsibility and accountability stretch beyond the classroom. We are lifelong learners and need to keep pace with the fast-paced technology so that our students are ready to take the next leap. Our classrooms have to echo that thought and vision at all times through new pedagogies and teaching-learning strategies.
References:
Christensen Institute, Blended Learning definitions, https://www.christenseninstitute.org/blended-learning-definitions-and-models/
About the author:
Kavita Sanghvi holds a Masters in Physics, Masters in Education, Masters in Philosophy of Education, and CAEL [Certificate in Advanced Course in Educational Leadership] Diploma from Harvard University. She heads SVKM's CNM School, in Mumbai. She is a Teach SDG's Ambassador, Climate Action Ambassador, and Scientix Ambassador for India. She is a British Council Trainer and Ambassador.