The Importance of Educating the Poor
Education has helped two young boys from the upper reaches of Himalayas, who migrated practically penniless. They are now an electronic engineer and a merchant marine officer. Growth of their mind and their attitude to life has helped these two boys plan a life of comfort and luxury.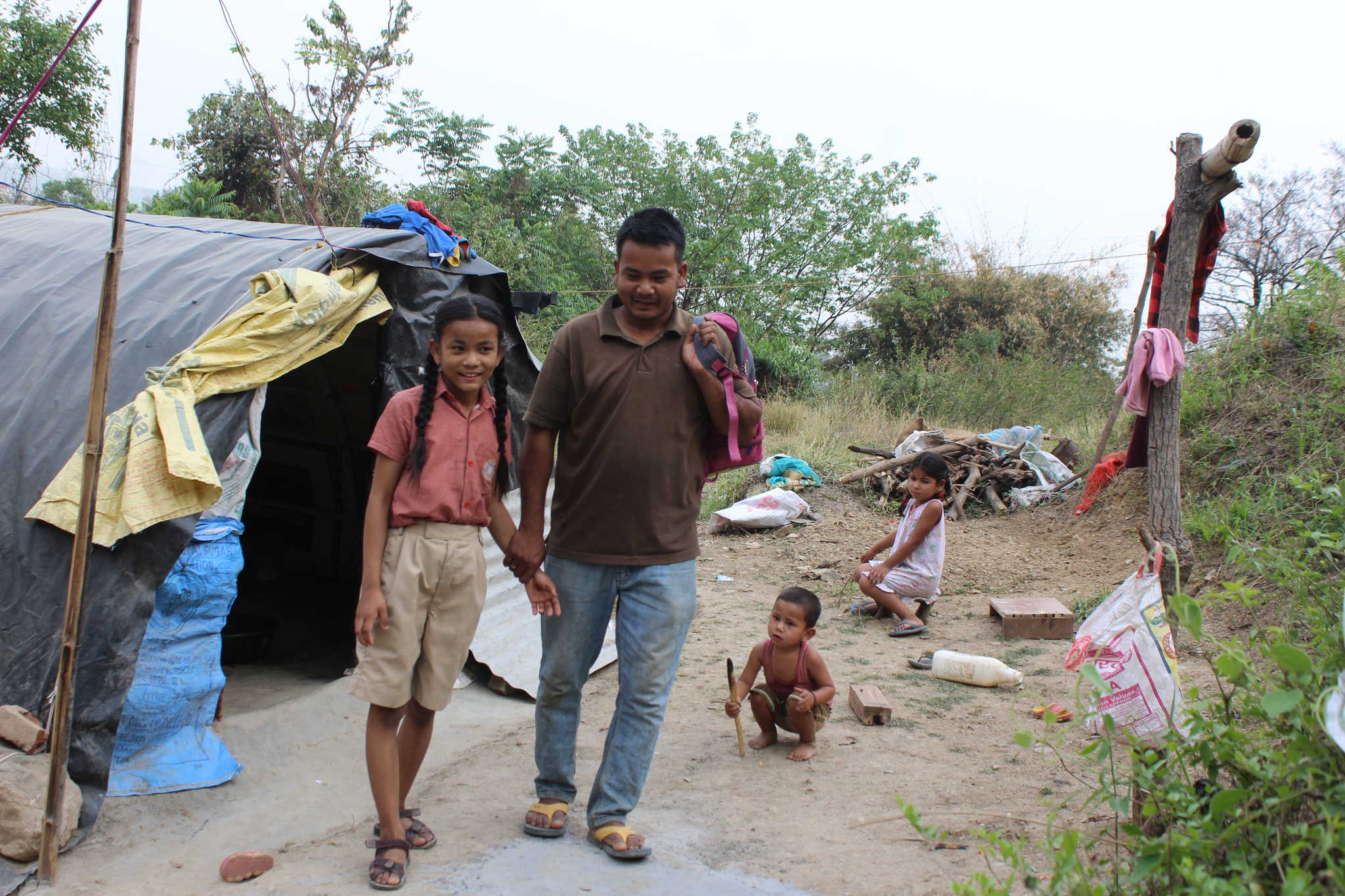 G K Swamy, Founder-Secretary Purkal Youth Development Society, on the only tool with the power to break the cycle of poverty
"Education is the most powerful weapon which you can use to change the world." ~ Nelson Mandela
"Education is not preparation for life; education is life itself." ~ John Dewey
In 1740 South Carolina had passed a law making it a criminal offense, punishable by imprisonment, to help blacks learn to read and write. Most Indians are familiar with Thomas Macaulay's warning in 1840, about how the colonists needed to destroy the then prevailing excellent Indian educational system that imparted both character and culture, before they could hope to conquer this country. No better testimony to the power of education to transform the poor!
South Carolina was petrified by education's ability to metamorphose. Macaulay knew that education had imbedded the culture and the living philosophies of India into its people. It is this understanding that led Purkal Youth Development Society (PYDS), to practice this as our business for nearly two decades. We educate the poorest. Education remains the key to escape poverty while poverty remains the biggest obstacle to education. Targeted investments at PYDS are designed to counteract the effects of poverty on educational achievements, via intensive preschool help, extended school hours, providing healthcare and nutrition support, as well as parental training and mentoring programmes.
We realize that poverty is an inter-generational pattern. This is about a family where the father and mother were uneducated and unskilled. They lived hopelessly 15 years ago. With a piece of unirrigated land they were eking out a life. The man was 34, married with two daughters and two sons. With very little cash, they lived in penury. Despairing he lived dishonestly and remained inebriated. Chance and grace brought the children to PYDS and all are now at various stages of a career. The master of the house has become a teetotaller; built a home and is building his family. Education gave him hope. They have moved from poverty to looking forward to a fulfilling life.
Education has helped two young boys from the upper reaches of Himalayas, who migrated practically penniless. They are now an electronic engineer and a merchant marine officer. Growth of their mind and their attitude to life has helped these two boys plan a life of comfort and luxury. PYDS made this possible.
A girl who was abandoned due to poverty at age 13, survived with her robust emotional intelligence, escaping suicide. With 8 years of PYDS care, she is now a proud executive paying back to our society, a monetary contribution she believes she owes. Her robust emotional intelligence is complemented by her quality education. This is a case that helps me conclude that people, who faced acute adversity, emerge much stronger than those who did not go through this fire.
One example can trigger paradigm changes in many minds. The daughter of a roadside vegetable vendor won a scholarship to the US. Stimulated, we now have three from the school in the US. SAT is now an aspiration. One successful child changing into a self-confident bread earner can change the fortunes of the entire family. A family of 9 children who were rag pickers on the streets are all attempting successful lives, investing in education. Their next generation will prosper, since mothers have discovered the power of education. Investment by PYDS in food security, nutrition and education has helped to reduce malnutrition and increase the children's ability to learn. Educated girls help prevent maternal mortality by making sure of trained healthcare during births. Lower birth rates have already happened as well as delayed marriages and motherhood. One of our Muslim girls, from an extremely poor family of 11, tells me how she escaped marriage at 16 because we took her on providing boarding and lodge. She finished her high school very creditably, and in four years will qualify as a physiotherapist.
The educational experiment that we have carried out has helped our direct beneficiaries escape poverty and prevented the transmission of poverty to future generations. But what children learn matters. We need to focus on quality, learning and teachers. Contents are important since it must help communities tackle changes, preserve nature and its resources. Poor children cannot access higher education because of their inability to afford tuition and fees. If we promise our children a future, we need to make it attainable.
At PYDS we also make quality higher education affordable. Immense lack of job opportunities for youth is a major challenge globally. Education for entrepreneurship and business management is important to educate and enable young people to develop their own business. Relevant technical and vocational education is an important support for this purpose. An education that promotes innovation and efficiency can contribute to productivity. Indeed education is the only tool that has the power to break the poverty cycle.
About the Author:
Mr G.K. Swamy is the CEO & Secretary of the Purkal Youth Development Society (PYDS). PYDS educates the poorest. For Swamy and PYDS, education remains the key to escape poverty while poverty remains the biggest obstacle to education. His wife Chinni heads the "Purkal Stree-Shakti Samiti" a sister Society, which creates designer hand- made patch worked quilts and other quilted products with the help of girls living in around the Village. Over 175 women earn a living due to Stree Shakti. Swamy and his wife Chinni spend their entire Life working for and raising support for the Mission that they have created. Both of them give their services entirely free.
This article was originally published in the Anniversary (August 2017) issue of ScooNews magazine. Subscribe to ScooNews Magazine today to have more such stories delivered to your desk every month.
What is Hybrid/Blended Learning?
We are lifelong learners and need to keep pace with the fast-paced technology so that our students are ready to take the next leap. Our classrooms have to echo that thought and vision at all times through new pedagogies and teaching-learning strategies.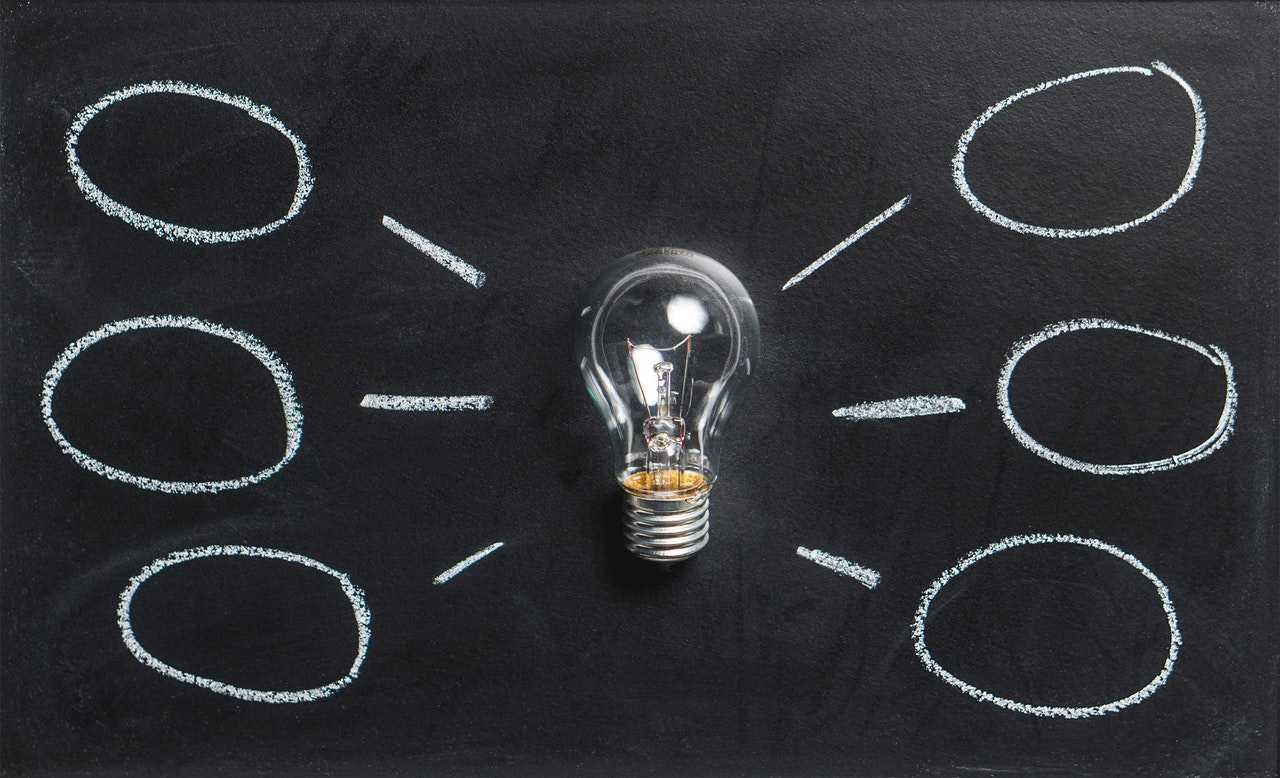 The COVID wave – consider it a bane or boon – but it somersaulted us to an array of digital world experiences. It propelled us to rethink and reorganize our mindsets, our practices, and our expectations. Overnight, we moved from an offline teaching mode to online, and credit to the teaching community for doing it so seamlessly. Now, we are back to offline teaching but do we continue with our old practices? An obvious no so we need to infuse our online experiences within the offline to ensure that quality education reaches one and all.
One key pedagogy to achieve the goal is blended learning, an approach that combines face-to-face learning with online learning incorporating certain elements that support students to have control over the pace, time, and place. The material resource investment is minimal but human resource investment is high till the ethos is assimilated within all.
So let's understand the varied types of blended learning and its implementation in the school teaching-learning process.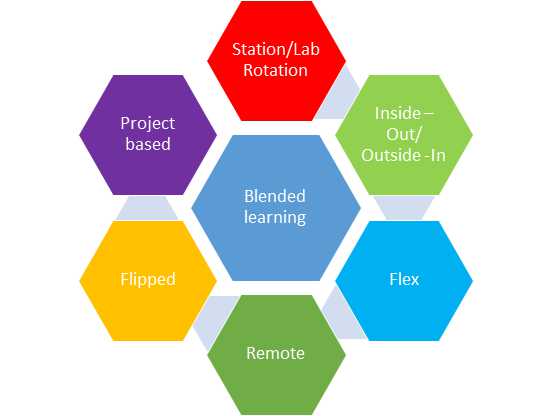 1. Station Rotation
In Station Rotation, students will rotate on a fixed schedule as per the teacher's discretion. The teacher begins her class of 40 students with instruction on narrative writing from 9:00 am to 9:15 am. She then splits the class into three groups where one group continues to learn with her. The second group works on a collaborative assignment on narrative writing and the third use their laptops or computers placed in the class and researches blended learning and after 15 minutes the group switches so that every group has varied experiences. A block class of English can support the various transactions and supports students to build research, collaborative and knowledge skills.
In the same format, if computers or laptops are not available in class then students use the computer laboratory in school and this rotation would then be called as Lab Rotation.
In this methodology, all students with varied learning needs are supported. The only challenge is the Technology and time management skills.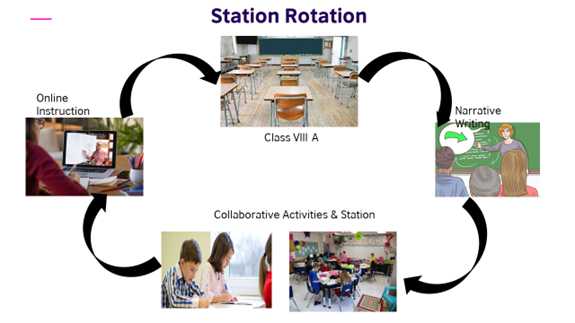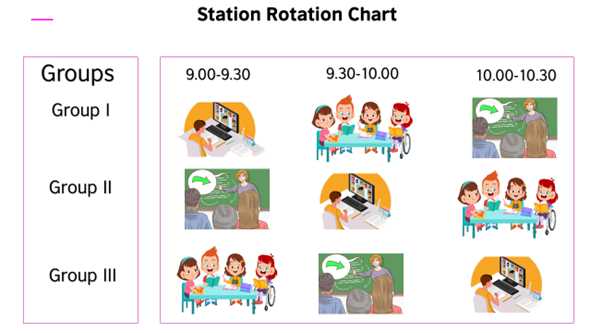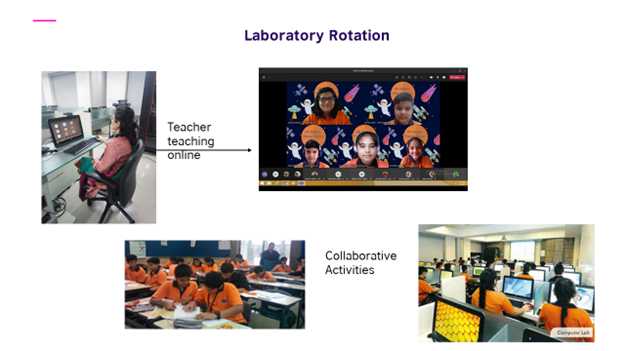 2. Remote & enriched virtual learning
It is a course or subject in which students have required face-to-face learning sessions with their teacher of record and then are free to complete their remaining coursework remote from the face-to-face teacher. In class, the teacher gives a project to students on 'Analysing any work of Shakespeare's or Rabindranath Tagore's Kabuliwalla' w.r.t. the criterion of plot, characters, theme, language, thought and values.
She briefs students on works of Shakespeare and the elements of a play within the school timetable and they complete all the work at home.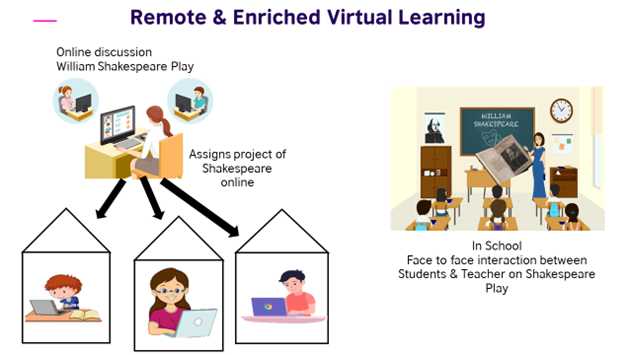 3. Flex blended learning
During certain weekends if the teacher wishes to support the students further in class especially if the concept has been challenging or students have underperformed in an evaluation, the teacher records her remedial teaching and uploads in-class computers. She designs a task around remedial teaching. She expects students to report to school wherein students enter the class on their own time, access the teaching, complete the task and leave. If they have any further doubts, they could approach the teacher in the school or their peers. A useful TIP would be for the teacher to Collaborate with their colleagues in club activities.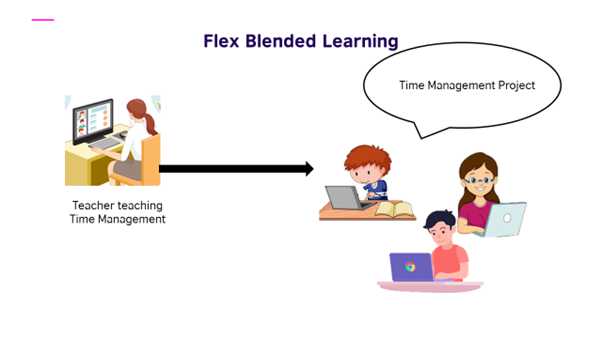 4. Flipped learning
As per TeachThought, a flipped classroom is a type of blended learning where students are introduced to content at home and practice working through it at school. This is the reverse of the more common practice of introducing new content at school, then assigning homework and projects to be completed by the students independently at home.
This methodology is most useful when you want students to have some knowledge of the content before analyzing it further. So if a teacher wishes to conduct a 'Book review'. She shares the e-book, 'Totto-chan' with the students. She asks them to read and shares certain discussion points. In school, students discuss the book and write personal book reviews. The teacher has used her class time constructively and has been to achieve greater learning outcomes.
5. Individual rotation blended learning
As per https://www.blendedlearning.org/models/, the Individual Rotation model allows students to rotate through stations, but on individual schedules set by a teacher or software algorithm. Unlike other rotation models, students do not necessarily rotate to every station; they rotate only to the activities scheduled on their playlists.
The teacher allows students to rotate through different kinds of classrooms called stations. A specific ILP [Individual learning plan] is created for each student. For example: Parth and Mona's examples work on clauses, Mona is struggling with Clauses so she attends classes and solves assignments whereas Parth will attend classes, watch a few videos, and also complete a research project on clauses. Thus the teacher knows her students' skills in greater depth and supports them individually to achieve her target learning outcomes.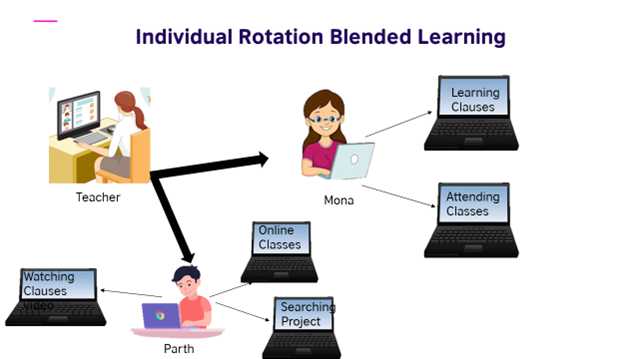 6. Inside-out and outside-in blended learning
In Inside-out, teaching and learning begin inside the classroom and move to an outside environment and in an outside-in classroom, it begins in an outside environment and moves inside the classroom. In a class environment, the Teacher discusses with students about 'Sound of Music' in class and ends the lesson by taking them to the theatre to watch the play. In Outside-In, Students watch the play in a digital environment and end the lesson in a physical environment by conducting role-plays.
The list of models is many but one has to review their resources and plan accordingly.
One can mention that they may face challenges in terms of technology, lack of training on digital platforms, lack of resources to create self-paced learning environments, or time management with vast syllabuses to complete.
Certain tips that can come useful are:
1. Teachers can begin with easily available digital content like Khan Academy, Pinterest, discovery Education, PBS Learning Media, and much more.
2. Review the available resources and plan a timetable. Most importantly, a team achieves more so collaborate with your colleagues in club activities.
3. Take small simple steps – "The journey of a thousand miles begins with one step." Lao Tzu. Choose the model that you are comfortable executing and then move forward.
As teachers, we are ever-evolving and we are that one profession that creates more professions so our responsibility and accountability stretch beyond the classroom. We are lifelong learners and need to keep pace with the fast-paced technology so that our students are ready to take the next leap. Our classrooms have to echo that thought and vision at all times through new pedagogies and teaching-learning strategies.
References:
Christensen Institute, Blended Learning definitions, https://www.christenseninstitute.org/blended-learning-definitions-and-models/
About the author:
Kavita Sanghvi holds a Masters in Physics, Masters in Education, Masters in Philosophy of Education, and CAEL [Certificate in Advanced Course in Educational Leadership] Diploma from Harvard University. She heads SVKM's CNM School, in Mumbai. She is a Teach SDG's Ambassador, Climate Action Ambassador, and Scientix Ambassador for India. She is a British Council Trainer and Ambassador.