Building Communities Together
The Rising- Building Communities Together is the Journey of Kamla Nehru Public School, Chak Hakim, Phagwara. It is the journey to meet UN2030 Agenda. It is the journey where collaboration bloomed.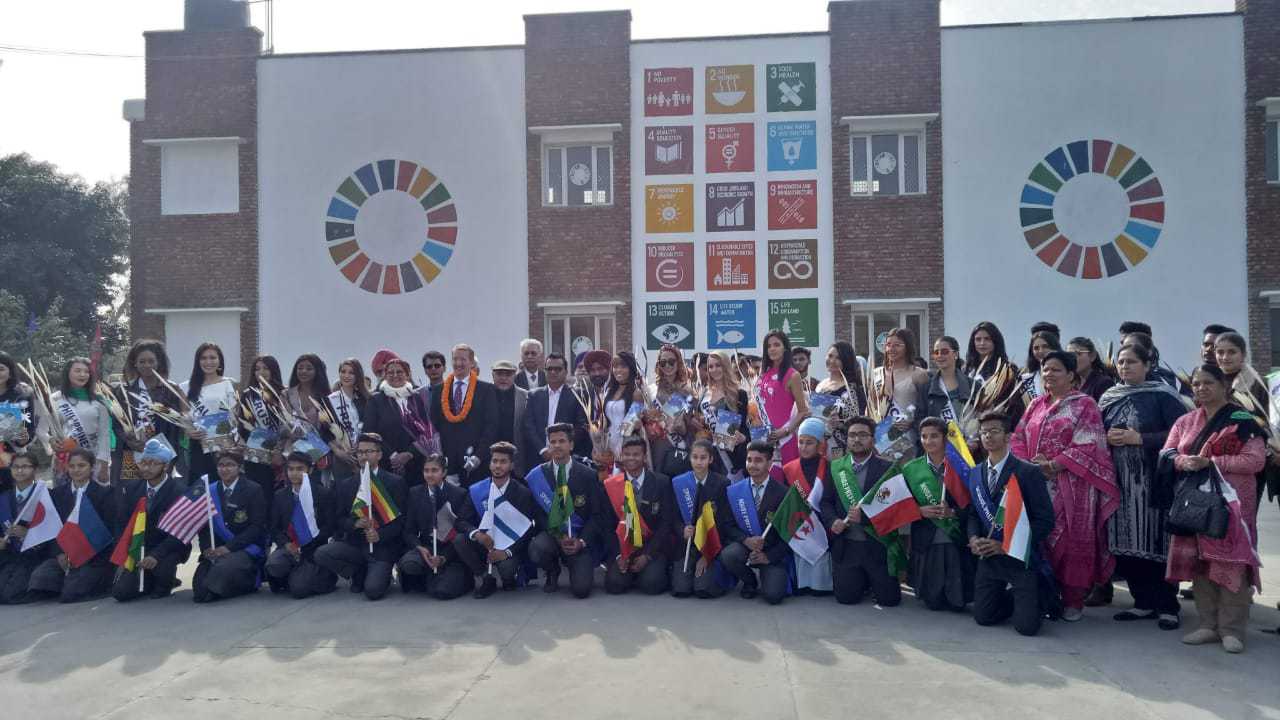 'SDGs: The Rising- Building Communities Together' is the Journey of Kamla Nehru Public School, Chak Hakim, Phagwara. It is the journey to meet UN2030 Agenda. It is the journey where collaboration bloomed. It is the journey filled with contentment. It is the journey of SDG empowerment in the school and the aim to create a generation of educators, learners and neighbourhood community, today who understand Sustainable Development Goals and have knowledge, skill and attitude to promote sustainable development among others through education by living a sustainable human life. The target is 65 neighbourhood villages where our students reside, 115 local schools of Jalandhar Sahodaya cluster, local NGOs and International Partner Schools. No less than 2,72,345 lakh people are impacted. It is heartening that 1600+ students and 98 educators of Kamla Nehru Public School are involved in building SDG communities using Visual & Performing Arts.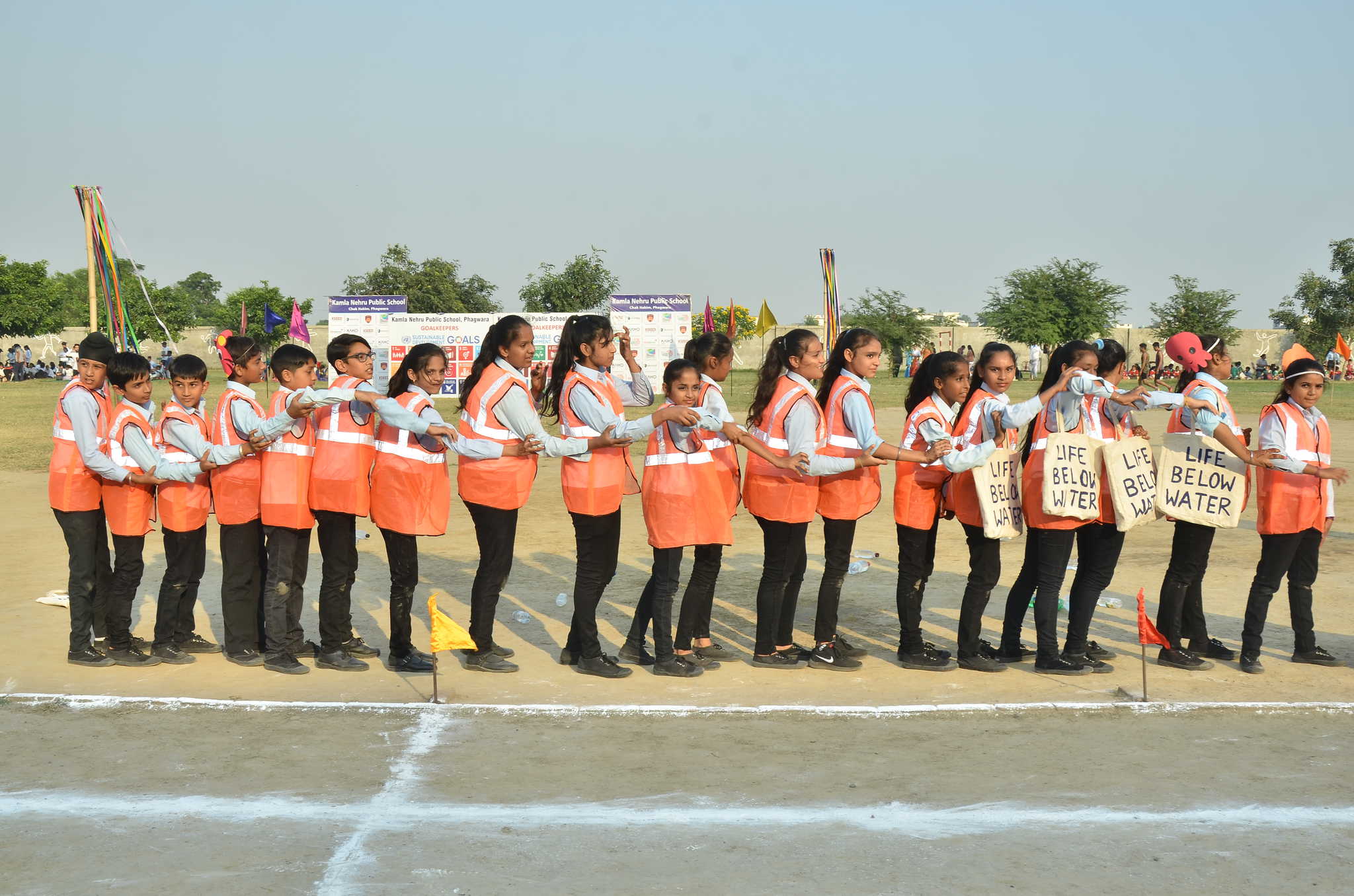 The SDGs journey started in December 2015 when I was introduced to SDGs during British Council Leadership Training which I attended at Delhi. Grade VIII took up SDGs as its class project in May 2016. The whole school approach for SDG was showcased during the Annual Exhibition "The Learning Market Place" in May 2017. We visited the UN Headquarters in July 2017 which resulted in the K-12 curriculum of the school being mapped with SDGs in January 2018. We also started conducting Special Assemblies in school all focusing on SDGs through Visual & Performing Arts. It is hands on SDGs by students, educators and communities through, dance, music, street play, art and sports.
We do not learn SDGs but live SDGs. We Practice, Preach & Promote SDGs. The impact is, that unknowingly the students, educators, and their families have embraced SDGs. Students have their own voice. They are working to be Global Citizens. They show more tolerance and respectful behaviour amongst themselves in school and in their families. 'SDGs: The Rising- Building Communities Together' is scripting history which millions would read. The Grade VI students won an International competition 'Global Enterprise Challenge' out of 600 teams worldwide, when they incorporated SDGs in their product, this is one such measure of the progress and methodological rigour. Kamla Nehru Public School was declared the Best Sustainable School of Punjab State as it contributed 200 kg of e-waste in the Karo Sambhav School Program 2017-18 being executed by PAHAL (NGO) Jalandhar. The school is now the e-waste collection point of Punjab state.
This journey is an innovative initiative by rural school where students use Visual & Performing Arts to represent interconnectedness of SDGs in people's life during Annual Function, Sports Day and Special Assemblies when the wider community is invited. We engage multiple stakeholders to spur SDG Action & Awareness during the Annual Exhibition – The Learning Market Place. We celebrated SDGs on International Peace Day September 21, 2018, by planting 1000 medicinal plants "Arjuna" in the forest belt. There is a lasting impact on students as they now talk about being global citizens. Students are more tolerant, respect differences, and do not waste food. Planting 1000 samplings on International Peace Day resulted in students now planting a sapling on their respective birthdays. No less than 25 trees were planted in 25 seconds by 25 Miss Multinational from 18 different countries in the school on January 19, 2019. A record in itself!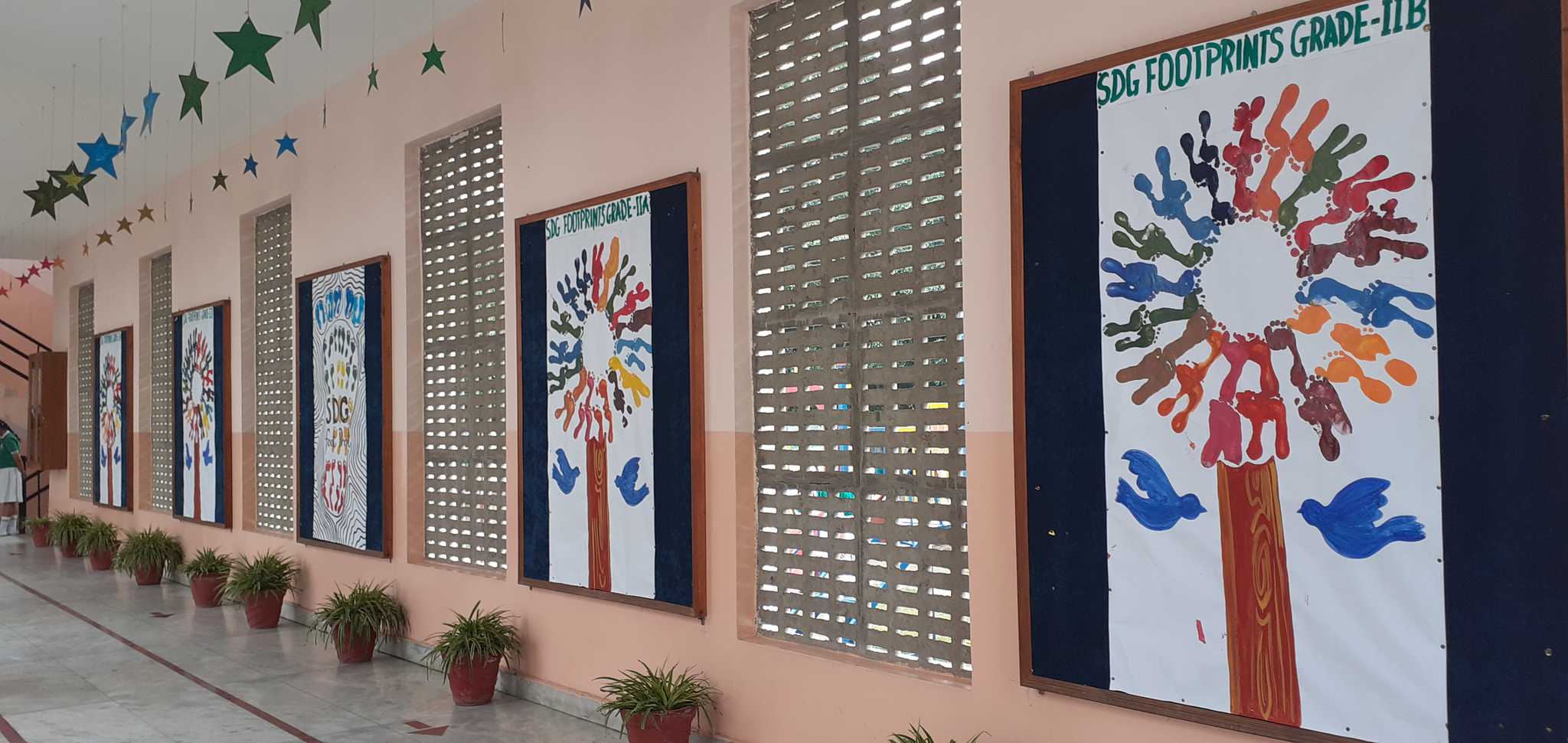 A unique example of Visual Art is the Majestic 25 feet tall SDG wall in school. This majestic wall at the entrance of the school is an innovative way to make SDG visible daily to 1700+ visitors. Treasure Hunt activity to locate 17 goals painted at 17 different locations in the three-storey central block of the school building is a whole new way to create SDG awareness. SDGs were on the move in September 2018 when SDG banners where fixed on 17 school buses, three-wheelers and autos rickshaws used to ferry students to and fro. It reached out to people of 65 villages. In December 2018, Gender Literacy Club of School in collaboration with Pushpa Gujral Science City, Kapurthala, spread awareness. Street plays in real streets of seven neighbouring villages to clear the concept that the mother is not responsible for the sex of her child is a whole new way to address the local problem. Our project is breaking down silos as myths and superstitions are reasoned out amongst the rural masses by taking action for SDGs. The effect is tangible because now they realise that Quality Education #SDG4 imparted in the school is a solution to all their woes and challenges.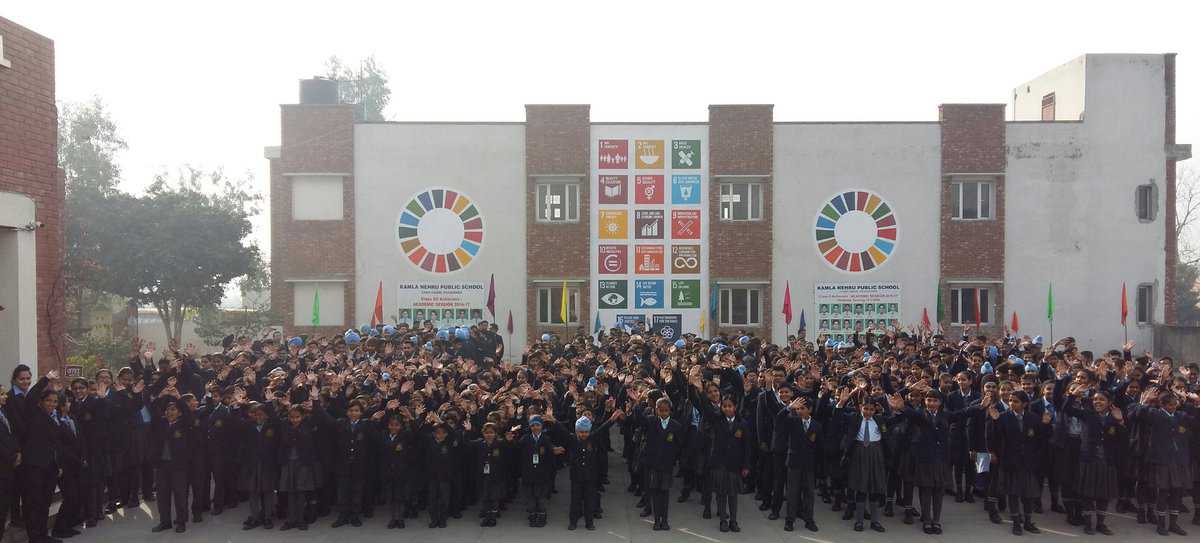 'SDGs: The Rising – Building Communities Together' travelled via skype to 47 countries, reached 526 global audience in November 2018. I was honoured and privileged to represent Kamla Nehru Public School #India #CBSESchool #MicrosoftShowcase School and attend the event Education For Global Citizenship: Empowering Our Interconnected World on July 9, 2019, held at Trusteeship Council, United Nations Headquarters, New York, USA.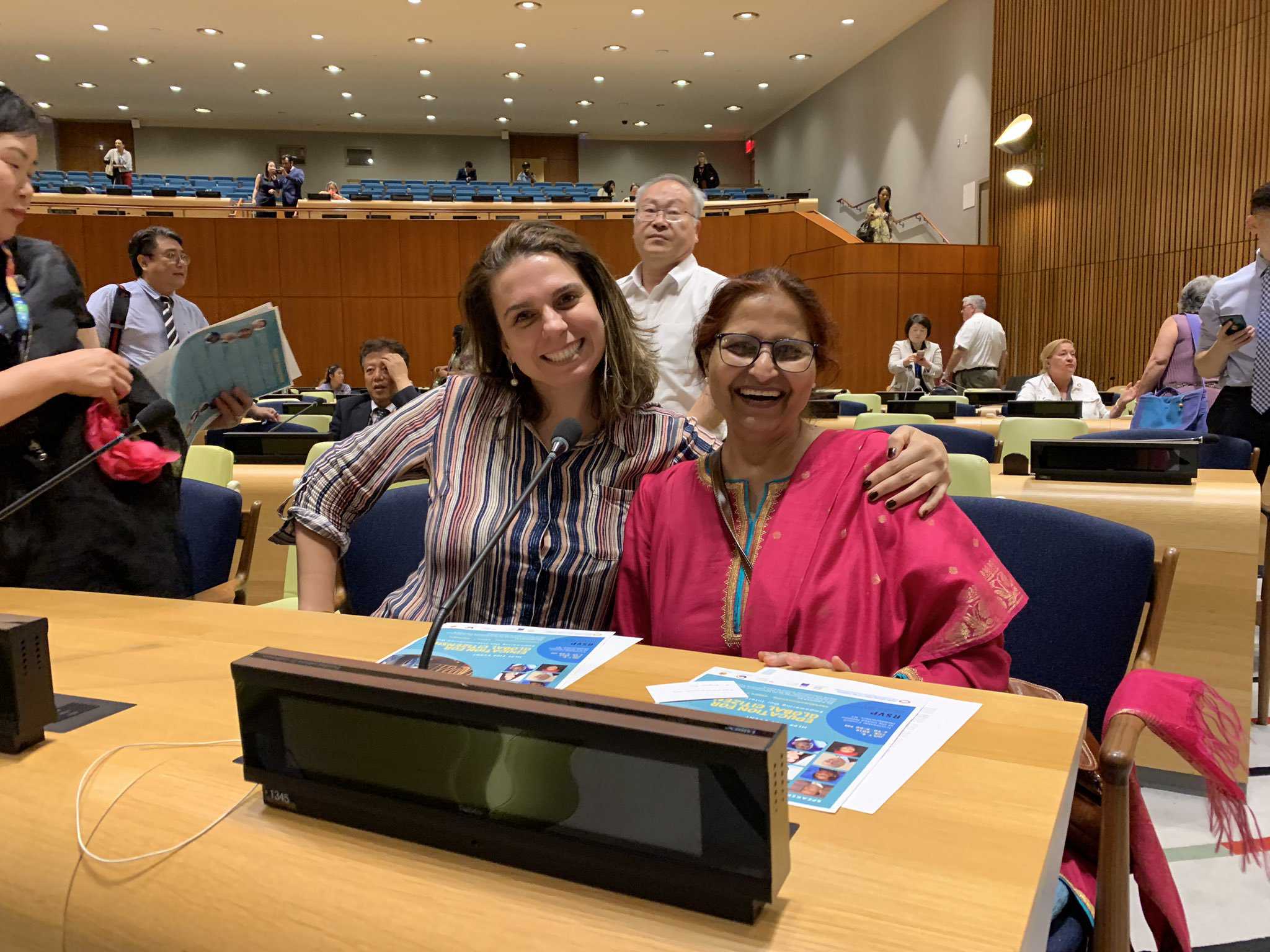 My takeaway: We need to adopt 21st century quality education for global citizenship, 21st century competency; students to adopt ICT, teachers to upgrade IT skills and schools to embrace SDGs. Our present classrooms where the SDGs are splashed on all the four walls is an example of transformative learning spaces. The awareness created and the action taken for living and attaining the 17 SDGs in school, is creating sustained mindset change to ensure a prosperous and healthy future for all. SDGs were unheard of in and around our school and we all were left behind. Pioneers in creating awareness for SDGs, the local SDG movement is now global.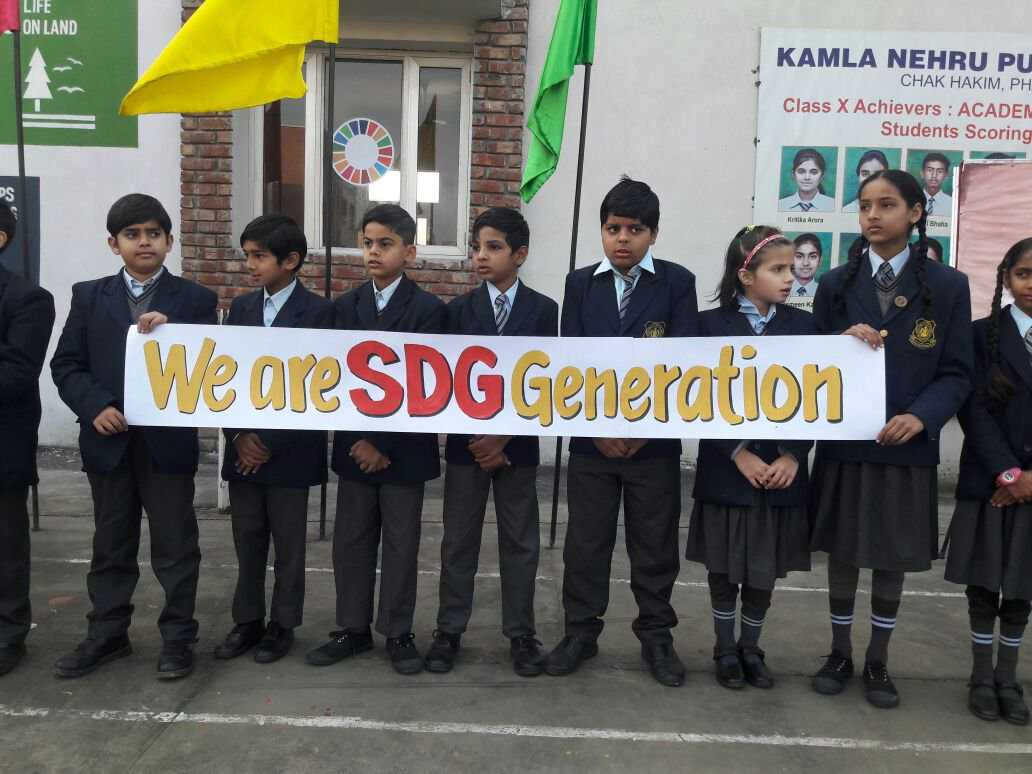 More activities:
We were happy to attend 'Innovations in SDG Monitoring' event on July 17, 2019 at Ford Foundation Center for Social Justice, New York, NY. Honored to be part of the august gathering and join as #HeadTeacher #KamlaNehruPublicSchool #India as an educationist. Ms Claire Melamed CEO, Global Partnership for Sustainable Development Data was the moderator for the two panels. This resulted in plenty of awareness! Plenty of questions answered! Plenty of motivation to further SDGs!
The school had dedicated the entire month of September to #Act4SDGs celebrations. To #Act4SDGs we at Kamla Nehru Public School Phagwara commemorated International Peace Day by organising a "Shanti Path" (Peace Prayers in three different languages). 40 Saplings of Traditional Indian Trees were planted in 40 Seconds at Football Stadium in Village Plahi. 109 students of Grade VII of Kamla Nehru Public School, Phagwara, Punjab, India and 15 students of Government School Plahi together planted saplings. On September 26, 2019, student volunteers from Grade Nursery to 12 and 100+ educators at Kamla Nehru Public School Phagwara were nominated as SDG Partners to accelerate SDGs and United Nations 2030 Agenda. It was indeed moving to administer the oath and pin up the badges during SDG Partners' Investiture Ceremony held during the morning Assembly with the majestic SDG Wall as the backdrop and the witness. We were building communities. The school joined the UNO in celebrating #Climate4Peace campaign. The Peace Pole was installed in the school on September 25, 2019 displaying the message 'May Peace Prevail on Earth', a symbol of the hopes and dreams of the entire human family.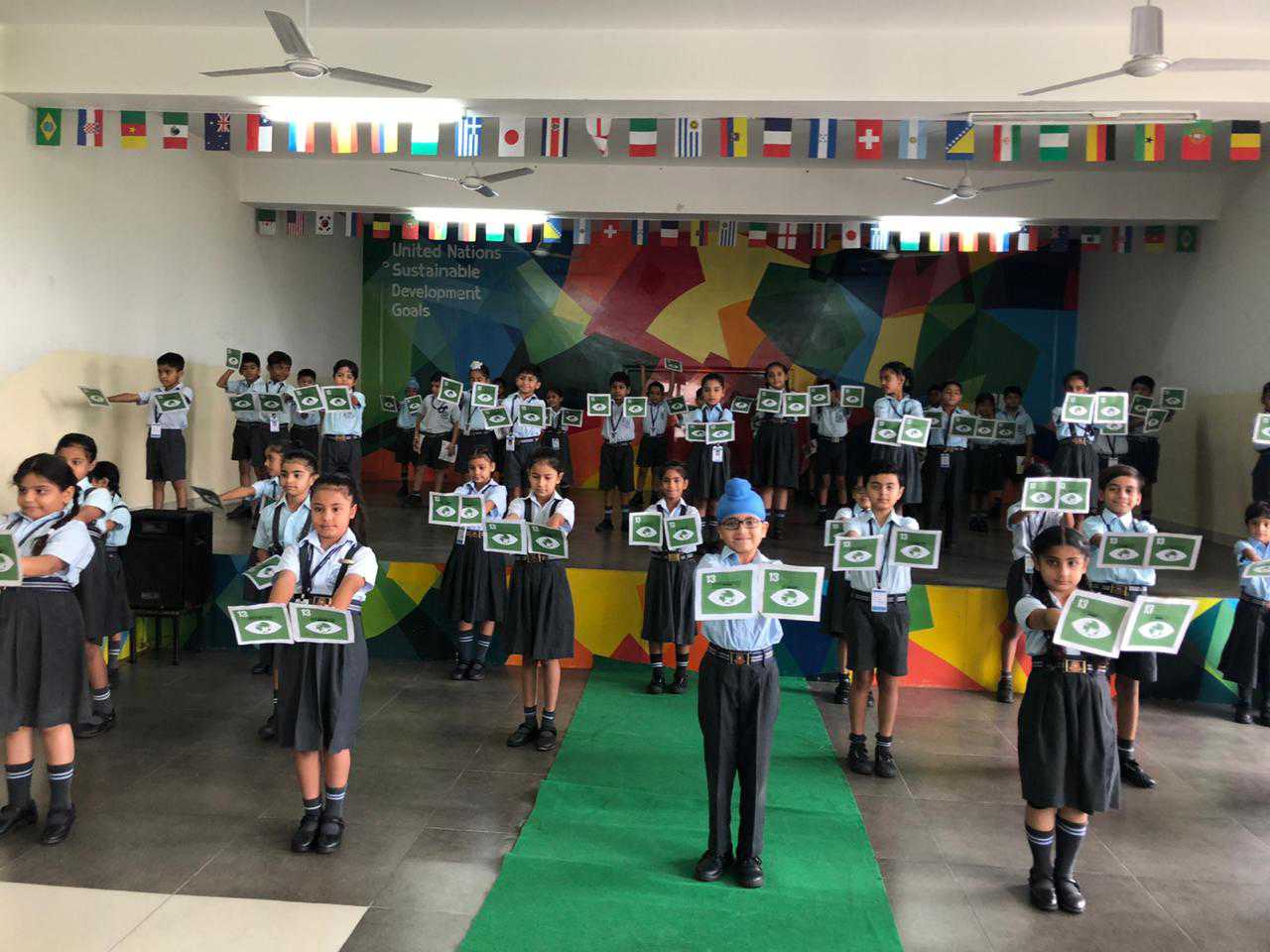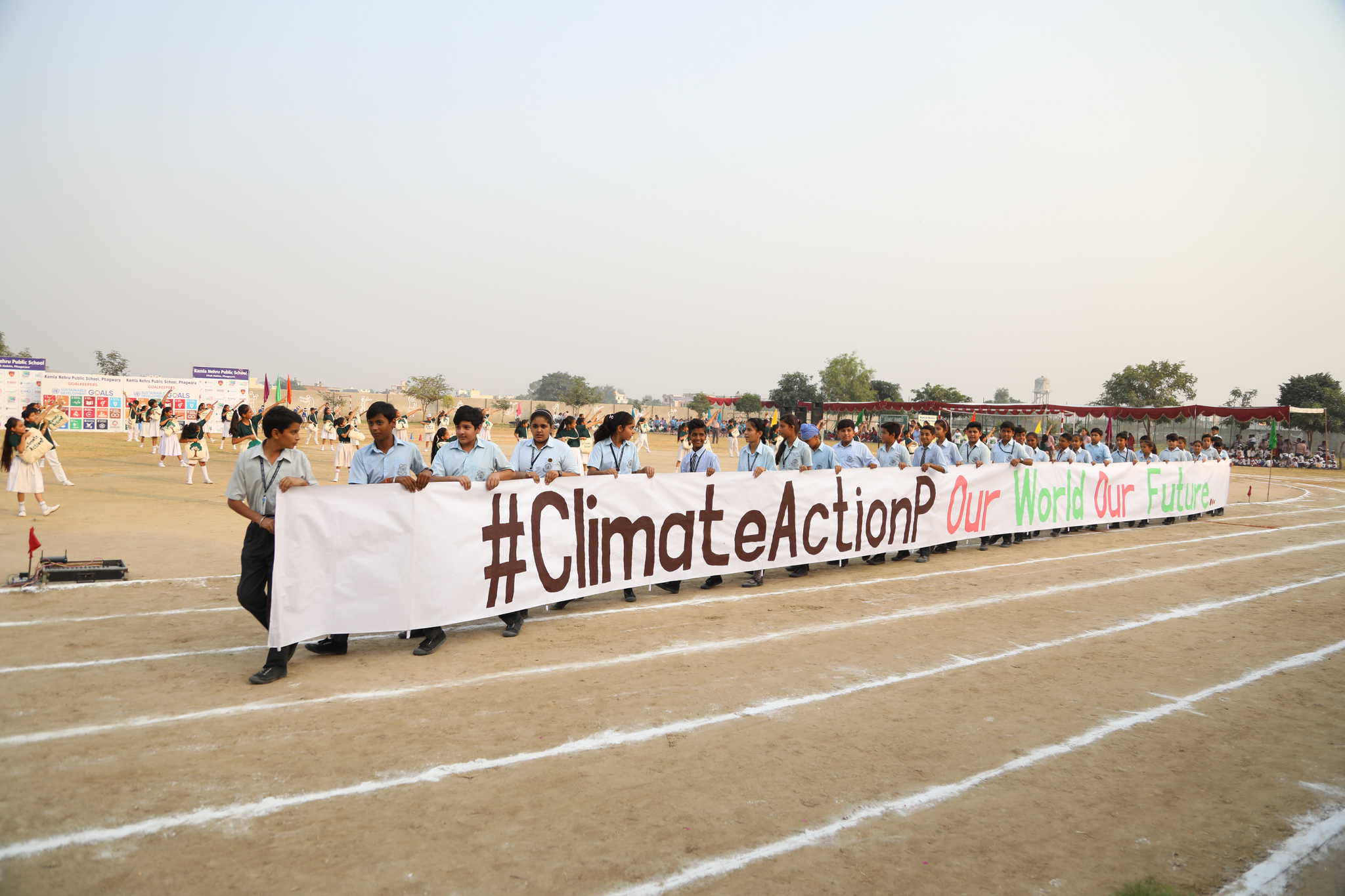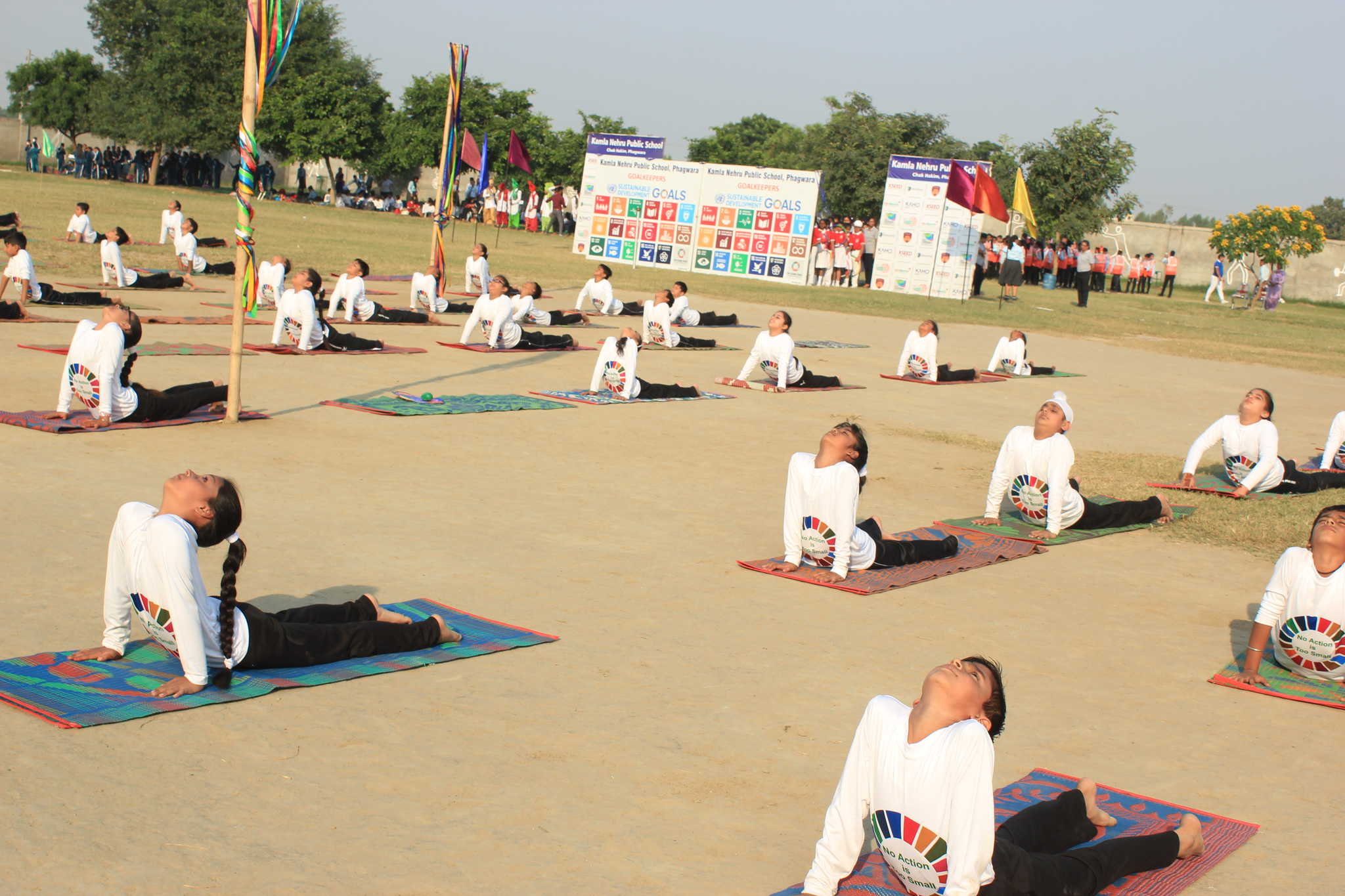 The school dedicated October month to the UN theme #ClimateAction4Peace, by organising Annual Sports Meet. More than 1600 students participated in the field and track events, calisthenic exercises, and created awareness on #SDG3 #SDG13 #SDG14 #SDG15 #SDG16 #SDG17 through their mass performances on themes "Say No to Plastic", "Clean Water and Sanitation" "Air Pollution" and "Mahatma Gandhi's peace message". 122 students of Grade III, IV and V presented Yoga# SDG3. 158 students of Grade IX and XI Joined Greta Thunberg Swedish student activist who has galvanised 100,000 fellow teens around the world to follow her example in striking for the climate.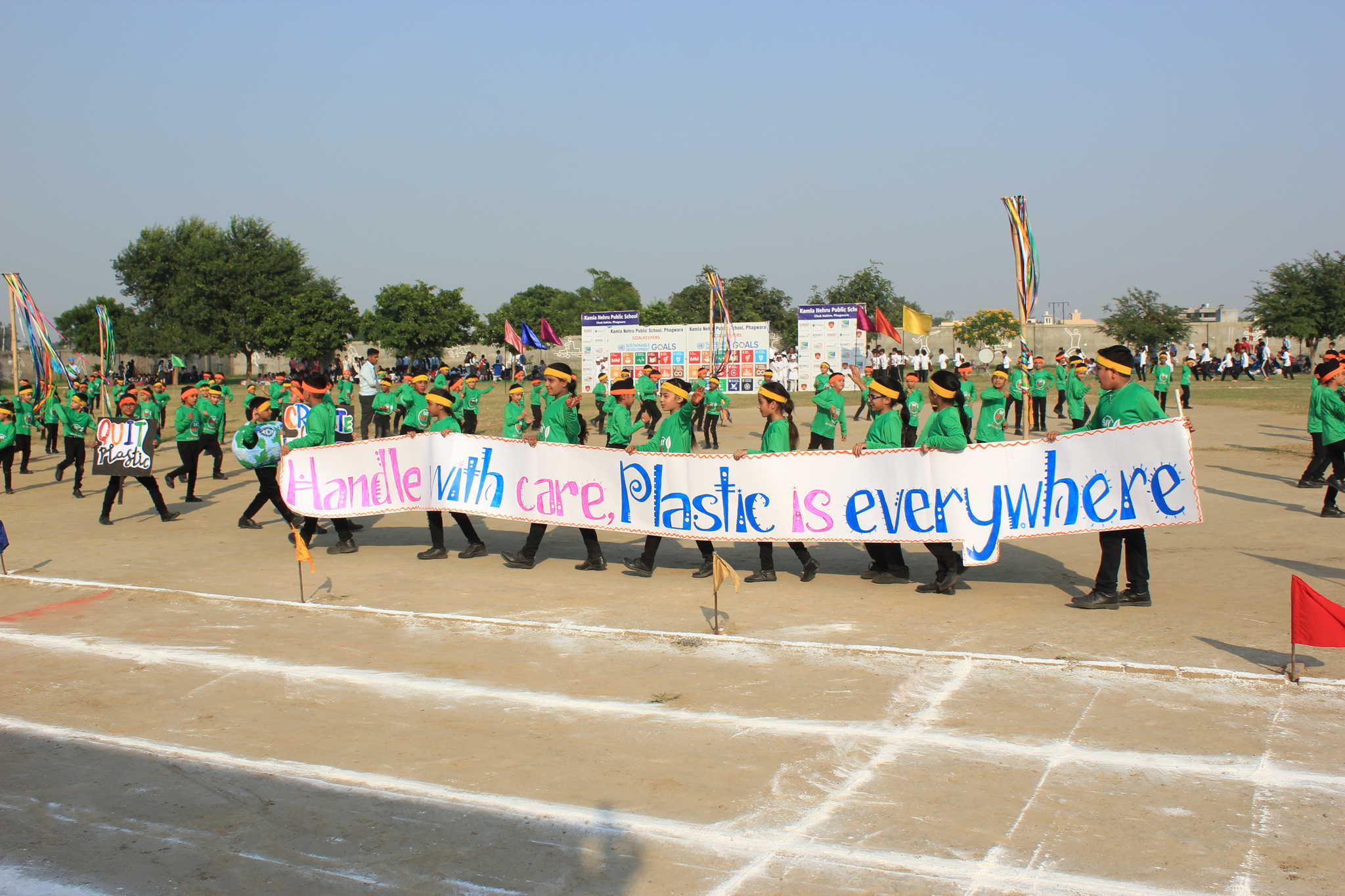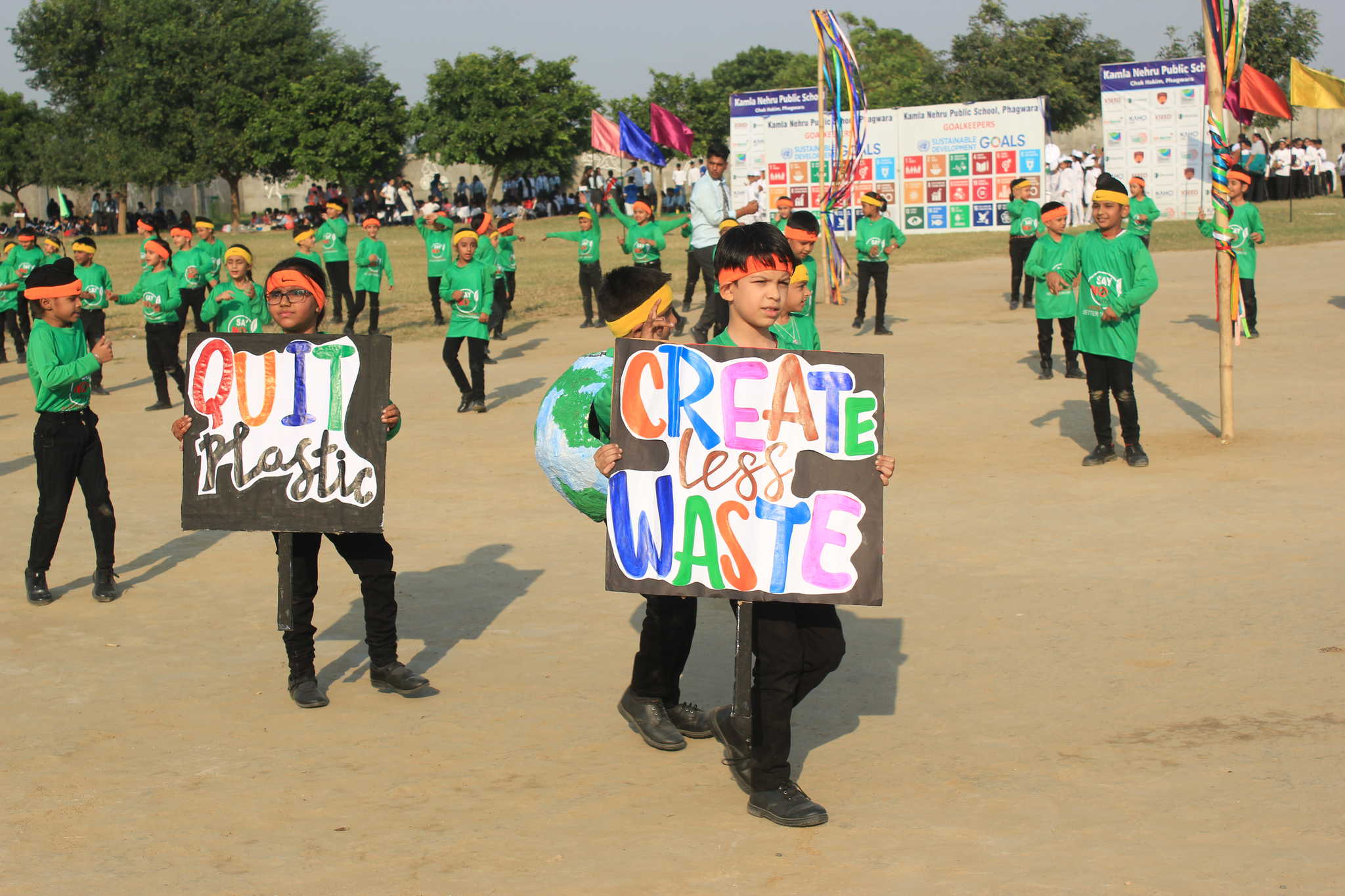 The HUB Schools joined Kamla Nehru Public School, the lead school to make a 60 feet long poster on 17 SDGs.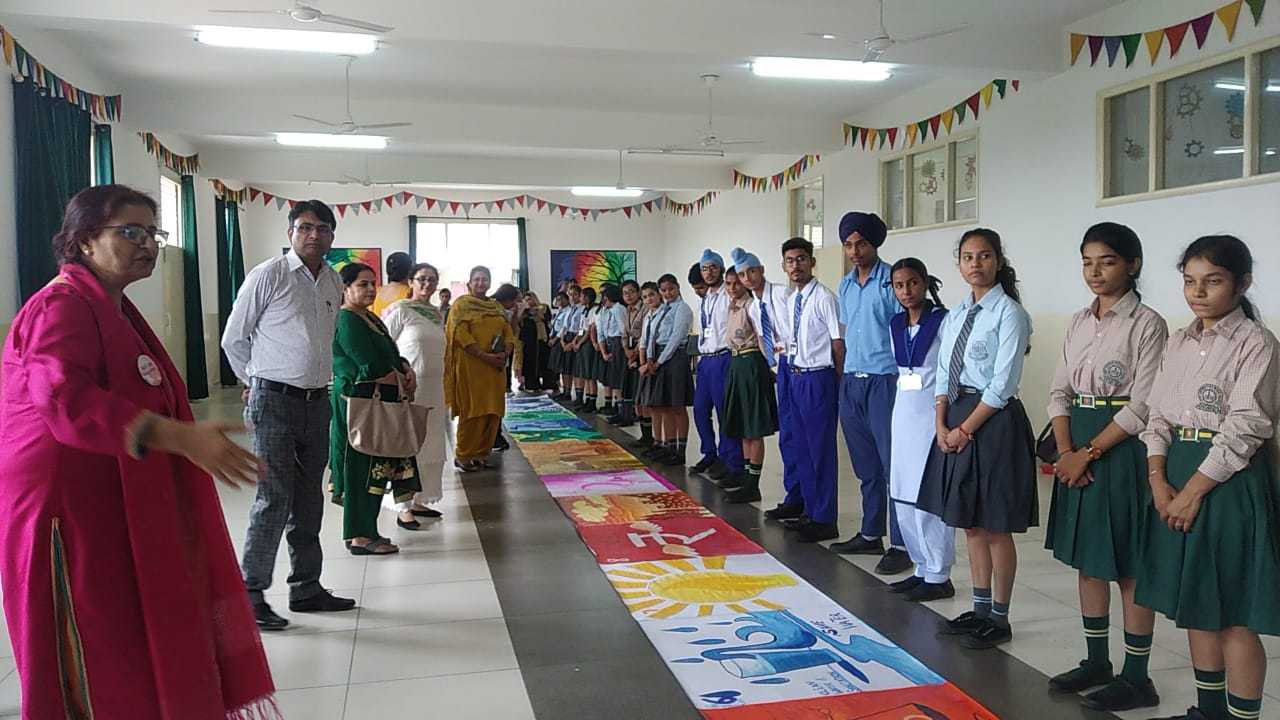 I hold the SDG journey very close to my heart!
Love the SDG journey as I have travelled with my students and educators!
Would always cherish the SDG journey as the wider community was involved!
And this SDG journey of Building Communities Together in Kamla Nehru Public School, India continues…..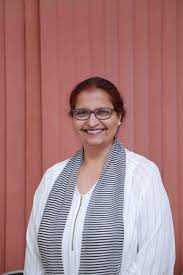 About The Author:
Paramjeet Kaur Dhillon is Principal, Kamla Nehru Public School, ChakHakim, Phagwara Punjab
New Early Childhood Education Report Explores Opportunities for Improving Curriculum and Classroom Resources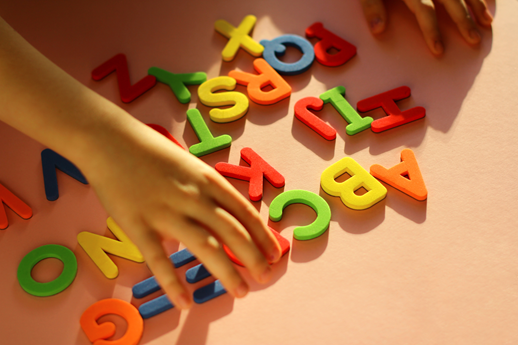 Central Square Foundation (CSF), a leading non-profit in India's primary and pre-primary education sector released a report titled Building Strong Foundations: Examining Early Childhood Education in India. The report stems from an in-depth Situational Analysis Study conducted across 200 Early Childhood Education (ECE) classrooms in India aimed at validating existing research data and identifying opportunities for enhancing ECE programs, shedding light on crucial aspects that call for urgent and immediate action.
Key Highlights:
* Study conducted across 200 ECE Classrooms in seven States in India
* The Report examines causes behind low learning outcomes in the 3-6 years age group of children
* The low priority given to ECE is reflected in the budgetary proposal and outlays
* Report highlights lack of consistent on-ground support to deliver quality ECE across the country
* The limited utilization of play-based materials and workbooks impacts student learning opportunities Recognising the imperative need for research on programmatic factors affecting the quality of ECE, CSF delved into the intricacies of the ECE ecosystem across select States. The primary and secondary research looked at aspects of ECE delivery including curriculum design, teaching-learning time, effectiveness of learning, teacher training, monitoring quality, and parental perception.
The report advocates for prompt remedial actions to address these gaps and ensure a robust learning foundation for young students. It further aims to understand the current models of public provisioning of ECE in India, study different aspects of delivery that affect learning in the classrooms, and outline the way forward for other stakeholders within the ECE ecosystem. For this study, CSF reached out to a mix of Anganwadis, co-located Anganwadis, and pre-primary sections in government primary schools (either as 1-year or 2-year pre-primary program) between March-May, 2023, across seven states – Andhra Pradesh, Assam, Madhya Pradesh, Maharashtra, Punjab, Telangana & Uttar Pradesh. The survey analysis was partly supported by the Key Education Foundation, a non-profit working in the space of early childhood education, which researched classroom curriculum analysis on pedagogy, ease of use, and teaching-learning resources.
The report recognizes the global outlook and progressive nature of India's ECE policies while at the same time, it observes that the country's early learning outcomes are sub-par. The Report recognises the need for "Play-based learning" as a fundamental curriculum for children to learn faster & effectively. The report also reveals the need for classroom resources to be more user-friendly to promote their usage among children.
Among the key "classroom-based observations", it was found that time spent on ECE activities was low. Zero ECE activities were observed in 23% of the ECE classrooms that were sampled. In classrooms where an ECE activity took place, it was found that these activities accounted for only an average of 35 minutes out of a two-hour observation period. There was also very little time for hands-on activities and practice by children. Only 14% of the observed ECE activities followed the recommended approach of carrying out age-appropriate and student-led small-group interactions. Interviews with monitoring stakeholders and teachers suggest that officials face competing priorities and don't have access to reliable ECE data. Strengthening monitoring protocols for ECE is crucial, as few officials observe teachers, indicating a need for enhanced ECE-specific feedback.
The report recognizes that the onus of delivering preschool education rests with two government ministries (the Ministry of Education and the Ministry of Women and Child Development) which has led to diffused responsibility, ownership, accountability, collaboration, and support in the sector. This approach has often resulted in duplicated efforts that have proven counterproductive, adversely affecting ECE quality and learning outcomes.
It also underlines the low priority given to ECE, reflected in the budgetary proposals and outlays by both ministries. This is also evident in the availability of dedicated teachers for ECE classrooms, especially in government primary schools. Further, the utilization of the funds also remains low.
Speaking at the release of the report, Shaveta Sharma-Kukreja, CEO and MD of CSF, emphasized, "The future of ECE in India hinges on addressing systemic challenges and operational hurdles to effectively implement well-crafted policies. Despite their forward-looking nature, these policies struggle to translate into optimal student learning outcomes and school readiness. Elevating the status of ECE and allocating increased financial resources are critical steps in that direction. Enhanced policy implementation aligns with Sustainable Development Goals and the NIPUN Bharat Mission, ensuring improved learning outcomes for all children."
Key recommendations from the Report:
1. Synergy between Ministries: To achieve ECE-specific goals in the country, collaboration between the Ministry of Education and the Ministry of Women and Child Development is vital.
2. Increase Funding: There is a need to increase ECE-specific funding with clear priorities for yearly expenses and incentivize states to meet their ECE goals.
3. Strengthen data systems and build a robust monitoring framework to get reliable data on critical ECE indicators for Anganwadis and Balvatikas/ pre-primary classrooms in government schools.
4. Promote parental awareness and encourage them to actively champion quality education. Equip parents with essential tools, resources, and guidance to actively engage in at-home learning activities.