This Educator's Snow Sculptures Are Winning Hearts Of Her Students 
Rhode Island teacher makes snow art in her yard and motivates children of her school and locality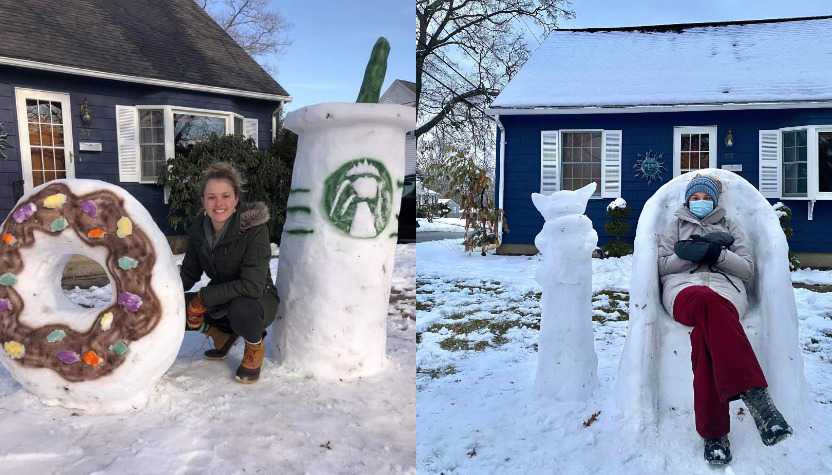 Katina Gustafson, a middle-school art teacher from Riverside, Rhode Island, is currently receiving praise for her snow-art. She made huge snow sculptures in her yard that are pretty as well as motivating to the kids around.
"I grew up in western Coventry and I did make snow sculptures when I was younger but not many people saw them when you live out in the middle of the woods. I made a bruins hockey player in 2009, I spelled out 'I love you' in the snow. I think that was around Valentine's Day in 2010 and it's been a yearly thing," Gustafson told local news.
Through her art, she wants to encourage her students and other local children to come out of their homes and enjoy the fresh air while witnessing this one of its kind artwork. The school where Gustafson teaches is currently following online and in-person hybrid classes which leave the children with less time and even lesser energy to have fun outside. Due to colder weather, most people avoid leaving homes, moreover it's the pandemic that's limiting people to their homes. Amidst this tension, her massive snow sculpture art is only adding to the joy in the neighbourhood.
Gustafson has been handcrafting multidimensional designs since 2009. The most recent ones she did in snow were 'Baby Yoda, a dinosaur Mr. Potato Head' and a Bernie Sanders-themed sculpture.
Apart from playing in the snow for motivating others, she also did summer drawings during the 2020 lockdown. "During the summer, I did chalk drawings and paintings in the windows to reach out to the neighbourhood and when then we had the most recent snowstorm, I was ready to get back out in the snow," she said.
According to Gustafson, it is not necessary to immediately like an art form or like it at all but she makes sure of telling her students that they should keep looking for inspiration. "There are so many forms of art and I tell my students you might not like every art form and that's OK. It just means you haven't found the one that's for you yet," she explained.
Educators like Gustafson don't just make the learning environment a little bit better for their students but also the society we live in, we are grateful for such teachers.
This Young Woman From A Tribal Village Is Teaching The Children While Schools Are Closed
The only graduate of a Tamil Nadu village has volunteered to teach the children of the village while the pandemic persists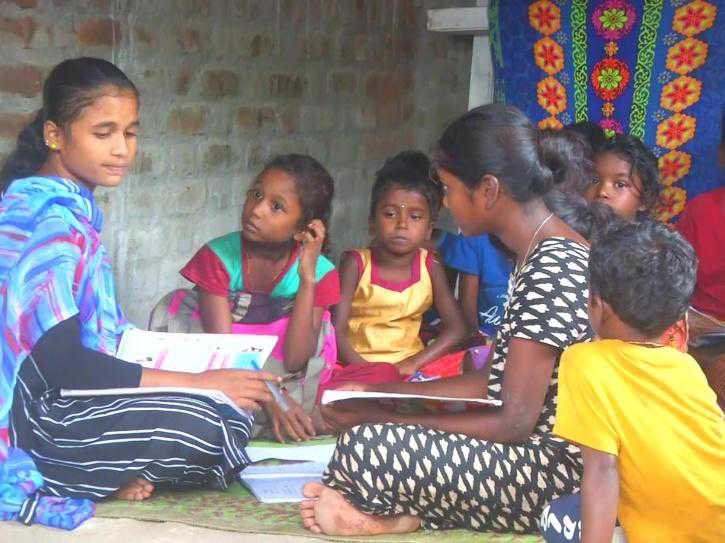 Where the digital network failed these tribal children in the southern part of India, their own stood to support them. Sandhya volunteers in teaching the kids of her village, Chinnampathy in Tamil Nadu. She is a graduate of B.Com, she is the only person from her village to have graduated college. Sandhya told India Today, "If it rains, we can't go to school. We only have one bus to our village and so after a certain age, people drop out of school."
Having gone through struggles herself, Sandhya knows how important a teacher and school is for growing children. So she volunteered to teach the children by herself, so they don't lag behind due to school closure. Sandhya said "When I was a child, I had no one to help me study. These children here have me to help them study."
One must ask the children from a remote rural or economically backward area, how it feels to not have the proper learning opportunities. The pandemic took more than the ability to roam about freely, it snatched away the ability to go to school for children on a global level. While it is easier for families with better income to support their child's online learning, most rural and financially challenged families are struggling.
The Indian government did start many projects for such students, but even learning via a television channel or free online course needs some basic gadgets and network connection. Many remote villages, like the tribal village, Chinnampathy, can not find enough network strength to have their children sit in front of a television and learn via the education channels.
On being asked how her classes are enduring she said, "The children come and ask me very freely all their doubt and they are not afraid of me. I see these children learning well and answering all the questions when I ask them."
Youth like Sandhya, who appreciate and signifies the work educators do and want to help the cause, are the future of the education sector!