What good are 10 dry toilets for girls in tribal schools in Bengal?
Sahari primary school in Bengal boasts of 10 girls toilets but no water. Even though the government installed 2 water tanks, still there is no water as the tanks are connected to a dried tubewell. It has been the best example of politicians paying lip service to their poll promises.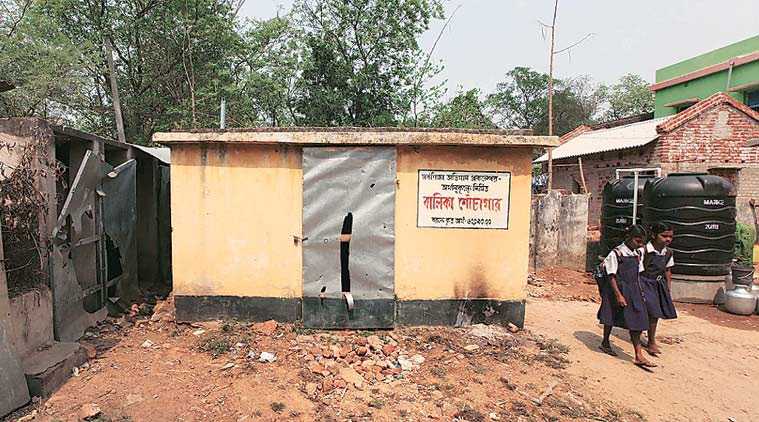 A tribal school with 2 classrooms and 10 toilets for girls could be a shining example of sanitation any where across the rural Indian landscape. So what makes the Sahari Primary School in the Binpur assembly segment of Jangalmahal an unfortunate example? None of these toilets are functional as there is no water, never has been. Like clockwork, politicians turn up here before elections, inaugurate new toilets, but never bother to provide them with water.
Obviously, none of the toilets in the school, comprising mostly adivasi students, is usable for want of water. A chronic shortage of water has led to Sahari village being nicknamed 'Jangalmahal's Sahara'. A moniker no assembly would want. A street protest by villagers last month forced the government to hurriedly install two plastic water tanks near the school on Monday — but that just wasn't enough.
"The 2 tanks were almost like a taunt. There is no water in this village. The water was over even before school began at 11am. When the children need to use the toilet, they have to go back home," said Tapan Murmu, the school's headmaster. Mousidigir Hasda, 8, said that after the mid-day meal, she usually went back home to use the toilet. "But on some days I just go to the open field nearby. Others do the same," she said
The unused toilets are choked up with waste — the white porcelain barely visible under the mounds of plastic bottles, paper and dried excrement. The rough forest terrain of West Midnapore, marked by scanty rainfall, was given the name Jungle Mahals or Jungle Estates by the British. The Sal forests near the school have harboured the CPI (Maoist) since 2004. But residents said that even in the worst days, it wasn't the fear of Maoists that prevented children from coming to school — it was the scarcity of water and the unavailability of a toilet
The 10 toilets were built in three spurts — 4 toilets each were inaugurated before the 1999 and 2005 Assembly elections, when the Left Front was in power. 2 more toilets, with a sign that says 'Girl's Toilet', were built after the Trinamool Congress government took over in 2011. The solitary tubewell was never upgraded until late last month, when the tanks were set up. Needless to say, the installation of these 2 tanks also may have been motivated by the upcoming polls.
Polls are here again and the school, like every other school in Jangalmahal, is preparing for an extended holiday due to the elections. Binpur votes on April 4. The old building — which will be a polling booth — has been given a fresh lick of paint in places. But the people of Binpur already have a taste of things to come as earlier in February, while inaugurating a piped drinking water project at adjacent Belpahari in West Midnapore, the state minister for Public Health Engineering & Panchayat and Rural Development, Subrata Mukherjee, had said that the government would "supply filtered water to every family by 2020".
With sanitation a distant dream, the wise old people of Binpur are taking these tall claims of filtered water with a pinch of salt.
Image Courtesy: http://indianexpress.com/
NIOS celebrates 33rd Foundation Day
Dr. Subhas Sarkar addresses the 33rd Foundation Day Celebrations of NIOS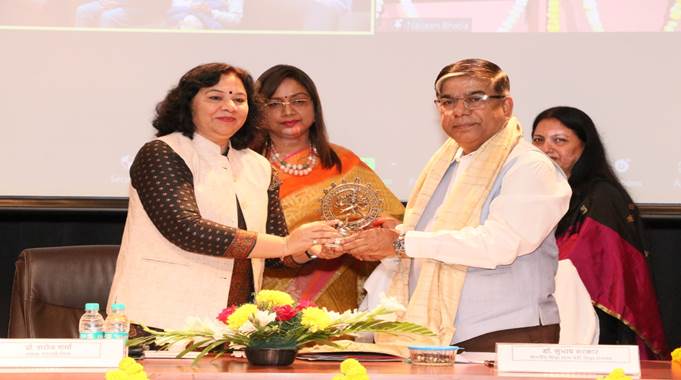 Union Minister of State for Education, Dr. Subhas Sarkar addressed the 33rd Foundation Day Celebrations of NIOS as the Chief Guest.
The function was attended by senior officials of the Ministry of Education, Chairpersons of educational institutions, Heads of Departments, officers, and staff of NIOS. Prof. Naval Kishore Ambasht, former Chairman, of NIOS and Pro-Vice Chancellor, of the Central University of Haryana, Prof. Sushma Yadav graced the occasion.
Dr. Subhas Sarkar in his address appreciated the various programmes and schemes of NIOS and said that NIOS is lighting the lamp of knowledge all over the world. Talking about the Azadi Ka Amrit Mahotsav, he mentioned that today's children will be young people in the age group of 30-40 years on the completion of 100 years of independence and will be responsible for building our nation.
He said that the Ministry of Education has entrusted NIOS with several responsibilities such as developing inclusive education resources, expanding the open and distance education system in states/UTs, translating all courses into more languages as required, creating Indian Knowledge Tradition based courses and propagating Indian culture by translating them into major foreign languages. He also praised the programmes of NIOS enrolling 10 crore adults under 'Basic Literacy Assessment', training of in-service teachers, Gender Green Project, and training in Yoga. He said that Indian Sign Language as a subject at the secondary level has been acknowledged on national and international platforms. He described the launch of an e-library called 'DEEP' by NIOS as a big step forward.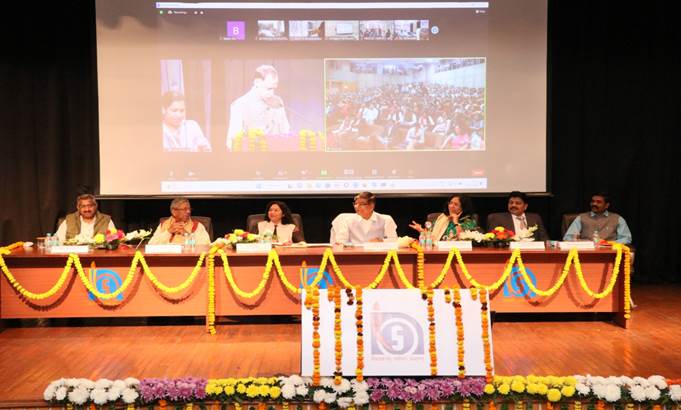 Prof. Saroj Sharma spoke about the journey of 33 years of NIOS and highlighted the special achievements. She said that NIOS is one of the two National Boards of Education under the Ministry of Education, which provides school education through Open and Distance Learning (ODL) for secondary, senior secondary, and vocational education. She elaborated on the role of NIOS in the field of education, efforts being made by NIOS for the successful implementation of the New Education Policy, Virtual Open School, Digital Library (DEEP), NEPIA Project, MoU with Ministry of Defence for Agniveer Project, setting up of Mukta Kaushal Kendras and subjects offered under Indian knowledge Tradition.
It was also conveyed by her that a curriculum called 'Aarambhika' is being developed by NIOS for catering to the Indian Diaspora.
A documentary based on the journey of 33 years of educational endeavours of NIOS was presented on the occasion. In this documentary, 'All England Badminton winner Pullela Gopichand said that most of the players in his badminton academy are getting an education from NIOS.
NIOS alumni, Ms. Niranjana and Vinod Kumar Chaudhary were also felicitated on the occasion. Shri Vinod Kumar said that only due to his education in NIOS, he was able to get the credit of making the Guinness Book of World Records 10 times (8 in Typing and 2 in sports). A proud learner of NIOS, Ms. Niranjana is a successful ventriloquist. Prof. N. K. Ambasht, former Chairman, NIOS said that in this age of technology, innovations must lead to developing 'standalone' courses for the Indian Diaspora, to achieve the goals of the National Education Policy- 2020. Pro-Vice Chancellor, Prof. Sushma Yadav said that the role of NIOS increases in the light of New Education Policy. NIOS has such potential that the institute will be able to achieve the ambitious goals of National Education Policy 2020 in the coming years.
The half-yearly magazine of NIOS 'Pragyan' was released by Dr. Subhas Sarkar on this occasion.