What good are 10 dry toilets for girls in tribal schools in Bengal?
Sahari primary school in Bengal boasts of 10 girls toilets but no water. Even though the government installed 2 water tanks, still there is no water as the tanks are connected to a dried tubewell. It has been the best example of politicians paying lip service to their poll promises.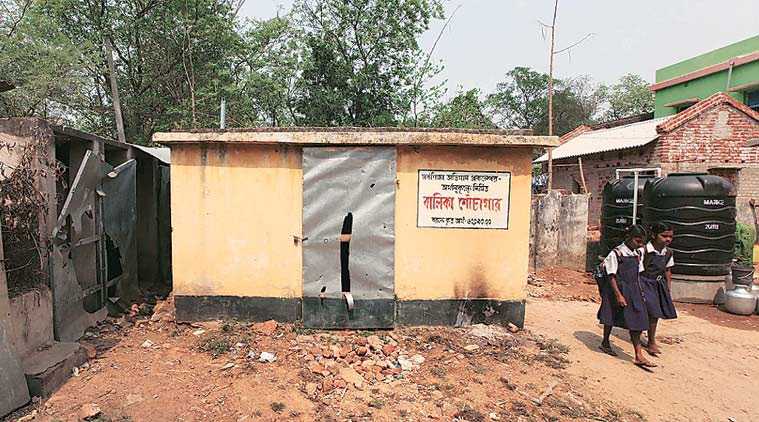 A tribal school with 2 classrooms and 10 toilets for girls could be a shining example of sanitation any where across the rural Indian landscape. So what makes the Sahari Primary School in the Binpur assembly segment of Jangalmahal an unfortunate example? None of these toilets are functional as there is no water, never has been. Like clockwork, politicians turn up here before elections, inaugurate new toilets, but never bother to provide them with water.
Obviously, none of the toilets in the school, comprising mostly adivasi students, is usable for want of water. A chronic shortage of water has led to Sahari village being nicknamed 'Jangalmahal's Sahara'. A moniker no assembly would want. A street protest by villagers last month forced the government to hurriedly install two plastic water tanks near the school on Monday — but that just wasn't enough.
"The 2 tanks were almost like a taunt. There is no water in this village. The water was over even before school began at 11am. When the children need to use the toilet, they have to go back home," said Tapan Murmu, the school's headmaster. Mousidigir Hasda, 8, said that after the mid-day meal, she usually went back home to use the toilet. "But on some days I just go to the open field nearby. Others do the same," she said
The unused toilets are choked up with waste — the white porcelain barely visible under the mounds of plastic bottles, paper and dried excrement. The rough forest terrain of West Midnapore, marked by scanty rainfall, was given the name Jungle Mahals or Jungle Estates by the British. The Sal forests near the school have harboured the CPI (Maoist) since 2004. But residents said that even in the worst days, it wasn't the fear of Maoists that prevented children from coming to school — it was the scarcity of water and the unavailability of a toilet
The 10 toilets were built in three spurts — 4 toilets each were inaugurated before the 1999 and 2005 Assembly elections, when the Left Front was in power. 2 more toilets, with a sign that says 'Girl's Toilet', were built after the Trinamool Congress government took over in 2011. The solitary tubewell was never upgraded until late last month, when the tanks were set up. Needless to say, the installation of these 2 tanks also may have been motivated by the upcoming polls.
Polls are here again and the school, like every other school in Jangalmahal, is preparing for an extended holiday due to the elections. Binpur votes on April 4. The old building — which will be a polling booth — has been given a fresh lick of paint in places. But the people of Binpur already have a taste of things to come as earlier in February, while inaugurating a piped drinking water project at adjacent Belpahari in West Midnapore, the state minister for Public Health Engineering & Panchayat and Rural Development, Subrata Mukherjee, had said that the government would "supply filtered water to every family by 2020".
With sanitation a distant dream, the wise old people of Binpur are taking these tall claims of filtered water with a pinch of salt.
Image Courtesy: http://indianexpress.com/
Smile Foundation and Shell Launch STEM Project on Pi Day
The initiative will benefit less-privileged students from government schools.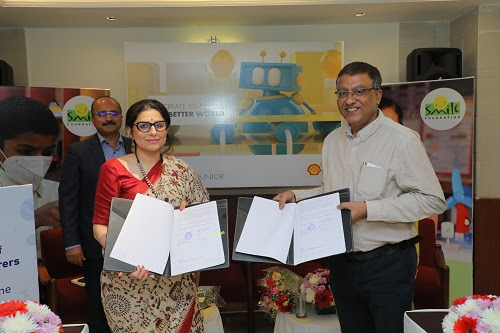 On the occasion of International Pi (π) Day, Smile Foundation and Shell launch 'NXplorers Junior' programme in three Indian states. NXplorers is Shell's global flagship Social Investment STEM (Science, Technology, Engineering, and Mathematics) educational programme aims to benefit over 25,000 children during the first year by enabling them to understand, navigate and address local and global challenges, as underlined in the Sustainable Development Goals (SDGs). NXplorers is also aligned with the National Education Policy 2020 and delivers societal benefits.
The innovative initiative will benefit less-privileged students from government schools and affordable private schools, studying in rural and hard-to-reach areas in the states of Andhra Pradesh, Telangana and Kerala. Its design also includes endeavour to create awareness amongst parents on the importance of STEM education, especially for girl children.
"Shell firmly believes that, provided with the necessary skills and guidance, young people can be a driving force to find sustainable solutions to the major global challenges of our time. Launched in 2018, Shell's global flagship STEM programme NXplorers is aligned with the National Education Policy 2020 that aims to transform India into an equitable and vibrant knowledge society. With the Smile Foundation partnership, we aim to expand this programme to Andhra Pradesh, Kerala, and Telangana and offer young minds the platform to design sustainable solutions to ease the pressure on food, water, and energy," said Ms. Latika Taneja, Head of Corporate Relations – India.
The programme is being rolled out in concurrence with the educational authorities of the respective state governments. Besides students, teachers, parents and communities are involved actively while implementing the programme so that it remains sustainable in the long-term.
"We are excited to roll out this innovative programme in India. We are hopeful that our children will not only leverage STEM education in building their future career but also will grow up and develop leadership ability in finding sustainable solutions in various walks of life," said Mr. Santanu Mishra, Co-founder & Executive Trustee, Smile Foundation.
The NXplorers Juniors will train both 6th and 7th grade students. NXplorers Juniors Level-I course will be delivered through a combination of teacher's guide, PowerPoint slides, and several instructional videos. The facilitator guide will outline the essentials to be covered in each session, exercises, discussion, checkpoint questions, a summary, assessment, and research to be undertaken by students after the session.
The United Nations Sustainable Development Goals (SDGs), exploring SDG Solutions, researching global goals, and developing a challenge and choosing a solution etc. are covered in the NXplorers Juniors Level-1.
NXplorers – Learning for a Life Time, envisions to provide a minimum of 3-5 years of NXplorers exposure to the students at various levels. The objectives include developing strong knowledge and skill set among students so that local and global challenges can be addressed by them. Developing sustainable models of implementation by engaging teachers, school leaders and communities effectively, creating awareness amongst parents regarding the importance of STEM education, especially concerning girl education are part of the overall goals.
About Smile Foundation
Smile Foundation is a national development organization directly benefiting over 1.5 million underprivileged children and their families every year through more than 400 welfare projects in education, healthcare, livelihood and women empowerment spread across 2,000 remote villages and urban slums in 25 states of India.
About Shell
Shell is one of the most diversified international energy company in India with over 10,000 employees and presence across upstream, integrated gas, downstream, renewable energy, and deep capabilities in R&D, digitalisation, and business operations; with a retail presence across six states – Karnataka, Tamil Nadu, Telangana, Maharashtra, Gujarat, and Assam.