What good are 10 dry toilets for girls in tribal schools in Bengal?
Sahari primary school in Bengal boasts of 10 girls toilets but no water. Even though the government installed 2 water tanks, still there is no water as the tanks are connected to a dried tubewell. It has been the best example of politicians paying lip service to their poll promises.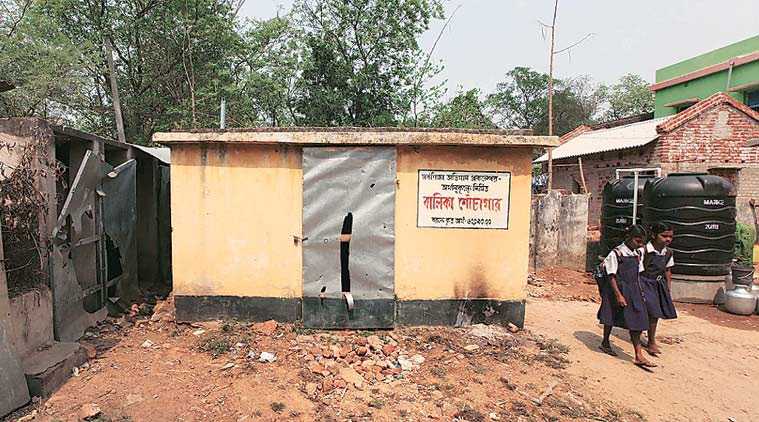 A tribal school with 2 classrooms and 10 toilets for girls could be a shining example of sanitation any where across the rural Indian landscape. So what makes the Sahari Primary School in the Binpur assembly segment of Jangalmahal an unfortunate example? None of these toilets are functional as there is no water, never has been. Like clockwork, politicians turn up here before elections, inaugurate new toilets, but never bother to provide them with water.
Obviously, none of the toilets in the school, comprising mostly adivasi students, is usable for want of water. A chronic shortage of water has led to Sahari village being nicknamed 'Jangalmahal's Sahara'. A moniker no assembly would want. A street protest by villagers last month forced the government to hurriedly install two plastic water tanks near the school on Monday — but that just wasn't enough.
"The 2 tanks were almost like a taunt. There is no water in this village. The water was over even before school began at 11am. When the children need to use the toilet, they have to go back home," said Tapan Murmu, the school's headmaster. Mousidigir Hasda, 8, said that after the mid-day meal, she usually went back home to use the toilet. "But on some days I just go to the open field nearby. Others do the same," she said
The unused toilets are choked up with waste — the white porcelain barely visible under the mounds of plastic bottles, paper and dried excrement. The rough forest terrain of West Midnapore, marked by scanty rainfall, was given the name Jungle Mahals or Jungle Estates by the British. The Sal forests near the school have harboured the CPI (Maoist) since 2004. But residents said that even in the worst days, it wasn't the fear of Maoists that prevented children from coming to school — it was the scarcity of water and the unavailability of a toilet
The 10 toilets were built in three spurts — 4 toilets each were inaugurated before the 1999 and 2005 Assembly elections, when the Left Front was in power. 2 more toilets, with a sign that says 'Girl's Toilet', were built after the Trinamool Congress government took over in 2011. The solitary tubewell was never upgraded until late last month, when the tanks were set up. Needless to say, the installation of these 2 tanks also may have been motivated by the upcoming polls.
Polls are here again and the school, like every other school in Jangalmahal, is preparing for an extended holiday due to the elections. Binpur votes on April 4. The old building — which will be a polling booth — has been given a fresh lick of paint in places. But the people of Binpur already have a taste of things to come as earlier in February, while inaugurating a piped drinking water project at adjacent Belpahari in West Midnapore, the state minister for Public Health Engineering & Panchayat and Rural Development, Subrata Mukherjee, had said that the government would "supply filtered water to every family by 2020".
With sanitation a distant dream, the wise old people of Binpur are taking these tall claims of filtered water with a pinch of salt.
Image Courtesy: http://indianexpress.com/
Indian Debating League 2023 Concludes After 6000 Debates Across 450 Schools, at IIT Delhi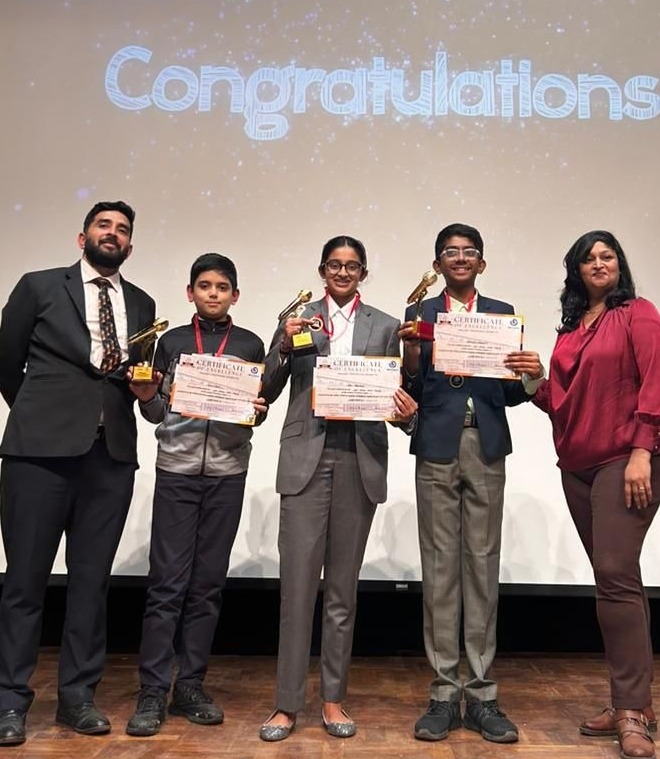 In a thrilling, high-energy competition, the Indian Debating League (IDL) 3.0, which brought together 450 schools across 25 States and Union Territories across the country, successfully concluded its highly anticipated Finale at IIT Delhi today. Team Maharashtra won the coveted title of Indian Debating League in the Middle school category (IDL) 2023- 3rd Edition while Team Haryana stood first in the Junior & Senior school category. This event has not only showcased the remarkable talent of our nation's young debaters but also underscored the importance of exploring our cultural roots across the Eras and reclaiming our heritage. The event promised a dynamic exchange of ideas, with a distinguished panel of Judges from IIT DebSoc. Global Language learning leader, Burlington English and Indian Debating League (IDL) hosted the finals of the Indian Debating League at IIT Delhi.
This year's edition attracted participation from schools from all corners of India, including Vasant Valley, New Delhi; Step by Step, Noida; Strawberry Fields High School, Chandigarh; Dhirubhai Ambani International School, Mumbai; Learning Paths School, Punjab; Jammu Sanskriti School; Kanha Makhan Public School, Vrindavan; Billabong High International, Jabalpur; American International School, Chennai; Woodstock School, Mussoorie; NASR School, Hyderabad and Jayshree Periwal International School, Jaipur.
Amit Baveja, MD, Burlington English India said, "As we conclude the exhilarating journey of the Indian Debating League 3.0 Finals, Burlington English is proud to stand alongside IDL and IIT Delhi in fostering a culture of eloquence, critical thinking, and collaborative learning. As an extension to our commitment towards the New Education Policy 2023 that strongly emphasizes developing oral, written, and digital communication skills, to enable effective expression of ideas and collaboration among students, we align seamlessly with the spirit of this competition. We believe that through platforms like IDL, we are not just shaping skilled debaters but contributing to the development of articulate leaders for tomorrow."
Renowned and celebrated for fostering 21st-century skills in a gamified, engaging format, the Indian Debating League is a unique format modeled on the IPL. Having partnered with Debate Coaches from the top 10 countries on the WSDC Leaderboard, they are keen to put Indian Student Talent on top, tangibility ensuring recognition.
Commending the IDL 3.0 Finale, Rajnish Kumar, co-author of "The Power and Curiosity" and COO, of National e-Governance Division, Digital India Corporation said "Curiosity and the art of debate are two powerful forces that drive intellectual exploration and foster a deeper understanding of the world around us. These interconnected aspects of learning not only stimulate critical thinking but also ignite a passion for knowledge and discovery. When combined with the art of debate, curiosity becomes even more potent. Debates like this can empower individuals to become lifelong learners, critical thinkers, and active participants in shaping a more informed and inclusive society.
Kamal Kashyap, Founder, and CTO of, Indian Debating League said, "In a month the Olympics of Debating will happen at WUDC Vietnam, setting the trend for the hiring of University Coaches at Harvard, Stanford, and Oxford, as well as National Debate Coaches and Judging Paradigm for contemporary themes around the world. Our national Debating Leagues like IDL 3.0, Republic Day Forensics, Frankenstein Sustainability, as well as mentoring the 350+ Adjudicator Landscape for India is the foundation upon which we look forward to leapfrog in building future skills."
The final Event at IIT Delhi was an electrifying display of oratory skills by contestants from 3rd to 12th grades, engaging with the theme The Odyssey of India- Ancient India to AI Led India, rethinking culture and reclaiming our heritage.