SHE STEM 2022 honours and celebrates women
SHE STEM 2022 encourages students to 'Unleash their imagination' as part of the Sweden India Nobel Memorial Week.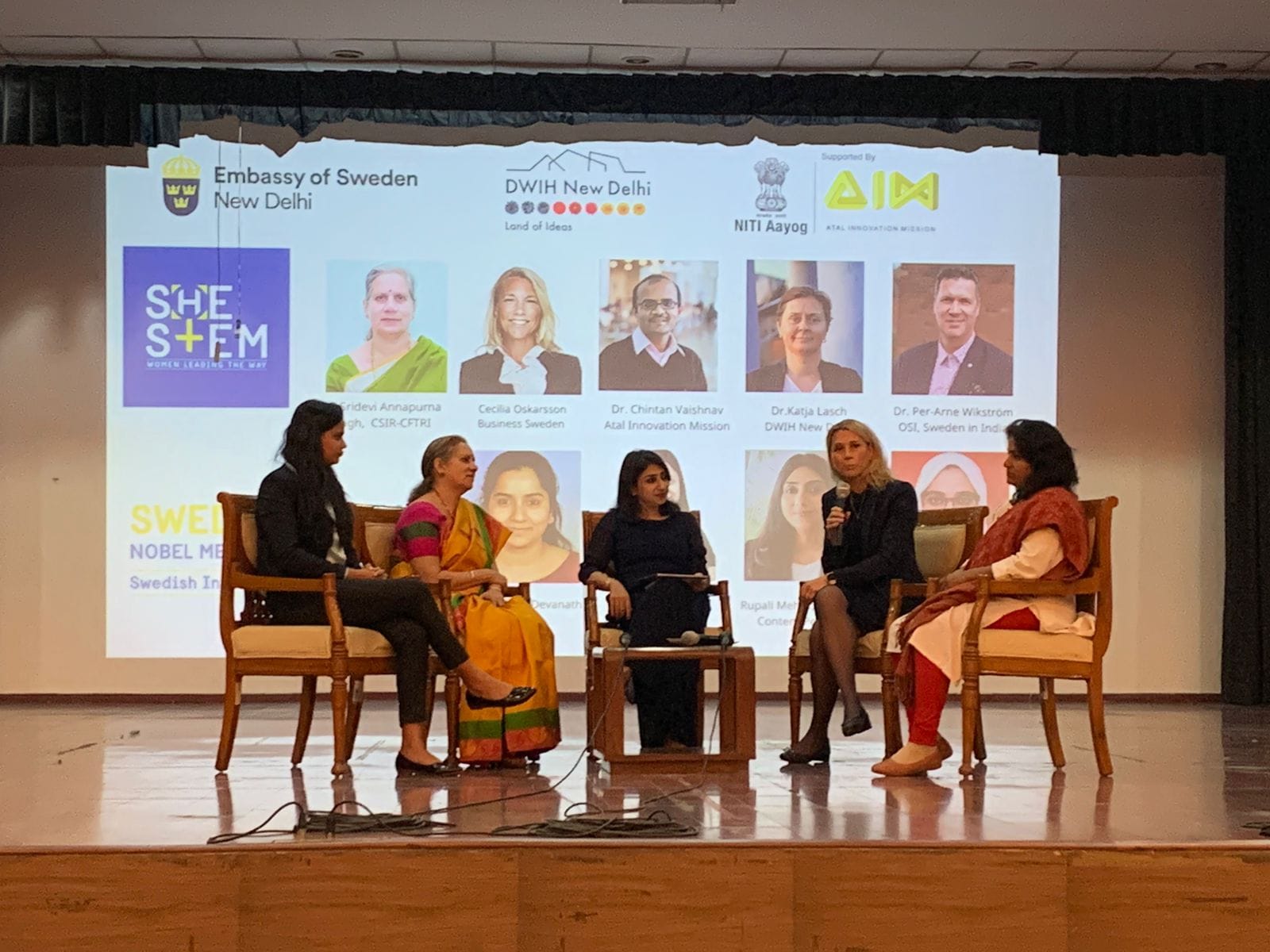 As part of the Sweden-India Nobel Memorial Week, SHE STEM, the annual event to celebrate women in the fields of science, technology, engineering, mathematics, and sustainability, was successfully held for the third year in a row.
The annual event is organized by the Sweden Embassy in India in partnership with the Atal Innovation Mission of the Government of India and the German Centre of Innovation and Research (DWIH New Delhi).
Ambassador of Sweden to India H.E. Jan Thesleff, who also addressed the students via a video message said, "We are very happy to continue the tradition of SHE STEM – it is a flagship event of the Sweden-India Nobel Memorial Week. Congratulations to all the winners of this year's SHE STEM Video challenge."
Dr. Chintan Vaishnav, Director of ATAL Innovation Mission said, "Today, the face of women's involvement in STEM is changing and the rate of participation has increased. It was in ATL Marathon 2021, that there was a spike where the women's participation was 49%. A strong STEM education will go a long way in cultivating such critical thinkers."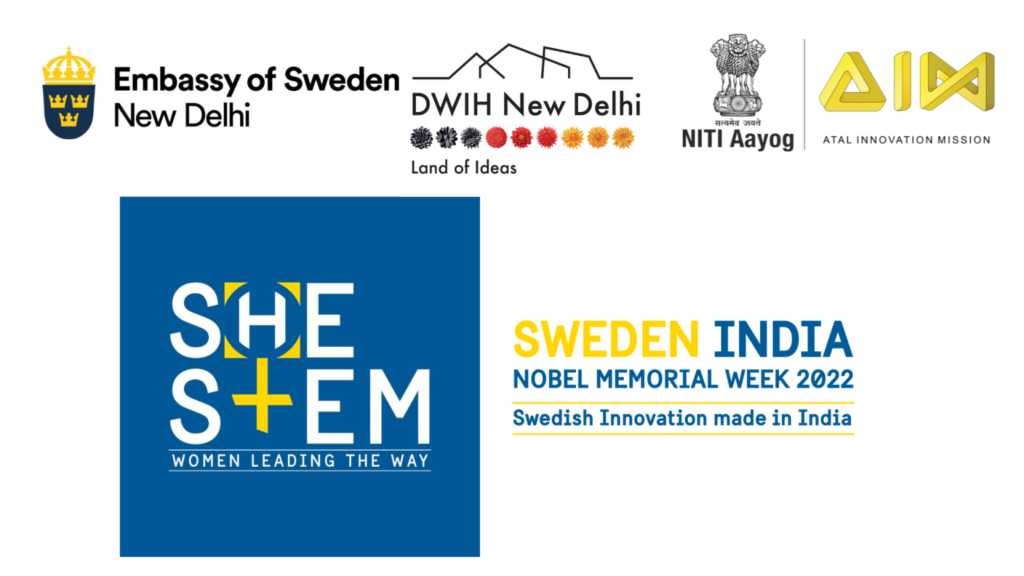 SHE STEM 2022 began with a musical performance by the students of Darbari Lal DAV Model School, New Delhi, the host school for SHE STEM 2022, followed by talks, and a panel discussion with women in the fields of STEM and business, including D. Sridevi Annapurna Singh, Director of Council of Scientific and Industrial Research – Central Food Technological Research (CSIR-CFTRI), Ministry of Science and Technology, Government. of India.
Dr. Annapurna Singh has done extensive work in the development of supplementary foods for undernourished children and in studying the impact of protein-rich food on children. She spoke to the audience about the need for women in fields of STEM to bring in their unique perspectives to problem-solving for a sustainable future.
Other participants included Cecilia Oskarsson, Trade, and Invest Commissioner of Sweden to India, who shared her thoughts on the role of diversity in triggering and enabling positive changes for girls and women, Mamta Kumari, co-founder and CEO of Prepbytes, an ed-tech company in India, and Dr. Vasudharani Devanathan, Neurobiologist and Professor of Biology at the Indian Institute of Science Education Research (IISER). Rupali Mehra, Founder of Content People AB moderated the event.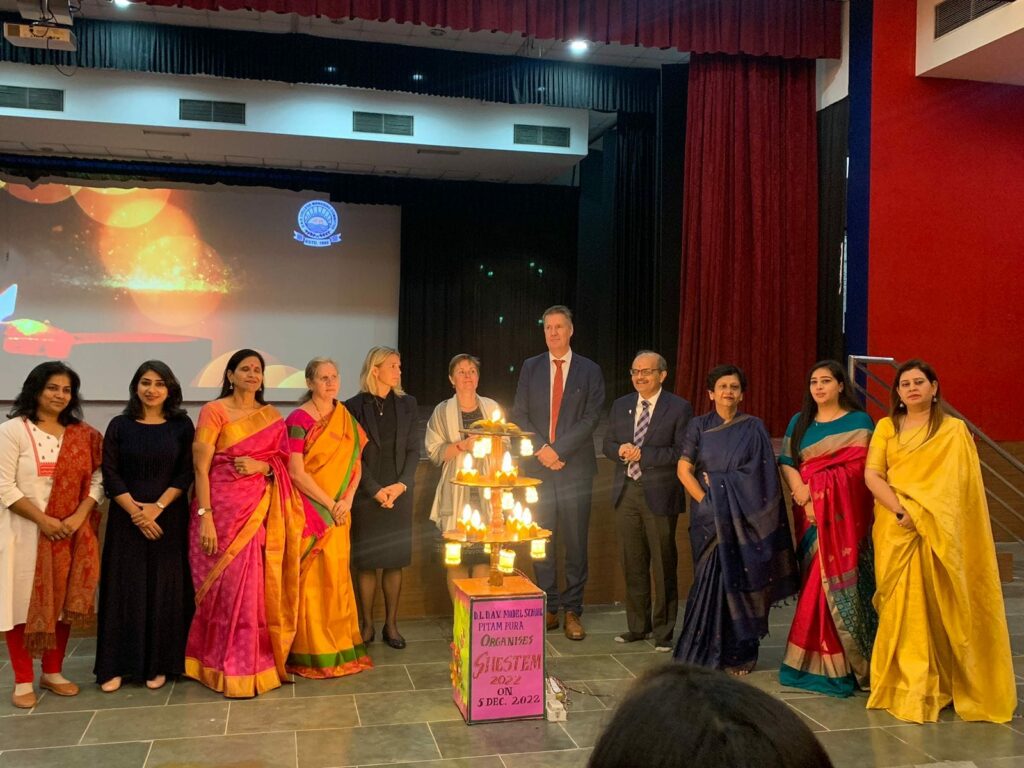 Dr. Per-Arne Wikström, Head of Office of Science & Innovation, Embassy of Sweden in New Delhi said: "When women and girls provide their talent, their knowledge, and their capabilities to science and technology on equal terms with men and boys, then we know that societies prosper and that innovation capacity actually increases. So for us, gender equality is an integrated part and an important aspect of everything that we do. We would like to thank our Indian partners for their support for this very important initiative."
"As Johann Wolfgang von Goethe said, 'who is not curious will not gain knowledge,' so keep your curiosity on, drive your knowledge forward and who knows maybe one or other idea will be implemented," said Dr. Katja Lasch, responsible for Strategy Management at the German Centre for Research and Innovation (DWIH New Delhi) and head of German Academic Exchange Service (DAAD) Regional Office in New Delhi.
Following the success of the Insta-reels Video Challenge in 2021, SHE STEM hosted the #SHESTEM2022 Video Challenge across Instagram, Youtube, Facebook, and Google Drive for students of ages 13 to 17, asking them to imagine themselves in the year 2047, and speak about an innovation of theirs that has helped in tackling climate change. The response was overwhelming with over 930 videos of which 15 were shortlisted. SHE STEM had an extensive jury round of 3 jury teams; Atal Innovation Mission Team led by Dr. Chintan Vaishnav, the Swedish Embassy team, led by Dr. Per-Arne Wikström, and the German Centre for Research and Innovation, represented by Dr. Katja Lasch.
The videos were assessed on the:
Novelty of idea
Clarity of thought and articulation
Sustainability or climate action angle
G. Nivethiga Rani who created a video on how she as a STEM Leader in 2047 had invented a robot that collected and converted biodegradable and non-biodegradable waste into electricity, won the first prize in the video challenge. The second prize was tied between T Shatananda Dhanwantari and Shreya Singh and Nistha Aswal, who participated as a team. Gaurav Hanjoora won third place.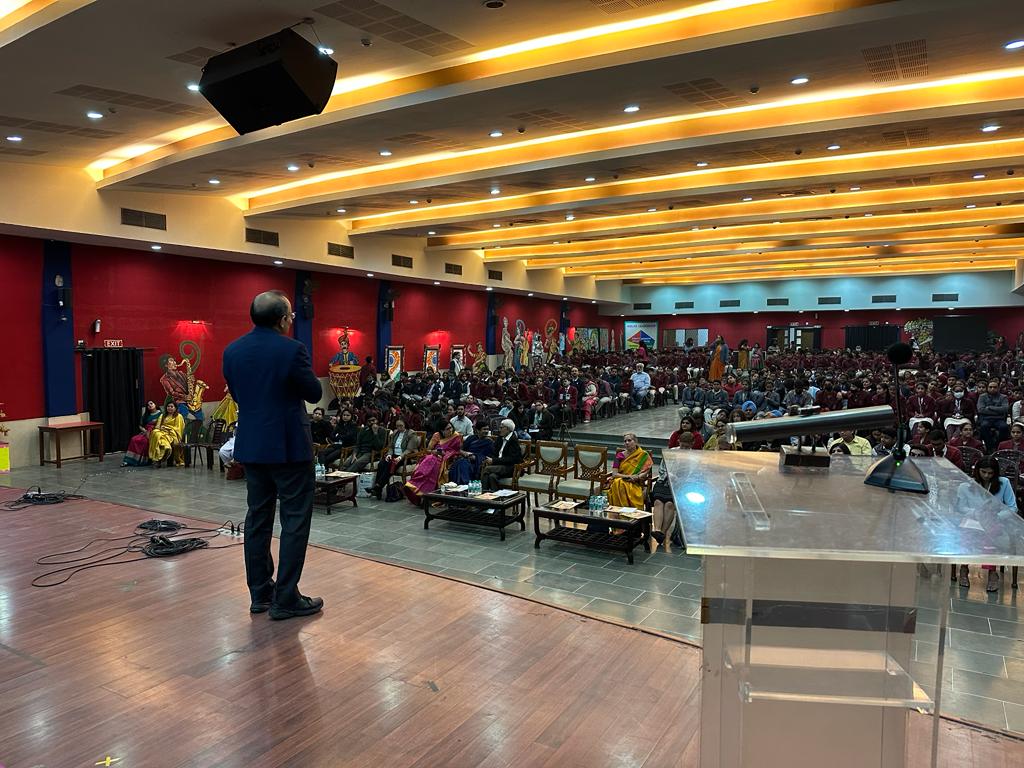 "I congratulate all the winners of the SHE STEM 2022. I have to say what caught my attention was that every single idea was addressing a fundamental constraint confronting us," said Dr. Chintan Viashnav.
Transforming Education through Mann Ki Baat
Mann ki Baat has impacted all sections of the society, who have been inspired to contribute towards fulfilling the great goals he has set before the nation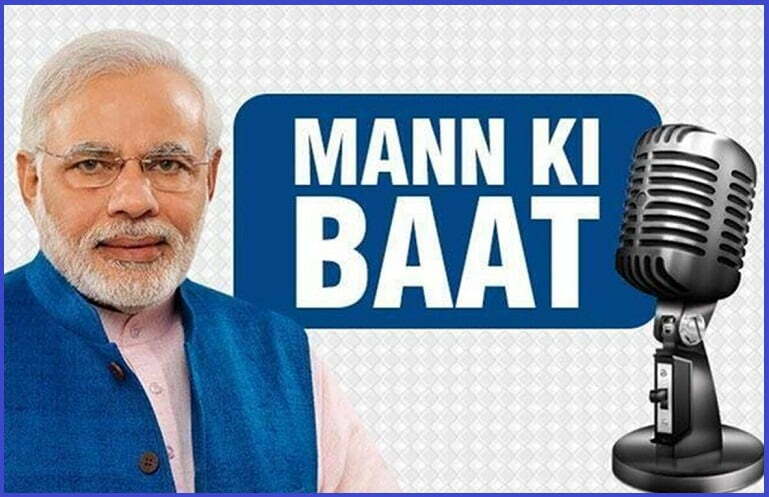 Mann ki Baat, started on 3rd October 2014 is a very popular programme of the Prime Minister of India which has completed 100 episodes in the last nine years where he has raised hundreds of varied issues for making the country better. All these issues are based on deep and sound researches, feedback from various stakeholders and practitioners from the length and breadth of the country. Through Mann ki Baat he brought the concerns, including various educational aspects before the country with facts and figures and received tremendous response from the public each time. It has impacted all sections of the society, who have been inspired to contribute towards fulfilling the great goals he has set before the nation. On 30th April, 2023  the 100th episode of the Mann ki Baat  took place and at this juncture, the glimpses of the numerous initiatives of the Ministry of Education (MoE), Government of India and it's various autonomous institutions highlight the impact the programme has on Indian education system.
MoE undertook several initiatives such as identifying young artistic talents through Kala Utsav, programmes for Ek Bharat Shreshtha Bharat, National Yoga Olympiad, encouraging Toy-based Pedagogy for schools to promote traditional Indian toys and games, Pariksha pe Charcha, NIPUN Bharat for early Literacy and Numeracy, National Digital Library for schools, NDEAR for digital education, Manodarpan and Sahyog, PM e-Vidya, SWAYAMPRABHA channels and many more. Academicians and professors of the National Council of Educational Research and Training (NCERT) too were inspired by many of the ideas that the Prime Minister brought to the notice of academia. It took several initiatives to give them a tangible form.
In the sixty-sixth episode of Mann Ki Baat, the Prime Minister gave a call to promote its traditional games and toys, and expressed his concern about the toy industry's quality and the children's health issues caused by cheap toys (made of plastic) pouring the market from unorganized sources. In the previous episodes of June and July 2020, he had already talked about being Vocal for Local and discovering ways to be engaged at home during the national lockdown through traditional games. National Education Policy 2020 too emphasized upon the joyful learning. These were taken very seriously by the Ministry of Education and within two years, through toy based pedagogy the message to promote Indian toys has reached every household. Giving space to the traditional toys in the school system, the National Curriculum Framework for Foundational stage and the Draft National Curriculum Framework for School Education, the learning-teaching materials for Foundational stage, the Handbook of Toy based Pedagogy for all stages and subjects of school education, organizing International Webinar, national and regional seminars and webinar, toy hackathon, national toy fair for school education, including a separate category of Indigenous Toys and Games in Kala Utsav from 2020 where two hundred boys and girls participated, embedding training modules in NISHTHA for Foundational and Secondary stages where more than 21 Lakh teachers have taken the module of Toy based Pedagogy are some of the significant initiatives undertaken by the NCERT and other institutions in school education and as a result of his vision for incorporating traditional Indian games and toys into the classroom for school activities the idea has penetrated into the system.
In many of his episodes of Mann ki Baat, the Prime Minister narrated the tradition of practicing yoga for mental, physical and spiritual health from ancient times, and declaring 21st June as International Yoga Day on that day in 2015 at the UN General Assembly, made the academia think of various ways to make it a part of practice for all students of the country. The Ministry of Education proposed the National Yoga Olympiad for schools under different age groups and the NCERT has been organizing this 3-day national event from 2016 onwards. For three years, the event could not take place due to COVID-19, and online Quiz had been organized instead. Hundreds of students from in the age groups of 10-18 years (Class VI-XII) reach the National level starting from school, district and state level competitions. So far, more than sixteen hundred students have participated. Thus, a very large number of schools and students take part in the different levels of event. This is the impact which Mann ki Baat has upon the people.
Mental Health and Well-Being of his people, specially children has always been a concern of the Prime Minister and he raised several issues through Mann ki Baat about the stress, pressure of examination, peer and parental pressure, all related to mental health of students. This has made several recommendations and initiatives by the Ministry including very effective programmes of Pariksha pe Charcha and Manodarpan. While Pariksha pe Charcha is an annual event where he address the students to overcome the examination stress, there are several activities under the Manodarpan since July 2020 to provide psychosocial support to students, teachers and families for mental health and emotional well-being during COVID-19 and beyond. There is a 24×7 helpline for students, parents and teachers to address the rising mental health concerns of students' well-being and promote mental health in the school system as a whole. The webpage of Manodarpan contains advisory and guidelines for students, parents and teachers, Directory of counsellors (approximately 350 counsellors, both school and college/university level) along with other support materials. Regular weekly online interactive sessions are organized and a mental health survey has been conducted to know find out the status of mental health of the students and teachers and the issues faced by them.
There have been several nation-wide digital educational programmes, specially during the COVID-19 period by the Government of India through several national educational institutes such as NCERT, CBSE, UGC, IGNOU and NIOS, etc. Maximum use of technology contributed towards fulfilling quality and universal education through programmes like NISHTHA, e-pathshala, NROER, NIPUN Bharat Abhiyan, PM e-Vidya, SWAYAMPRABHA, DIKSHA etc. to support the uninterrupted education of crores of children. Analysis of the daily rising hits show the popularity of the programmes and their outreach. These have been very supportive and several studies have been conducted of its effectiveness by NCERT. A study was conducted by RIE, Mysuru where student-teachers were included who will become the future teachers and teacher educators, whose opinions therefore play a significant role in utilizing the digital resources. The study says that 77% of the student–teachers are aware of PM-Mann Ki Baat, and they find this program useful in teaching, training and subject content as well. The study also shows that percentage of the student-teachers' awareness is 81% for e-pathshala, 78% for DIKSHA, 78% for SWAYAM, 52% for NISHTHA, 38% for NROER and only 36% for SWAYAM Prabha. NIPUN Bharat Mission has proved to be an effective teaching methodology after the New Education Policy 2020 and various initiatives have been taken up the NCERT under the guidance of Ministry of Education.
Some of the initiatives taken up by the Ministry of Education and the NCERT have been studied by the faculty members, and a special issue of Indian Educational Review (IER), one of the prestigious journals of NCERT, April 2023 has been brought out highlighting the impact of 'Mann Ki Baat', having ten research papers, three in English, two each in Marathi, Gujarati and Kannada, and one is in Odia.