Smile Foundation and Shell Launch STEM Project on Pi Day
The initiative will benefit less-privileged students from government schools.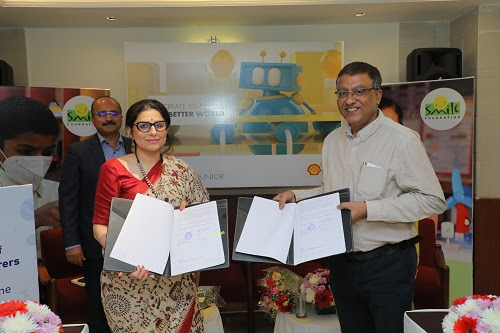 On the occasion of International Pi (π) Day, Smile Foundation and Shell launch 'NXplorers Junior' programme in three Indian states. NXplorers is Shell's global flagship Social Investment STEM (Science, Technology, Engineering, and Mathematics) educational programme aims to benefit over 25,000 children during the first year by enabling them to understand, navigate and address local and global challenges, as underlined in the Sustainable Development Goals (SDGs). NXplorers is also aligned with the National Education Policy 2020 and delivers societal benefits.
The innovative initiative will benefit less-privileged students from government schools and affordable private schools, studying in rural and hard-to-reach areas in the states of Andhra Pradesh, Telangana and Kerala. Its design also includes endeavour to create awareness amongst parents on the importance of STEM education, especially for girl children.
"Shell firmly believes that, provided with the necessary skills and guidance, young people can be a driving force to find sustainable solutions to the major global challenges of our time. Launched in 2018, Shell's global flagship STEM programme NXplorers is aligned with the National Education Policy 2020 that aims to transform India into an equitable and vibrant knowledge society. With the Smile Foundation partnership, we aim to expand this programme to Andhra Pradesh, Kerala, and Telangana and offer young minds the platform to design sustainable solutions to ease the pressure on food, water, and energy," said Ms. Latika Taneja, Head of Corporate Relations – India.
The programme is being rolled out in concurrence with the educational authorities of the respective state governments. Besides students, teachers, parents and communities are involved actively while implementing the programme so that it remains sustainable in the long-term.
"We are excited to roll out this innovative programme in India. We are hopeful that our children will not only leverage STEM education in building their future career but also will grow up and develop leadership ability in finding sustainable solutions in various walks of life," said Mr. Santanu Mishra, Co-founder & Executive Trustee, Smile Foundation.
The NXplorers Juniors will train both 6th and 7th grade students. NXplorers Juniors Level-I course will be delivered through a combination of teacher's guide, PowerPoint slides, and several instructional videos. The facilitator guide will outline the essentials to be covered in each session, exercises, discussion, checkpoint questions, a summary, assessment, and research to be undertaken by students after the session.
The United Nations Sustainable Development Goals (SDGs), exploring SDG Solutions, researching global goals, and developing a challenge and choosing a solution etc. are covered in the NXplorers Juniors Level-1.
NXplorers – Learning for a Life Time, envisions to provide a minimum of 3-5 years of NXplorers exposure to the students at various levels. The objectives include developing strong knowledge and skill set among students so that local and global challenges can be addressed by them. Developing sustainable models of implementation by engaging teachers, school leaders and communities effectively, creating awareness amongst parents regarding the importance of STEM education, especially concerning girl education are part of the overall goals.
About Smile Foundation
Smile Foundation is a national development organization directly benefiting over 1.5 million underprivileged children and their families every year through more than 400 welfare projects in education, healthcare, livelihood and women empowerment spread across 2,000 remote villages and urban slums in 25 states of India.
About Shell
Shell is one of the most diversified international energy company in India with over 10,000 employees and presence across upstream, integrated gas, downstream, renewable energy, and deep capabilities in R&D, digitalisation, and business operations; with a retail presence across six states – Karnataka, Tamil Nadu, Telangana, Maharashtra, Gujarat, and Assam.
The Hyderabad Public School on Mission Mode: Olympics
To invest INR 25 crore in creating hard and soft infrastructure with the audacious aim of developing Olympic-level sportspersons from the school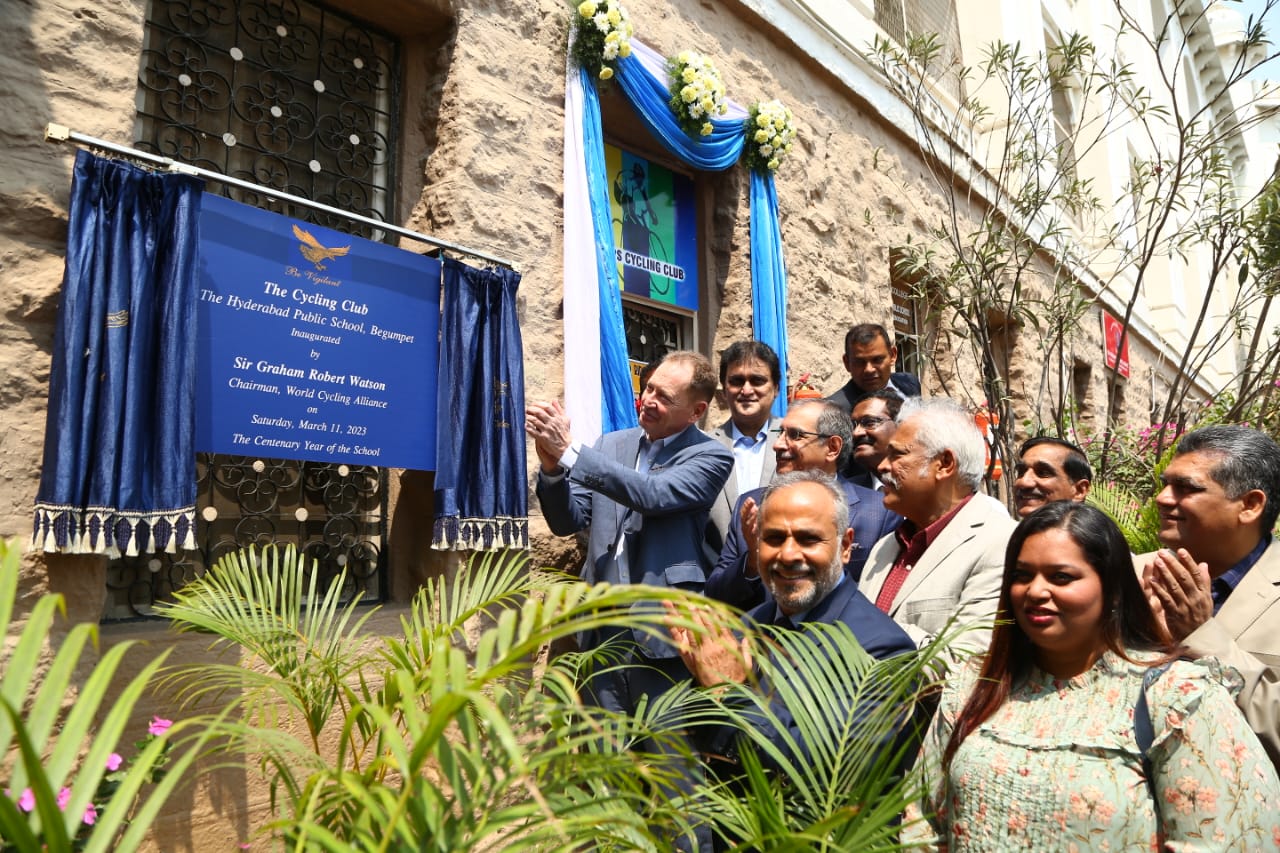 Continuing its tradition of driving excellence and achieving rare distinctions in multiple areas of human endeavor, the prestigious Hyderabad Public School, Begumpet announced an ambitious plan aimed at preparing Olympians! The school has identified cycling, swimming, shooting and other sports for this purpose, and will invest upward of Rs. 25 crores over the next five years towards creating world-class physical infrastructure, and getting the right trainers and coaches and knowhow in these areas for the development of their students into world-class sportspersons capable of winning at the Olympics.
In line with this mission, the School has announced the launch of a Cycling Club. Sir Graham Watson, President, World Cycling Alliance, graced the occasion as the Chief Guest. Dr. D. V. Manohar, First Vice-President, World Cycling Alliance and T. Satyanarayana Reddy, President, Hyderabad Bicycling Club, were present as Guests of Honor. Mr. Gusti J. Noria, President, The Hyderabad Public School Society, welcomed the attendees and presided over the event. Dr Madhav Deo Saraswat, Principal, HPS, Begumpet addressed the students and teachers, and other guests.
The 120-acre campus of HPS houses multiple sporting fields, including an Olympic-size swimming pool, cricket pitches football fields and a shooting range. Significantly, HPS is one of the few schools in the country with a shooting range.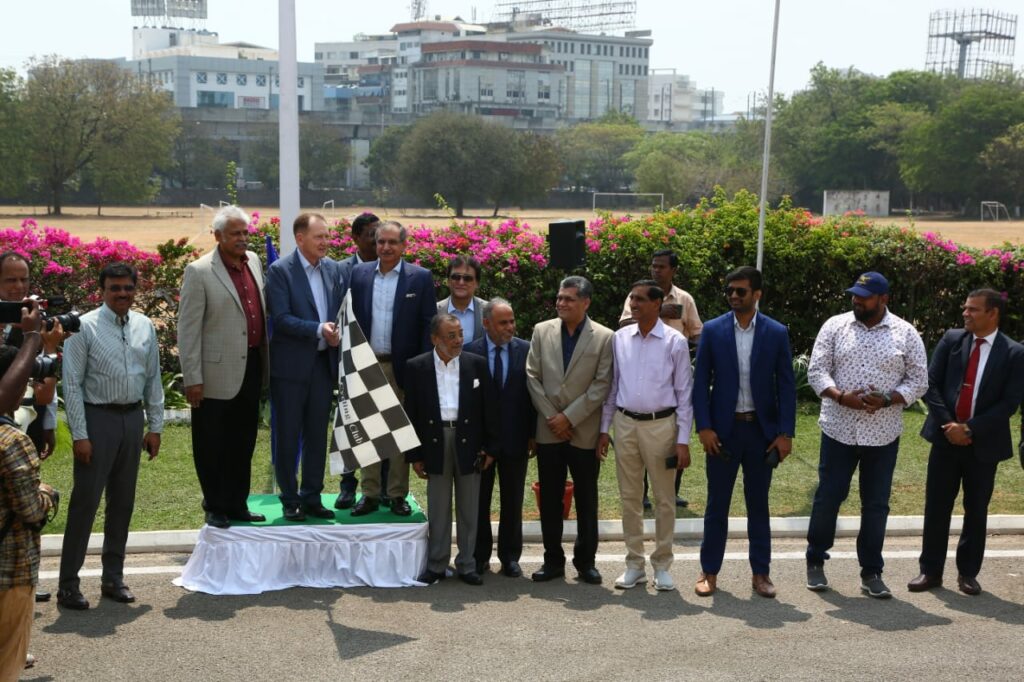 After the launch, Sir Graham flagged off a cycle rally of students and teachers on the campus. Following this, he shared his thoughts on cycling as a sport, and his life-long journey in cycling, leading up to the stewardship of the World Cycling Association with the students. He encouraged them to take up cycling as a sporting activity, which has multiple benefits, including a positive impact on individual health and the environment.
The HPS Cycling Club is intended to be multi-purpose and designed with facilities like a world-class cycling track. It will give students the opportunity to participate both in racing and cross-country cycling tournaments. With the multi-faceted cycling club, the School will have the best infrastructure for an introduction to the athletic world. The students will be coached and trained under the supervision of professionals. This will set a new benchmark for schools to create contenders for the Olympics.
Speaking on the occasion, Dr. Saraswat said, "The School has always focused on sport-integrated learning, in line with the New Education Policy. We have envisaged a curriculum that can nurture the sports talent in our school. With the advent of the Cycling Club, we are taking our curriculum to the next level by ensuring holistic development of students and turning out athletic stars from HPS."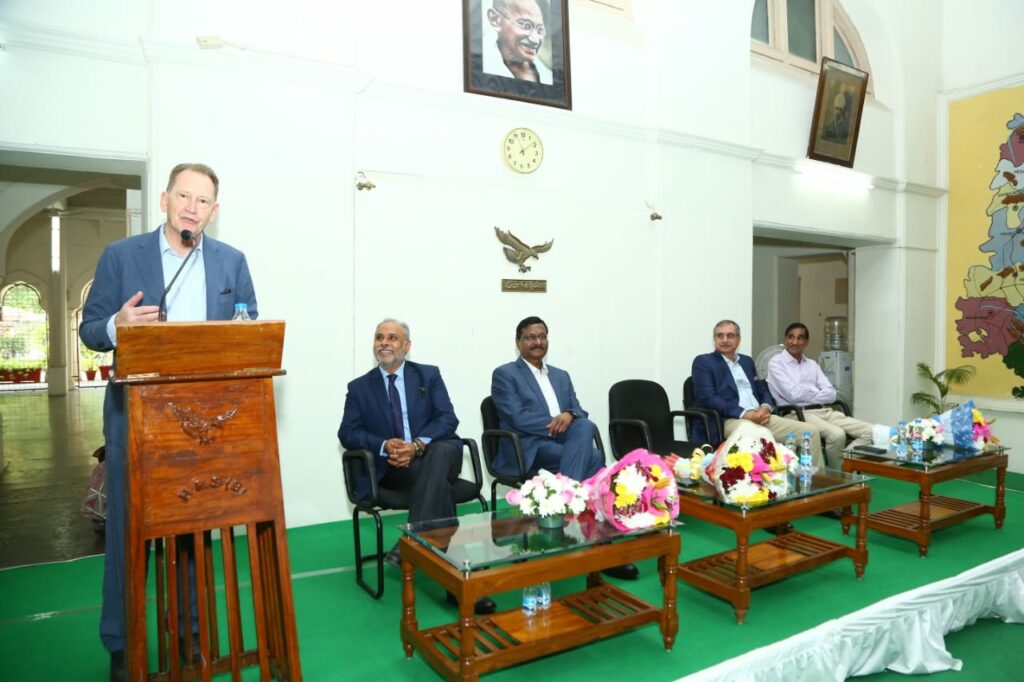 Mr. Noria said, "We have already made a mark in academics and business through our excellent curriculum. We, at HPS, are aware of the importance of sports and this club will cater to the students aiming big in sports. The school will create an ecosystem for students to nurture their athletic talent in cycling. With an increased focus on developing the sports infrastructure at the School, post including swimming and shooting ranges, we will ensure all-round development of students."
The inaugural day was marked by a heart-touching speech by Chief Guest, Sir Graham, an avid cyclist himself, who shared his thoughts on how grassroots-level efforts can create world-class champions. The event received a huge support from 30 cycling enthusiasts who are a part of the school's unparalleled network of alumni as well as the keen parents who cheered for their wards.
Sir Graham Watson, President, World Cycling Alliance, iterated, "Cycling ticks so many boxes for government and society. It reduces traffic congestion, improves health, combats obesity and diabetes, cuts carbon emissions and helps us meet 11 of the 16 United Nations Millennium Development Goals. I am pleased that Hyderabad Public School has teamed up with the Hyderabad Cycling Club and the All India Bicycling Federation to establish this new Club, which will encourage young people to adopt healthier lifestyles. Last month I had the pleasure to visit your city's new 23 km solar-powered cycle path with our Vice President D. V. Manohar. I can see that Hyderabad is at the leading edge of new thinking in India. There is an alternative to traffic congestion and air pollution in India: build more cycle paths and promote a cycling culture. In line with its admirable tradition of breaking new ground, Hyderabad Public School is showing a lead."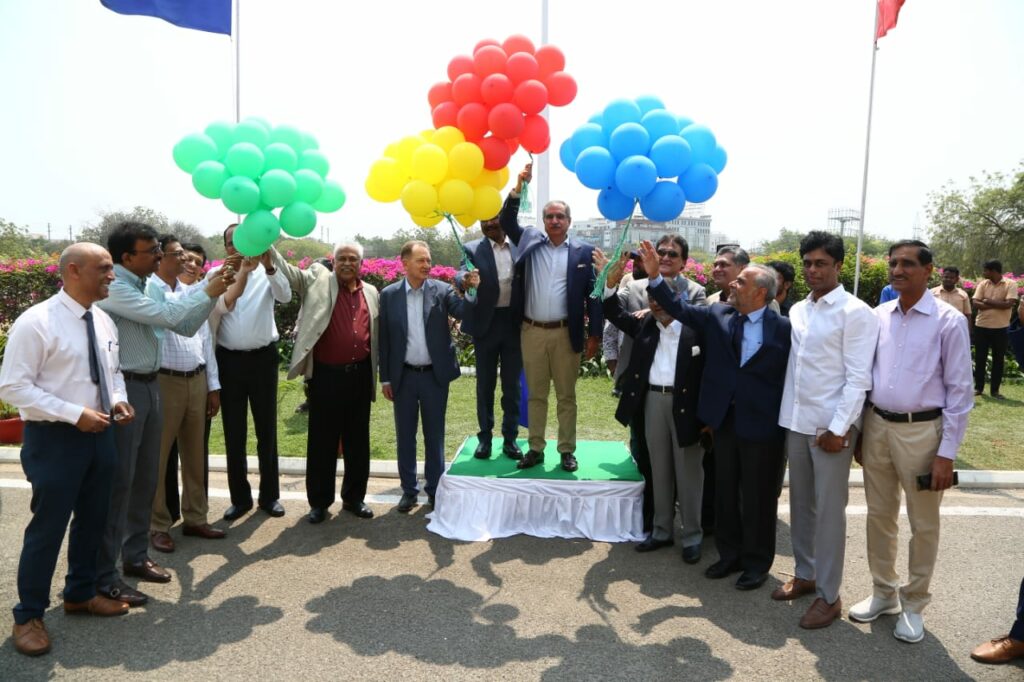 The School is spearheading this new initiative to bring out the best athletes among its students and to ensure that HPS produces a world cycling champion in the times to come. Hyderabad has been the land of athletes and this club is another feather in the cap of the city. The School also aims to cultivate greener practices through this club across the city and set an example for the entire country.
About HPS
Established 100 years ago, The Hyderabad Public School, also known as HPS, has the distinction of being one of the oldest educational institution systems nurturing leaders of tomorrow. The HPS way makes learning the focus, instead of teaching. It stay in tune with changing times, delivering top-notch, up-to-date education to its students. What sets HPS apart is its ability to provide an ecosystem for all-round development, incorporating learning methodologies that rely on self-discovery, encourage curiosity and develop value-based leadership and management skills of the students. With a 120-acre campus, state-of-the-art labs, naturally ventilated classrooms, unparalleled sports infrastructure, residential facilities, and best-in-class faculty students, both day and boarding, have access to the best of facilities and teaching staff. Interestingly, Shaheen – the majestic Eagle – is the mascot of the School and is a reflection of the institute's philosophy to always conduct oneself with dignity and respect and yet soar above the rest.
HPS' alumni base boasts of successful and well-known CXOs who run global corporations or are influencers in their fields. In 2019, the Harvard Business Review placed three of its alumni — Ajay Pal Banga, Satya Nadella and Shantanu Narayen — among the "Top 10" best-performing CEOs globally. The Harvard Business Review rating is a testimony to HPS having found the secret sauce of creating leaders. Significantly, Mr. Banga was recently nominated to the post of President of the World Bank by the US President Joseph R. Biden. On the sports front, too, HPS alumni have clocked several achievements. Notably, Asher Noria won the gold medal, equaling the world record, in the "Double Trap Shot Gun" event at the 2010 World Championships in Munich.
In 2023, HPS is proudly celebrating the competition of its centenary, and is gearing up to achieve its vision of becoming one of the top schools globally by 2050.
About HPS Centenary Celebrations: The Centenary Celebrations, which began in January 2023, comprise a year-long calendar of events for students, staff, parents and the alumni.
For Further query, please contact Perfect Relations:
Chandra Reddy, 9603576330, [email protected]