39 Schools Awarded Swachh Vidyalaya Puraskar 2021-22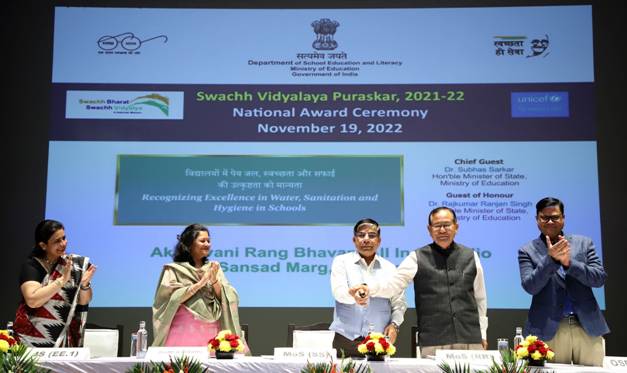 Minister of State, Ministry of Education Dr. Subhas Sarkar gave away the Swachh Vidyalaya Puraskar (SVP), 2021-22 to the National awardee schools in New Delhi today. Dr. Rajkumar Ranjan Singh, Minister of State for Education was the esteemed Guest of Honour.
The third edition of the Award i.e. SVP 2021-22, saw phenomenal participation with 9.59 lakh schools registered for the awards. This number is approx. 1.5 times more than the number of schools (6.15 lakh schools) in SVP 2017-18, who participated during that year.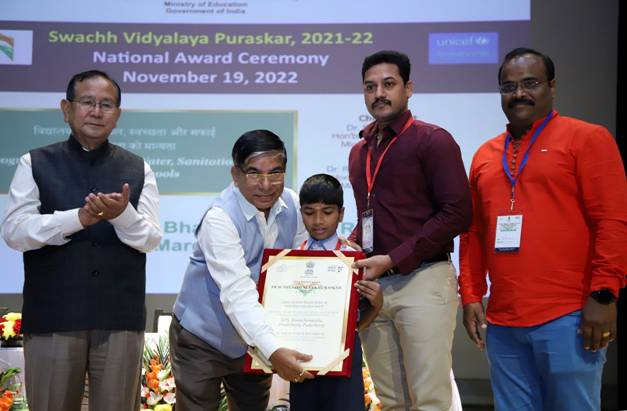 Out of 9.59 lakh schools, more than 8.23 lakh schools submitted their applications for SVP 2021-22. The evaluation process of 4,27,718 eligible schools was undertaken at the district and state levels, out of which 606 schools at State/UT level awards were found eligible for National level awards. The National Selection Committee for selection of schools for SVP 2021-22, in their meeting held on 10th October 2022, selected 39 schools (34 in the overall category and 5 in sub-categories) for National level awards for SVP 2021-2022, after 3rd party evaluation by UNICEF partner agency (NEERMAN).
Out of 39 selected schools, 21 schools are from rural areas and 18 are from urban areas. Further, 28 schools are government/ government aided while 11 are private schools. The awarded schools also include 2 Kasturba Gandhi Balika Vidyalayas and one (1) Navodaya Vidyalaya and 3 Kendriya Vidyalayas. Out of 39 schools, 17 are elementary and 22 are secondary/ higher secondary schools. Cash prizes of Rs. 60,000/- to 34 schools (in the overall category) and Rs. 20,000/-, (in sub-categories) were given to the awardee schools.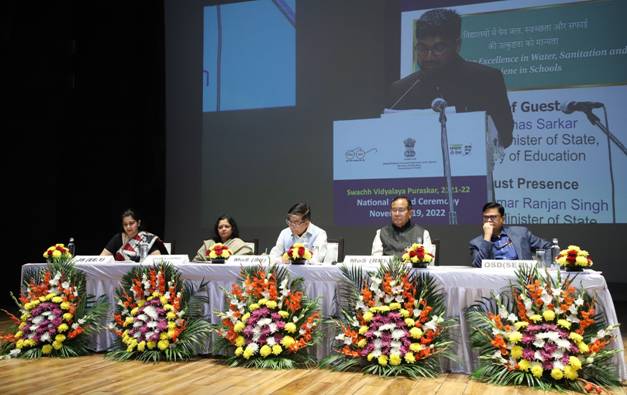 Speaking on the occasion Dr. Sarkar asked all the schools from Districts and States to work hard in the field of swachhata in schools to compete with the performance of award-winning Schools, Districts, and States. He also stressed that schools conferred with the National award may sustain the standard and rating of cleanliness and hygiene.
In his Independence Day address to the nation on 15th August 2014, Prime Minister declared that all schools in the country should have toilets with separate toilets for girls within a period of one year as only then our daughters will not be compelled to leave schools midway.
The Department launched Swachh Vidyalaya Initiative in 2014. Under this initiative, a record number of 4,17,796 toilets were constructed in 2,61,400 schools, including 1,90,887 girls' toilets in one year period up to 15th August 2015. Encouraged by this stupendous success, the Department of School Education and Literacy launched the Swachh Vidyalaya Puraskar in 2016-17 to ensure long-term sustainability and behavioural change. The Swachh Vidyalaya Puraskar not only honours the schools that have taken exemplary work in the field of water, sanitation, and hygiene but also provides a benchmark and roadmap for schools to make further improvement
Under this Award, schools are rated on six broad parameters of (a) Water (b) Toilets (c) Handwashing with Soap (d) Operation and Maintenance (e) Behaviour Change and Capacity building, and (f) COVID-19 (Preparedness and Response). The Puraskar is given at District, State, and National levels.
Swachh Vidyalaya Puraskar (SVP), 2021-22 was successfully launched by  Dr. Subhas Sarkar on 12th January 2022, which was the birthday of Swami Vivekanand and is celebrated as National Youth Day. In view of the COVID pandemic, an additional parameter – "COVID-19 preparedness and response" – was included in the Swachh Vidyalaya guidelines in 2021-22, considering its implications for the health, hygiene, and safety of the children. The methodology of the awards was evolved in consultation with UNICEF, which was the Implementation and Technical partner for the awards.
In the National award ceremony  Sanjay Kumar, OSD, Prachi Pandey, Joint Secretary, and Archana Sharma Awasthi, Joint Secretary, Department of School Education & Literacy, Ministry of Education were also present.
India retains 40th rank in the Global Innovation Index 2023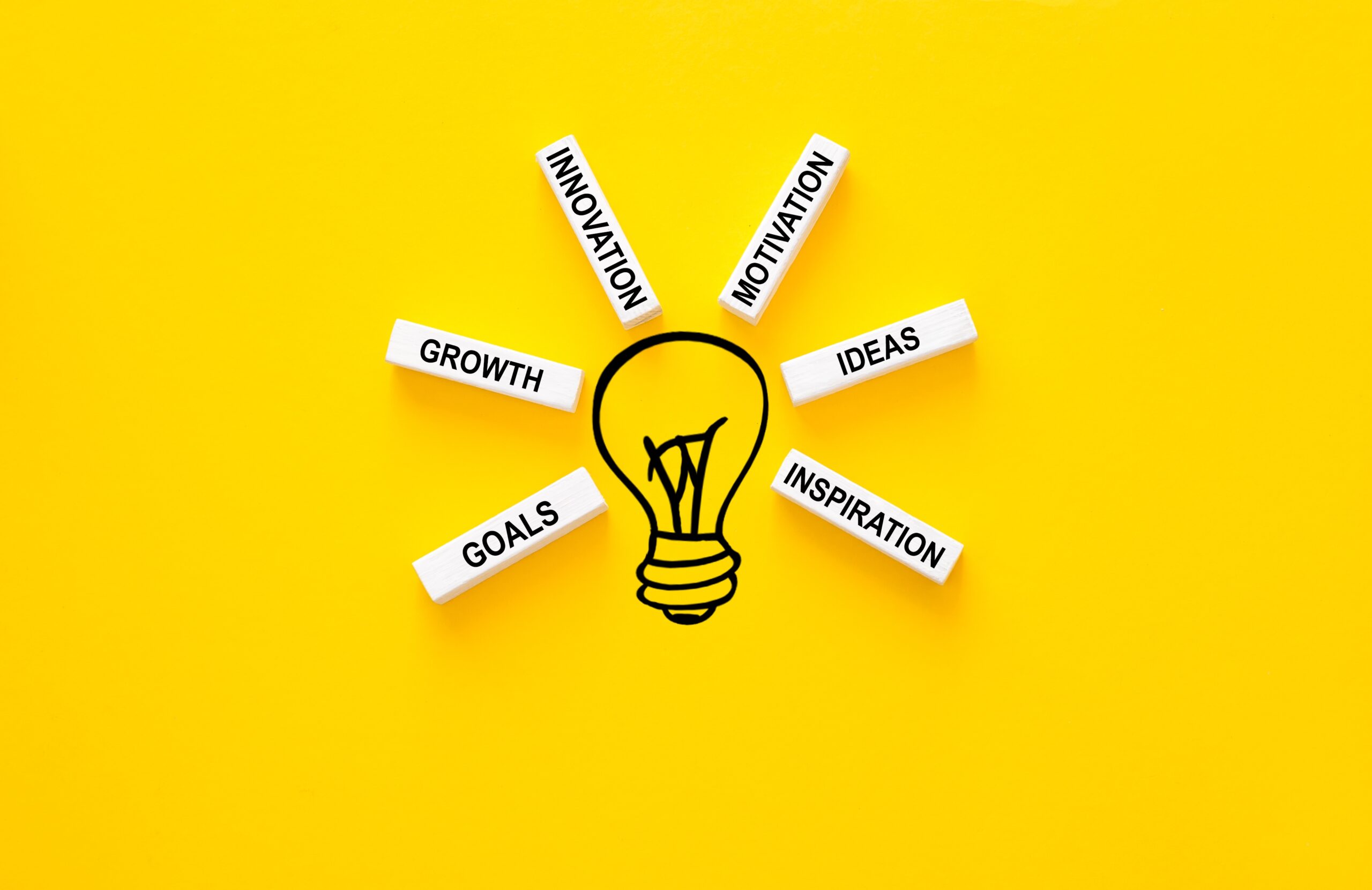 India retains 40th rank out of 132 economies in the Global Innovation Index 2023 rankings published by the World Intellectual Property Organization. India has been on a rising trajectory, over the past several years in the Global Innovation Index (GII), from a rank of 81 in 2015 to 40 in 2023. Innovation has been at the forefront of our battle against the unprecedented crisis created by the pandemic and will be pivotal in driving the country's resilience, as enshrined in the Prime Minister's clarion call on Atma Nirbhar Bharat.
The consistent improvement in the GII ranking is owing to the immense knowledge capital, the vibrant start-up ecosystem, and the amazing work done by the public and private research organizations. All Departments of the Government, including Scientific Departments such as the Department of Science and Technology; the Department of Biotechnology; the Department of Space; and the Department of Atomic Energy and also departments such as Ministry of Electronics and IT, Department of Telecommunications, Department of Agricultural Research & Education and the Department of Health Research have played a pivotal role in enriching the National Innovation Ecosystem. Most importantly, the Atal Innovation Mission has played a major role in expanding the Innovation ecosystem.
NITI Aayog has been working tirelessly to ensure the optimization of the national efforts for bringing policy-led innovation in different areas such as electric vehicles, biotechnology, nanotechnology, space, alternative energy sources, etc. It has also played a role in expanding the innovation eco-system in states and districts. A constant thrust in monitoring and evaluating India's position in the global rankings has been provided by the NITI Aayog, including in the GII.
The GII is a reliable tool for governments across the world to assess the innovation-led social and economic changes in their respective countries. Over the years, the GII has established itself as a policy tool for various governments and helped them to reflect upon the existing status quo.
The Confederation of Indian Industry (CII) has also been collaborating in India's journey towards an innovation-driven economy. This year, the NITI Aayog, in partnership with the CII and the World Intellectual Property Organisation (WIPO), is hosting, virtually, the India Launch of the GII 2023 on 29th September 2023.
The launch session will be graced by many senior dignitaries including Shri Suman Bery, Vice-Chairman, NITI Aayog; Dr. V.K. Saraswat, Member, NITI Aayog; Shri BVR Subrahmanyam, Chief Executive Officer, NITI Aayog; Mr. Daren Tang, Director General, WIPO; Dr. Sacha Wunsch-Vincent, Co-Editor, GII & Head, Economics and Statistics Division, WIPO; Dr. Nausad Forbes, Chairman, CII National Committee on Technology, Innovation & Research, and Co-Chairperson, Forbes Marshall; Professor Rishikesha Krishnan, Director, Indian Institute of Management, Bangalore; and Sh. Alok Nanda, Co-Chairman, CII National Committee on Technology, Innovation & Research, and CEO, GE India Technology Centre.