Axis Bank and Institute of Rural Management Anand (IRMA) Partner for Financial Inclusion and Literacy in India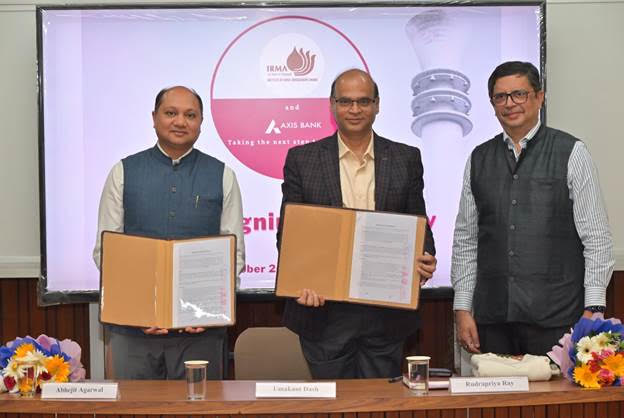 Axis Bank, one of the largest private sector banks in India, has signed a Memorandum of Understanding (MoU) with the Institute of Rural Management Anand (IRMA), to establish the Axis Bank Chair for Financial Inclusion at IRMA. Constituted for a period of 5 years, the Chair will primarily focus on research, deepening industry-academia collaboration, driving thought leadership, and policy advocacy. The Chair was established to strengthen and accelerate greater financial inclusion (FI) and financial literacy in India.
The primary objective of the Chair is to conduct and coordinate field-based research for the purpose of supporting national and state-level policies toward financial inclusion. This includes designing financial inclusion strategies in and for India, capacity building for the banking sector in the domain of financial inclusion, conducting workshops, round tables, and symposia, and undertaking teaching courses at the Institute.
As part of the collaboration, IRMA and Axis Bank shall set up a Joint Advisory Committee that will oversee the selection process for the Chair, finalize the terms, and periodically review its progress. The agreement also proposes to support two Research Associates under the Chair.
Highlighting the role of the proposed Chair, Munish Sharda, Group Executive & Head – Bharat Banking, Axis Bank, said, "It is a matter of great pride for all of us at Axis Bank to partner with IRMA for establishing the Chair for Financial Inclusion at one of India's premier management institutes. Our vision at Axis Bank's 'Bharat Banking' strongly aligns with Dr. Varghese Kurien's vision of achieving equitable and sustainable transformation of 'Bharat'. We hope that this Chair shall play a meaningful role in accelerating and penetrating financial inclusion to the last mile."
Speaking on the occasion, Dr Umakant Dash, Director, IRMA, said, "The collaboration between the Institute of Rural Management Anand and Axis Bank brings together two institutions with a rich history of serving the nation. Through this relationship, we seek to make impactful interventions in the domain of financial inclusion at a national level. The Axis Bank Chair for Financial Inclusion at IRMA will contribute to knowledge creation, publications, training, and capacity building and enhance our understanding of the domain. The support of Axis Bank and the academic insights from IRMA will play a crucial role and contribute to the ongoing growth story of our nation."
This collaboration between Axis Bank and IRMA marks a significant step towards greater awareness and commitment of these institutions to financial inclusion and financial literacy for all strata of Indian society.
For further information on Axis Bank, please refer to the website: https://www.axisbank.com
International Baccalaureate Experiences 31% Surge in Authorized IB World Schools Across India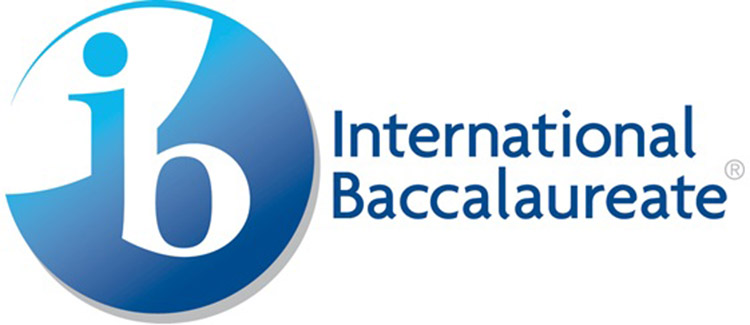 The International Baccalaureate (IB), a global educational foundation headquartered in Switzerland, reports substantial growth over the past five years in India. The surge, amounting to a 31% increase in authorized IB World Schools, reflects the growing preference for IB programs among schools nationwide. According to Haif Bannayan, the Global Director of Business Development at IB, the organization offers four comprehensive programs for students aged 3-19: the Primary Years Programme (PYP), Middle Years Programme (MYP), Diploma Programme (DP), and Career-Related Programme (CP).
As of 2023, there are now 226 authorized IB World Schools across India, collectively delivering 378 authorized IB programs. This breakdown includes 138 schools offering PYP, 59 schools providing MYP, 155 schools delivering DP, and 26 schools offering CP. However, the current distribution of IB World Schools remains concentrated in metropolitan areas like New Delhi, Gurugram, Mumbai, Kolkata, Bengaluru, and Chennai.
To address this imbalance and make IB education more accessible and affordable nationwide, the Delhi Board of Secondary Education (DBSE) collaborated with IB as part of Delhi's educational reforms under Arvind Kejriwal. In August 2021, they signed a Memorandum of Understanding to introduce IB programs in 30 government schools in Delhi. This initiative aims to encourage more schools to adopt the IB curriculum in the future.
Recognizing the evolving educational landscape in India, IB is actively collaborating with Indian institutions and educational authorities to extend its framework to students from diverse backgrounds and regions. Haif Bannayan expressed eagerness for ongoing dialogues with leaders to facilitate the delivery of high-quality, globally-oriented education to an even greater number of students.
The Diploma Programme (DP) offered by IB stands out globally, consistently aligning with or surpassing international standards, as indicated by the DP Country Alignment Study 2023. The study emphasizes the adaptability of DP courses to diverse national contexts, showcasing their seamless integration. Furthermore, it underscores the meticulous crafting of DP curricula to facilitate substantial depth and breadth of learning, illustrating their rigor and comprehensive educational value.
Bannayan highlighted the IB's acclaim for its emphasis on languages and global principles, coupled with a consideration of students' cultural backgrounds. This approach fosters a profound comprehension of the world, shaping graduates into multilingual thinkers poised to make a positive impact on a global scale.