Amitabh Mehrotra: Overcame the barriers of cerebral palsy to start a school for disabled children
Amitabh Mehrotra started the School for Potential Advancement and Restoration of Confidence (SPARC)-India in 1996, a society dedicated to the rehabilitation of all kinds of disabilities in rural and urban areas of Lucknow, Barabanki and about 30 districts of Uttar Pradesh.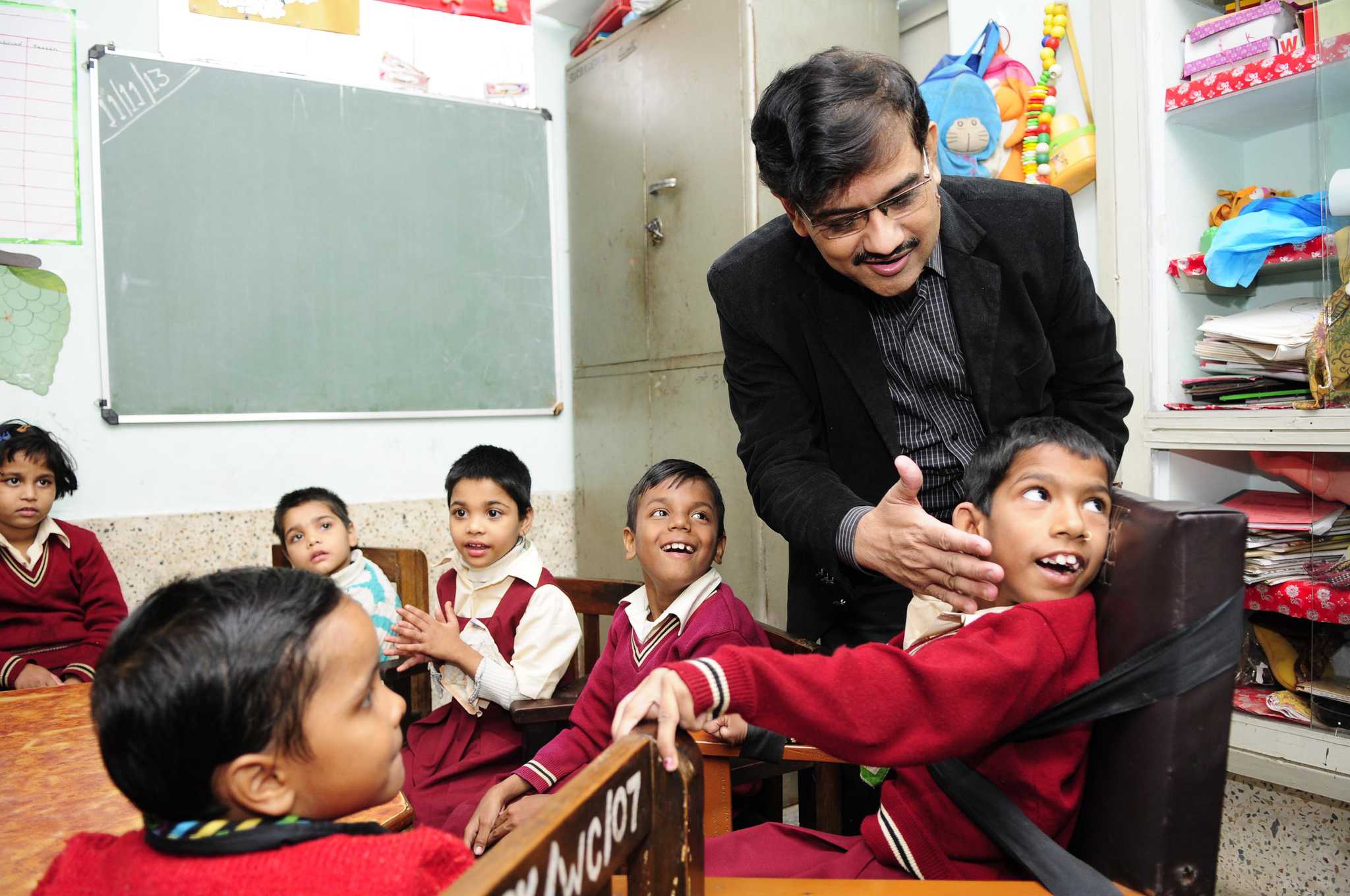 Our series "Teacher Warriors" honours some of the country's best and bravest teacher warriors, striving to give kids a fighting chance at a better present and a future floating with possibilities. In the second episode, Anjana Deepak speaks to Amitabh Mehrotra, Founder, School for Potential Advancement and Restoration of Confidence (SPARC):
Amitabh Mehrotra, a man who considered himself the 'Chosen One' for the cause of disability despite the challenges of having cerebral palsy. He did his Masters in Social Work from Tata Institute of Social Sciences (1987) and recently was awarded a PhD degree from the University of Lucknow in Applied Psychology on the topic 'Inclusion of Challenged Persons in Rural Settings'. After completing his post-graduation and working for almost a decade with a corporate and an NGO, he started the School for Potential Advancement and Restoration of Confidence (SPARC)-India in 1996, a society dedicated to the rehabilitation of all kinds of disabilities in rural and urban areas of Lucknow, Barabanki and about 30 districts of Uttar Pradesh.
What is your vision for the education for children?
When I was in standard XI, I had an intuition that in my future I would start an education centre for children with cerebral palsy. SPARC-India established Jyoti Kiran School in 2003 which was initially for children with cerebral palsy but is now being converted into an inclusive school. The Right to Education Act also looks after inclusion of children with disabilities in the general schools. It is our vision to ensure that children with disabilities acquire education and employment thereafter leading to social inclusion and their overall growth.
What are the challenges you continue to encounter?
As an individual facing a struggle with cerebral palsy, I have developed adaptive measures and methods to solve these challenges. Writing is still a major challenge but fortunately I have a devoted volunteer and staff who help/ assist me in these difficult times. I am a God fearing individual, my parents are following a spiritual path and Sri Sri Yoganand Ji and God have always been making divine interventions in my life which make complicated things easier for me.
Do you have a role model whose work you were inspired by?
It has been purely my own impairment and experiences that inspired me to establish this organisation to work on the issue of disability. There have been ups and downs but strong family support made me take courageous steps to leave no stone unturned, and lastly my own will power and determination made me work on this issue untiringly. Beloved Guruji and God have been the guiding force which has always supported us through divine interventions at time of need.
What was your background in working with children before you started your project?
When I go down memory lane I had experience working with children with mental impairment. After my Bachelors of Commerce in 1985 I was not sure what type of field I would be working in, in future. So I worked with Chetna, an institution for mental impairment in Lucknow. This was the only experience other than my own childhood experiences which was my greatest teacher and made me sensitive and, many a time, emotional for this cause.
What do you see as the role of parents in the education of their children and their degree of their involvement in the school setting?
This is a very important area, as I had given credit to my beloved parents, siblings, friends and faculty who have given not only their support for education but have been quite sensitive to me. It is the role of parents/ family which is quite important without which a child cannot move forward. In my experience in the last 14 years of running SPARC-India's Jyoti Kiran School, I have found that the parent's involvement is the least in the school setting which is a major barrier which keeps the students deprived of education, inclusion in society and thus leads to a life with crises. I have observed that where the family gives required attention to the child/ children with disability, the results are amazing.
This article was originally published in the June 2017 issue as a part of our cover story on Teacher Warriors. Subscribe to ScooNews Magazine today to have more such stories delivered to your desk every month
This Young Woman From A Tribal Village Is Teaching The Children While Schools Are Closed
The only graduate of a Tamil Nadu village has volunteered to teach the children of the village while the pandemic persists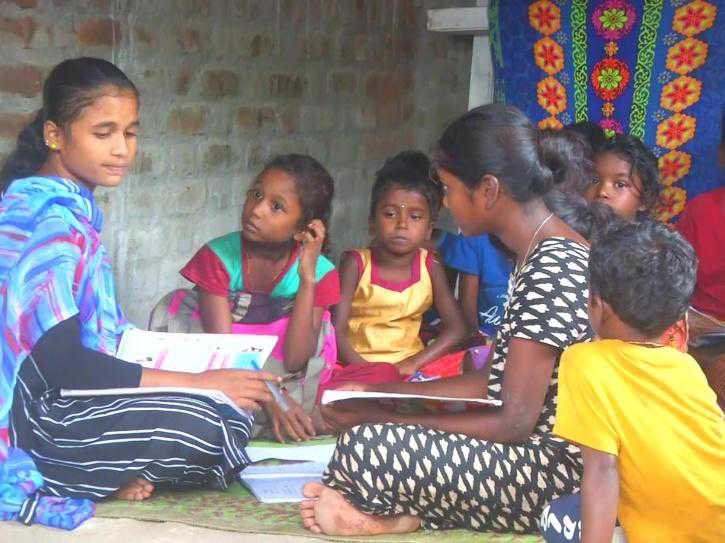 Where the digital network failed these tribal children in the southern part of India, their own stood to support them. Sandhya volunteers in teaching the kids of her village, Chinnampathy in Tamil Nadu. She is a graduate of B.Com, she is the only person from her village to have graduated college. Sandhya told India Today, "If it rains, we can't go to school. We only have one bus to our village and so after a certain age, people drop out of school."
Having gone through struggles herself, Sandhya knows how important a teacher and school is for growing children. So she volunteered to teach the children by herself, so they don't lag behind due to school closure. Sandhya said "When I was a child, I had no one to help me study. These children here have me to help them study."
One must ask the children from a remote rural or economically backward area, how it feels to not have the proper learning opportunities. The pandemic took more than the ability to roam about freely, it snatched away the ability to go to school for children on a global level. While it is easier for families with better income to support their child's online learning, most rural and financially challenged families are struggling.
The Indian government did start many projects for such students, but even learning via a television channel or free online course needs some basic gadgets and network connection. Many remote villages, like the tribal village, Chinnampathy, can not find enough network strength to have their children sit in front of a television and learn via the education channels.
On being asked how her classes are enduring she said, "The children come and ask me very freely all their doubt and they are not afraid of me. I see these children learning well and answering all the questions when I ask them."
Youth like Sandhya, who appreciate and signifies the work educators do and want to help the cause, are the future of the education sector!