And you thought being a Preschool Teacher was Easy Peasy
Anshu Pande lists the challenges, qualities and the enormous rewards of teaching tots

Children begin learning from the time they take birth. The realization as to who are his/her parents, and how to react when one feels hungry, and even every emotional response is structured by observing the surroundings. At the age of 3, parents usually enroll them into a preschool, which aims at early childhood education. Preschool builds the foundation of learning in children. It offers children the chance to socialize with other children, learn more about themselves, learn how to problem solve, build confidence and much more. Childhood education continues to be of high importance to parents, policymakers, and the public. This was seen in 2013, when President Obama asked Congress to expand access to high-quality preschool to every child in the country through his State of the Union speech.
Preschool lays the foundation for kids to understand what "school" actually is. Teachers use a variety of methods to help children grow cognitively, as well as conceptually. A positive relationship with preschool teachers can make an exponential difference in a child's success as they continue through elementary school. In addition to helping foster growth intellectually, it is just as important to help children grow in their physical abilities. In terms of human development, the importance of early childhood education can't be overstated. Education gained in this duration, is about honing and molding the holistic child, which will eventually form the basis of their lifelong journey. A child's early years are the foundation for his or her future development, providing a strong base for lifelong learning and learning abilities, including cognitive and social development. Well-established research continues to emphasize the importance of early childhood education as an essential building block of a child's future success.
The most important role is played by the teacher. It might look very easy to become a play school teacher and deal with kids. But do you really think it is? Mostly evaluated amongst the list of pretty simple jobs, being a playschool teacher seems to be an easy goal for many people. But looking deep into the reality, it is not something everyone can do. Becoming a playschool teacher is not just about following the routines and taking care of kids. When you get inside a room full of different types of kids, a playschool teacher is given a super teacher dimension altogether.
The world inside a classroom is different from what a kid and the teacher might experience outside with any other person. When a child gets enrolled in a playschool, he or she is expected to enter a world full of strangers by leaving the protective environment at home. Here, the young bud is shown a very different perspective and made to learn the basic mannerism. All this that has to be served to a budding mind comes from a preschool teacher. It takes a core hardship and perfected dealing mechanism for a teacher to deal with a toddler, make him understand things better, groom him in the right direction, and perfecting the behavior for futuristic academic goals. Along with all the responsibilities, there are enormous things that a playschool teacher is expected to take a proper care of, to completely justify the role taken up by them.
Not only this, there is a list of challenges faced by the preschool teacher in the course of following their curriculum and teaching in a playschool. The top three being:
1. Retaining the attention of kids – Each young mind has a different sort of behavior and interests. It is not possible that each and every child in a preschool classroom will be same and pay an equivalent attention to everything that is told by the teacher. Some kids may find the classroom discussions engaging or some may not find it very interesting to invest attention in. So, binding every child in a classroom in a thread becomes difficult for a teacher.
Toddlers being fussy and moody might not be very engaged towards the teacher. It becomes a dare for a playschool teacher to grab and retain the attention of children for long. In a large-sized class, many students will definitely be distracted and even distract others. Keeping a child stick to what is being told in the class or the activities going on needs diverted attention at a single point in time. And this becomes one of the biggest challenges for a playschool teacher.
2. Physical Misbehavior – Young bud is not familiar with a concrete language and is undergoing the development stage of speaking skills. Toddlers, being a bit fussy or notorious differ in their behavior and understanding level in this age. Not so wide understanding level and ability to express things often leads to conflicts between the children which may result in a physical misconduct with each other.
As a preschool teacher, it becomes very important yet difficult to make children understand the good and bad behavior. There might be the incidents of hitting faced by a teacher in the class. So, guiding the children in the right direction for the same is important. A wrongly handled hitting case might lead a child to become very stubborn or naughty and repeat the activity again. Thus, it is a very challenging situation for a teacher to handle this kind of physical misconduct in the playschool premises.
Also, a teacher has to be very sure that other children in the class might not get affected by this or follow the same path. Managing all the things at a single point becomes very confusing and at times frustrates the preschool teacher too.
3. Effective execution of the preschool curriculum – Implementing the playschool curriculum in a class with a lot of distractions and disruptions due to various factors becomes a very difficult task for a playschool toddler. A lot of issues entailing the implementation of curriculum in the different aspects are faced by the preschool teachers. Some of them are listed below.
Availability of materialistic facilities: Not all schools are highly equipped for teachers, to provide the go through of the curriculum in a very modern and technical manner. The availability of materialistic facilities becomes very important as the curriculum followed nowadays is technical-centered and emphasis on the use of technology to groom the children rather than bookish content for the young mind. The unavailability of the resources disables the teacher to follow the curriculum in a creative and more profound manner, as suggested by the makers.

Planning takes a chunk of time: If a preschool teacher follows the designed curriculum, it may take a huge chunk of time to understand it, make various arrangement for activities quoted, prepare the documentation of the observations of a toddlers learning based on the same and reflect from the activities that are really helping the child. All the formulation done before and after the curriculum takes a lot of time and it becomes difficult for teachers to simultaneously manage everything around from classroom to fussiness of each kid and paperwork. Also, this hectic schedule disables the teacher to implement what and how she has planned the things to be done as per the interest of the kids.

Assessment reports are lengthy: Along with the things mentioned in the curriculum, a teacher has to report the progress details and assessments of each and every child. The curriculum already demands most of the time of the preschool teacher, plus the formulation of these reports on qualitative and subjective aspects acts like a cherry on the cake for a teacher. Whether a preschool teacher likes it or not, she'll have to do up with it anyhow. This assessment process makes it challenging for teachers to work and is very time-consuming.
If you see, even in the case of difficulties, the preschool teachers manage to work so efficiently to direct the future of toddlers in a right manner. Without any mistake or distractions, the playschool teachers are devoted towards their duty and handle the most important and crucial age of every human being.
This is no secret that working with children can be incredibly fun and that is why teaching is considered to be an exceptionally rewarding career. The enthusiasm that children bring with them is infectious, making the job a lot more pleasant. There is a sense of pride knowing you've nurtured the development of a child in the most important learning years of their life. Other than a formal education in the field, a good preschool teacher requires certain traits which will help excel at their jobs:
Patience: Children can sometimes be loud, stubborn, emotional and irrational; where the patience of the teacher comes to play. A teacher should have the ability to understand the child's mood swings and patiently engage him/her into learning. One might even have to teach children in different ways for them to understand a concept. Interestingly, patience also comes handy for teachers to deal with the incessant queries and concerns parents have about their child.
Creativity: Children can be easily distracted; hence the teacher needs to be very creative. He/She should have the ability to come up with new and innovative techniques to teach children so as to grab their attention and keep them engaged at all times. Children have different skills of learning – some are attentive while some understand better through visuals or through activities. So as a guru, one needs to employ a variety of techniques to ensure seamless flow of learning.
Classroom Management: Managing a classroom can be very challenging. A teacher should be able to control children, but at the same time she/he should not scare them. It is important for a teacher to strike a balance between being firm but at the same time have warmth around his/her personality. Creating a welcoming, engaging environment in which the children can learn while playing is essential.
Communication Skills: The teacher should have good communication skills. It is very important for her to communicate difficult concepts to children in a way they understand. Teachers can incorporate lessons through songs, rhymes, role play, etc. Communication skills can also help her record and communicate the growth of the children to their parents as well as other teachers. More importantly a pre-school teacher should be an active listener and should be able to gauge the body language of children to understand their thoughts and emotional condition. This is paramount.
Flexibility – You can everything planned out for each lesson, but great preschool teachers know that unexpected turns can happen at any time. When you remain flexible to deal with change, you can handle almost anything. This could include something as simple as having an alternative plan for rainy days or more drastic like adjusting your entire curriculum to accommodate for a reduced budget. Even the very nature of teaching young children requires constant fine tuning and dealing with minor issues. By staying flexible, you can tackle every kind of educational challenge with poise and grace.
Dedication: Great preschool teachers are dedicated to their students and their career. When you are determined to stand up for your beliefs on behalf of your educational values or your students' needs, you will gain respect from your colleagues, parents and students. Moreover, excellent educators are dedicated to the love of learning and inspire their students to learn more. At the preschool level, making the classroom a place where learning is fun can resonate with children for the rest of their lives. Most of all, truly successful teachers are dedicated to bring out the best in their students.
Qualifications: The educational qualifications vary from state to state. A background in education is essential, and a good candidate for a preschool teaching position will have taken higher education classes in the fields of psychology, child development, education, classroom management, and curriculum. Many university courses also require aspiring teachers to gain some hands-on experience volunteering in a classroom, day care centre or other similar environment.
There are ample opportunities for preschool teachers who have undergone training in pre-primary education or have a diploma in early childhood care. To serve the growing demand for trained preschool teachers there are many courses certified by the government and private institutions, with respect to the same, the fees for which ranges from Rs.40, 000- Rs.65, 000. Remuneration can vary from 1,50,000- 3,00,000.
In the end, I would like to leave you with a beautiful quote by Vicki Zakrzewski "Helping students find a path to purpose is one of the noblest aspects of teaching."
Sarala Birla Gyan Jyoti honoured with prestigious 'Climate Action Project School of Excellence' Award
Only 250 schools globally were recognized because of their intense work on climate education in a whole-school approach. The recognition was awarded by Cartoon Network Climate Champions and Climate Action Project.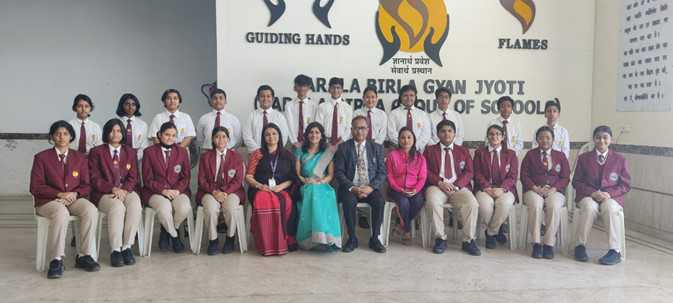 Sarala Birla Gyan Jyoti in Guwahati, India, was awarded the Climate Action Project School of Excellence. Only 250 schools globally were recognized because of their intense work on climate education in a whole-school approach. The recognition was awarded by Cartoon Network Climate Champions and Climate Action Project.
Cartoon Network Climate Champions is a climate change awareness initiative that sets out to inspire kids to take on daily challenges that collectively can make a big difference to the health of our planet. It has been developed in collaboration with WWF, a world-renowned environmental organization.
Climate Action Project is a free, global education project that was launched by Take Action Global, an education non-profit based in the USA, involving 2,700,000 teachers and students across 146 countries. The project aims to help students learn about the climate crisis in authentic ways and disseminate solutions online. The recognized schools submitted their work for the past year and met extensive criteria, including a school-wide commitment to climate education and student solutions.
Sarala Birla Gyan Jyoti has participated in global projects RiseUp4SDGs (India), Let's Be Human, Be One (Serbia), LeapEd Global Learning – Climate Change (Malaysia), the 17 Sustainable Development Goals competitions, implementing the three R's schoolwide and planting gardens in the community, at home and school. Students committed to training to become active Global SDG Ambassadors to raise awareness during virtual Student Hubs with 21 other countries. Students also actively collaborated with students in Brazil, Croatia, South Africa, Sweden and the UK in task-based projects. Currently, all Climate Change projects are student-led.
The selected 250 Climate Action Project Schools of Excellence were announced on 4 November 2021, during Climate Action Day, an annual online live event attended by 250,000 people globally. The event speakers included HRM Prince William, President James Alix Michel, Seychelles, Rick Davis, NASA, Matt Larsen-Daw, WWF, HRM Princess Esmeralda, Belgium, Juan Pablo Celis Garcia, UN Environment Programme, and other world leaders and climate scientists.
The winners were announced by Dan Russell, the voice actor behind several characters in Cartoon Network global hit series The Amazing World of Gumball, and Nandi Bushell, an 11-year-old musician, an influencer, and passionate climate advocate.
Statement by HRM Prince William "We need youth's creativity to repair our planet. We need students to invent and to innovate – to think beyond where we are now and to be optimistic about our future."
Statement by Koen Timmers, Climate Action Project: "Young people have the capacity to do more than learning about climate change. They all can come up with solutions, take small actions, and inspire others to change their lifestyles."
Statement by Dr. Jennifer Williams, Climate Action Project: "Our community of educators has come together in support of climate education for all. We are committed to ensuring students have access to information, ideas, and opportunities to take action for the planet, and, today, these Schools of Excellence are leading the way for the entire world."
Statement by Dr. Diganta Halder, Principal Sarala Birla Gyan Jyoti: "Stopping Climate Change has become a critical issue that needs to be addressed by every human being, but even more importantly in our schools. Students should be aware of Climate Action and the importance of achieving the goals set by the United Nations for peace and prosperity for all by 2030 and to become leaders of impact in the future."