CBSE Affiliation Bye Laws Revised, Union HRD Minister
Union HRD Minister releases the revised CBSE Affiliation Bye Laws to ensure speed, transparency, hassle-free procedures and ease of doing business with the CBSE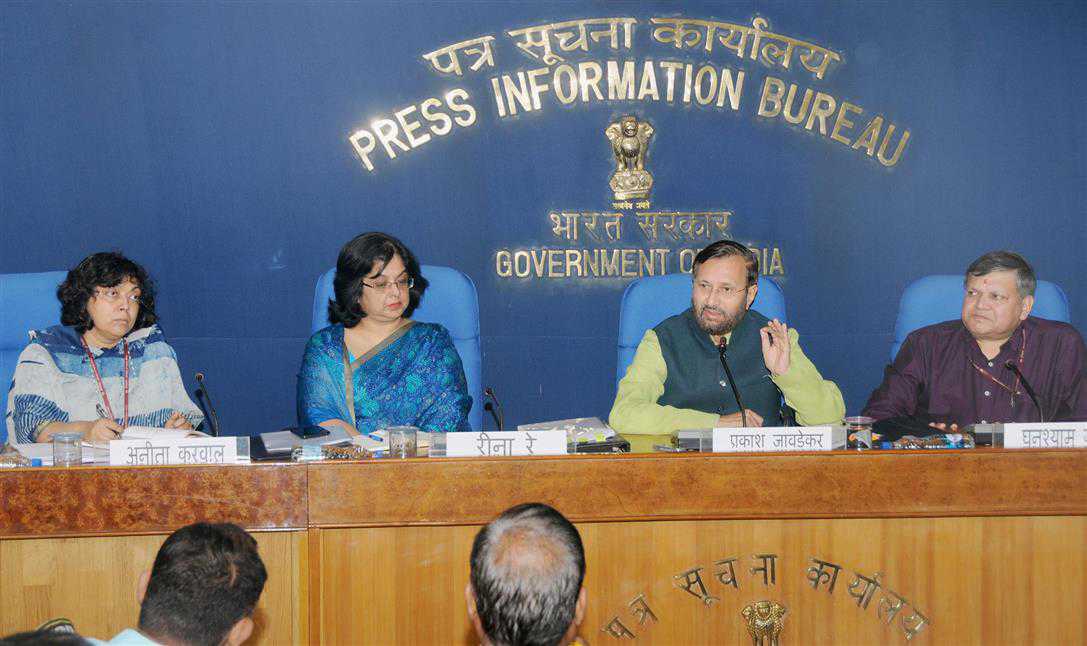 Union HRD Minister Shri Prakash Javadekar releases the revised CBSE Affiliation Bye Laws to ensure speed, transparency, hassle-free procedures and ease of doing business with the CBSE.
Shri Javadekar informed that one of the salient features of the revised bye laws rests on the fact that there is duplication of processes at CBSE and state government level. For issuing recognition under RTE Act and NOC, the state education administration verifies various certificates to be obtained from local bodies, revenue department, cooperatives department, etc. The CBSE re-verifies them after applications are received. This is very long drawn process. Therefore, to prevent this duplication, schools will now be required to submit only two documents at the time of applying for affiliation, instead of 12-14 documents being submitted earlier: one would be a document vetted by the head of district education administration validating all aspects such as building safety, sanitation, land ownership, etc, and another would be a self-affidavit where the school would certify its adherence to fee norms, infrastructure norms, etc.
As a result of this major change the Board shall not revisit any of the aspects vetted by the state during inspection and the delay due to scrutiny and non-compliance of deficiencies in these documents shall be drastically curtailed.
Inspection of schools will now be outcome-based and more academic and quality oriented, rather than focussing only on school infrastructure. The inspection will focus on academic excellence and progress of students over time, innovations and quality of pedagogy, capacity of teachers and teacher training, inclusive practises in school, quality of co-scholastic activities, whether curricular load is as per norms, whether there is adequate focus on sports and games, etc. This will not only help the Board and the school to track students' progress over time, but will also identify areas that would need further efforts.
The entire process from application, to inspection, to grant of affiliation was made paperless by the Board in March 2018. For the new byelaws too, the entire process will be online. Applications shall henceforth be disposed off in the same year.
In the new byelaws, the school inspection will be done as soon as applications are received. On satisfactory inspection report, the Board will issue a Letter of Intent to the school, indicating its intention to affiliate the school. The school will then be expected to fulfil all the conditions laid down under the Post-Affiliationprocess, such as recruitment of qualified teachers, special educator, wellness counsellor, salaries through digital payment, etc. On complying with all these conditions, the school will submit an online commencement certificate latest by 31st March of the given year, based on which, the Board shall confirm affiliation of the school. Only then the schools shall be able to start new academic session under CBSE.
The new affiliation bye laws also lay thrust on achieving academic excellence through mandatory teacher training. Even the Principals and Vice Principals of every school are expected to undergo two days of mandatory training on an annual basis. A special category of innovative schools has been added to include specialized schools, not covered elsewhere in these byelaws, who are implementing innovative ideas in the fields of skill development, sports, arts, sciences, etc. Regarding fee, the provisions include full fee disclosure to be made and no hidden charges to be levied by schools in the garb of fees. The byelaws clearly state that fee is to be charged as per the regulation of the appropriate government and fee revision shall be subject to laws, regulations and directions of the appropriate government. Also, for the first time, the byelaws encourage schools to promote environmental conservation through harnessing solar energy, rain water harvesting, greening of campus, recycling and segregation of waste, Swachhata on campus, etc.
It may be mentioned here that CBSE has 20783 schools affiliated to it in India and 25 other countries, with over 1.9 crore students in these schools, and more than 10 lakh teachers. The revised bye laws will positively impact the existing and future schools by easing procedures and redirecting their focus towards improving the quality of education.
Indian Debating League 2023 Concludes After 6000 Debates Across 450 Schools, at IIT Delhi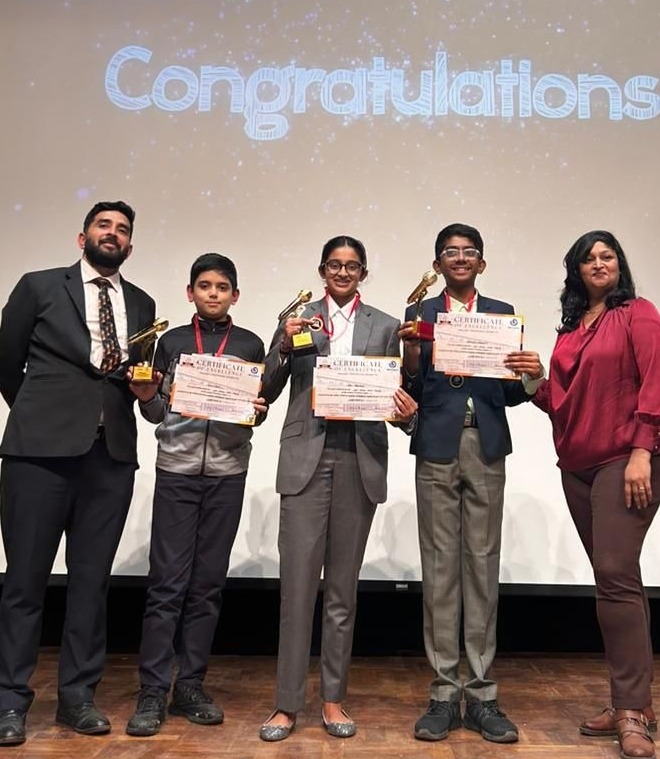 In a thrilling, high-energy competition, the Indian Debating League (IDL) 3.0, which brought together 450 schools across 25 States and Union Territories across the country, successfully concluded its highly anticipated Finale at IIT Delhi today. Team Maharashtra won the coveted title of Indian Debating League in the Middle school category (IDL) 2023- 3rd Edition while Team Haryana stood first in the Junior & Senior school category. This event has not only showcased the remarkable talent of our nation's young debaters but also underscored the importance of exploring our cultural roots across the Eras and reclaiming our heritage. The event promised a dynamic exchange of ideas, with a distinguished panel of Judges from IIT DebSoc. Global Language learning leader, Burlington English and Indian Debating League (IDL) hosted the finals of the Indian Debating League at IIT Delhi.
This year's edition attracted participation from schools from all corners of India, including Vasant Valley, New Delhi; Step by Step, Noida; Strawberry Fields High School, Chandigarh; Dhirubhai Ambani International School, Mumbai; Learning Paths School, Punjab; Jammu Sanskriti School; Kanha Makhan Public School, Vrindavan; Billabong High International, Jabalpur; American International School, Chennai; Woodstock School, Mussoorie; NASR School, Hyderabad and Jayshree Periwal International School, Jaipur.
Amit Baveja, MD, Burlington English India said, "As we conclude the exhilarating journey of the Indian Debating League 3.0 Finals, Burlington English is proud to stand alongside IDL and IIT Delhi in fostering a culture of eloquence, critical thinking, and collaborative learning. As an extension to our commitment towards the New Education Policy 2023 that strongly emphasizes developing oral, written, and digital communication skills, to enable effective expression of ideas and collaboration among students, we align seamlessly with the spirit of this competition. We believe that through platforms like IDL, we are not just shaping skilled debaters but contributing to the development of articulate leaders for tomorrow."
Renowned and celebrated for fostering 21st-century skills in a gamified, engaging format, the Indian Debating League is a unique format modeled on the IPL. Having partnered with Debate Coaches from the top 10 countries on the WSDC Leaderboard, they are keen to put Indian Student Talent on top, tangibility ensuring recognition.
Commending the IDL 3.0 Finale, Rajnish Kumar, co-author of "The Power and Curiosity" and COO, of National e-Governance Division, Digital India Corporation said "Curiosity and the art of debate are two powerful forces that drive intellectual exploration and foster a deeper understanding of the world around us. These interconnected aspects of learning not only stimulate critical thinking but also ignite a passion for knowledge and discovery. When combined with the art of debate, curiosity becomes even more potent. Debates like this can empower individuals to become lifelong learners, critical thinkers, and active participants in shaping a more informed and inclusive society.
Kamal Kashyap, Founder, and CTO of, Indian Debating League said, "In a month the Olympics of Debating will happen at WUDC Vietnam, setting the trend for the hiring of University Coaches at Harvard, Stanford, and Oxford, as well as National Debate Coaches and Judging Paradigm for contemporary themes around the world. Our national Debating Leagues like IDL 3.0, Republic Day Forensics, Frankenstein Sustainability, as well as mentoring the 350+ Adjudicator Landscape for India is the foundation upon which we look forward to leapfrog in building future skills."
The final Event at IIT Delhi was an electrifying display of oratory skills by contestants from 3rd to 12th grades, engaging with the theme The Odyssey of India- Ancient India to AI Led India, rethinking culture and reclaiming our heritage.