CBSE to Conduct Board Exams For 29 Subjects
CBSE directs its affiliated schools to promote all students of classes I-VIII to the next class/grade.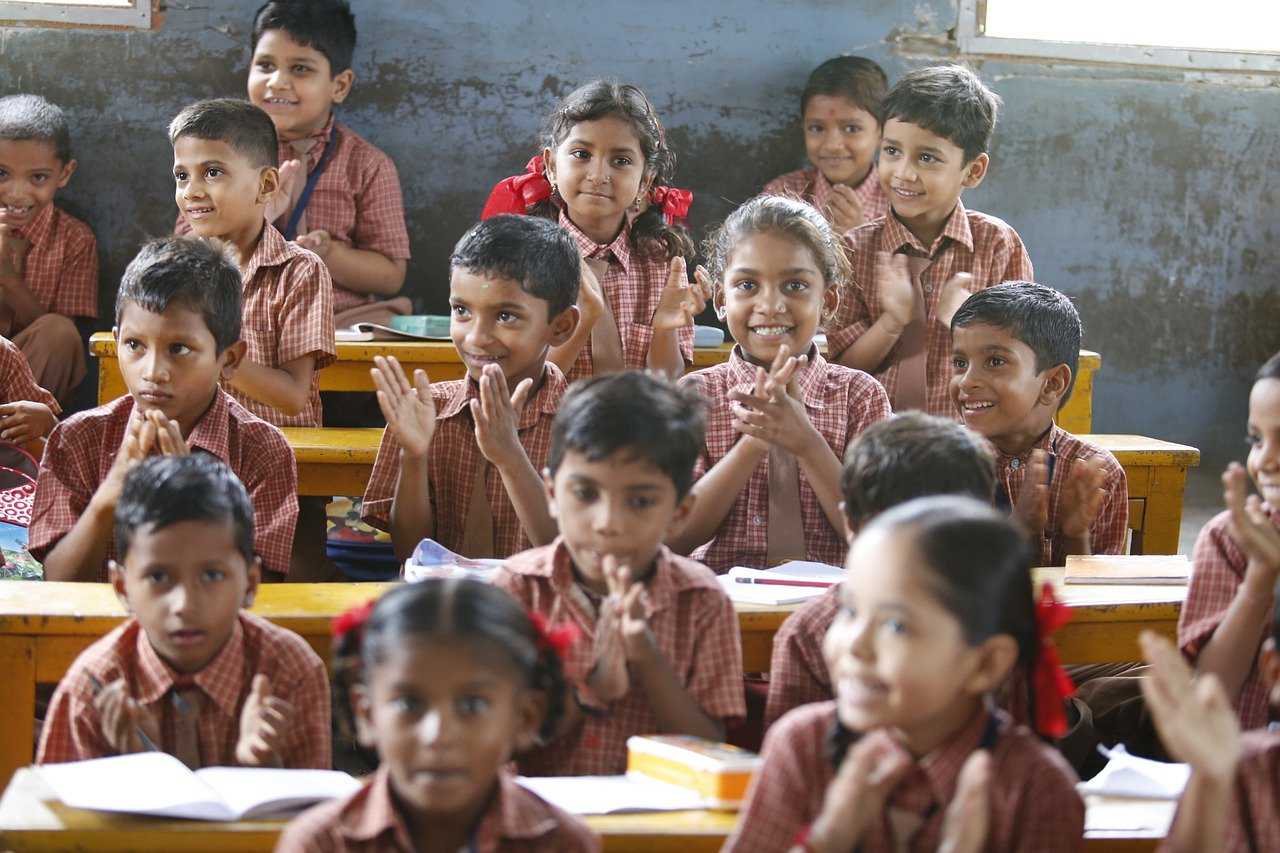 Union Human Resource Development Minister Shri Ramesh Pokhriyal 'Nishank' has advised CBSE to promote ALL students studying in classes I-VIII to the next class/grade in view of the current situation due to COVID-19. He also advised the board students studying in classes IX & XI will be promoted to next class/grade based on the school-based assessments including projects, periodic tests, term exams, etc. conducted so far. The Minister also recommended to conduct board examinations only for 29 main subjects that are required for promotion and may be crucial for admissions in HEIs, and for rest of the subjects, the Board will not hold examinations; the instructions for marking/assessment in all such cases shall be separately issued by the Board.
As a precautionary measure and in compliance of the instructions received from Ministry of HRD, Government of India, dated 18th March 2020, CBSE had postponed all the board examinations that were to be held between 19.03.2020 to 31.03.2020. It was informed in the Board's press release dated 18.3.20 that "date sheets for the rescheduled board examinations shall be communicated by the board through its website and press release after re-assessment of the situation."
The Board is committed to the academic welfare of its students; therefore, the Board is constantly assessing the situation and is keen to mitigate the anxiety of the students, parents, and schools. As per the suggestion of HRD Ministry in view of the prevailing extraordinary circumstances of the worldwide spread of COVID-19 and the countrywide lockdown, and in view of the queries raised by our stakeholders regarding the academic future of students, the Board advises/informs all schools affiliated to the Board as follows as a one-time measure:
1. For classes 1 to 8: All students studying in classes 1 to 8 may be promoted to the next class/grade. This advisory is being issued in consultation with NCERT.
2. For classes 9 and 11: It has come to our notice that though several schools affiliated to CBSE have completed their examination, evaluation and promotion process for students who were studying in grades 9 and 11 in the 2019-20 academic session, there are several schools that have not been able to do so. This includes among others, Kendriya Vidyalayas, Navodaya Vidyalayas, State/UT government schools, private schools, schools located in India and abroad, etc. All such schools are advised to promote students of grades 9 and 11 to the next grades on the basis of all the school-based assessments including project work, periodic tests, term exams, etc. conducted so far. For any child who is unable to clear this internal process, (in any number of subjects), the school may utilise this period for providing remedial interventions, and school may give the opportunity of appearing in school-based test/s, online or offline. The promotion of such children may be decided on the basis of such tests.
3. Schedule for class 10 and 12 board exams: With regard to rescheduling board examinations for classes 10 and 12, it is informed that at this stage it is difficult for the Board to decide and announce the new schedule for examinations. However, it is informed that any decision that the board will take with regard to the conduct of examinations will be taken by undertaking extensive consultation with higher education authorities and by keeping all aspects related to entrance exams, admissions dates, etc. in mind. In this context, it is further informed that the Board will give notice of about 10 days to all stakeholders before starting the Board examinations.
4. Subjects for Board exams: It is informed that the Board was not able to conduct exams on 8 examination days due to the COVID-19 pandemic situation. Further, due to the law and order situation in North East Delhi District, the board was not able to conduct exams on 4 examination days, while a very small number of students from and around this District were not able to appear in exams on 6 examination days.
Considering the extraordinary circumstances, the Board has been forced to review its policy in this regard. Under ordinary circumstances, the Board would not have hesitated to conduct all examinations that could not be held after 18th March 2020 or are postponed for other reasons. But in the present situation, the Board has decided as follows:
The Board will conduct examinations for only main subjects that will be required for promotion and may be crucial for admissions in higher educational institutions.
For the rest of the subjects, the Board will not hold examinations; the instructions for marking/assessment in all such cases shall be separately issued by the Board.
Therefore, as and when the Board is in a position to hold examinations, it shall hold examinations only for the following 29 subjects:
Subjects of class 10 for which exams will be held

Subjects of class 12 for which exams will be held

To be conducted for whole of India

To be conducted for North East Delhi

To be conducted for whole of India

To be conducted for North East Delhi

Nil

1.Hindi Course A,

2.Hindi Course B,

3.English Comm,

4.English Lng & Lit,

5. Science,

6.Social Science

1.Business Studies,

2. Geography,

3.Hindi (Elective),

4.Hindi (Core),

5.Home Science,

6.Sociology,

7.Computer Science (Old),

8.Computer Science (New),

9.Information Practice (Old)

10.Information Practice (new),

11.Information Technology, 12. Bio-Technology

1.English Elective – N,

2. English Elective -C,

3. English Core,

4.Mathematics,

5. Economics,

6.Biology,

7.Political Science,

8.History,

9.Physics,

10.Accountancy,

11.Chemistry

Nil

06

12

11
5. CBSE schools in foreign countries: There are several CBSE schools located in 25 countries. Each of these countries is also under lockdown and/or have decided to close down the schools for various and differential lengths of time. Under such circumstances, it is felt that the Board will not be in a position to hold a differential set of exams for each of these countries. Also, in the present situation, it will be difficult to bring the answer books to India for evaluation purposes. Therefore, the Board has decided to not hold any more exams for the students of class 10 and 12 schools located outside India. The system of marking/assessment for the purpose of declaring results will be worked out by the Board shortly and informed to these schools.
6. Evaluation work: Due to the present situation, the Board has not been able to continue its evaluation work. The Board will come out with further instructions for evaluating in the changed circumstances. These instructions and dates for a restart of evaluation work in various evaluation centres in the country can also not be announced at this stage. However, the Board will give 3-4 days' notice to restart the evaluation work, which may be noted by all the Chief Nodal Supervisors, Head Examiners, Evaluators, Coordinators, etc. of Evaluation Centers.
7. Avoid rumours: To avoid being misled by rumours, all stakeholders are hereby being informed to only trust the official announcements by the Board that are made on the Board's website. All are requested to check for latest developments only on the Board's website, that is www.cbse.nic.in or its social media as follows:
8. Schools to inform all students: All schools are requested to ensure that this information is disseminated to all concerned students by the respective schools.
NIOS celebrates 33rd Foundation Day
Dr. Subhas Sarkar addresses the 33rd Foundation Day Celebrations of NIOS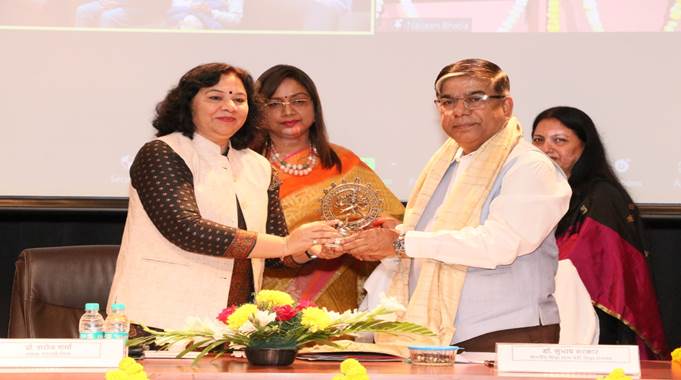 Union Minister of State for Education, Dr. Subhas Sarkar addressed the 33rd Foundation Day Celebrations of NIOS as the Chief Guest.
The function was attended by senior officials of the Ministry of Education, Chairpersons of educational institutions, Heads of Departments, officers, and staff of NIOS. Prof. Naval Kishore Ambasht, former Chairman, of NIOS and Pro-Vice Chancellor, of the Central University of Haryana, Prof. Sushma Yadav graced the occasion.
Dr. Subhas Sarkar in his address appreciated the various programmes and schemes of NIOS and said that NIOS is lighting the lamp of knowledge all over the world. Talking about the Azadi Ka Amrit Mahotsav, he mentioned that today's children will be young people in the age group of 30-40 years on the completion of 100 years of independence and will be responsible for building our nation.
He said that the Ministry of Education has entrusted NIOS with several responsibilities such as developing inclusive education resources, expanding the open and distance education system in states/UTs, translating all courses into more languages as required, creating Indian Knowledge Tradition based courses and propagating Indian culture by translating them into major foreign languages. He also praised the programmes of NIOS enrolling 10 crore adults under 'Basic Literacy Assessment', training of in-service teachers, Gender Green Project, and training in Yoga. He said that Indian Sign Language as a subject at the secondary level has been acknowledged on national and international platforms. He described the launch of an e-library called 'DEEP' by NIOS as a big step forward.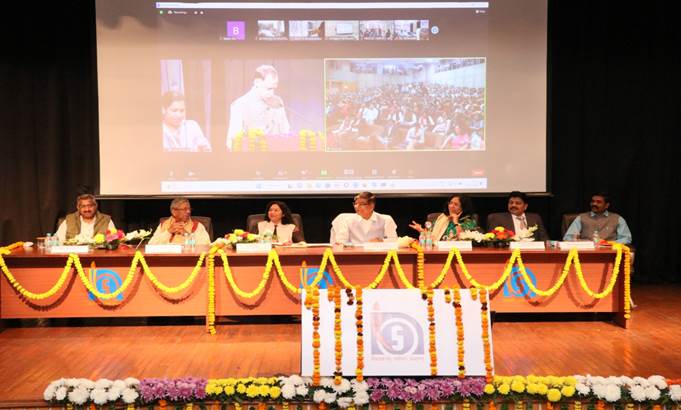 Prof. Saroj Sharma spoke about the journey of 33 years of NIOS and highlighted the special achievements. She said that NIOS is one of the two National Boards of Education under the Ministry of Education, which provides school education through Open and Distance Learning (ODL) for secondary, senior secondary, and vocational education. She elaborated on the role of NIOS in the field of education, efforts being made by NIOS for the successful implementation of the New Education Policy, Virtual Open School, Digital Library (DEEP), NEPIA Project, MoU with Ministry of Defence for Agniveer Project, setting up of Mukta Kaushal Kendras and subjects offered under Indian knowledge Tradition.
It was also conveyed by her that a curriculum called 'Aarambhika' is being developed by NIOS for catering to the Indian Diaspora.
A documentary based on the journey of 33 years of educational endeavours of NIOS was presented on the occasion. In this documentary, 'All England Badminton winner Pullela Gopichand said that most of the players in his badminton academy are getting an education from NIOS.
NIOS alumni, Ms. Niranjana and Vinod Kumar Chaudhary were also felicitated on the occasion. Shri Vinod Kumar said that only due to his education in NIOS, he was able to get the credit of making the Guinness Book of World Records 10 times (8 in Typing and 2 in sports). A proud learner of NIOS, Ms. Niranjana is a successful ventriloquist. Prof. N. K. Ambasht, former Chairman, NIOS said that in this age of technology, innovations must lead to developing 'standalone' courses for the Indian Diaspora, to achieve the goals of the National Education Policy- 2020. Pro-Vice Chancellor, Prof. Sushma Yadav said that the role of NIOS increases in the light of New Education Policy. NIOS has such potential that the institute will be able to achieve the ambitious goals of National Education Policy 2020 in the coming years.
The half-yearly magazine of NIOS 'Pragyan' was released by Dr. Subhas Sarkar on this occasion.