Children must learn a wide range of skills to make them future-ready
It is very important to understand the effect of technology on society in order to understand the skills that will be required by students in the future.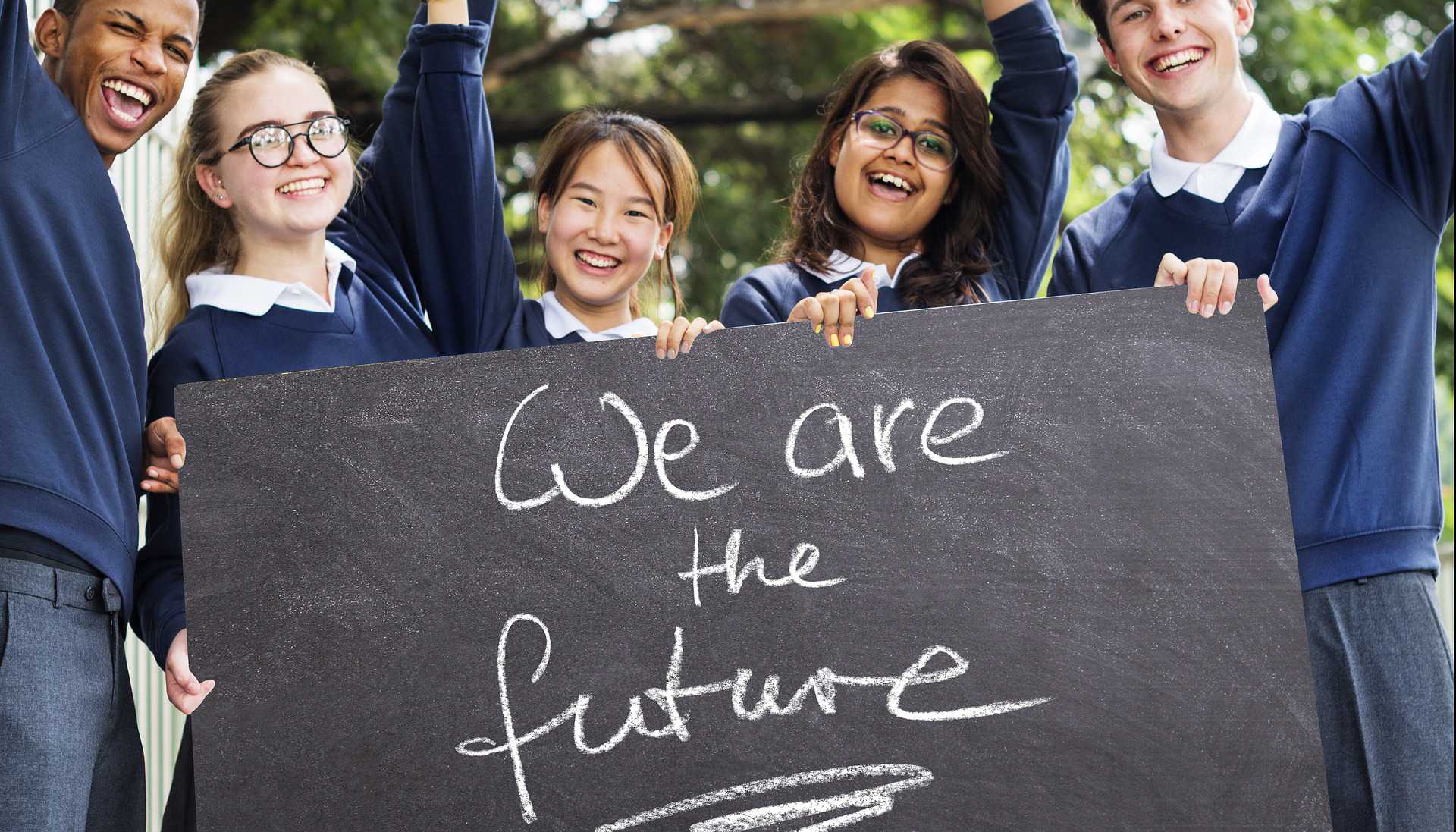 In a world that is driven by technology, our education sector is also adapting to the trend of basing innovations on technology. Educators are trying to include interactive, creative and technology-based tools in order to enhance learning and teach children major life-skills that are a must for the child to possess for a career in the 21st century.
The workforce sector is evolving as well. With the world moving towards a tech-first approach to life, more and more jobs in the STEM (science, technology, engineering and mathematics) space are cropping up. Innovation and leadership are two of the most basic qualities that entrepreneurs today need to possess. On the other hand, organisations are on the lookout to hire professionals who have a creative mindset and are skilled at problem-solving, critical thinking and logical reasoning.
Therefore, it is imperative to understand the need to develop an optimal academic environment in order to promote learning of the above-mentioned skills. Our education system has been trying to incorporate curriculums to help children learn a wide range of skills and make them future-ready.
The goal is based on two things; firstly, to introduce subjects and topics that will fuel a child's imagination and creative thinking, secondly, to focus on learning methods that will push children towards developing the required skills of problem-solving and critical thinking.
Keeping this goal in mind, the focus of our curriculum being imparted by the educational organisations to students is also shifting to STEM (science, technology, engineering and mathematics). More and more schools are adopting the STEM studies in order to promote learning of ideas as well as skills that will make the children equipped for the real world.
The study of STEM subjects is proven to be a more engaged method of learning and has shown to improve life-skills plus bring out the creative side of students. As mentioned above, the approach is as important as the subject. Using innovative methods to build a learning platform that will keep the children engaged and make them want to learn is the need for the hour. The approach will also make the students develop a positive relationship with learning and make them feel open to welcome the process anytime there is a need for it in the future.
School life, as we know it, is very different for the current generation as compared to the past generations. Education used to just be about a classroom, a teacher, a blackboard, a book, and a student; this has transitioned to something completely different today and teachers, as well as educational organisations, are going out of their way to improve and introduce methods and subjects that will help them prepare their students better.
We have started banking on tech-first solutions to accommodate the need for better learning. Content is being made available online and in different mediums for easy access, it is also being made more interactive in order to focus on skilled learning. Teachers and educators are using innovative and engaging methods of learning to maintain the interest of students. They think the study of STEM will benefit students in the following skillset which are the base for a strong foundation that every student needs:
Critical, creative and innovative thinking: Students learn to identify, induce and deduce the solution, ideas and methods to determine if certain goals and requirements will be met and develop new strategies if the need arises.
Problem-solving: Students learn to identify, analyse and evaluate problems and develop creative, practical solutions to eliminate the problem. This skill can be imparted in teams or groups too.
Communication: Students learn to communicate clearly and openly in order to collaborate with other members. To stress on the idea of listening is as important in communication as understanding and speaking are.
Teamwork: Students learn to work effectively in teams with different people. To also make them understand how to lead a team and how to be a part of one.
Life-long learning: Students learn to understand the need for learning throughout life and adapt to change when it happens. To focus on learning from experience and knowledge of others later in life.
Educators today feel it is important to start the process of cultivating these skills in students as early as possible. To achieve the same, the education industry is going through a major change and coursework plus the curriculum is seeing an upheaval on all levels of the education system.
It is very important to understand the effect of technology on society in order to understand the skills that will be required by students in the future. We expect our teachers, professors, administrators, and policymakers to understand this and innovate the theory and practice of teaching and learning to ensure quality education.
This education is essential for our 21st-century students to ensure that they garner and excel in skills involving innovation, creativity, and use of technology to be able to work and survive the future that is in store for them.
About the author:
Ammara Habib is Head of Business, Mad About Ed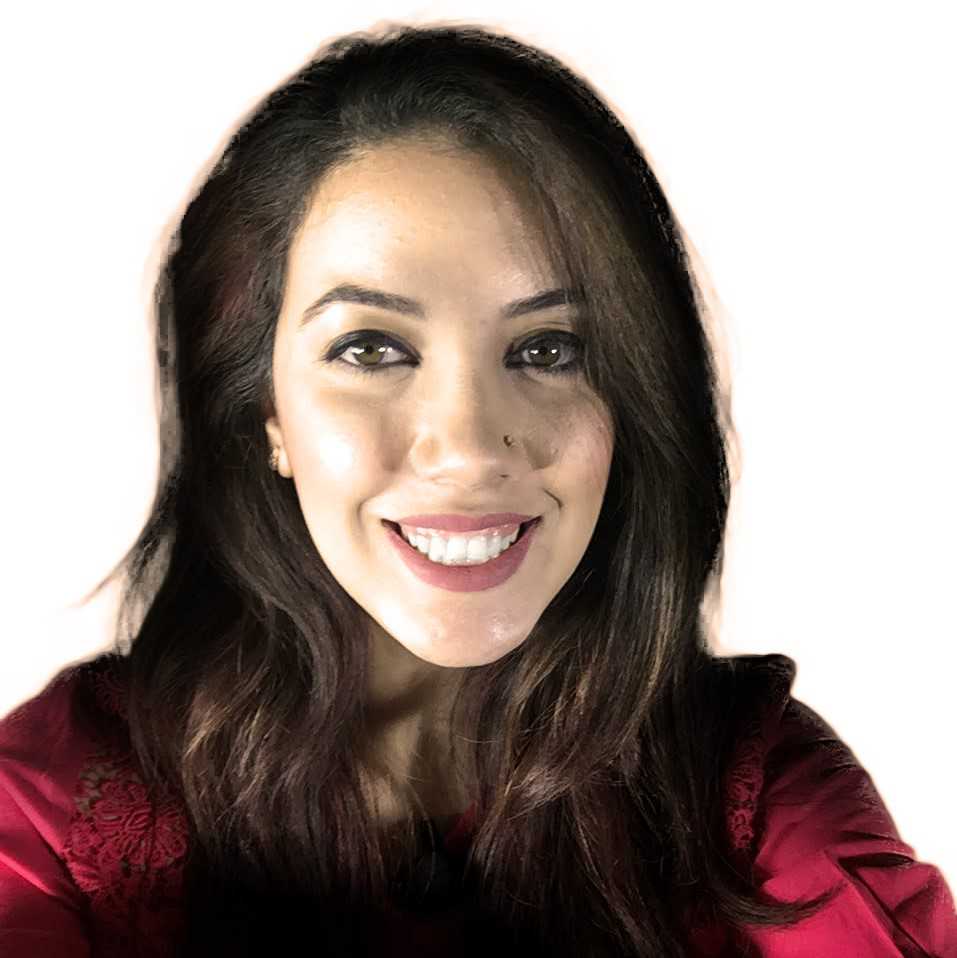 What is Hybrid/Blended Learning?
We are lifelong learners and need to keep pace with the fast-paced technology so that our students are ready to take the next leap. Our classrooms have to echo that thought and vision at all times through new pedagogies and teaching-learning strategies.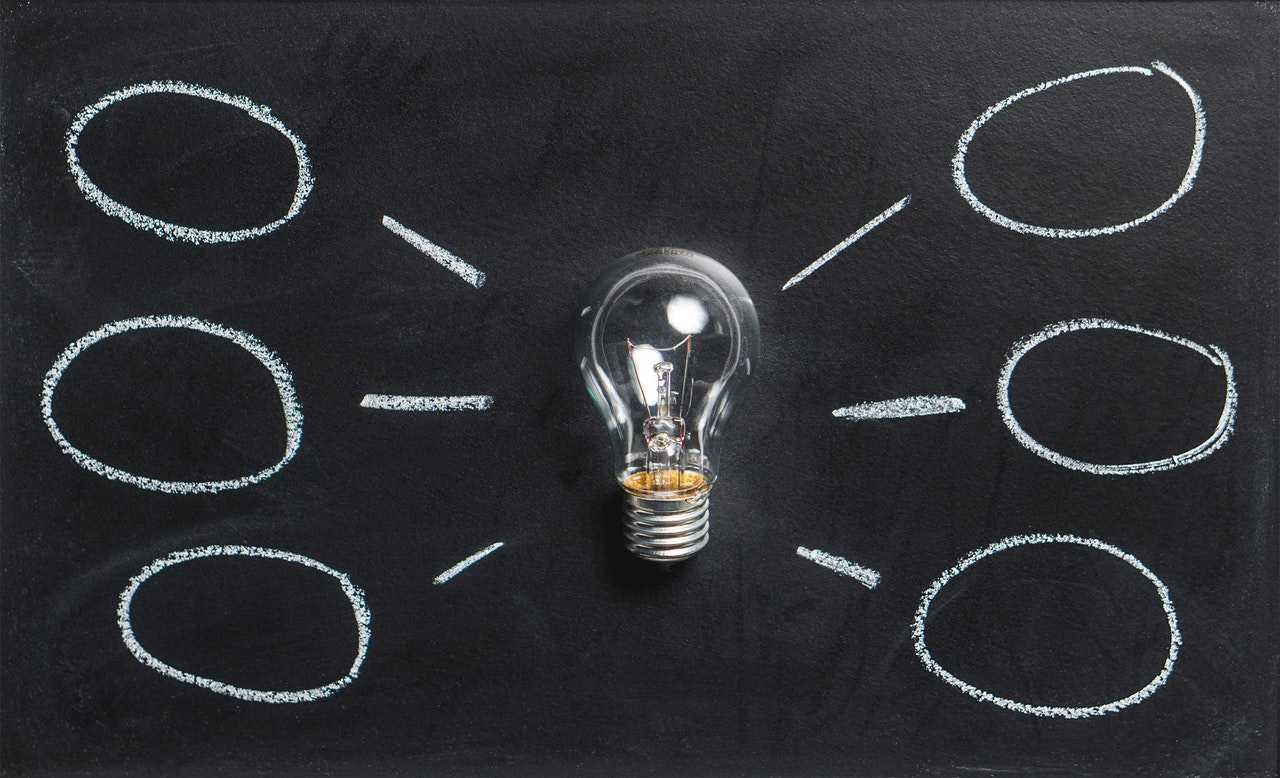 The COVID wave – consider it a bane or boon – but it somersaulted us to an array of digital world experiences. It propelled us to rethink and reorganize our mindsets, our practices, and our expectations. Overnight, we moved from an offline teaching mode to online, and credit to the teaching community for doing it so seamlessly. Now, we are back to offline teaching but do we continue with our old practices? An obvious no so we need to infuse our online experiences within the offline to ensure that quality education reaches one and all.
One key pedagogy to achieve the goal is blended learning, an approach that combines face-to-face learning with online learning incorporating certain elements that support students to have control over the pace, time, and place. The material resource investment is minimal but human resource investment is high till the ethos is assimilated within all.
So let's understand the varied types of blended learning and its implementation in the school teaching-learning process.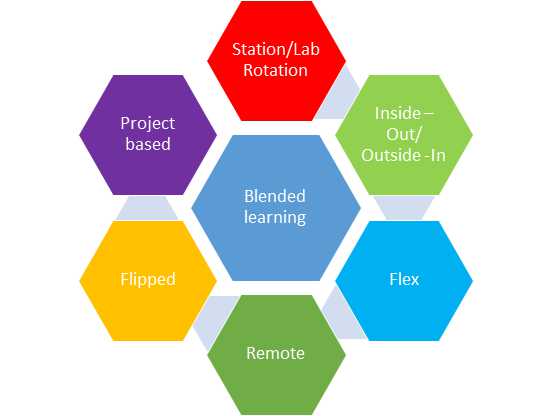 1. Station Rotation
In Station Rotation, students will rotate on a fixed schedule as per the teacher's discretion. The teacher begins her class of 40 students with instruction on narrative writing from 9:00 am to 9:15 am. She then splits the class into three groups where one group continues to learn with her. The second group works on a collaborative assignment on narrative writing and the third use their laptops or computers placed in the class and researches blended learning and after 15 minutes the group switches so that every group has varied experiences. A block class of English can support the various transactions and supports students to build research, collaborative and knowledge skills.
In the same format, if computers or laptops are not available in class then students use the computer laboratory in school and this rotation would then be called as Lab Rotation.
In this methodology, all students with varied learning needs are supported. The only challenge is the Technology and time management skills.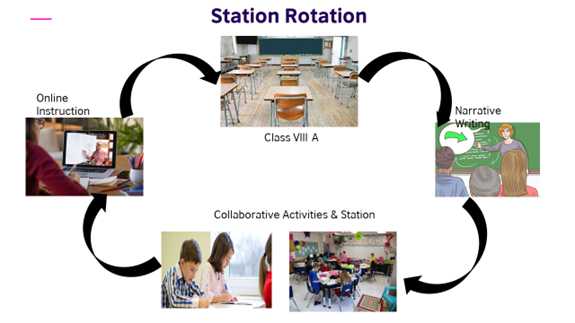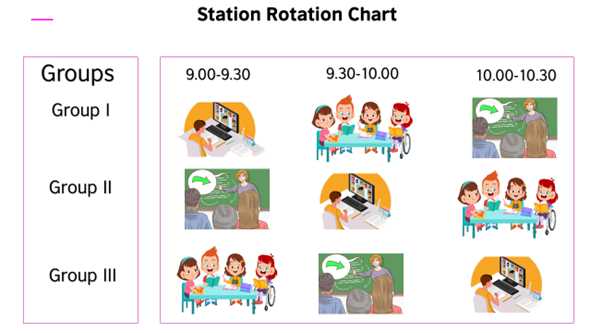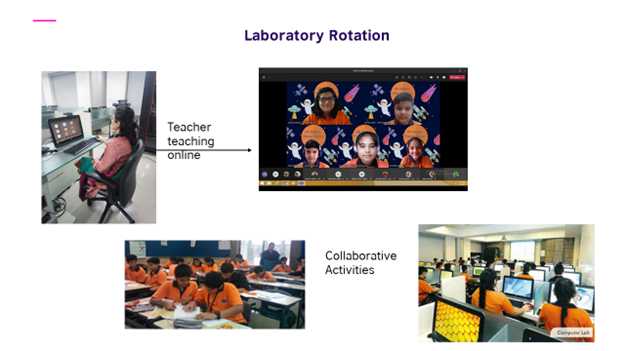 2. Remote & enriched virtual learning
It is a course or subject in which students have required face-to-face learning sessions with their teacher of record and then are free to complete their remaining coursework remote from the face-to-face teacher. In class, the teacher gives a project to students on 'Analysing any work of Shakespeare's or Rabindranath Tagore's Kabuliwalla' w.r.t. the criterion of plot, characters, theme, language, thought and values.
She briefs students on works of Shakespeare and the elements of a play within the school timetable and they complete all the work at home.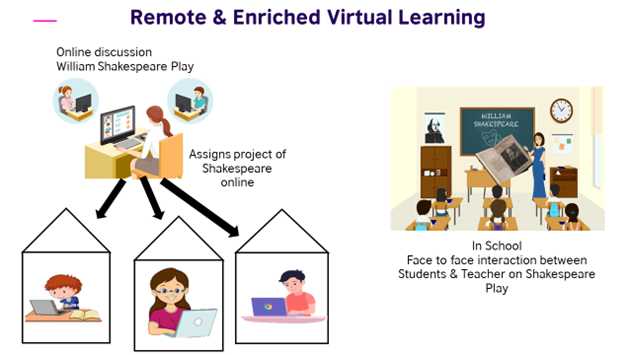 3. Flex blended learning
During certain weekends if the teacher wishes to support the students further in class especially if the concept has been challenging or students have underperformed in an evaluation, the teacher records her remedial teaching and uploads in-class computers. She designs a task around remedial teaching. She expects students to report to school wherein students enter the class on their own time, access the teaching, complete the task and leave. If they have any further doubts, they could approach the teacher in the school or their peers. A useful TIP would be for the teacher to Collaborate with their colleagues in club activities.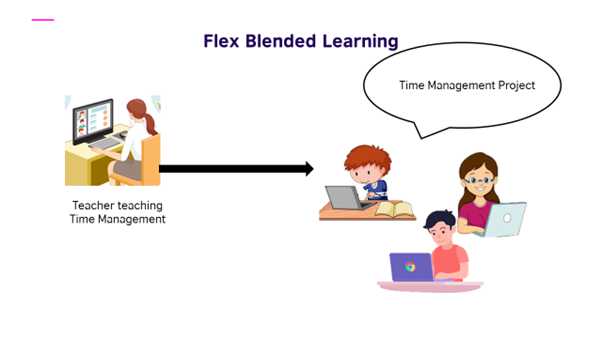 4. Flipped learning
As per TeachThought, a flipped classroom is a type of blended learning where students are introduced to content at home and practice working through it at school. This is the reverse of the more common practice of introducing new content at school, then assigning homework and projects to be completed by the students independently at home.
This methodology is most useful when you want students to have some knowledge of the content before analyzing it further. So if a teacher wishes to conduct a 'Book review'. She shares the e-book, 'Totto-chan' with the students. She asks them to read and shares certain discussion points. In school, students discuss the book and write personal book reviews. The teacher has used her class time constructively and has been to achieve greater learning outcomes.
5. Individual rotation blended learning
As per https://www.blendedlearning.org/models/, the Individual Rotation model allows students to rotate through stations, but on individual schedules set by a teacher or software algorithm. Unlike other rotation models, students do not necessarily rotate to every station; they rotate only to the activities scheduled on their playlists.
The teacher allows students to rotate through different kinds of classrooms called stations. A specific ILP [Individual learning plan] is created for each student. For example: Parth and Mona's examples work on clauses, Mona is struggling with Clauses so she attends classes and solves assignments whereas Parth will attend classes, watch a few videos, and also complete a research project on clauses. Thus the teacher knows her students' skills in greater depth and supports them individually to achieve her target learning outcomes.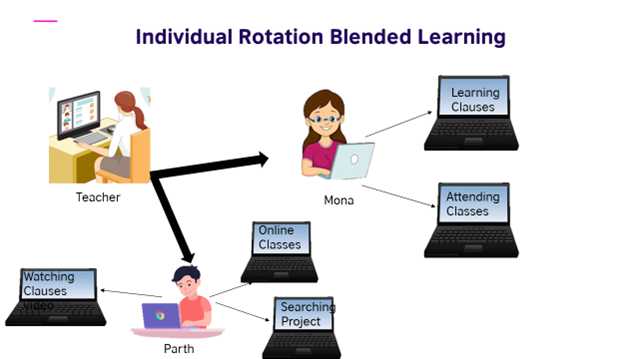 6. Inside-out and outside-in blended learning
In Inside-out, teaching and learning begin inside the classroom and move to an outside environment and in an outside-in classroom, it begins in an outside environment and moves inside the classroom. In a class environment, the Teacher discusses with students about 'Sound of Music' in class and ends the lesson by taking them to the theatre to watch the play. In Outside-In, Students watch the play in a digital environment and end the lesson in a physical environment by conducting role-plays.
The list of models is many but one has to review their resources and plan accordingly.
One can mention that they may face challenges in terms of technology, lack of training on digital platforms, lack of resources to create self-paced learning environments, or time management with vast syllabuses to complete.
Certain tips that can come useful are:
1. Teachers can begin with easily available digital content like Khan Academy, Pinterest, discovery Education, PBS Learning Media, and much more.
2. Review the available resources and plan a timetable. Most importantly, a team achieves more so collaborate with your colleagues in club activities.
3. Take small simple steps – "The journey of a thousand miles begins with one step." Lao Tzu. Choose the model that you are comfortable executing and then move forward.
As teachers, we are ever-evolving and we are that one profession that creates more professions so our responsibility and accountability stretch beyond the classroom. We are lifelong learners and need to keep pace with the fast-paced technology so that our students are ready to take the next leap. Our classrooms have to echo that thought and vision at all times through new pedagogies and teaching-learning strategies.
References:
Christensen Institute, Blended Learning definitions, https://www.christenseninstitute.org/blended-learning-definitions-and-models/
About the author:
Kavita Sanghvi holds a Masters in Physics, Masters in Education, Masters in Philosophy of Education, and CAEL [Certificate in Advanced Course in Educational Leadership] Diploma from Harvard University. She heads SVKM's CNM School, in Mumbai. She is a Teach SDG's Ambassador, Climate Action Ambassador, and Scientix Ambassador for India. She is a British Council Trainer and Ambassador.