Children's book fair spellbinds kids, and adults
Bookaroo, the largest ever children's festival, has reached Jaipur, hypnotizing the city! Literature, books, activities, basically a place for every kid to be at.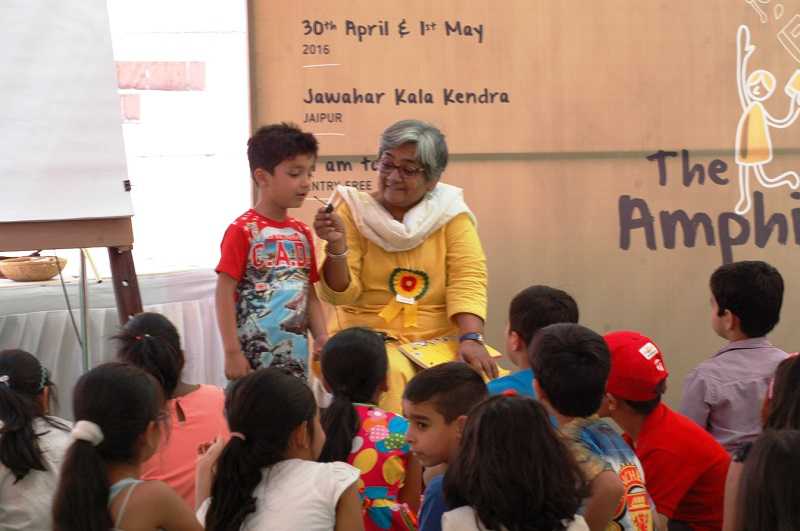 Jawahar Kala Kendra, Jaipur, proved out to be a pandora box today as Bookaroo, a children's literature festival, kicked off today morning.The venue and day was a celebration today, celebration of literature, stories, books, workshops, craft… all for kids. With as many as 3000+ children from as many as 17 schools and NGOs from Jaipur and near-by places, the very first day of the festival was certainly a huge hit.Every hour spent at the festival today tingled the imagination of children as parents too were delighted to see them participating and interacting. Activities ranging from interactions with authors and storytellers to workshops on crafts and doodles kept the children too busy, yet relaxed and imaginative even though the nature did show no mercy!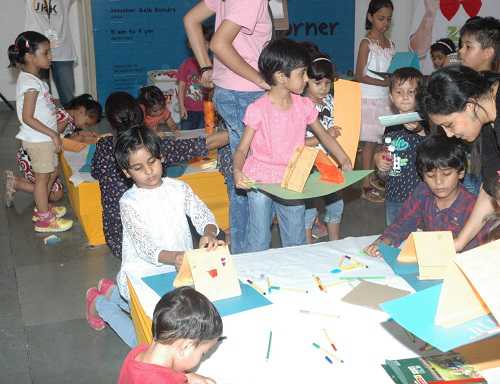 Story-telling activity was the most participated-in, as Kahani Tree saw the maximum number of children with Ajay Dasgupta, Rituparna Ghosh and Ramendra narrating the most interactive stories. After his first story Kaun buddhu and kaun chalak, Ajay Dasgupta was in love with the children as the children, never being shy with this spontaneous story teller, fell in love with him. Other stories being narrated were A tiger's tale by Sandha Rao, There's a poem in my brainbox by Jerry Pinto, India its wildlife and its conservation by Deepak Dalal, The serpent hunters in the backyard by Arefa Tehsin, A ghost called fachaak by Ramendra Kumar; Performing Nehru at JKK theatre by Parnab Mukherjee amongst others.
Crafty corner and the Doodle wall saw amazing enthusiasm from kids as they painted away their way to the world of creativity and freedom. Painting the wall, DIY craft sessions, collage making, drawing drew the maximum number of children. Crafty Corner included sessions such as The seven storied house by Debjani Mukherjee and Birdie book by Priya Kurien. The Doodle Wall included interactive sessions on Dancing doodle by Kavita Singh Kale, Happiness is… by Vagmi Raghava, The wonderful world of Phad by Kalyan Joshi and When I grow up by Priya Kurien.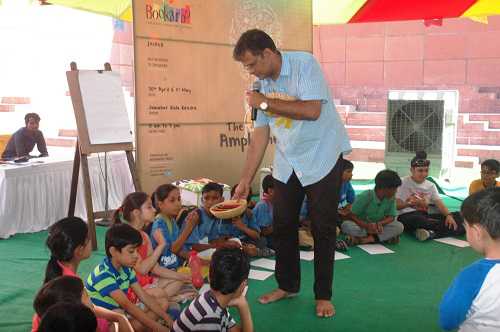 Talking about the first ever children's literature festival in the Pink City was Jerry Pinto after his session, when he said, "There is no place like JKK in Delhi or in Bangalore or anywhere in India. I urge Jaipurities to utilize this beautiful architectural wonder to its full potential for promotion of art culture and theatre."
There also was a painting exhibition by collaboration between The Japan Foundation, New Delhi and JKK, Jaipur, where illustrations and painting by the renowned award winning Japanese artist and illustrator of children's book, Chiharo Iwasaki and the works of other picture book artists from Japan brought several young art enthusiasts.
Waiting for more, see you there tomorrow!
ASER2022 – The 'Asar (impact)' of the Pandemic
The ASER report shows the 'asar (impact)' of the pandemic and years of neglect of early years education.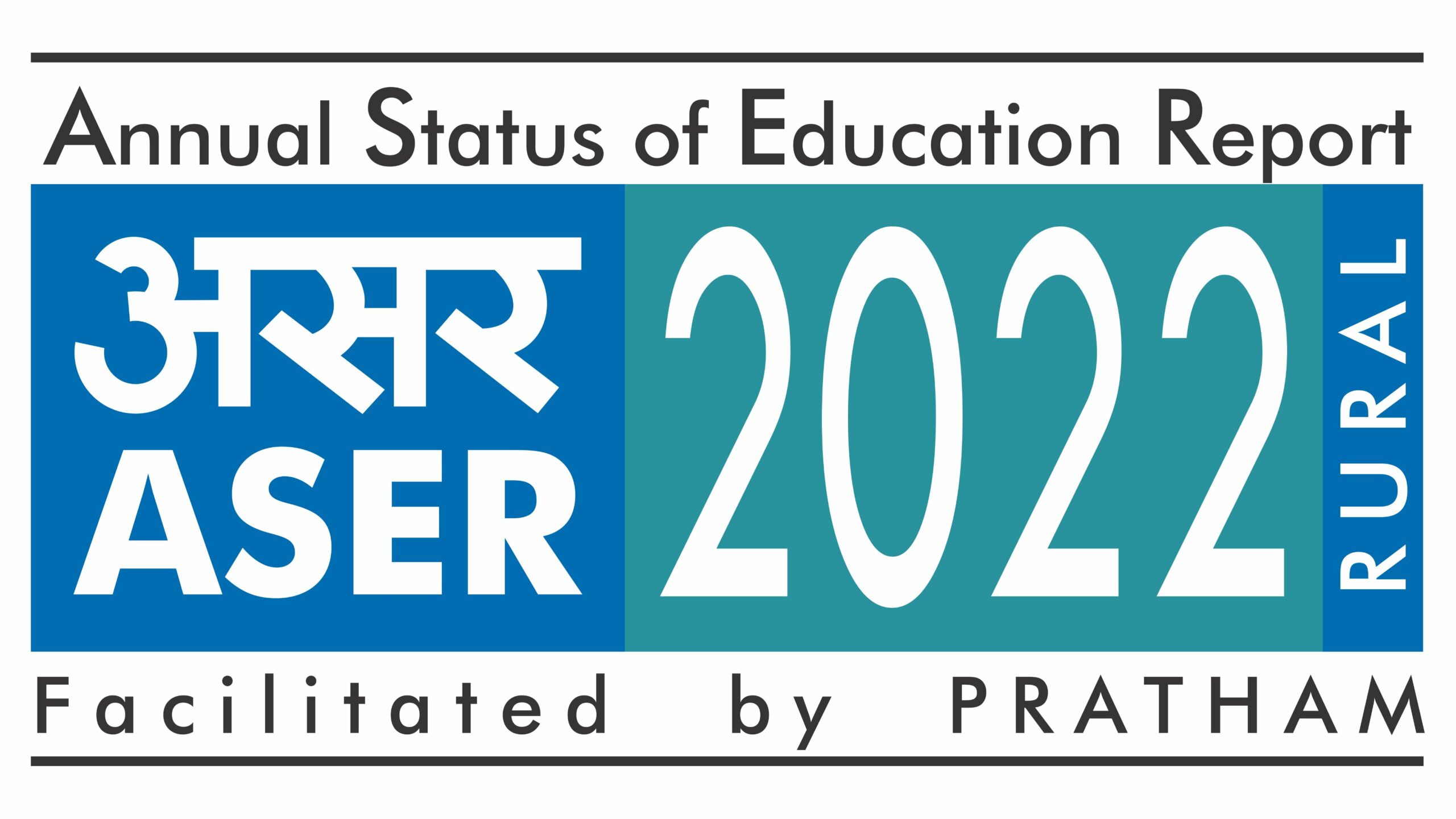 The ASER a very comprehensive report on education outcomes in government schools is out and as usual, the press is lamenting the fact of how children of grade 4 cannot do division or how children of grade 2 cannot read!
Well, what most journalists, parents, and policymakers do not understand is that till the foundation is weak, the building will always have cracks and be structurally unsound!
And that is exactly what is the problem with education in our country, which hopefully will now be rectified with NEP 2020 and NCF 2022.
Of course, children in grade 4 cannot do division, because these children were not taught numeracy skills in their early years. Of course, they cannot read in grade 2 because they were not given foundational literacy in their early years.
But let's focus on the positives in the report, page 27 talks about the early years, it states the following-
  The new education policy and its foundational stage emphasis– The impetus for integrating preschool and school education took another giant step forward with the release of the National Education Policy, or NEP, in 2020. This new policy did three things simultaneously: it acknowledged the vital importance of early childhood education, elevated it to the status of school education, and integrated it into the continuum of educational opportunities offered to children. It did this by envisioning age 3-8 as a single integrated 'foundational' stage in a child's education, consisting of 3 years of pre-primary education and the first two years of primary school. This stage would offer a continuum of access, to be provided by expanding and strengthening the existing network of standalone AWCs, co-located AWCs, and pre-primary classes in schools; as well as a continuum of learning opportunities, to be achieved by developing a new curricular and pedagogical framework for the foundational stage.
  Enrolment of 3- and 4-year-olds increased – Many observers expected that after remaining closed for such a long period, children and their families would find it difficult to return to school, resulting in higher dropout rates and lower enrolments in educational institutions. An important finding that emerges for all age groups, including the youngest learners, is that this is far from the case.
  Shift from private to government, especially in early years-ASER 2022 enrolment data shows a shift from private to government institutions at all levels of schooling, unsurprising given the loss of livelihoods and financial distress experienced by households during the pandemic as well as the reported closure of many low-cost private schools. This pattern is visible among young children as well.
  Stress on the appropriate age of entry to grade 1-Major national policy documents – the Right to Education Act (2009), the Early Childhood Care and Education policy (2013), and the National Education Policy (2020) all reiterate that children should enter Std I of primary school at age 6. However, on the ground, institutional guidelines for what 5-year-olds can do vary both by the state as well as by type of institution. For example, ICDS Anganwadis offer preschool education to children in the 3-6 age group, while many state governments allow children to enter Std I at age 5. These ambiguities have resulted in 5-year-old children being enrolled in many different forms and levels of educational provision
It is clear from the above that if the focus, as defined in the NEP 2020, is given on the early years, 3-6 years then the learning foundation will be strengthened, and to do that all states need to do the following-
Uniform age of entry to grade 1 and nursery– Ensure that the age of entry to grade 1 is 6 and above and not 5. Sadly most of the states take children at age 5 in grade 1 and that robs them of a strong foundation in ECE and Foundational Literacy and Numeracy.
Ensure that Anganwadis are linked with the schools, so that transition is smoother both in settling and curriculum, this is clearly envisioned, planned, and detailed in the NEP 2020 with Balvatika and the new 5+3+3+4 age breakup, where 3 years of preprimary and 2 years of primary are clubbed together. But only 23 states have accepted the NEP 2020!
Train the teachers– Presently the Anganwadi teachers do not get training about ECE, they are involved in care, nutrition, health, election, and many other duties. The NEP 2020 has given a plan for teacher training too and it will soon be implemented. With trained teachers, children will learn in developmentally appropriate ways and then the ASER report would have more positives to celebrate.
ASER is always a wake-up call to our governments, SCERT, and policy makers, it's time that we wake up and implement the right age, curriculum, and teacher training in the early years to become a country that invests in its littlest citizens.
The author is Dr. Swati Popat Vats, a child rights activist with over 33 years of experience in early years education and research. She serves as President of Early Childhood Association and Association for Primary Education and Research. She leads over 500 preschools of Podar Education Network that are completely in line with NCF 2022 and FLN goals.