EDUGILD launches the 4th batch of its EdTech Business Accelerator Programme
With the launch of the 4th batch, EDUGILD now has a bouquet of 21 edtech startups of which 6 are from overseas and the rest from India. EDUGILD's program spans across multi-disciplinary engagements, customized for each startup.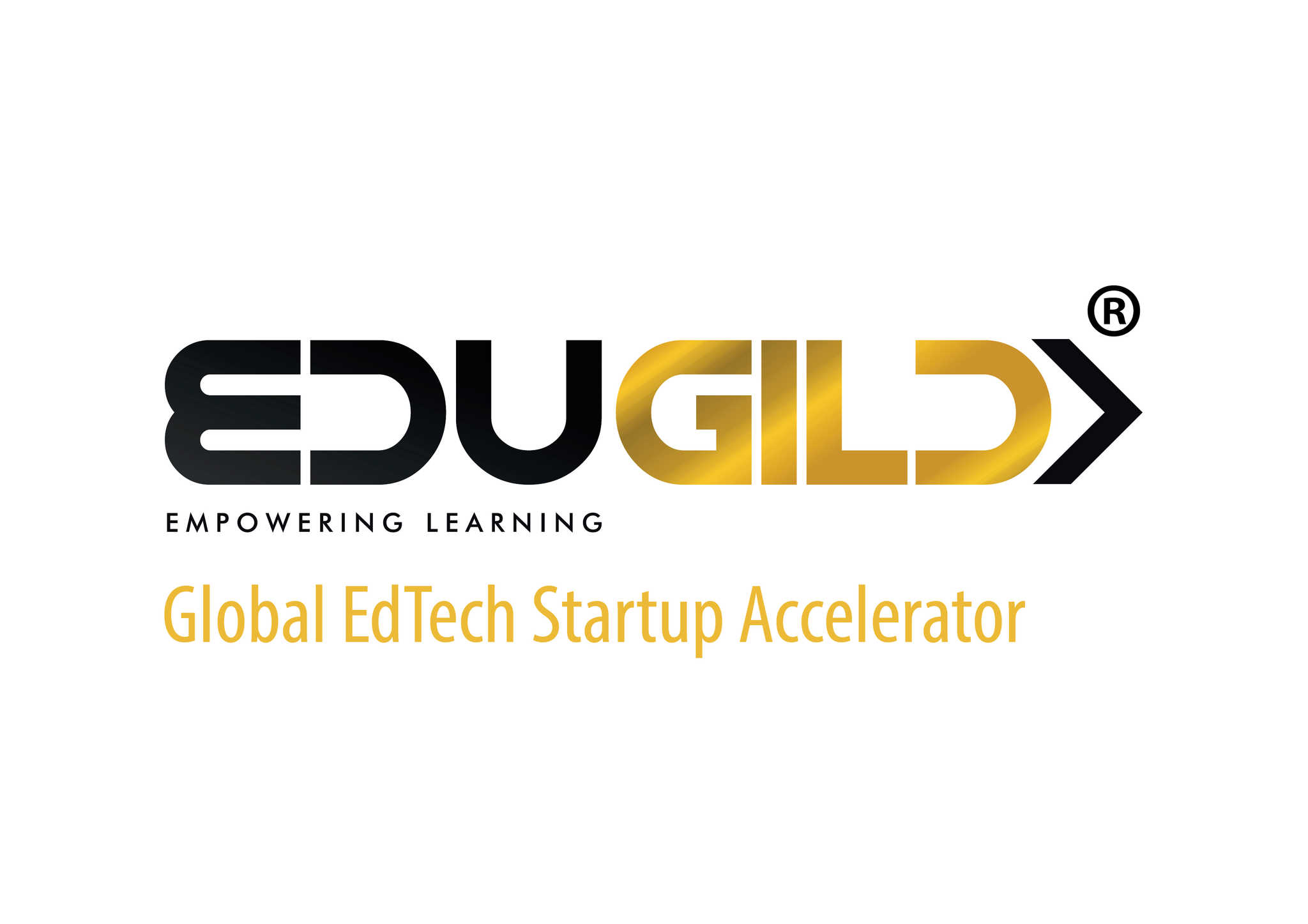 After completion of three successful batches with 16 companies, EDUGILD, an initiative of Maharashtra Institute of Technology (MIT), Pune paves way for the 4th batch of its accelerator programme. The global edtech startup accelerator will create a customized ecosystem to scale up five edtech startups from September 2017. The selected startups will be a part of an intensive 4-6 months of EDUGILD's business acceleration program designed by global experts and have an extended 12-18months of relationship. EDUGILD will offer an access to co-working space, product life cycle management support, organization development inputs, business landscape, investor relations, UI/UX maturity, PR strategy and global scale-up opportunities to the five edtech startups.
The startups for the fourth batch were selected from an application long tail of 250+ companies. The startups of the fourth batch are – Edvantics from Hyderabad, KnowHassles from Mumbai, Musein from Bengaluru, Vidya Robotics from Pune|Aurangabad and TrisLabs from Bengaluru. All these edtech startups are aligned to EDUGILD's thought (Vision) of "Revenue first and Funding Later". The fourth batch will go through a diagnostic boot camp on 8th and 9th Sept in Pune. Subject matter experts in relevant domains will work 1:1 with the companies to figure out their needs and action plans.
On the occasion of the launch, Mr. Rishi Kapal, Global Strategist and CEO of EDUGILD says "We are proud to host the fourth batch of our edtech accelerator program. The uniqueness of this batch is the diversity of the startups – ranging from robotics, artificial intelligence, overseas education consultants, virtual labs, creative learning into Film, TV, performing arts, design. EDUGILD aims to support impressive talent that employs the latest technologies to address education-related challenges and expand existing markets or create new markets globally."
With the launch of the 4th batch, EDUGILD now has a bouquet of 21 edtech startups of which 6 are from overseas and the rest from India. EDUGILD's program spans across multi-disciplinary engagements, customized for each startup. From the co-horts edtech startups Simulanis, Gradopedia, Classboat, Ahhaa, YoScholar, ProctorEdu have already raised funds and overall the entire portfolio of companies are scaling up well. EDUGILD has also expanded its partnership horizons to cross borders with EPG UK, Edtech Israel, JMD EDU China and strategic alliances in USA and Australia.
Here is a brief about each startup:
Edvantics (Hyderabad)
Founded by ISB Alumni and Ex Microsoft employees, Edvantics is creating an ecosystem of products and services, to help educational institutes and students across K-12 and Higher Education to realize their maximum potential and succeed. HEDNext is the initial flagship offering from Edvantics geared for institutes to manage quality and improve faculty productivity. The platform brings together institutes, students, campus recruiters and skill providers to benefit from AI based recommendations in selecting right jobs, candidates, courses and careers.
KnowHassles (Mumbai)
Founded by a problem solver and serial entrepreneur KnowHassles EdApt intends to provide accurate solutions to international students' everlasting problems related to settlement in a foreign land in the form of concise mobile app. Mobile app displays perfect combination of vital information about necessary on arrival processes, social networking based value added services, student specific product marketing & e-commerce shopping experience.
Musein (Bengaluru)
Founded by an IIM Kozhikode and IIT Madras alum, ex KPMG professional, Musein is a learning and mentorship community for people interested in creative areas like Film, TV, performing arts, design etc with access to
Online Courses: Rich quality courses developed by experts in respective creative fields ranging from basic to advanced level
Mentorship: Mentors with prior experience to provide necessary support and guidance through consultation sessions, and full-fledged mentorship programs
Vidya Robotics (Pune|Aurangabad)
Vidya Robotics is a consumer electronics company which is developing a host of educational robots for children's edutainment. Their products aim at enhancing STEM skills in young minds above 8 years and making learning a fun activity for them. Using principles of Robotics, AI & IOT, our Robots and kits help children receive an early exposure to technology, coding and electronic hardware.
TrisLabs (Bengaluru)
The founders being BITS Pilani alumni and ex Avaya, TrisLabs is the first collaborative online learning platform that unifies practical and theoretical learning by providing "on the go" virtual labs, helping students, teachers, universities and Industry. Their story is about making higher education a fascinating process – Transformation from burning a costly Electronic hardware to simulating over the internet, from environment dependent system to platform agnostic simulating environment.
Here's a link to the video on EDUGILD's Global Edtech Accelerator Program https://m.youtube.com/watch?v=Jk9kNFZc5XU
About EDUGILD –
EDUGILD is a Global Edtech startup accelerator based in India that was launched in June 2015. An initiative of Maharashtra Institute of Technology (MIT) Pune, India's leading technology and engineering institution. With a vision to empower learning, Edugild offers 12 to 18 months of intensive mentorship and product realization program to any Edtech startup in the world. With two batches every year Edugild has been able to scale up 21 startups from India & overseas in a span of 2 years with its network of mentors and subject matter experts, in-residence mentorship program based in Pune.
More Information is available at http://edugild.com/
SHE STEM 2022 honours and celebrates women
SHE STEM 2022 encourages students to 'Unleash their imagination' as part of the Sweden India Nobel Memorial Week.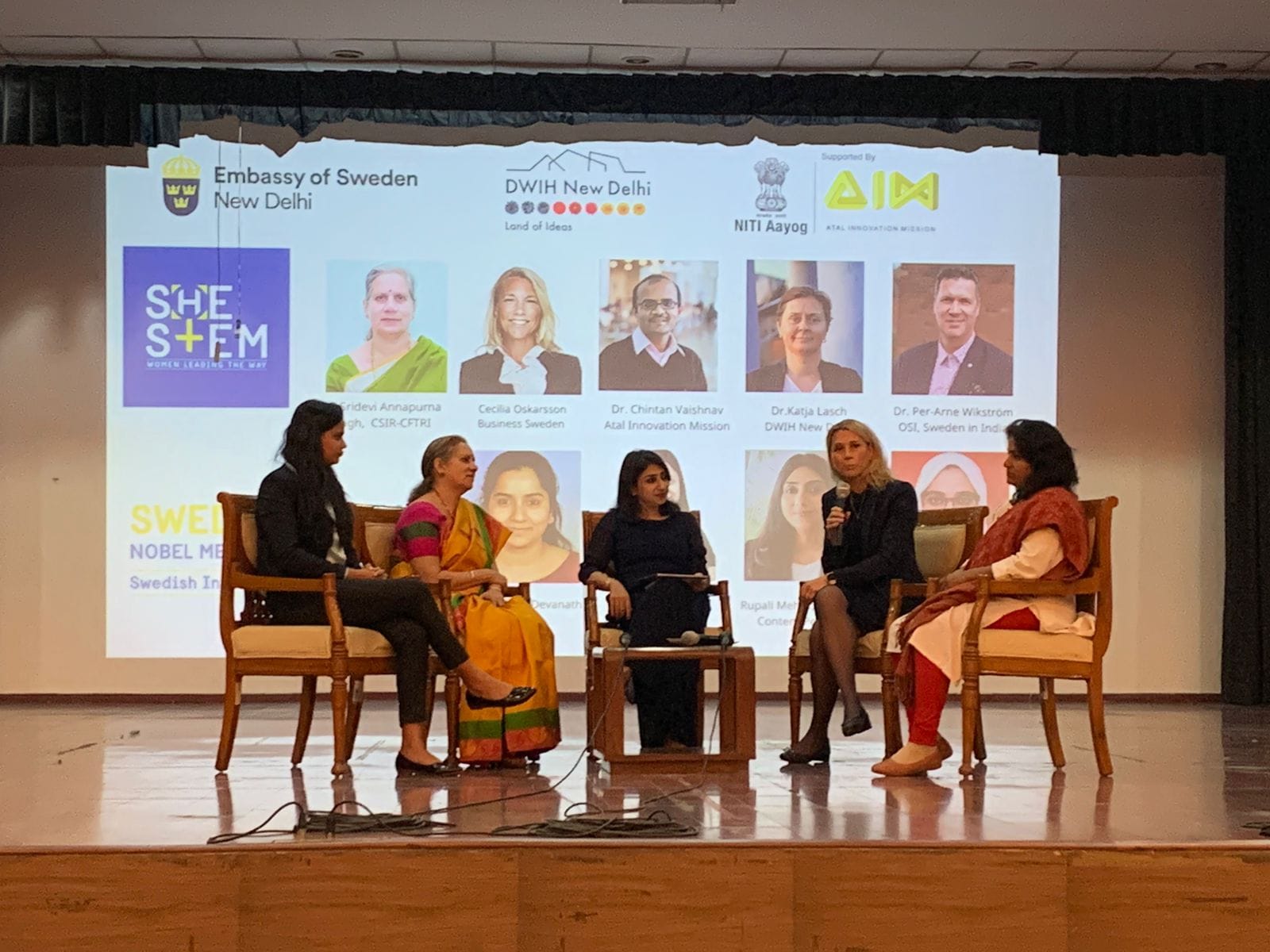 As part of the Sweden-India Nobel Memorial Week, SHE STEM, the annual event to celebrate women in the fields of science, technology, engineering, mathematics, and sustainability, was successfully held for the third year in a row.
The annual event is organized by the Sweden Embassy in India in partnership with the Atal Innovation Mission of the Government of India and the German Centre of Innovation and Research (DWIH New Delhi).
Ambassador of Sweden to India H.E. Jan Thesleff, who also addressed the students via a video message said, "We are very happy to continue the tradition of SHE STEM – it is a flagship event of the Sweden-India Nobel Memorial Week. Congratulations to all the winners of this year's SHE STEM Video challenge."
Dr. Chintan Vaishnav, Director of ATAL Innovation Mission said, "Today, the face of women's involvement in STEM is changing and the rate of participation has increased. It was in ATL Marathon 2021, that there was a spike where the women's participation was 49%. A strong STEM education will go a long way in cultivating such critical thinkers."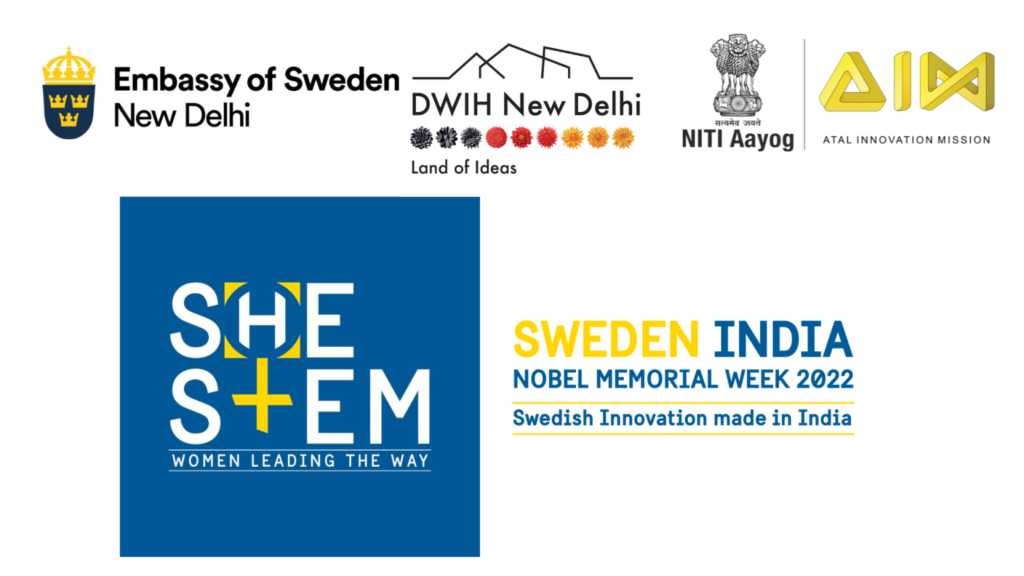 SHE STEM 2022 began with a musical performance by the students of Darbari Lal DAV Model School, New Delhi, the host school for SHE STEM 2022, followed by talks, and a panel discussion with women in the fields of STEM and business, including D. Sridevi Annapurna Singh, Director of Council of Scientific and Industrial Research – Central Food Technological Research (CSIR-CFTRI), Ministry of Science and Technology, Government. of India.
Dr. Annapurna Singh has done extensive work in the development of supplementary foods for undernourished children and in studying the impact of protein-rich food on children. She spoke to the audience about the need for women in fields of STEM to bring in their unique perspectives to problem-solving for a sustainable future.
Other participants included Cecilia Oskarsson, Trade, and Invest Commissioner of Sweden to India, who shared her thoughts on the role of diversity in triggering and enabling positive changes for girls and women, Mamta Kumari, co-founder and CEO of Prepbytes, an ed-tech company in India, and Dr. Vasudharani Devanathan, Neurobiologist and Professor of Biology at the Indian Institute of Science Education Research (IISER). Rupali Mehra, Founder of Content People AB moderated the event.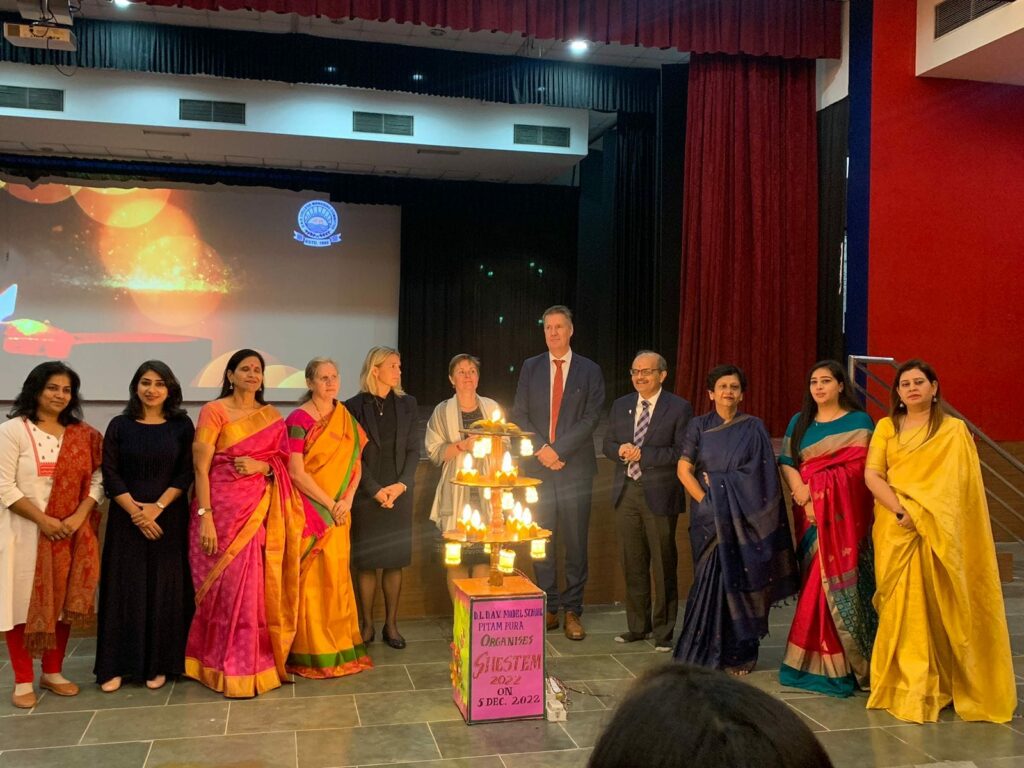 Dr. Per-Arne Wikström, Head of Office of Science & Innovation, Embassy of Sweden in New Delhi said: "When women and girls provide their talent, their knowledge, and their capabilities to science and technology on equal terms with men and boys, then we know that societies prosper and that innovation capacity actually increases. So for us, gender equality is an integrated part and an important aspect of everything that we do. We would like to thank our Indian partners for their support for this very important initiative."
"As Johann Wolfgang von Goethe said, 'who is not curious will not gain knowledge,' so keep your curiosity on, drive your knowledge forward and who knows maybe one or other idea will be implemented," said Dr. Katja Lasch, responsible for Strategy Management at the German Centre for Research and Innovation (DWIH New Delhi) and head of German Academic Exchange Service (DAAD) Regional Office in New Delhi.
Following the success of the Insta-reels Video Challenge in 2021, SHE STEM hosted the #SHESTEM2022 Video Challenge across Instagram, Youtube, Facebook, and Google Drive for students of ages 13 to 17, asking them to imagine themselves in the year 2047, and speak about an innovation of theirs that has helped in tackling climate change. The response was overwhelming with over 930 videos of which 15 were shortlisted. SHE STEM had an extensive jury round of 3 jury teams; Atal Innovation Mission Team led by Dr. Chintan Vaishnav, the Swedish Embassy team, led by Dr. Per-Arne Wikström, and the German Centre for Research and Innovation, represented by Dr. Katja Lasch.
The videos were assessed on the:
Novelty of idea
Clarity of thought and articulation
Sustainability or climate action angle
G. Nivethiga Rani who created a video on how she as a STEM Leader in 2047 had invented a robot that collected and converted biodegradable and non-biodegradable waste into electricity, won the first prize in the video challenge. The second prize was tied between T Shatananda Dhanwantari and Shreya Singh and Nistha Aswal, who participated as a team. Gaurav Hanjoora won third place.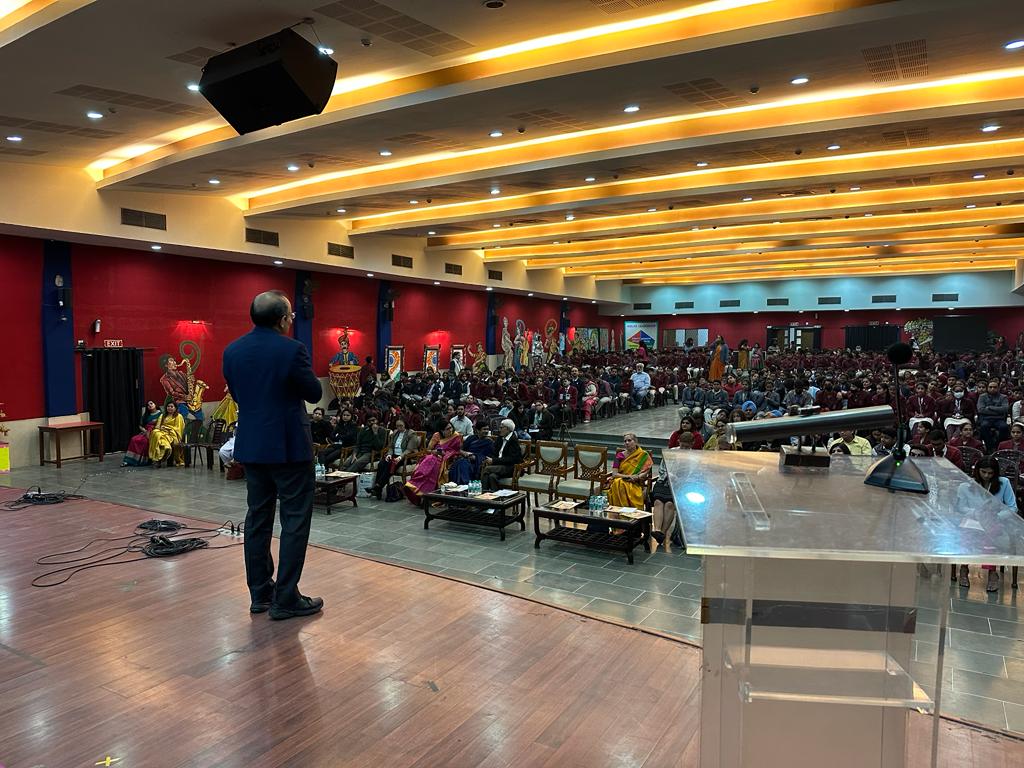 "I congratulate all the winners of the SHE STEM 2022. I have to say what caught my attention was that every single idea was addressing a fundamental constraint confronting us," said Dr. Chintan Viashnav.