Expectations lead to disappointment. In a student's case, suicide.
The examination pressure is burdening the children and parental pressure is only adding more to it.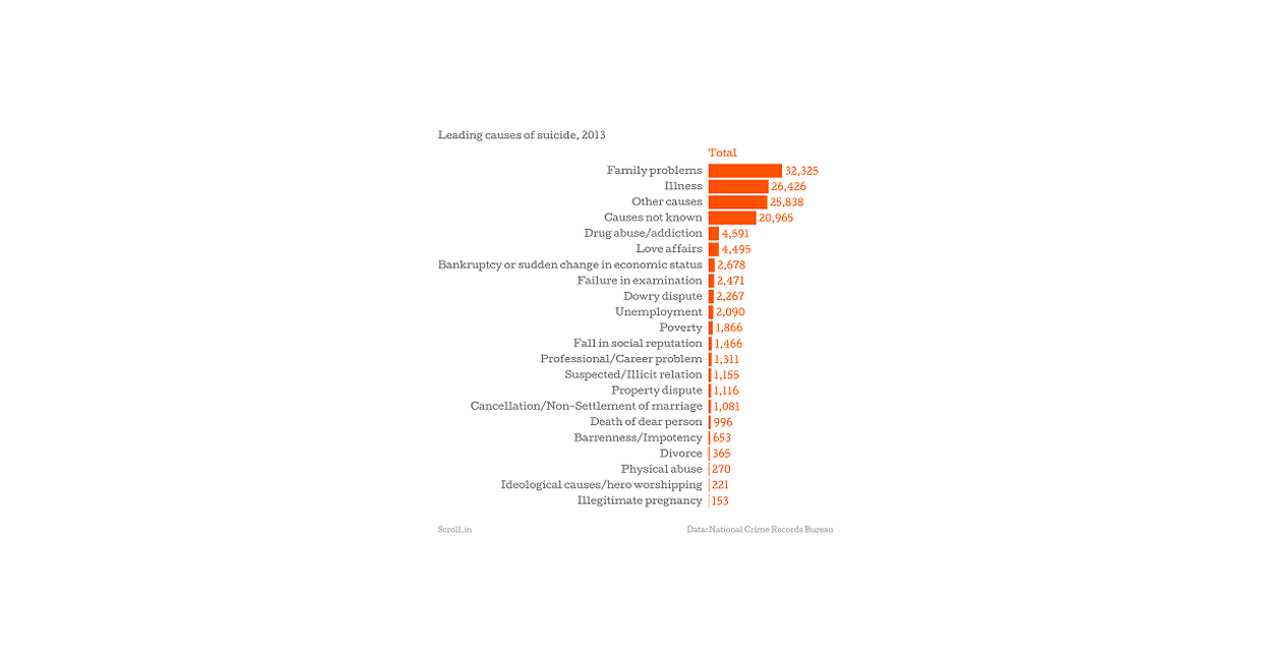 If you take up students' success and students' suicide cases and compare them, you will see that the latter has double the time of occurrence. In India, each year 40 people per 100,000 Indians between the age group of 15 to 29, in other words the most productive age group of our society, kill themselves which accounts for about one-third of suicides in the country.
"A compelling need to excel in academics coming from the family, often tending to abuse, does cripple the student's morale and is one of the greatest causes for failure and breakdown" say leading psychologists.
The national board examinations, especially for Class 12 had become a common concern for parents because the scores in these exams determine colleges and employment opportunities. But the concern hasn't motivated the students, rather stressed them. The pressure to succeed is never ending on the students aged between 16 to 18. When they fail to do so, suicide becomes a gateway to escapism. In 2013 alone, 2471 suicide cases were attributed to "failure in examination."
This cannot be ignored. The only source of communication after the peer group are parents who don't help in reducing this deadly stress. If we view it statistically;
Every 3 seconds, a person attempts to die.
Suicide is one of the top 3 causes of death among the young age group of 15 to 35.
The psychological, social and financial impact of suicide on the family and the society is immeasurable.
About 1 lakh people die by suicide in India every year.
3 people in a day in Mumbai commit suicide.3
2 in a week in Navi Mumbai commit suicide.
Each suicide leaves at least 6 people devastated. 6 lakh people become survivors every year in India.
And if we were to talk about the psychological effects of stress:
Under High stress your biological age can be 30 times higher than your calendar age.
The typical age of onset of social anxiety disorder is 12 to 19
69% of people suffering from stress related disorders such as depression were apprehensive that society would consider them to be crazy.
55 % of people suffering from stress related disorders say they have no or very few close friends.
71% people under stress refrain from social activities.50% of people under stress say they are not able to pursue leisure activities or hobbies.
58% are embarrassed to acknowledge that they are depressed.
77% people under stress say anxiety or disorders such as insomnia or depression hamper their romantic relationships.
What can you as a parent do for the children?
1. Talk – Talking is key element of parenting. After a long day, talk to your child about his day at school, his homework, his friends and teachers. Ask him to join you on healthy discussions. Ask him his views on the current topics. You will know what the beautiful mind thinks and feels.
2. Encourage – Anything a child does, physically or mentally, he looks up to this parents. He doesn't care about anyone's opinion. He wants his parents to give a feedback. You, as a parent are the teacher, friend, confidant to him. It is your responsibility to teach him the importance of success and also teach him to accept the failure without losing faith. Failure teaches more than success.
3. Interact- Learn about your child's interest and hobbies. Make him laugh, play with him, participate in leisure activities. Take out time to build friendship. Because if you wish to advice him after you've built up a healthy relationship, it will not sound like a commandment. He will actually listen and understand your words and would work on it.
4. Seeking help- Opting for professional help is no longer a taboo. Psychologists and counsellors are trained to identify the negative or unusual behaviour and have the remedies too. It not only eliminates the negativity, it also increases understanding between the members of the family.
In my opinion, only a parent who can love and cherish a child through success and failure can raise a well-adjusted and happy person.
Image courtesy: scroll.in
NIOS celebrates 33rd Foundation Day
Dr. Subhas Sarkar addresses the 33rd Foundation Day Celebrations of NIOS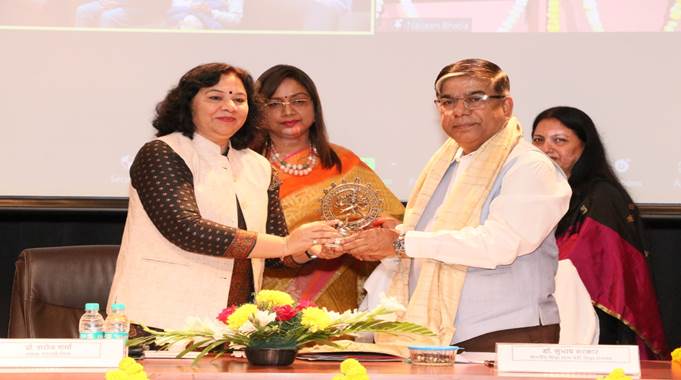 Union Minister of State for Education, Dr. Subhas Sarkar addressed the 33rd Foundation Day Celebrations of NIOS as the Chief Guest.
The function was attended by senior officials of the Ministry of Education, Chairpersons of educational institutions, Heads of Departments, officers, and staff of NIOS. Prof. Naval Kishore Ambasht, former Chairman, of NIOS and Pro-Vice Chancellor, of the Central University of Haryana, Prof. Sushma Yadav graced the occasion.
Dr. Subhas Sarkar in his address appreciated the various programmes and schemes of NIOS and said that NIOS is lighting the lamp of knowledge all over the world. Talking about the Azadi Ka Amrit Mahotsav, he mentioned that today's children will be young people in the age group of 30-40 years on the completion of 100 years of independence and will be responsible for building our nation.
He said that the Ministry of Education has entrusted NIOS with several responsibilities such as developing inclusive education resources, expanding the open and distance education system in states/UTs, translating all courses into more languages as required, creating Indian Knowledge Tradition based courses and propagating Indian culture by translating them into major foreign languages. He also praised the programmes of NIOS enrolling 10 crore adults under 'Basic Literacy Assessment', training of in-service teachers, Gender Green Project, and training in Yoga. He said that Indian Sign Language as a subject at the secondary level has been acknowledged on national and international platforms. He described the launch of an e-library called 'DEEP' by NIOS as a big step forward.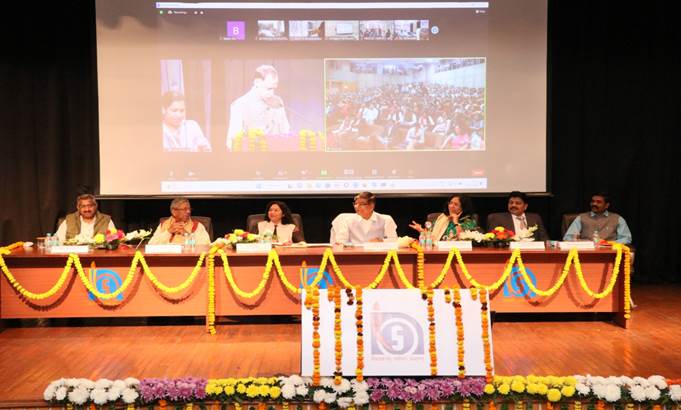 Prof. Saroj Sharma spoke about the journey of 33 years of NIOS and highlighted the special achievements. She said that NIOS is one of the two National Boards of Education under the Ministry of Education, which provides school education through Open and Distance Learning (ODL) for secondary, senior secondary, and vocational education. She elaborated on the role of NIOS in the field of education, efforts being made by NIOS for the successful implementation of the New Education Policy, Virtual Open School, Digital Library (DEEP), NEPIA Project, MoU with Ministry of Defence for Agniveer Project, setting up of Mukta Kaushal Kendras and subjects offered under Indian knowledge Tradition.
It was also conveyed by her that a curriculum called 'Aarambhika' is being developed by NIOS for catering to the Indian Diaspora.
A documentary based on the journey of 33 years of educational endeavours of NIOS was presented on the occasion. In this documentary, 'All England Badminton winner Pullela Gopichand said that most of the players in his badminton academy are getting an education from NIOS.
NIOS alumni, Ms. Niranjana and Vinod Kumar Chaudhary were also felicitated on the occasion. Shri Vinod Kumar said that only due to his education in NIOS, he was able to get the credit of making the Guinness Book of World Records 10 times (8 in Typing and 2 in sports). A proud learner of NIOS, Ms. Niranjana is a successful ventriloquist. Prof. N. K. Ambasht, former Chairman, NIOS said that in this age of technology, innovations must lead to developing 'standalone' courses for the Indian Diaspora, to achieve the goals of the National Education Policy- 2020. Pro-Vice Chancellor, Prof. Sushma Yadav said that the role of NIOS increases in the light of New Education Policy. NIOS has such potential that the institute will be able to achieve the ambitious goals of National Education Policy 2020 in the coming years.
The half-yearly magazine of NIOS 'Pragyan' was released by Dr. Subhas Sarkar on this occasion.