Expectations lead to disappointment. In a student's case, suicide.
The examination pressure is burdening the children and parental pressure is only adding more to it.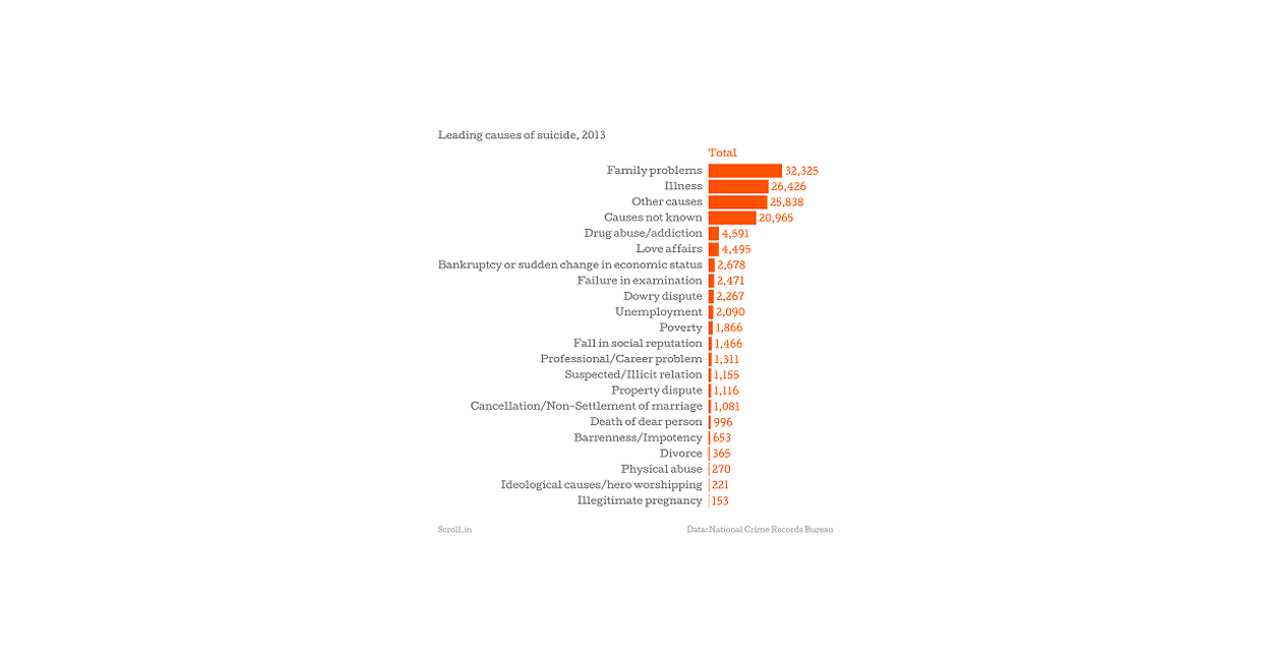 If you take up students' success and students' suicide cases and compare them, you will see that the latter has double the time of occurrence. In India, each year 40 people per 100,000 Indians between the age group of 15 to 29, in other words the most productive age group of our society, kill themselves which accounts for about one-third of suicides in the country.
"A compelling need to excel in academics coming from the family, often tending to abuse, does cripple the student's morale and is one of the greatest causes for failure and breakdown" say leading psychologists.
The national board examinations, especially for Class 12 had become a common concern for parents because the scores in these exams determine colleges and employment opportunities. But the concern hasn't motivated the students, rather stressed them. The pressure to succeed is never ending on the students aged between 16 to 18. When they fail to do so, suicide becomes a gateway to escapism. In 2013 alone, 2471 suicide cases were attributed to "failure in examination."
This cannot be ignored. The only source of communication after the peer group are parents who don't help in reducing this deadly stress. If we view it statistically;
Every 3 seconds, a person attempts to die.
Suicide is one of the top 3 causes of death among the young age group of 15 to 35.
The psychological, social and financial impact of suicide on the family and the society is immeasurable.
About 1 lakh people die by suicide in India every year.
3 people in a day in Mumbai commit suicide.3
2 in a week in Navi Mumbai commit suicide.
Each suicide leaves at least 6 people devastated. 6 lakh people become survivors every year in India.
And if we were to talk about the psychological effects of stress:
Under High stress your biological age can be 30 times higher than your calendar age.
The typical age of onset of social anxiety disorder is 12 to 19
69% of people suffering from stress related disorders such as depression were apprehensive that society would consider them to be crazy.
55 % of people suffering from stress related disorders say they have no or very few close friends.
71% people under stress refrain from social activities.50% of people under stress say they are not able to pursue leisure activities or hobbies.
58% are embarrassed to acknowledge that they are depressed.
77% people under stress say anxiety or disorders such as insomnia or depression hamper their romantic relationships.
What can you as a parent do for the children?
1. Talk – Talking is key element of parenting. After a long day, talk to your child about his day at school, his homework, his friends and teachers. Ask him to join you on healthy discussions. Ask him his views on the current topics. You will know what the beautiful mind thinks and feels.
2. Encourage – Anything a child does, physically or mentally, he looks up to this parents. He doesn't care about anyone's opinion. He wants his parents to give a feedback. You, as a parent are the teacher, friend, confidant to him. It is your responsibility to teach him the importance of success and also teach him to accept the failure without losing faith. Failure teaches more than success.
3. Interact- Learn about your child's interest and hobbies. Make him laugh, play with him, participate in leisure activities. Take out time to build friendship. Because if you wish to advice him after you've built up a healthy relationship, it will not sound like a commandment. He will actually listen and understand your words and would work on it.
4. Seeking help- Opting for professional help is no longer a taboo. Psychologists and counsellors are trained to identify the negative or unusual behaviour and have the remedies too. It not only eliminates the negativity, it also increases understanding between the members of the family.
In my opinion, only a parent who can love and cherish a child through success and failure can raise a well-adjusted and happy person.
Image courtesy: scroll.in
Smile Foundation and Shell Launch STEM Project on Pi Day
The initiative will benefit less-privileged students from government schools.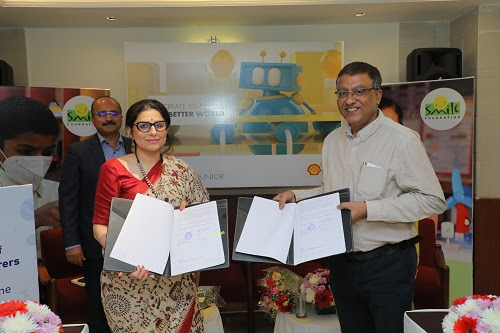 On the occasion of International Pi (π) Day, Smile Foundation and Shell launch 'NXplorers Junior' programme in three Indian states. NXplorers is Shell's global flagship Social Investment STEM (Science, Technology, Engineering, and Mathematics) educational programme aims to benefit over 25,000 children during the first year by enabling them to understand, navigate and address local and global challenges, as underlined in the Sustainable Development Goals (SDGs). NXplorers is also aligned with the National Education Policy 2020 and delivers societal benefits.
The innovative initiative will benefit less-privileged students from government schools and affordable private schools, studying in rural and hard-to-reach areas in the states of Andhra Pradesh, Telangana and Kerala. Its design also includes endeavour to create awareness amongst parents on the importance of STEM education, especially for girl children.
"Shell firmly believes that, provided with the necessary skills and guidance, young people can be a driving force to find sustainable solutions to the major global challenges of our time. Launched in 2018, Shell's global flagship STEM programme NXplorers is aligned with the National Education Policy 2020 that aims to transform India into an equitable and vibrant knowledge society. With the Smile Foundation partnership, we aim to expand this programme to Andhra Pradesh, Kerala, and Telangana and offer young minds the platform to design sustainable solutions to ease the pressure on food, water, and energy," said Ms. Latika Taneja, Head of Corporate Relations – India.
The programme is being rolled out in concurrence with the educational authorities of the respective state governments. Besides students, teachers, parents and communities are involved actively while implementing the programme so that it remains sustainable in the long-term.
"We are excited to roll out this innovative programme in India. We are hopeful that our children will not only leverage STEM education in building their future career but also will grow up and develop leadership ability in finding sustainable solutions in various walks of life," said Mr. Santanu Mishra, Co-founder & Executive Trustee, Smile Foundation.
The NXplorers Juniors will train both 6th and 7th grade students. NXplorers Juniors Level-I course will be delivered through a combination of teacher's guide, PowerPoint slides, and several instructional videos. The facilitator guide will outline the essentials to be covered in each session, exercises, discussion, checkpoint questions, a summary, assessment, and research to be undertaken by students after the session.
The United Nations Sustainable Development Goals (SDGs), exploring SDG Solutions, researching global goals, and developing a challenge and choosing a solution etc. are covered in the NXplorers Juniors Level-1.
NXplorers – Learning for a Life Time, envisions to provide a minimum of 3-5 years of NXplorers exposure to the students at various levels. The objectives include developing strong knowledge and skill set among students so that local and global challenges can be addressed by them. Developing sustainable models of implementation by engaging teachers, school leaders and communities effectively, creating awareness amongst parents regarding the importance of STEM education, especially concerning girl education are part of the overall goals.
About Smile Foundation
Smile Foundation is a national development organization directly benefiting over 1.5 million underprivileged children and their families every year through more than 400 welfare projects in education, healthcare, livelihood and women empowerment spread across 2,000 remote villages and urban slums in 25 states of India.
About Shell
Shell is one of the most diversified international energy company in India with over 10,000 employees and presence across upstream, integrated gas, downstream, renewable energy, and deep capabilities in R&D, digitalisation, and business operations; with a retail presence across six states – Karnataka, Tamil Nadu, Telangana, Maharashtra, Gujarat, and Assam.