FICCI ARISE for progressive policy environment in public and independent schools
Two discussion papers FICCI ARISE-EY Vision on School Education 3.0 and FICCI ARISE- Shardul Amarchand Mangaldas & Co. Model Self-Financed Independent Schools Code were unveiled by the dignitaries.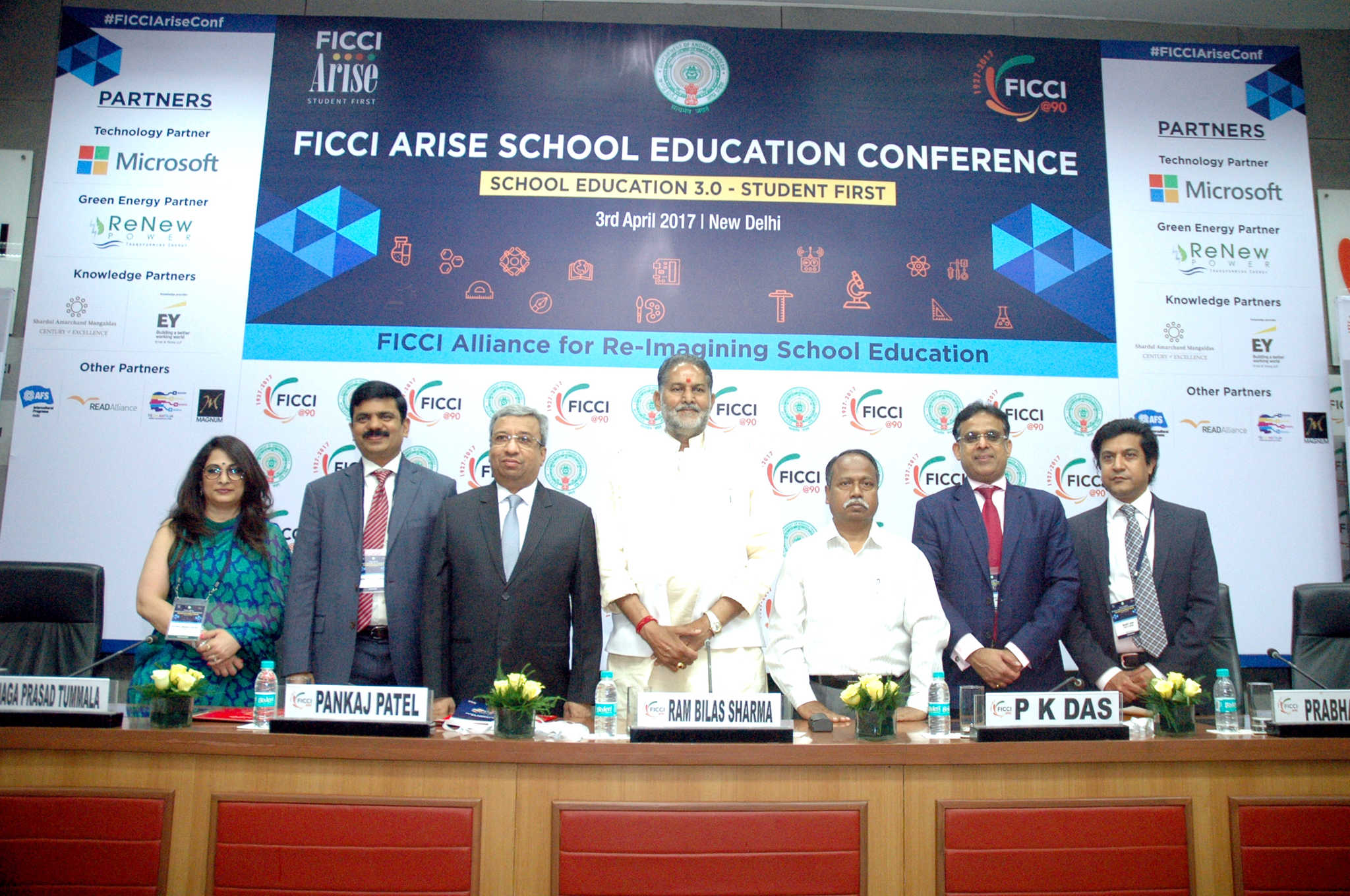 Speaking at the first edition of FICCI ARISE (Alliance for Re-Imagining School Education), Prakash Javadekar, Union Minister for HRD, Government of India, stated that the Right to Education Act has been strengthened by notifying learning outcomes in consultation with the stakeholders for each subject, making teachers accountable with respect to their deliverables and quality of education being imparted to students.
This was FICCI's first flagship conference on school education and the theme was 'School Education 3.0; Student First'.
Javadekar said that the government's primary focus has been on enhancing the quality of education in the government institutions and the motto was 'Sabko Shiksha and Achchi Shiksha' as it will lay a strong and robust foundation for innovation and sustainable growth of the economy. He urged the stakeholders to encourage curiosity and creativity in students to make them lifelong learners and co-creators of knowledge.
He further stated that specific programmes have been launched such as reforms in the Teachers Education. In-service training for teachers had been put in place which would allow a teacher to visit different institutes and work on creating relevant curriculum for the students.
On detention policy he said the states have been empowered to apply it or not according to their requirement and the CBSE Board Examinations have been made mandatory. He appreciated FICCI's efforts in the education sector and urged the stakeholders to provide suggestions and recommendations to improve the quality of education in the country.
Earlier in his keynote address, Ram Bilas Sharma, HRD Minister, Haryana, said that India was known for its 'Shiksha, Sanskar and Sanskriti' and was working towards elevation of the education sector. He added that education has been commercialized and globalized and India with one of the biggest market and consumers of the world, thus it was necessary to have an education system which highlighted quality and accessibility.
Speaking about the recently launched 'Muskan Project' in Haryana, Sharma said that it had been evolved to bring both government and private schools together. Each private school would voluntarily partner with government schools in the proximity, and share their best practices in learning, innovative ideas and creativity. Sharing various instances of India's appreciative educational system, he said that the country's traditional education and universities such as Nalanda were well known for their education and India's has some of the best minds of the world.
Mr. Pankaj Patel, President, FICCI, said that while the government should bring in adequate reforms to fix the government schools, to attract credible and ethical private sector, it is critical to facilitate independent schools to restructure and allow them to generate ample surplus in a transparent manner to fulfill the responsibility of providing education to our children with the latest pedagogy and technology. He added that to leverage the strength in private sector, PPP models should be developed to strengthen the underperforming government schools.
In his theme address, Prabhat Jain, Chairman, FICCI ARISE, said that third party ratings framework for schools was needed and each school's performance should be measured on varied parameters where the framework created should be aspirational and credible. He added that autonomy, accessibility and affordability were needed to augment the quality of education.
In his concluding remarks, Naga Prasad Tummala, Co-Chair, FICCI ARISE, said that FICCI ARISE is a national body which focusses on school education. For FICCI ARISE, the learning outcomes notified by the government are non-negotiable and the members of the collegium were committed towards taking India's education sector to the next level.
Shobha Mishra Ghosh, Assistant Secretary General, FICCI, said that Education 3.0 needs to focus on quality and tech-enabled pedagogical models to enhance formal education. Levers such as personalized and adaptive learning, multi-format simulations and practice environments, and lifelong learning models were needed for holistic development of our children to become productive citizens.
Two discussion papers FICCI ARISE-EY Vision on School Education 3.0 and FICCI ARISE- Shardul Amarchand Mangaldas & Co. Model Self-Financed Independent Schools Code were unveiled by the dignitaries.
SHE STEM 2022 honours and celebrates women
SHE STEM 2022 encourages students to 'Unleash their imagination' as part of the Sweden India Nobel Memorial Week.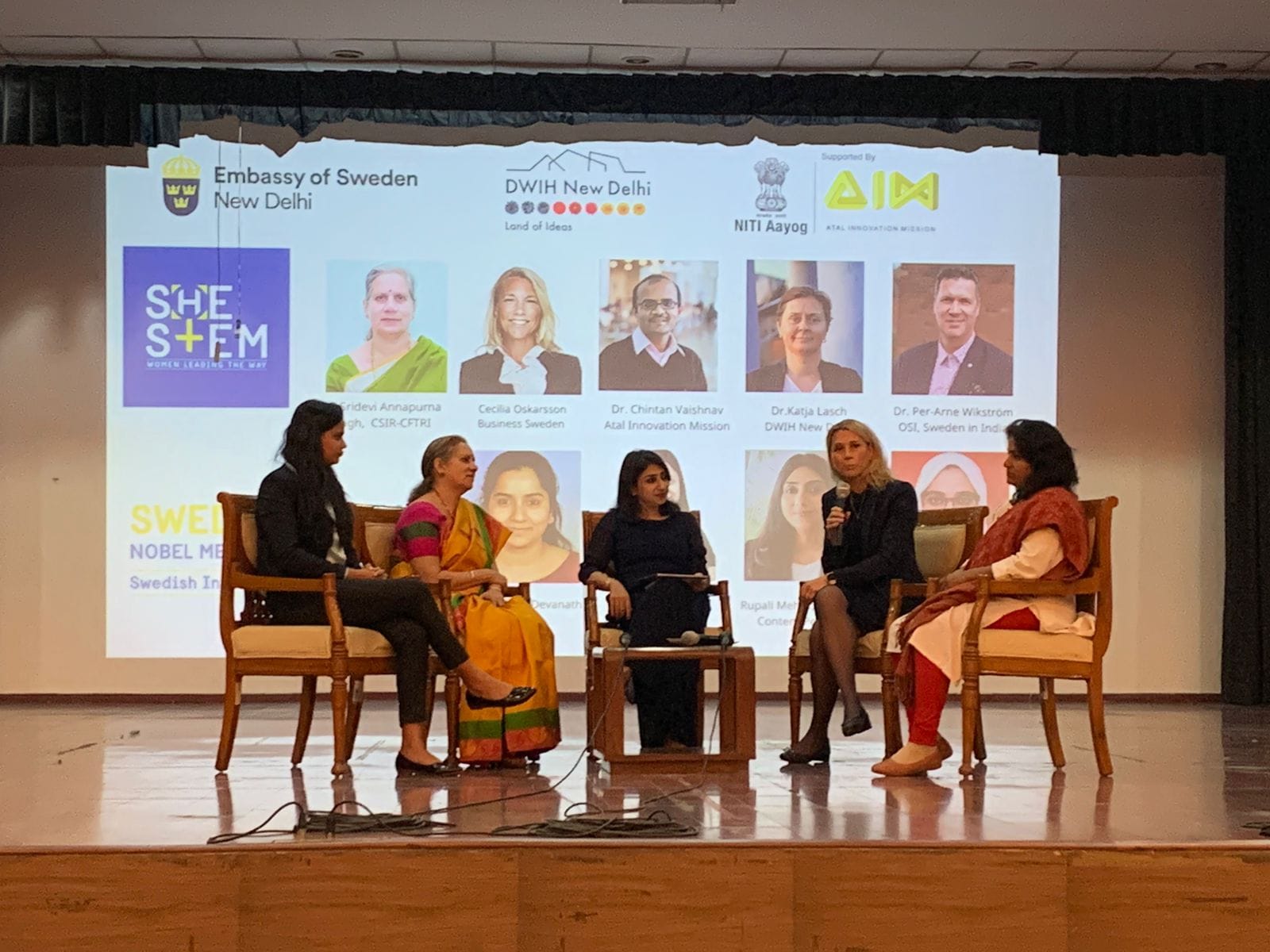 As part of the Sweden-India Nobel Memorial Week, SHE STEM, the annual event to celebrate women in the fields of science, technology, engineering, mathematics, and sustainability, was successfully held for the third year in a row.
The annual event is organized by the Sweden Embassy in India in partnership with the Atal Innovation Mission of the Government of India and the German Centre of Innovation and Research (DWIH New Delhi).
Ambassador of Sweden to India H.E. Jan Thesleff, who also addressed the students via a video message said, "We are very happy to continue the tradition of SHE STEM – it is a flagship event of the Sweden-India Nobel Memorial Week. Congratulations to all the winners of this year's SHE STEM Video challenge."
Dr. Chintan Vaishnav, Director of ATAL Innovation Mission said, "Today, the face of women's involvement in STEM is changing and the rate of participation has increased. It was in ATL Marathon 2021, that there was a spike where the women's participation was 49%. A strong STEM education will go a long way in cultivating such critical thinkers."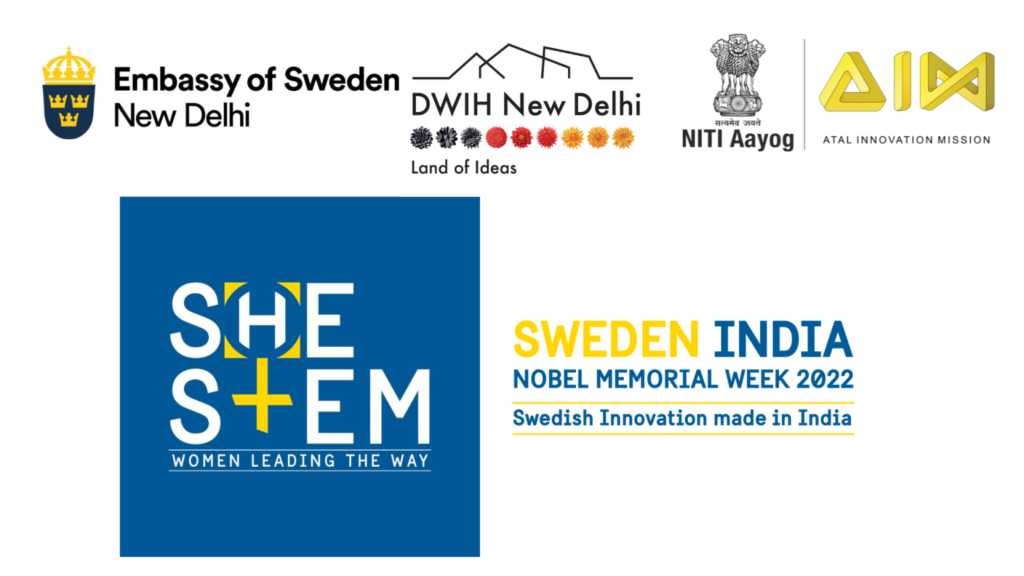 SHE STEM 2022 began with a musical performance by the students of Darbari Lal DAV Model School, New Delhi, the host school for SHE STEM 2022, followed by talks, and a panel discussion with women in the fields of STEM and business, including D. Sridevi Annapurna Singh, Director of Council of Scientific and Industrial Research – Central Food Technological Research (CSIR-CFTRI), Ministry of Science and Technology, Government. of India.
Dr. Annapurna Singh has done extensive work in the development of supplementary foods for undernourished children and in studying the impact of protein-rich food on children. She spoke to the audience about the need for women in fields of STEM to bring in their unique perspectives to problem-solving for a sustainable future.
Other participants included Cecilia Oskarsson, Trade, and Invest Commissioner of Sweden to India, who shared her thoughts on the role of diversity in triggering and enabling positive changes for girls and women, Mamta Kumari, co-founder and CEO of Prepbytes, an ed-tech company in India, and Dr. Vasudharani Devanathan, Neurobiologist and Professor of Biology at the Indian Institute of Science Education Research (IISER). Rupali Mehra, Founder of Content People AB moderated the event.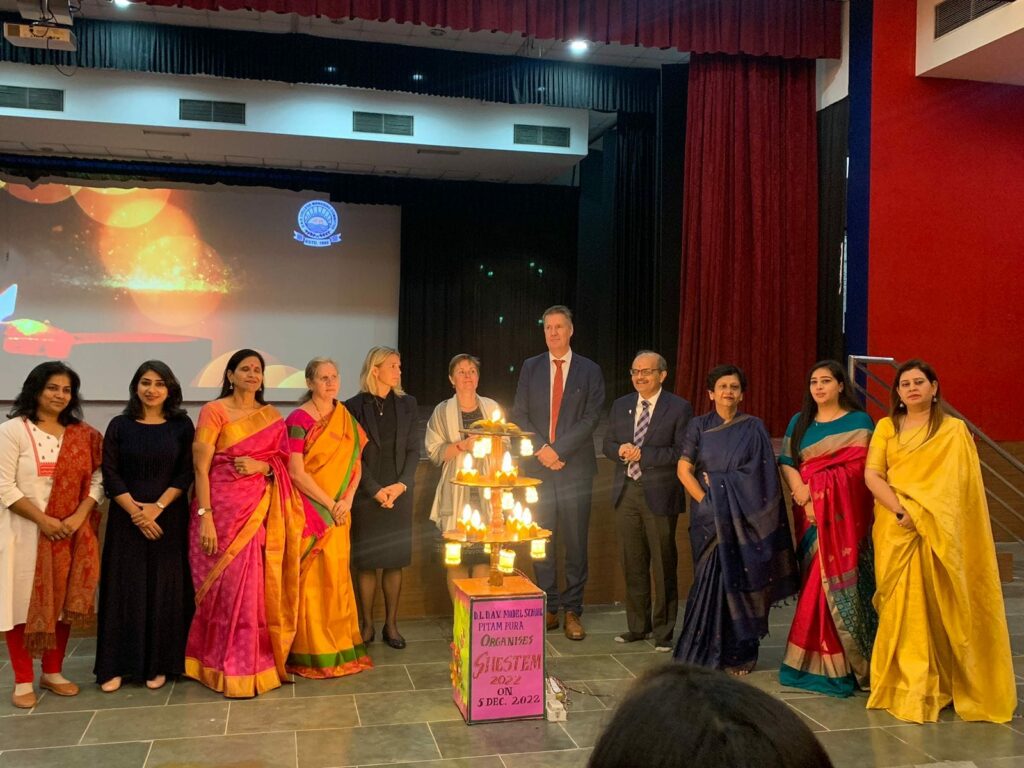 Dr. Per-Arne Wikström, Head of Office of Science & Innovation, Embassy of Sweden in New Delhi said: "When women and girls provide their talent, their knowledge, and their capabilities to science and technology on equal terms with men and boys, then we know that societies prosper and that innovation capacity actually increases. So for us, gender equality is an integrated part and an important aspect of everything that we do. We would like to thank our Indian partners for their support for this very important initiative."
"As Johann Wolfgang von Goethe said, 'who is not curious will not gain knowledge,' so keep your curiosity on, drive your knowledge forward and who knows maybe one or other idea will be implemented," said Dr. Katja Lasch, responsible for Strategy Management at the German Centre for Research and Innovation (DWIH New Delhi) and head of German Academic Exchange Service (DAAD) Regional Office in New Delhi.
Following the success of the Insta-reels Video Challenge in 2021, SHE STEM hosted the #SHESTEM2022 Video Challenge across Instagram, Youtube, Facebook, and Google Drive for students of ages 13 to 17, asking them to imagine themselves in the year 2047, and speak about an innovation of theirs that has helped in tackling climate change. The response was overwhelming with over 930 videos of which 15 were shortlisted. SHE STEM had an extensive jury round of 3 jury teams; Atal Innovation Mission Team led by Dr. Chintan Vaishnav, the Swedish Embassy team, led by Dr. Per-Arne Wikström, and the German Centre for Research and Innovation, represented by Dr. Katja Lasch.
The videos were assessed on the:
Novelty of idea
Clarity of thought and articulation
Sustainability or climate action angle
G. Nivethiga Rani who created a video on how she as a STEM Leader in 2047 had invented a robot that collected and converted biodegradable and non-biodegradable waste into electricity, won the first prize in the video challenge. The second prize was tied between T Shatananda Dhanwantari and Shreya Singh and Nistha Aswal, who participated as a team. Gaurav Hanjoora won third place.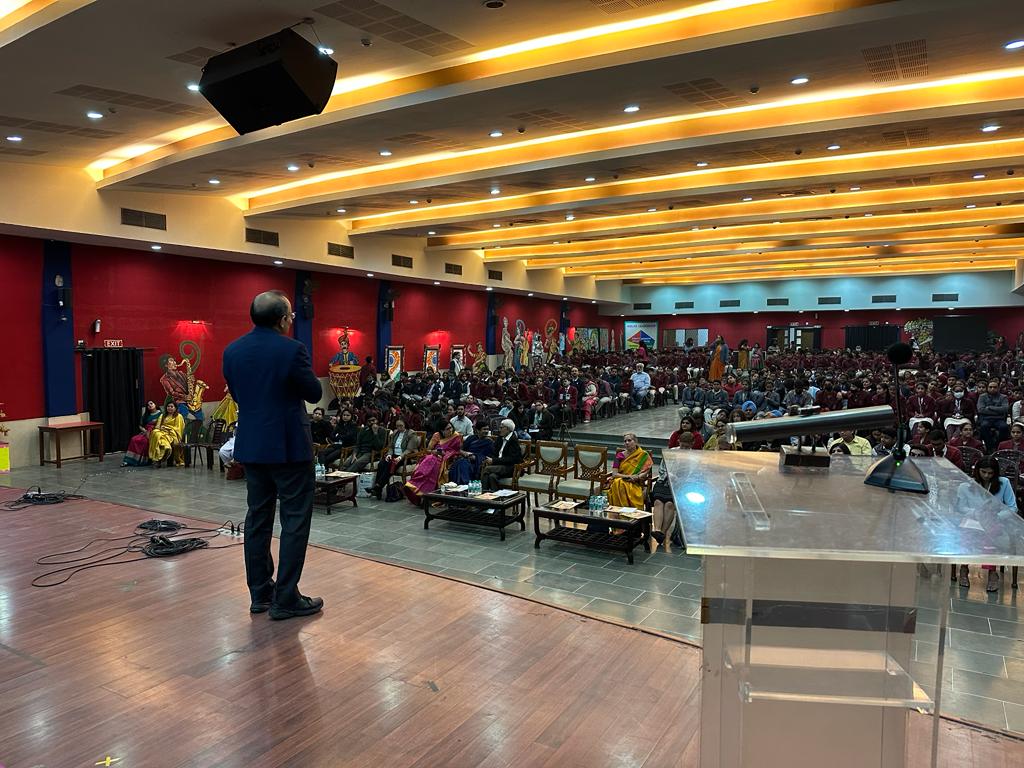 "I congratulate all the winners of the SHE STEM 2022. I have to say what caught my attention was that every single idea was addressing a fundamental constraint confronting us," said Dr. Chintan Viashnav.