Founder of MGIS Remembers Establishing Gujarat's 1st IB School That's Known For Practicing Inclusion
Co-founder of MGIS, Dr Anju Musafir, highlights the features and success stories of the school that make it one of the top institutions in India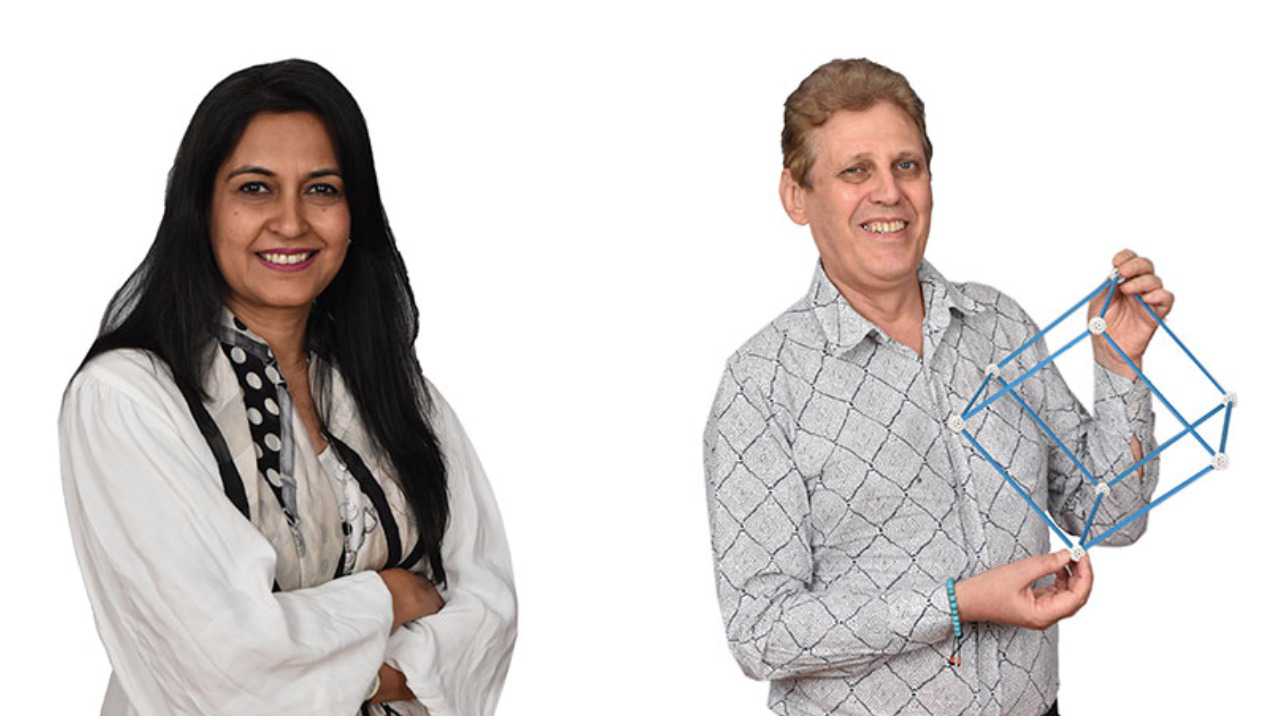 Mahatma Gandhi International School in Ahmedabad, Gujarat, India, was established in 1998 by founders Dr Anju Musafir Chazot and Dr Pascal Chazot.
Dr Chazot is a French citizen and a French civil servant who was posted as the Director of Alliance Francaise where he met his wife, Anju. While they were doing some remarkable work in language learning there, they decided to start a school as well where equity in quality education would be provided to rich and poor, abled and differently-abled alike.
MGIS is the first International Baccalaureate school in Gujarat, first in the state to use Apple technology and the first school in India to offer skill development courses affiliated to Edexcel BTEC and the IB Career Programme. Moreover, MGIS has a strong international and national education exchange program with France, Australia, South Korea, USA and Ladakh (India).
ScooNews spoke to Dr Anju Musafir Chazot and dug deep into the ideas and philosophy of MGIS and its founders.
Excerpts:
Take us to the beginning of your journey with MGIS?
Both Pascal and I come from the education sector, and it is while working in this field that we realised how the conservative way of teaching and the educational divide mandate children from the economically lower section of society to attend municipal/govt school, middle section for public/private schools and only the extremely rich to afford the elite residential schools. We thought this was holding the students back from gaining quality education which should be a right for all.
Hence, in 1997, we started working on a plan of a PPP model in collaboration with the Ahmedabad Municipal Corporation. Both of us being huge admirers of Mahatma Gandhi and believers of his philosophies decided to name our school after the Father of The Nation.
In 1998-99, after plenty of speculation, criticism, hate marches, stoning, signature campaigns and a great ordeal of court cases, the ruling was in MGIS's favour and we were granted the permission and a land where the municipal building stood for the school.
The journey was thrilling, scary, enthralling and unexpected all at once. Our conviction was tested in the beginning especially because of all the aversion we were subjected to, but in the end, everything settled on its own and we became the first international school in Gujarat.
How is GRL (Generated Resource Learning) pedagogy different from the usual learning? What sort of positive outcomes are expected from students under this system?
While working on MGIS's inception, we decided to not just bring IB culture in the education sector for all children but also provide them with a pedagogy that will bring about the required change. We brought in a Multisensory Pedagogy, which means using all the senses and the body to learn. Since in Experiential Learning it is the child's liking and context that should be given importance to, we wanted to break away from the colonial model of education that we have invariably inherited. That is how GRL was born.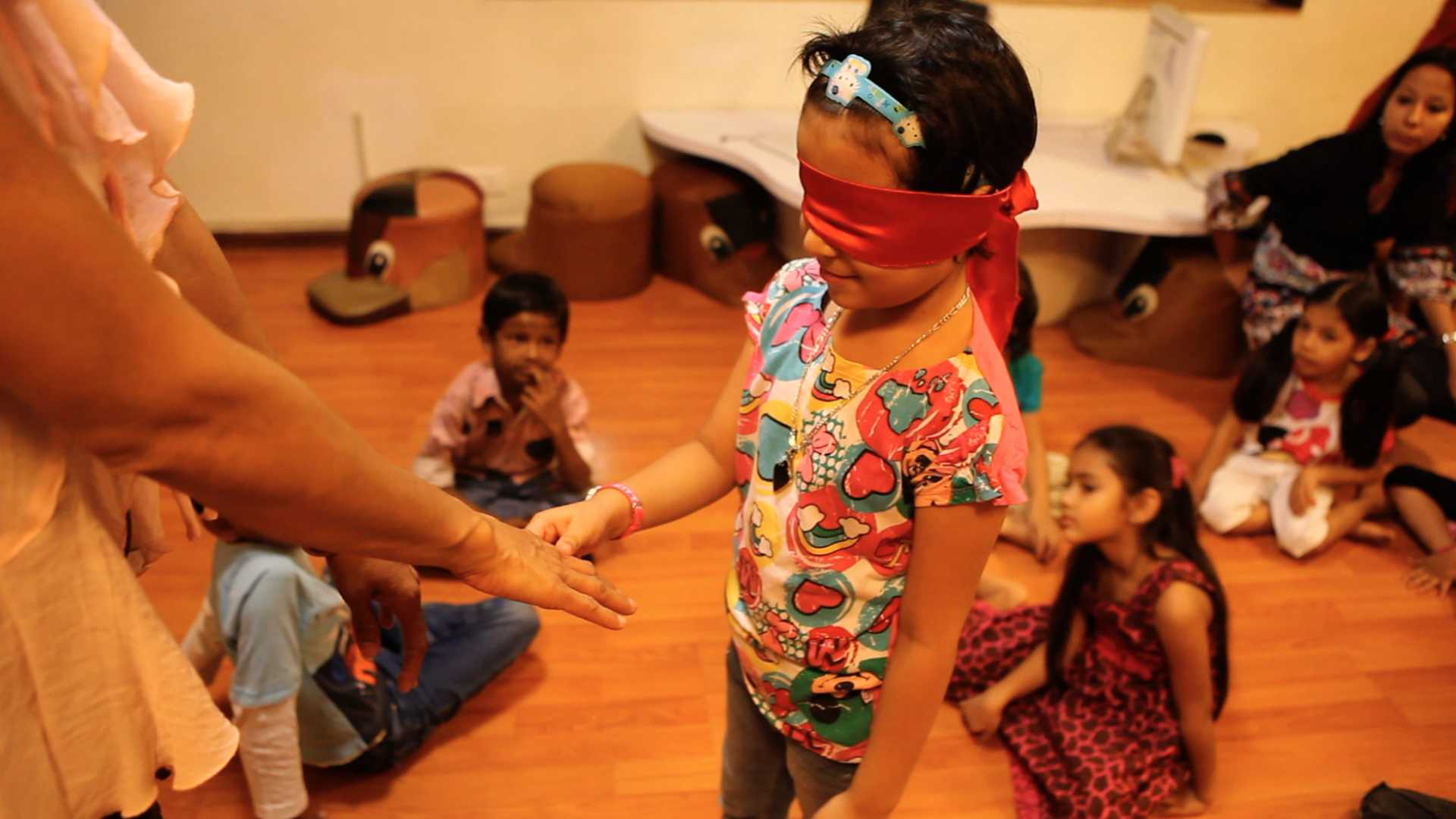 How does practising inclusion work in MGIS? How do you make sure students from an economically-lower background don't feel lesser than others or a differently-abled child is not bullied or left behind in the class?
Inclusion as a practice needs continuous development, work, and dedication to thrive. When we decided to open MGIS, we also agreed upon making it an inclusive school which will try and cater to as many differently-abled students as possible. Inclusiveness in school is not just about the child but the peers, educators, administration and also parents are involved in the process. Not all cases are alike and so the solution cannot be the same too.
It will be inexact if I say we handle all situations with ease. From counselling a bully to handling a stubborn parent, we encounter varied difficult situations often and solve them with professional help. Inclusion works wonderfully but to make it work, we thrive every day to create a healthy learning environment. For example, children make their own rules when they join the school and each class functions as a council and as a forum to discuss, resolve conflicts and issues that the children bring up. We also work a lot on group bonding and trust using a lot of techniques from drama and art and other therapies. These are ice breaker and energizer exercises that are fun and help the children know each other. A third important thing is that we do not give marks to children till higher secondary. We give qualitative feedback to each child. This makes them feel valued with no hierarchies and distinctions between them.
What sort of fee structure is present in MGIS for students of underprivileged families?
The school has a differential way of paying fees. It is open to privileged and underprivileged alike, we do not charge any fee to those who are unable to pay. When the school was established in cooperation with Municipal Corporations, we reserved 20% seats for the economically-backwards section of the society. This has increased to 25% with time to comply with the RTE act.
During an academic year, we have 300 students with us. We also do not have any admission criteria. For every child, whichever section of society they may come from, we meet with the parents and child and decide unanimously in the administration regarding the admission.
Share a success story that shows MGIS has achieved a unique breakthrough.
The Cafetaria Project is one of the most successful campaigns by MGIS, which is also close to my heart. Started in 1999, its idea is to empower kids from kindergarten to grade 11, once a month, by teaching them how to manage a cafeteria according to age competencies.
For the everyday menu, the students conduct surveys, make Venn diagrams, do mathematics, buy vegetables, manage the accounts, costing, selling, language, hygiene, science etc., and of course, look after the cooking process as well.
Every time The Cafetaria Project takes place, we witness in them the willingness to work as a team. We see them turning into brilliant managers who are having fun while learning. This initiative has taught us that the important aspects of life can be taught even in a kitchen. Learning is just not limited to the books, after all.
How does filmmaking help in the learning process?
Filmmaking is an interdisciplinary project that runs through several classes with varying degrees of difficulties. For example, to make a film for Ahmedabad Municipal Corporation on the awareness of dengue, students started with learning how to fill a tender, then bid for it, made the film, and managed all the aspects of the project. They've also made films with the election commission for voter awareness. These films have been played in theatres as well and applauded. While at it, the students are also learning about these pressing social issues and other life skills that go into making a film.
We integrate a lot of things into the project but the project must also mean something to the child. Ultimately, it should empower the child. Because when children are engaged in something wholeheartedly, they become truly active and productive. They also learn all the necessary life skills when engaged in real-life projects. And learning must be joyful!
How is MGIS different now after these 20 odd years of its establishment?
20 years down the line, what I believe we have achieved is the trust which was missing in the beginning. There was a lot of scepticism about the school being able to bring about the change we hoped for. We were told with just 300 children and a small set-up, having an impact on the classroom practice beyond MGIS was not possible. Parents also worried about how the children would perform in mainstream examinations and in universities, how they would fare in life and adjust, all these fears are now laid to rest. Since the last 20 years, our children have found their passion, gone on to chase their dreams and are excelling in their fields. Most importantly, they are happy individuals today with important values of honesty, compassion and ethics.
Also, the idea of MGIS was never just providing a unique pedagogy but also to add value to teachers' lives with our Teacher Training programmes, in which we train educators of municipal schools, village schools and private schools alike, across India. We have also recently completed an online Teacher Training that we created with TATA and TISS for CBSE. Now CBSE has announced that its schools should follow experiential learning based on MGIS's pedagogy, that means this training will be reaching to 1.2 million teachers. I strongly believe that this is the kind of impact even a small school can have, provided one is working really hard inside the classroom.
The dedication and resilience of MGIS and its founders are praise-worthy. At the time when education was not even possible for everyone, they opened a school to cater to all the sections of society and developed a joyful pedagogy that was more realistic and successful. This is inclusion at its best!
Shikshak Parv 2022 inaugurated
Ministers of State for Education, Smt. Annpurna Devi, Dr.Subhash Sarkar and Dr. Rajkumar Ranjan Singh inaugurate Shikshak Parv 2022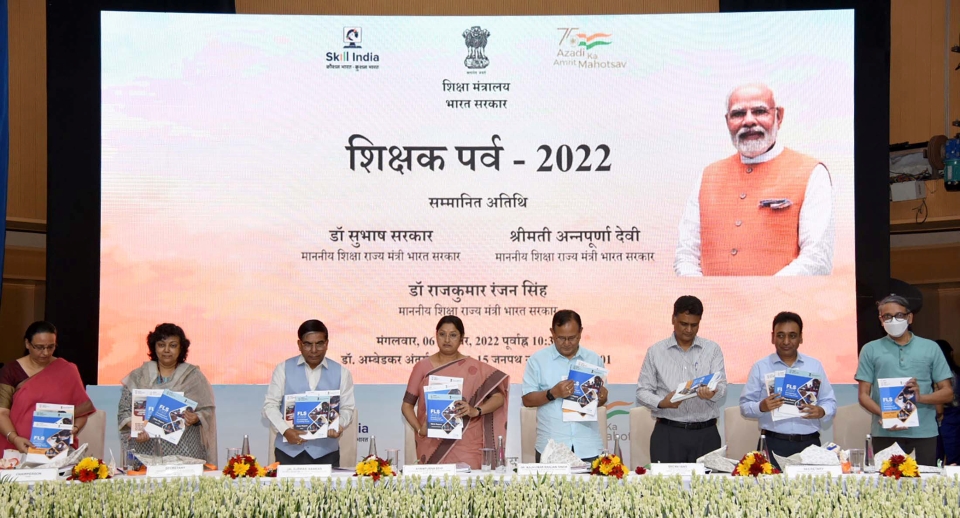 Ministers of State for Education, Smt. Annpurna Devi, Dr. Subhas Sarkar, and Dr. Rajkumar Ranjan Singh jointly inaugurated Shikshak Parv 2022.
Shikshak Parv is being celebrated to felicitate the Teachers and to take National Education Policy 2020 forward. The beginning of Shikshak Parv was marked by an inaugural conclave organised by the Ministry of Education, CBSE, AICTE, and the Ministry of Skill Development and Entrepreneurship in New Delhi.
While addressing the gathering Smt Annpurna Devi said that the teachers are looked upon as role models by children and they play an important role in shaping students' characters and building a value-based society.
She further said that National Education Policy 2020 is a key initiative to help realise Prime Minister Shri Narendra Modi's Panch Pran vision of a developed India by 2047.
She said that the Government of India is laying emphasis on teachers through its various schemes. Central schemes like Samagra Shiksha and PM-Poshan are aligned with the recommendations of NEP 2020. Under NEP 2020, teachers will have to work on the future action plan as per the concept of an integrated and multidisciplinary approach. Strong cooperation and coordination of a teacher is the key and inspiration for building the skills and character of the students, she added.
Dr. Rajkumar Ranjan Singh lauded the efforts of the entire fraternity and emphasised the implementation of NEP 2020. He further said that the teachers whether in schools or in higher education share a common goal and the objective of such honours was to recognize teaching distinction, best practices, academic leadership, and institution building.
Speaking on the occasion Minister of State Dr. Subhas Sarkar spoke about the National Teachers' Day award and said that the interaction of recipient teachers with the Prime Minister has further motivated them and they will become true messengers and brand ambassadors of "Shikshit Bharat & Viksit Bharat."
He also spoke about the PM SHRI schools initiatives announced yesterday by Prime Minister Shri Narendra Modi, calling it a historic decision that will have a long-term impact on the education system. He appreciated the role of teachers in the lives of students and said that it is not only the students' duty to obey the teacher but it is the duty of the teachers to review the needs of the learner. He also said that the National Education Policy 2020 is strengthening and making our education system more self-reliant.
Ministers presented the "CBSE Honour for Excellence in Teaching and School Leadership 2021-22 awards" to 19 Principals and Teachers from CBSE-affiliated schools. These awardees were selected on the basis of academic and professional accomplishments, contribution to the community, innovative teaching practices, impact on comprehensive growth of students, and an interview with the national-level screening-cum-selection committee.
They also conferred AICTE's National Technical Teachers Award 2022 to 14 faculty members including a supernumerary award in the PWD/ Divyang category selected after a rigorous, comprehensive, and three-phase evaluation by a team of distinguished experts, these 14 awardees have been selected from AICTE approved institutions in India.
The All India Council for Technical Education (AICTE) instituted the National Technical Teachers Award (NTTA) to identify and felicitate extraordinary teachers, teaching excellence, institutional leadership, innovativeness, and creativity.
Following innovative initiatives taken by the Ministry of Education and Ministry of Skill Development & Entrepreneurship were also launched:
Handbook for Early Detection of Mental Health issues in school-going children – This is a comprehensive handbook for hands-on training of teachers, counselors, and other stakeholders. The modular handbook evolved with several deliberations taken up by a committee under the Chairmanship of Dr. Jitendra Nagpal, Sr. Mental Health and Life Skills Expert.
Report on National Mental Health Survey – The Mental Health and Well-being of School Students — A Survey was conducted by Manodarpan Cell, DEPFE, NCERT between January-March, 2022 on 3,79,842 students from 36 States/UTs. The survey explores the perception of students from classes 6 to 12 on their mental health and well-being. Findings from the survey revealed that the majority of the students commonly experienced happiness and expressed satisfaction with school life, which declined as students moved to the secondary stage. Studies, examinations, and results were reported by students as causing anxiety. Yoga and meditation attempt to shift the way they think and writing journals were reported as frequently adopted strategies by students for coping with stress.
National Foundational Literacy and Numeracy Study report- National Education Policy (2020) gives paramount importance to the ability to read and write, and perform basic operations with numbers at the foundational level as it is an indispensable prerequisite for all future schooling and lifelong learning.  Attaining foundational literacy and numeracy for all children has thus become a national mission, under the NIPUN (National Initiative for Proficiency in Reading with Understanding and Numeracy) Bharat. The FLN Mission aims to ensure that all the children by the end of Grade 3 achieve foundational learning standards by the year 2026-27.

Foundational Learning Study covered approximately 86,000 grade 3 students from 10,000 schools. The Study sample included state government schools, government-aided schools, and private recognised and central government schools. More than 18,000 teachers participated in the research.  FLS was conducted in 20 languages which are being used as a medium of instruction in respective states/UTs. The Study assessed learning competencies at the foundational stage in the children and the findings will be used to plan systematic interventions. The study is quite unique as it is the first time in the entire world that oral reading fluency with comprehension and numeracy benchmarks based on Global Proficiency Framework is set for 20 languages with the largest sample ever for one-on-one basis assessment.
Screening Tools Mobile App for Specific Learning Disabilities and Glossary – A Disability Screening Checklist for Schools' mobile app and booklet has been launched. Prashast covers 21 disabilities, including the benchmark disabilities as per the RPwD Act 2016. This initiative will facilitate early screening, leading to certification of children with disabilities, as per the provisions of Samagar ShikshaThe Prashast mobile app can be downloaded from the android play store. This app has been designed by NCERT with the support of a National Awardee School Teacher from Alwar, Rajasthan (Mr. Imran Khan).
Launch of Toy-based Pedagogy – The handbook for Toy-based Pedagogy has been designed to promote the integration of indigenous toys and its pedagogy into the curriculum of School Education, Early Childhood Care and Education, and Teacher Education. Mapping of skills, competencies, and learning outcomes with a variety of toys and games across the stages- foundational, preparatory, middle, and secondary will help teachers to select or create age-appropriate toys for transacting different concepts in an integrated manner.
Handbook Shiksha Shabdkosh – The Department of School Education & Literacy has prepared a comprehensive Glossary of important terminologies in the area of School Education entitled Shiksha Shabdkosh. The Shabdkosh or Dictionary includes terms and references which are widely used by educationists, educational administrators, teachers, examiners, etc.
In addition to the above, the following two publications prepared by the Ministry of Skill Development and Entrepreneurship were also launched on the occasion:
Employability Skills Curriculum –The Ministry of Skill Development and Entrepreneurship (MSDE) revamped the curriculum on employability skills in association with Quest Alliance, National Skill Development Corporation (NSDC), and various other curriculum bodies within the MSDE ecosystem. More than 2.5 million students from over 15,600 government and private Industrial Training Institutes (ITIs) will benefit from the program which includes a revamped and expanded 120-hour curriculum in Hindi and English.  Some of the modules include an introduction to employability skills, digital skills, citizenship, diversity and inclusion, career development and goal setting, getting ready for work, and entrepreneurship. Variants of the curriculum of 30, 60, and 90-hour duration are also being launched for both long-term and short-term courses.

The curriculum will provide three key benefits to learners: building a self-learning mindset, becoming career-ready in a post-pandemic world, developing awareness around new careers, and being equipped with 21st-century skills. It will also help educators to upgrade their skills for new-age classrooms and familiarize themselves with blended learning models. While physical books covering the revamped curriculum are being released now, digital copies for blended learning will be available soon.

A facilitator guide will be provided to trainers so that they can teach the revamped curriculum using a blended learning module. A digital version of the student workbook is available on the Bharat Skills portal and Employability Skills portal. Additionally, MSDE and National Instructional Media Institute (NIMI) plan to publish these books for use by the state departments.

 One-click registration for IGNOU and NIOS courses for ITI candidates- MSDE signed a memorandum of Understanding (MoU) with the National Institute of Open Schooling (NIOS) and Indira Gandhi National Open University (IGNOU) to facilitate vertical mobility of ITI trainees enabling them to get 10th/12th certificate or pursue a degree programme, as per their need. A trainee can enroll in the NIOS programme of his choice by taking up an additional language course. The trainee is awarded a certificate which is equivalent to 10th or 12th, as the case may be, after completion of a course from NIOS. Similarly, the 12th pass ITI trainees can enroll in degree level programme from IGNOU. IGNOU has also recognized two-year NTC (after 10th standard), covering four subjects, as equivalent to 10+2 level for the purpose of direct admission to its undergraduate programmes.
In order to ease the process and facilitate seamless registration of ITI trainees for NIOS, IGNOU, and Apprenticeship, a One-Click solution has been provided through the trainee profile page on the DGTMIS portal of DGT. The DGTMIS portal has been integrated with NIOS, IGNOU and Apprenticeship portals through a two-way API.
A trainee has the option to register through the NCVTMIS portal or the individual portals of NIOS, IGNOU, or Apprenticeship. The trainee accesses his profile through the Trainee Profile page by entering his ITI Roll No., Father Name, and Date of Birth. The trainee is shown the option for registration to NIOS/IGNOU/Apprenticeship based on his academic qualification. He can select the option of his choice and register for the programme with a single click.
The Secretary School Education and Literacy, Smt Anita Karwal: Secretary, Higher Education, Shri Sanjay Murthy; Secretary, Ministry of Skill Development and Education, Shri Rajesh Aggarwal; Chairperson CBSE; Chairperson AICTE along with senior officers from the concerned ministries, departments were also present.