From brilliance to obscurity: The moving tale of Budhia Singh
Budhia Singh, India's youngest marathoner had everything going for him at the age of 5, till everything got taken away from him. Today living a life of poverty, he still dreams of getting back to training and representing India at the Olympics. He is pinning his hopes for financial assistance from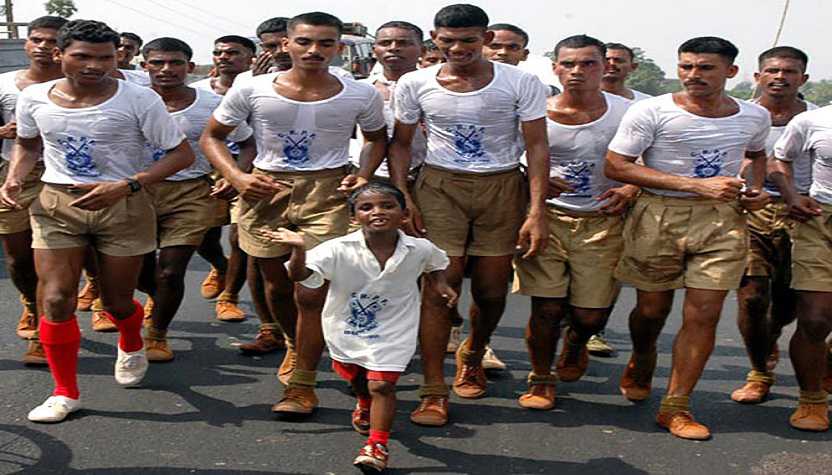 Budhia Singh, the child marathoner from Odisha was creating records with his tiny feet at the age of 4. He had the media swooning over his stamina and his achievements especially when he created history by running from Bhubaneswar to Puri, a distance of 65 km in 7 hours and 2 minutes.
But that was a decade ago, in 10 years every good thing from the life of the boy wonder has faded away including the media glare, the marathon training and his original mentor Biranchi Das. One of India's youngest celebrities continues to live in the slums of Bhubaneswar.
Sometimes celluloid has the uncanny ability to create a revolution by highlighting people and their spirits. Budhia's life has been captured on 70mm by first-time director Soumendra Padhi, in a film called Budhia Singh: Born To Run, and is played by Mayur Patole while Manoj Bajpayee plays his coach. This may be the push that may restore Budhia on the path of becoming a successful marathoner.
Today Budhia is in class IX and is painfully shy. He was in Mumbai recently to promote the movie on his life. Budhia doesn't remember his childhood much but definitely remembers his famous run.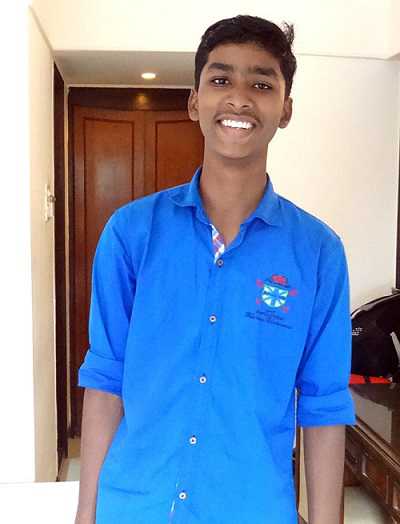 "When I was running the marathon from Bhubaneswar to Puri, someone gave me something to drink," he recalls. "I thought it was glucose and drank it. But it was Limca. After drinking it, I got a throbbing headache and fainted."
Budhia credits only one person for his success early on – his then coach Biranchi Das. He remembers Das setting up a tough and demanding routine that needed him to start his day at 4am to run for 2 hours. 6 am to 10am was reserved for attending school. At 10:30am, he would start his training again, and run up to 3 pm, sometimes an hour later. He would wind down his training with a massage.
For a prodigy who attributes his success to his coach, Budhia doesn't remember how he met Das, but again you can't fault him for that as he was just 3-years- old.
The true story behind meeting Biranchi Sir
One of the stories doing the round is that Budhia's mother sold him to a travelling salesman, who would harass the boy. Budhia's mother was too stricken and approached Biranchi Das to pay off the salesman and get Budhia back, which he did.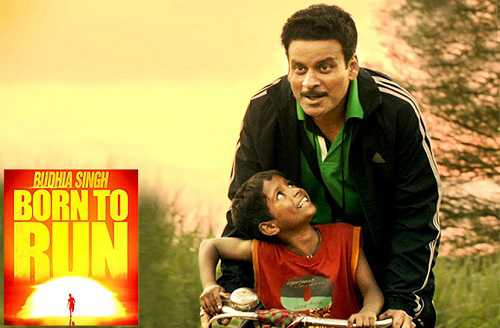 "Biranchi Sir would say that my mother sold you to me, and that I have raised you and made you popular," Budhia says.
Whenever Budhia tried to find the reality he hit upon a wall of stoic silence maintained by both, his mother and Biranchi's wife.
On one occasion, after much persuasion, Budhia's mother finally yielded that though they were living on the streets, she never sold him. His meeting with Das happened when he accompanied his elder sister to Biranchi's home who was her Judo teacher.
"I would do a lot of mischief at home, since I was the youngest," Budhia says. "One day, my mother told me to accompany my sister to her judo class. I would go because I would get a chance to roam around."
Budhia's talent was uncovered accidentally as Das saw Budhia hitting his sister one day and punished him by making him run on the grounds. Biranchi completely forgot about the punishment, only realising it hours later that Budhia was still running.
Budhia doesn't remember how long he ran but remembers running. "Biranchi sir took me to the doctor, who said my body was normal," Budhia says. His training started right after.
Training and separation from Biranchi Das
It is documented that Budhia ran 48 marathons but the young boy has lost count.
"Biranchi sir was strict. He would punish his students if they came late for judo class. But I don't think he has ever punished me when I was training with him," Budhia says. He praises Biranchi's wife as well, saying that she would take care of him.
Budhia would stay with Biranchi, but he claims it isn't an orphanage, as is widely reported.
"Somebody complained against Biranchi sir that he is making me run, so I was separated from him," he continues. "They asked me whether Biranchi sir would beat me up but I said no. I don't know how such a complaint went to him. I had no problems with Biranchi sir. He was a very good coach."
Separating from Das sent Budhia's promising future in a tailspin. After separation he was sent to live with his mother. Sadly, his mother had to send him to a government-run free school due to penury. He was living in a government-run sports hostel, where he stayed until the April of this year.
"I didn't like the hostel because I am not allowed to meet my mother and sisters," he explains.
Budhia was dissatisfied with the training offered at the government facility. He lamented the coach student ration of 1:12 comparing it to 2:1 internationally. "The diet isn't good as well. I get only oily food. I am not allowed to buy food from outside. I don't have any freedom inside the hostel. We needed a gate pass to go out of the hostel, which was a long and tiring process," he adds.
In fact, the hostel was so restrictive that he wasn't even allowed to attend Biranchi's funeral.
Today Budhia is in grade IX and lives with his mother. He uses the bus to commute to school, and the only allowance he gets as a celebrity is that he doesn't have to pay the bus fare. He does not carry Tiffin, and eats only after he reaches home.
"I have never got special treatment. My school and hostel was free for everyone, not just me. The training that I get in school is given to everyone, not just me," he says.
Budhia's mother works at KIIT (Kalinga Institute of Industrial Technology) in Bhubaneshwar, as a caretaker in the hostel. Her monthly salary is ₹8,000, of which ₹2,000 goes towards the rent of their shanty.
The remainder of the income is definitely not enough for them to sustain their family for a month along with giving Budhia a special coaching and diet. The family has pinned its hopes on the upcoming film's success to help financially for the future.
Though he has not watched the movie, Budhia likes the trailer of Budhia Singh: Born To Run.
"It is very nice. It looks like my story. My coach was exactly like Manoj Bajpayee. He was strict and even spoke like him. But my coach was fatter," Budhia says with a laugh.
Budhia has met Bajpayee, and tells us, "Manoj Bajpayee sir told me that the government has forgotten you but after watching this film, they will remember you again."
Bajpayee believes that every child should be allowed to pursue his/her dreams. He further elaborates, "This film that is very dear to me and one which I'd love for my daughter to watch. Every child wants to win and as parents, it's our duty to help them at every step along the way."
Emphasising on watching this movie that tells an awe-inspiring story about a boy who was born to run, with your children, he asserts, "Budhia is not only endearing but inspiring as well. His little feet will leave a big imprint on your hearts."
SHE STEM 2022 honours and celebrates women
SHE STEM 2022 encourages students to 'Unleash their imagination' as part of the Sweden India Nobel Memorial Week.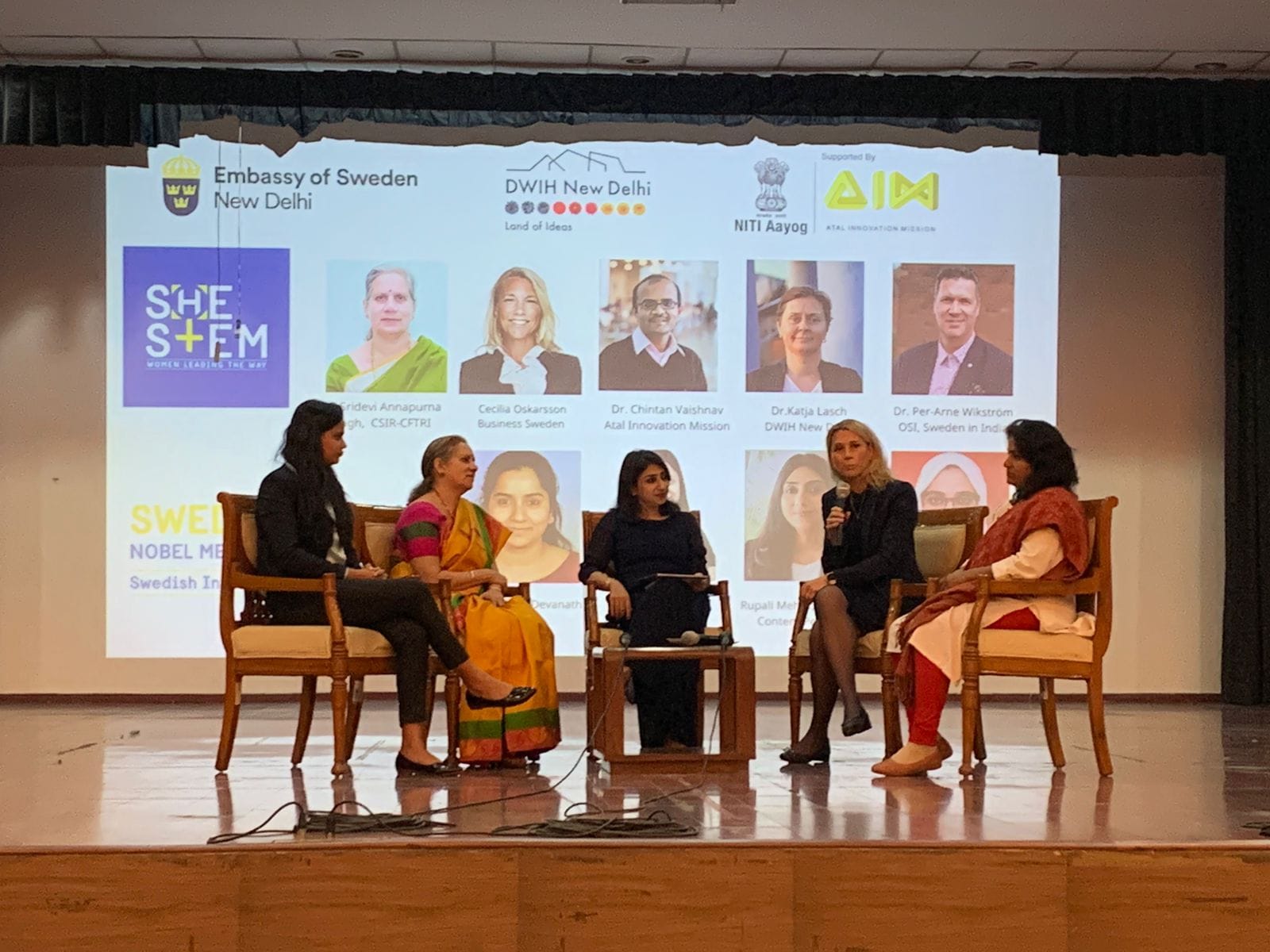 As part of the Sweden-India Nobel Memorial Week, SHE STEM, the annual event to celebrate women in the fields of science, technology, engineering, mathematics, and sustainability, was successfully held for the third year in a row.
The annual event is organized by the Sweden Embassy in India in partnership with the Atal Innovation Mission of the Government of India and the German Centre of Innovation and Research (DWIH New Delhi).
Ambassador of Sweden to India H.E. Jan Thesleff, who also addressed the students via a video message said, "We are very happy to continue the tradition of SHE STEM – it is a flagship event of the Sweden-India Nobel Memorial Week. Congratulations to all the winners of this year's SHE STEM Video challenge."
Dr. Chintan Vaishnav, Director of ATAL Innovation Mission said, "Today, the face of women's involvement in STEM is changing and the rate of participation has increased. It was in ATL Marathon 2021, that there was a spike where the women's participation was 49%. A strong STEM education will go a long way in cultivating such critical thinkers."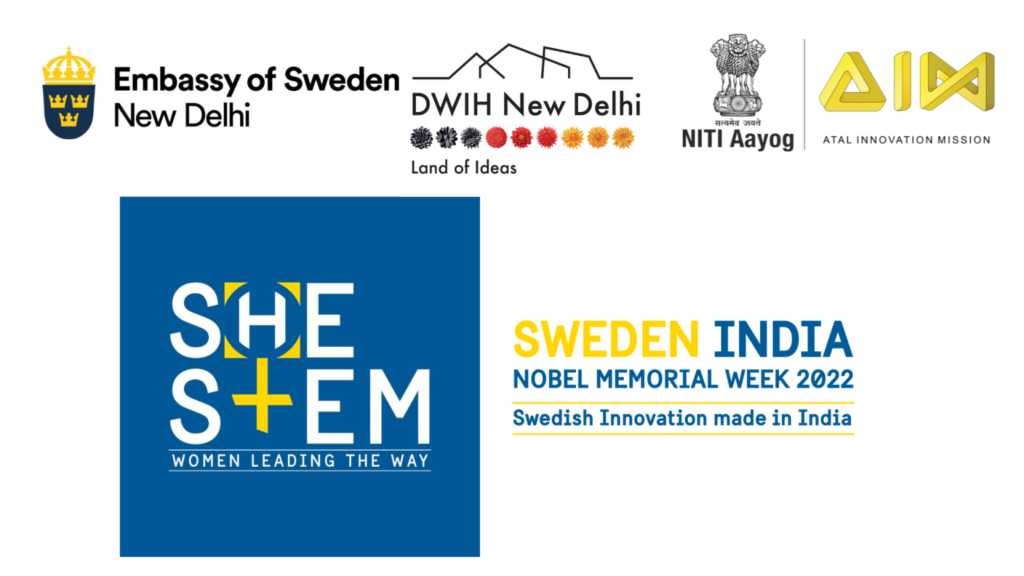 SHE STEM 2022 began with a musical performance by the students of Darbari Lal DAV Model School, New Delhi, the host school for SHE STEM 2022, followed by talks, and a panel discussion with women in the fields of STEM and business, including D. Sridevi Annapurna Singh, Director of Council of Scientific and Industrial Research – Central Food Technological Research (CSIR-CFTRI), Ministry of Science and Technology, Government. of India.
Dr. Annapurna Singh has done extensive work in the development of supplementary foods for undernourished children and in studying the impact of protein-rich food on children. She spoke to the audience about the need for women in fields of STEM to bring in their unique perspectives to problem-solving for a sustainable future.
Other participants included Cecilia Oskarsson, Trade, and Invest Commissioner of Sweden to India, who shared her thoughts on the role of diversity in triggering and enabling positive changes for girls and women, Mamta Kumari, co-founder and CEO of Prepbytes, an ed-tech company in India, and Dr. Vasudharani Devanathan, Neurobiologist and Professor of Biology at the Indian Institute of Science Education Research (IISER). Rupali Mehra, Founder of Content People AB moderated the event.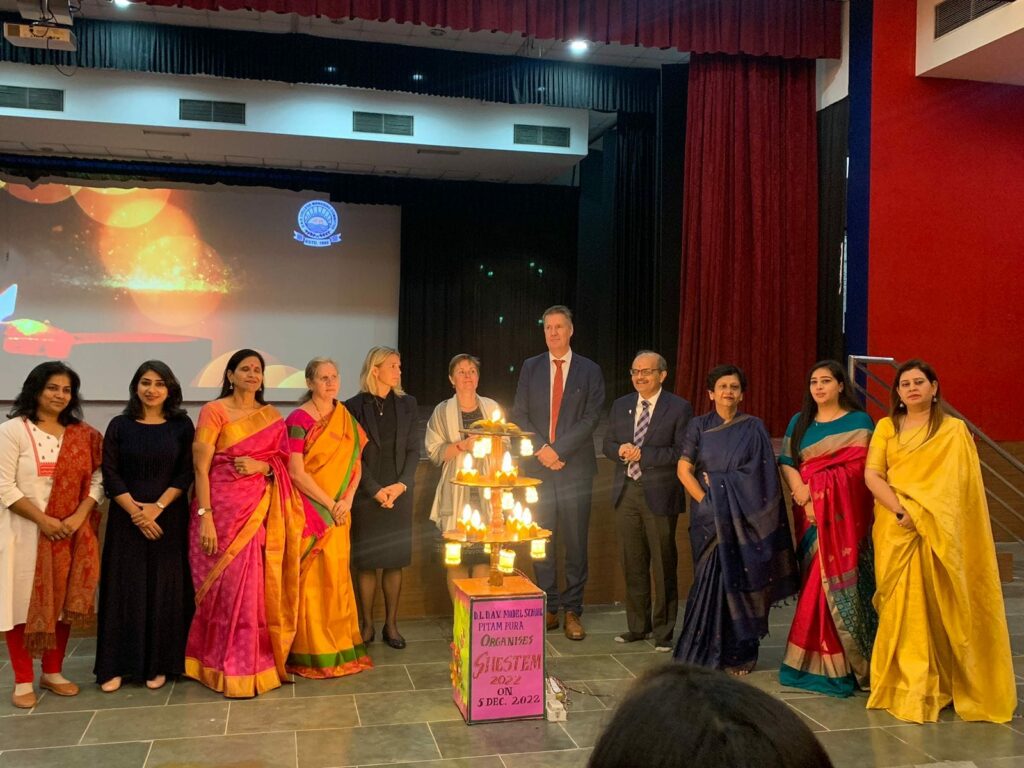 Dr. Per-Arne Wikström, Head of Office of Science & Innovation, Embassy of Sweden in New Delhi said: "When women and girls provide their talent, their knowledge, and their capabilities to science and technology on equal terms with men and boys, then we know that societies prosper and that innovation capacity actually increases. So for us, gender equality is an integrated part and an important aspect of everything that we do. We would like to thank our Indian partners for their support for this very important initiative."
"As Johann Wolfgang von Goethe said, 'who is not curious will not gain knowledge,' so keep your curiosity on, drive your knowledge forward and who knows maybe one or other idea will be implemented," said Dr. Katja Lasch, responsible for Strategy Management at the German Centre for Research and Innovation (DWIH New Delhi) and head of German Academic Exchange Service (DAAD) Regional Office in New Delhi.
Following the success of the Insta-reels Video Challenge in 2021, SHE STEM hosted the #SHESTEM2022 Video Challenge across Instagram, Youtube, Facebook, and Google Drive for students of ages 13 to 17, asking them to imagine themselves in the year 2047, and speak about an innovation of theirs that has helped in tackling climate change. The response was overwhelming with over 930 videos of which 15 were shortlisted. SHE STEM had an extensive jury round of 3 jury teams; Atal Innovation Mission Team led by Dr. Chintan Vaishnav, the Swedish Embassy team, led by Dr. Per-Arne Wikström, and the German Centre for Research and Innovation, represented by Dr. Katja Lasch.
The videos were assessed on the:
Novelty of idea
Clarity of thought and articulation
Sustainability or climate action angle
G. Nivethiga Rani who created a video on how she as a STEM Leader in 2047 had invented a robot that collected and converted biodegradable and non-biodegradable waste into electricity, won the first prize in the video challenge. The second prize was tied between T Shatananda Dhanwantari and Shreya Singh and Nistha Aswal, who participated as a team. Gaurav Hanjoora won third place.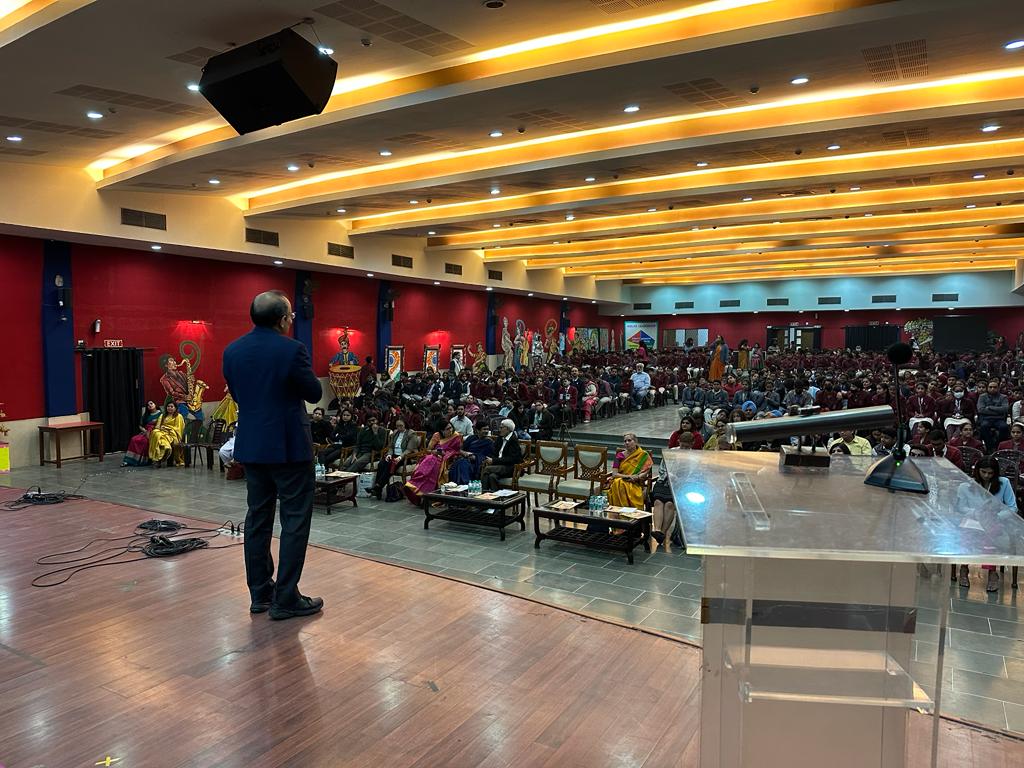 "I congratulate all the winners of the SHE STEM 2022. I have to say what caught my attention was that every single idea was addressing a fundamental constraint confronting us," said Dr. Chintan Viashnav.