Tech entrepreneur feels schools should integrate robotics and practical science in school curriculum.
On one hand students are flocking to robotics and animation classes to pick up creativity and innovation, schools still continue to use the theory-online approach to teaching concepts in school. Tech entrepreneurs feel it's best to integrate theory with practical learning.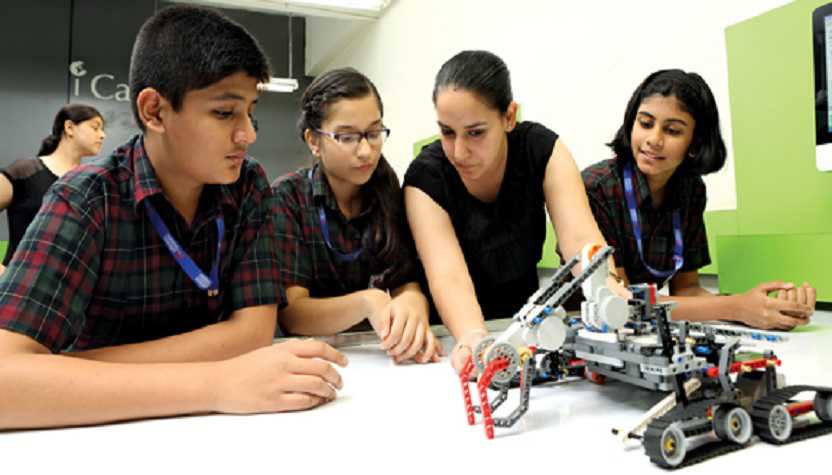 The hallmark of good education is innovation and creativity. In a sign of good times, young Thaneites are gravitating towards these topics.
There are various hooks for learning innovation and creativity but youngsters are discovering newfound passion towards the world of technology, science and robotics. Children are finding their way to tech centers where they try their hand at building robots, conceptualizing zero waste machines and battery chargers that use kinetic energy.
However, it is sad that despite having a clear and rising demand for practical learning of scientific concepts and easily available raw material, schools are yet to pick the cue and embrace this concept.
In a recent interview to a leading publication, city based tech-entrepreneur and founder of Children's Tech Center, Purushottam Pachpande (30) who has mentored over 2,500 children over the years speaks about how schools need to include practical science with robotics in school curriculum itself. Here are the excerpts:
Q- Over the past 4 years your center has seen close to 3,000 students coming to learn robotics, innovative gadgets and basic science concepts. What is the reason behind this sudden passion?
A- Nowadays, youngsters have easy access to solar cells, batteries, circuits and other basic material required for science. Earlier, science experiments simply meant watching what the teacher did. The fact that they can try it on their own now has considerably increased their interest levels.
Q- What exactly do you teach in your class?
A- My class starts with basics such as electric current, how it passes through a circuit, how to make a circuit and so on. If a student wants to make a robot or 3D image we explore ways to do that. If they want to build a zero waste machine or safety alarm for their door, we brainstorm and create that.
Q- A lot of these theories are taught in school science textbooks. How does your teaching method stand out?
A- The problem with the teaching methods of many schools is that they still practice the traditional way where the student has to study theory and write it out during the exam. Some even have science projects, but the matter is lifted off the net. I start my class by giving the child a smoldering machine.
Q- Before starting your center you approached a number of schools to teach students there, but in vain. Why do you think schools are still hesitant to embrace this methodology in their curriculum?
A- I don't charge the students other than the basic material cost and let them take their gadget home. This model doesn't fit well with schools as they will have to incur a lot of cost. Every project requires batteries, cells, circuits, etc. Additionally they have new students every year. However, things are changing slowly. Some have tech and robotics hobby classes and workshops now.
Q- The TMC has planned to introduce e-learning, virtual classrooms and activity-based learning in its schools. Is this is a step in the right direction?
A- Definitely. The education system needs to grow and develop with the changing society and its needs. Innovation and technology seem to be the trend of the future and it is high time we used them well.
The above article originally appeared in www.timesofindia.com
Image used for representational purpose only
NIOS celebrates 33rd Foundation Day
Dr. Subhas Sarkar addresses the 33rd Foundation Day Celebrations of NIOS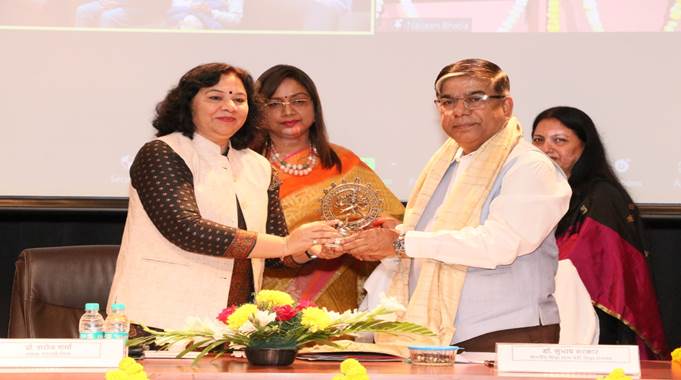 Union Minister of State for Education, Dr. Subhas Sarkar addressed the 33rd Foundation Day Celebrations of NIOS as the Chief Guest.
The function was attended by senior officials of the Ministry of Education, Chairpersons of educational institutions, Heads of Departments, officers, and staff of NIOS. Prof. Naval Kishore Ambasht, former Chairman, of NIOS and Pro-Vice Chancellor, of the Central University of Haryana, Prof. Sushma Yadav graced the occasion.
Dr. Subhas Sarkar in his address appreciated the various programmes and schemes of NIOS and said that NIOS is lighting the lamp of knowledge all over the world. Talking about the Azadi Ka Amrit Mahotsav, he mentioned that today's children will be young people in the age group of 30-40 years on the completion of 100 years of independence and will be responsible for building our nation.
He said that the Ministry of Education has entrusted NIOS with several responsibilities such as developing inclusive education resources, expanding the open and distance education system in states/UTs, translating all courses into more languages as required, creating Indian Knowledge Tradition based courses and propagating Indian culture by translating them into major foreign languages. He also praised the programmes of NIOS enrolling 10 crore adults under 'Basic Literacy Assessment', training of in-service teachers, Gender Green Project, and training in Yoga. He said that Indian Sign Language as a subject at the secondary level has been acknowledged on national and international platforms. He described the launch of an e-library called 'DEEP' by NIOS as a big step forward.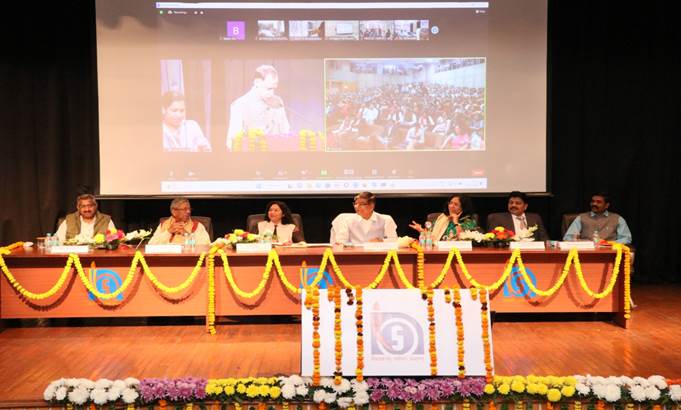 Prof. Saroj Sharma spoke about the journey of 33 years of NIOS and highlighted the special achievements. She said that NIOS is one of the two National Boards of Education under the Ministry of Education, which provides school education through Open and Distance Learning (ODL) for secondary, senior secondary, and vocational education. She elaborated on the role of NIOS in the field of education, efforts being made by NIOS for the successful implementation of the New Education Policy, Virtual Open School, Digital Library (DEEP), NEPIA Project, MoU with Ministry of Defence for Agniveer Project, setting up of Mukta Kaushal Kendras and subjects offered under Indian knowledge Tradition.
It was also conveyed by her that a curriculum called 'Aarambhika' is being developed by NIOS for catering to the Indian Diaspora.
A documentary based on the journey of 33 years of educational endeavours of NIOS was presented on the occasion. In this documentary, 'All England Badminton winner Pullela Gopichand said that most of the players in his badminton academy are getting an education from NIOS.
NIOS alumni, Ms. Niranjana and Vinod Kumar Chaudhary were also felicitated on the occasion. Shri Vinod Kumar said that only due to his education in NIOS, he was able to get the credit of making the Guinness Book of World Records 10 times (8 in Typing and 2 in sports). A proud learner of NIOS, Ms. Niranjana is a successful ventriloquist. Prof. N. K. Ambasht, former Chairman, NIOS said that in this age of technology, innovations must lead to developing 'standalone' courses for the Indian Diaspora, to achieve the goals of the National Education Policy- 2020. Pro-Vice Chancellor, Prof. Sushma Yadav said that the role of NIOS increases in the light of New Education Policy. NIOS has such potential that the institute will be able to achieve the ambitious goals of National Education Policy 2020 in the coming years.
The half-yearly magazine of NIOS 'Pragyan' was released by Dr. Subhas Sarkar on this occasion.