Fun Lego Teaching Ideas For Kids Quarantined at Home
Here are some tips to engage children while stuck at home, these fun and educative ways are a 'must-try'.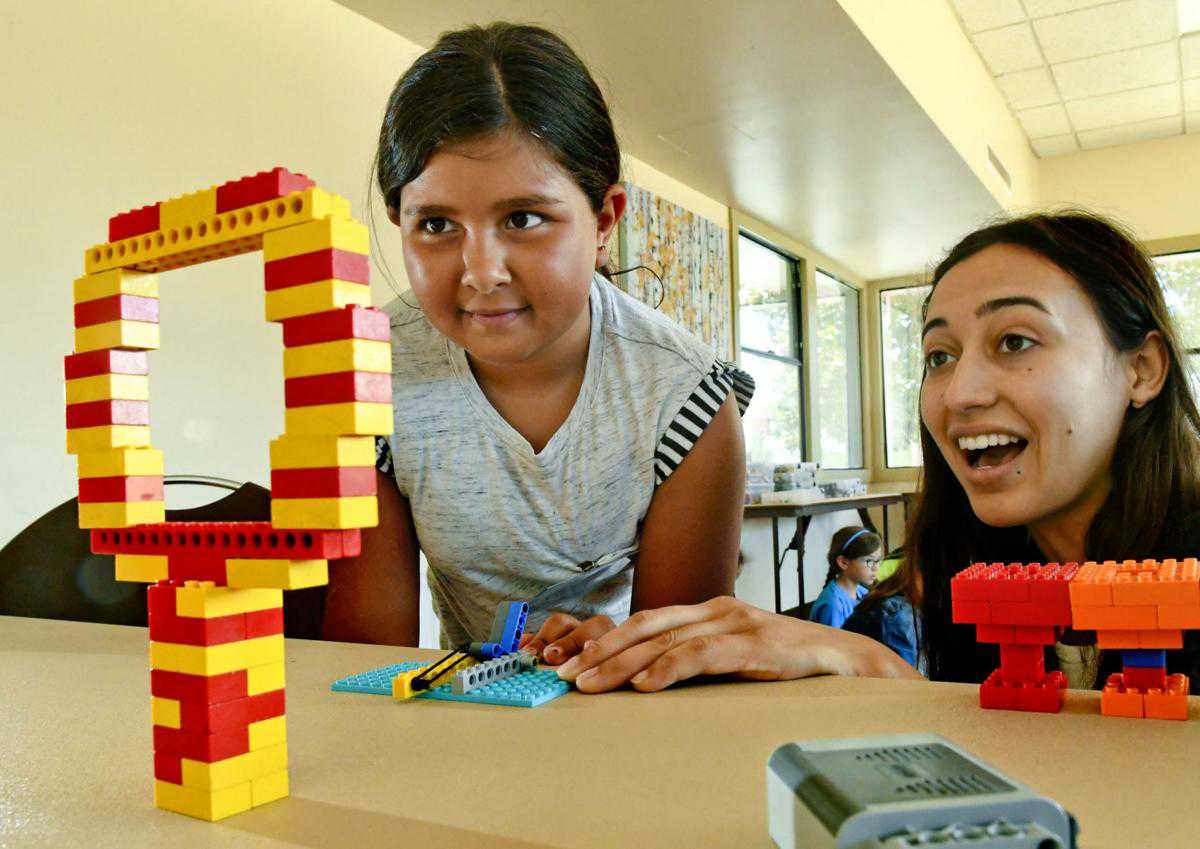 We, at ScooNews, are eager to bring to you the most trending and helpful tips for our collective peace of mind during this time of lockdown.
We think Lego is a valuable resource for a whole range of learning activities like spelling, math, science, social studies, art, etc. Moreover, educational activities related to it do not come across as a study time to kids and are more fun and exciting for them.
Parents and teachers, who're in constant touch with their pupils, are suggested to consider these tips for kids of all ages and understanding levels:
Lego Barrier Game
This fun game is perfect for playing in pairs and is fabulous for developing oral language communication skills. With each player sitting on opposite sides of a table, set up a barrier in the middle of the table so that players cannot see each other's work. Player 1 builds something using their own collection of bricks, then player 1 needs to give player 2 a series of verbal instructions, one at a time, so that player 2 can re-create the same construction.
Lego Story Starter
Build 2 or 3 custom minifigs and a building or landscape setting, and use this as inspiration for writing a story. This could even be a multiple part drama that is added to over a series of days as your child plays with their figurines and sets.
Identifying Numerals
Challenge your child to build each of the numerals 0-9 using Lego bricks. It's not as easy as it sounds!
Simple Addition
Lego is a great hands-on counting tool to use for completing addition and subtraction problems in the early grades.
Measurement
Add a ruler and set a measurement guided building construction challenge, for example, build a tower that is exactly 10 inches high.
Lego Printmaking
Print with Lego or Duplo bricks to create interesting pictures and patterns paint. You could use a stamp pad or squeeze some acrylic paint.
Create a Lego model that informs others about a topic you are studying or interested in
For parents, considering what your child is learning in science, social studies, etc., ask them to build a model that teaches you something based on their knowledge.
These are only a few tips and tricks from us. Lego, however, has vast potential when it comes to educating kids. The more you experiment, the more you'll get ideas. Why not write to us at [email protected] if you come across any?
Image Courtesy: Google
Pedagogy Of Teaching History & Heritage In Schools In The 21st century
In her article, a Delhi History & Heritage expert talks about her experiences and the work her organisation has been doing in teaching children about history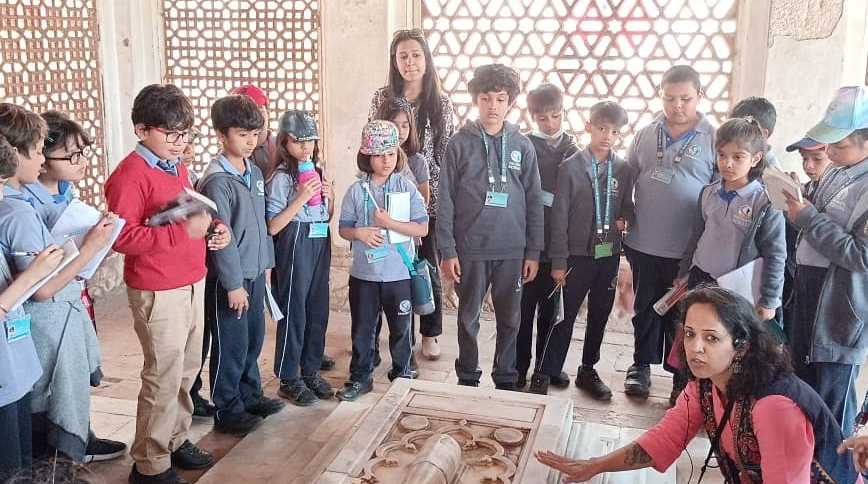 When we began doing the heritage walks across different monuments of Delhi, with an intention to focus specially on the lesser known sites, the Roshanara Bagh was one of our initial destinations. We experimented here with bringing in elements of theatre into the guided tour of the monument. The experience turned out to be very interesting and enriching both for us as performers as well as for our audiences. Audience's overwhelming responses ranged from "we've never seen something like this before in a heritage walk", to "the theatrical performance made the whole monument come alive with its history and the characters who inhabited it at one point in time" to "oh I wish we were taught history like this when we were in school" . The last comment of history being taught in schools this way stayed with us and drove us to do more such theatre based heritage walks (eg Tughlaq walk, Zebunissa walk, Massaqali & the Empress walk) and also bring in elements of drama based strategies in our heritage tours and sessions for children.
In 2017, I found myself working in a school setup and also engaging in post school classes with children where I began keenly observing how history and heritage is being taught in classrooms. Although a lot has improved in the teaching methodologies since we were in school in the 1980's & the 90's, but still a lot more can be done to advance historical thinking skills in our 21st century classroom.
Working as a history and heritage researcher and a walk curator cum leader, for both adults as well as children, I have come to observe that visit to the historical sites can be extremely stimulating for the children (it's a visceral experience involving all the senses) & it really brings their imagination alive. In addition to that a theatrical performance or even simple storytelling makes the whole monument come to life. Stories being shared in the historical site help to engage the child emotionally and create opportunities for imagination vis-a-vis the space, thus making the child an active participant in the whole process of learning rather than a passive one as in a typical classroom setup. Active engagement with history in turn always helps in better retention of the historical concepts studied in the class.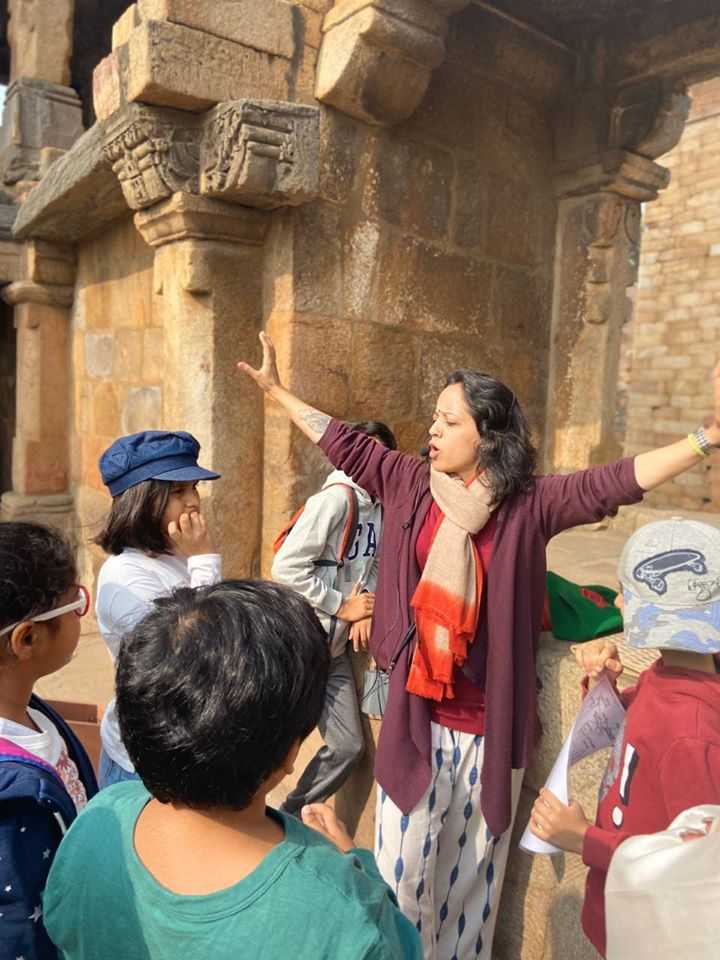 Our heritage walks for Children:
In our heritage walks for children we encourage enquiry based learning, so we support them to observe, to question and share their findings with us. We always follow that up with a reflection process through group discussions to inculcate critical thinking & independent decision making. Our role is more of process facilitation rather than of spoon feeding the child. For making the children more observant of the whole place we also try to engage them in sketching intricate details of the building, or take photographs to record the key elements of the structures and the space around. This is followed up with post visit assignments to help the children engage with the whole experience more creatively (i.e. poetry writing, creative writing, sketching, 3D model making). Community engagement is also encouraged through interaction with the people residing around the monument, so as to help the children have a more holistic sense of the place, its history, its present and the future vis-à-vis the world around it, instead of looking at the monument in isolation.
In our experience the whole learning process can actually become cross curricular (i.e. in addition to history elements of art, design, architecture, literature, anthropology, economics, sociology & environment are also there), so all subjects can be addressed in the process of examining the past events with their Whys and Hows. (Example- when we visit the 4th city of Delhi Jahanpanah built by Muhammad-Bin-Tughlaq, in addition to the historical accounts we also share excerpts/scenes from the famous play based on Tughlaq's life).
Theatre in Education:
Being a trained theatre maker & an actor myself, working in the area of theater-in-education I have come to believe that Drama based role play methods can really help children to step into the shoes of historical figures and examine the situations and decisions made from their perspective, which in turn helps the children to develop historical empathy.
In my classes I have experimented with process drama to work with history and literature and have found the following set of drama strategies very useful.
Understanding the historical characters in depth using hot seating – a drama technique in which a character is questioned by the group about his or her background, behaviour and motivations. (example- Jinnah, Nehru, Noorjahan, Razia Sultan, Guru Tegh Bahadur all these characters and their far reaching decisions and actions can be explored using the above mentioned drama tool).
Thought tracking can be a very effective tool to explore artworks and vintage photographs (example exploring photographs of partition refugees in the camps in 1947-48 trying to understand their state of mind and their plight). Mantle of the Expert (a technique which involves creation of a fictional world where students assume the roles of experts in a designated field) can help students to behave and think like historians.
Conscience Alley invites students to explore multiple facets of a character's decision in any kind of dilemma (Example- to explore Tughlaq's decision to shift the capital from Delhi to Daulatabad or Gandhi's decision to withdraw the Non Cooperation movement).
"Being able to live history allows students to immerse themselves in a particular place & time and take on the mindset of someone who lived then. In this way students are engaged and interacting with the material rather than passively watching & listening"- Karen Andrus Tollafield
Adopt a monument:
History & Heritage education can easily be made action oriented. A positive step in this direction came few years back from the CBSE (Central Board of Secondary Education) which issued a recommendation to schools to adopt a monument. As a part of this process students would be involved in knowing about the monument and its significance, followed by keeping it clean (i.e. removal of vegetation around it and dusting it). In addition they would be engaged in creative activities like clay modeling, photo exhibitions, storytelling and creative writing about the monument and in conducting guided tours of the place for tourists & general public. I personally undertook a workshop with the history students of grade 11th & 12th of a leading school in Delhi on "how to curate & conduct a heritage walk". In my experience once the students are convinced about the significance of a place the desire to preserve & protect it comes rather naturally to them.
Exploring Personal History:
Another significant area of engagement wrt to history is to encourage children to explore their own personal/family history (it can approached through eliciting stories from family elders, through personal objects that have been passed down in the family for generations and intangible cultural practices). Bruce Feiler in an article for the New York Times summarizes a study about the resilience of children "the more children knew about their family history, the stronger their sense of control over their lives, the higher their self esteem and the more successfully they believed their families functioned". Students can also create a museum of personal objects, with brief write-ups about their significance, thereby understanding that these objects can very well become history, down the road for our future generations.
Author: Ms. Nitika
History & Heritage Researcher, Co-founder of Darwesh (a heritage walks based organization). [email protected]