Going Beyond Just Studies: Seedling Modern High School, Durgapura
Fun is an important aspect of life. To teach something new to students, fun way is the easiest way. Seedling realizes this. And thus a fete … and some dance … and some learning!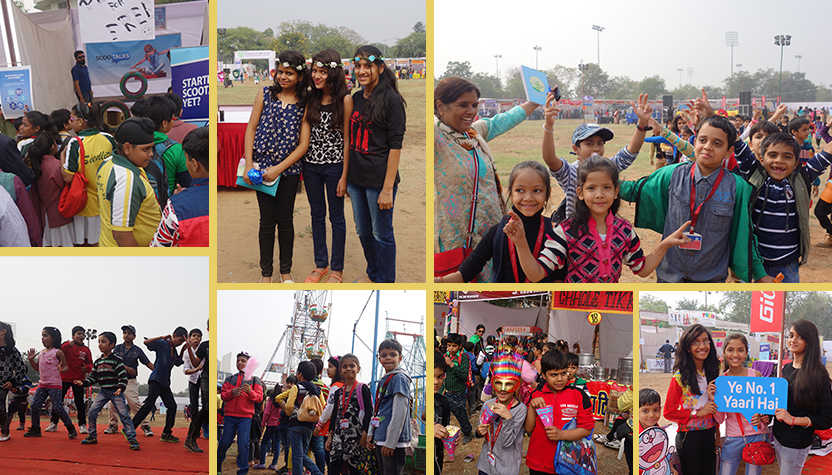 Is education only about books and studies?
Seedling Modern High School energetically shrieks a NOOOOO!
Believing that education goes way beyond school and in an effort to help an all-round development of its students, Seedling Modern High School, Durgapura organized a school fete. It was a step towards helping students learn organizing, planning, executing … helping them gain some entrepreneur skills.
Inaugurated by Mr. S.R. Janga, IPS, Commissioner of Police, the fete was a great success as the excited students, both those who attended as visitors and those who managed their stalls, got to learn a lot. And also have fun. So did we!
Students at each stall were assigned one teacher to help and provide assistance; though at most of the stalls, we noticed that it was the mere presence of their teacher that provided them comfort and confidence. Most of the things at the stalls were well managed by the students, who had not only designed and decorated their stalls, but also were seen managing money quite aptly.
We talked to a few students. One among the audience, a beaming and excited tiny tot, said, "Bahut maza aaya, Ma'am ne ice cream bhi khilayi, ghumaya bhi. Aur humne dance bhi kiya, aur khela bhi" as the teachers beautifully took care of their students. While the elder ones came on their own, hanging around with friends, taking various challenges offered at the stalls, played games, won prizes … made merry!
While the boys were seen busy at trying their hands with football at ScooTalks stall, girls angelic with floral tiaras, while many others got themselves tattoos or got their hair dressed as per their favorite stars. Wow! The child artist dressing hair amazed us with their talent.
While some stalls challenged physical strength, others challenged mental abilities, aptitude, cognitive skills, learning-to-doing skills; there yet were some testing luck! As some displayed Dil, Dosti and Yaari, there also were some showing true entrepreneurship skills. Akshita Goyal, a young student of Class 8 and handling a stall for the first time, impressed us with her inclination towards entrepreneurship.
Letting us know how her team had managed bringing in the books at lower prices as they were bought in bulk, she discussed profit-loss as well.
Khushi Kothari, 8C, and Khushi Bapna, 8A, who were behind the counter at Fun and Cuisine, had prospecting and convincing skills well comparable to professionals.
Could any fete be complete without a dance floor?
As for us, Team ScooTalks too had an engagement with students, which was a fun activity to do, not just for students but also for us!
Thanks, Seedling Modern High School!
NIOS celebrates 33rd Foundation Day
Dr. Subhas Sarkar addresses the 33rd Foundation Day Celebrations of NIOS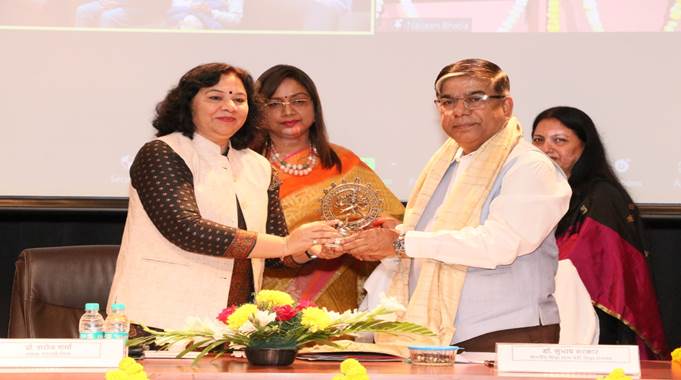 Union Minister of State for Education, Dr. Subhas Sarkar addressed the 33rd Foundation Day Celebrations of NIOS as the Chief Guest.
The function was attended by senior officials of the Ministry of Education, Chairpersons of educational institutions, Heads of Departments, officers, and staff of NIOS. Prof. Naval Kishore Ambasht, former Chairman, of NIOS and Pro-Vice Chancellor, of the Central University of Haryana, Prof. Sushma Yadav graced the occasion.
Dr. Subhas Sarkar in his address appreciated the various programmes and schemes of NIOS and said that NIOS is lighting the lamp of knowledge all over the world. Talking about the Azadi Ka Amrit Mahotsav, he mentioned that today's children will be young people in the age group of 30-40 years on the completion of 100 years of independence and will be responsible for building our nation.
He said that the Ministry of Education has entrusted NIOS with several responsibilities such as developing inclusive education resources, expanding the open and distance education system in states/UTs, translating all courses into more languages as required, creating Indian Knowledge Tradition based courses and propagating Indian culture by translating them into major foreign languages. He also praised the programmes of NIOS enrolling 10 crore adults under 'Basic Literacy Assessment', training of in-service teachers, Gender Green Project, and training in Yoga. He said that Indian Sign Language as a subject at the secondary level has been acknowledged on national and international platforms. He described the launch of an e-library called 'DEEP' by NIOS as a big step forward.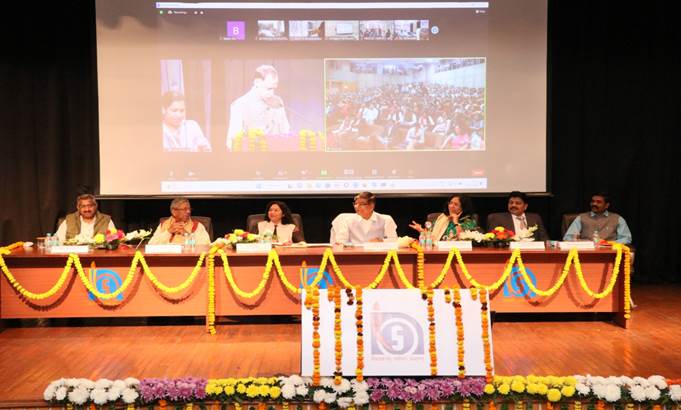 Prof. Saroj Sharma spoke about the journey of 33 years of NIOS and highlighted the special achievements. She said that NIOS is one of the two National Boards of Education under the Ministry of Education, which provides school education through Open and Distance Learning (ODL) for secondary, senior secondary, and vocational education. She elaborated on the role of NIOS in the field of education, efforts being made by NIOS for the successful implementation of the New Education Policy, Virtual Open School, Digital Library (DEEP), NEPIA Project, MoU with Ministry of Defence for Agniveer Project, setting up of Mukta Kaushal Kendras and subjects offered under Indian knowledge Tradition.
It was also conveyed by her that a curriculum called 'Aarambhika' is being developed by NIOS for catering to the Indian Diaspora.
A documentary based on the journey of 33 years of educational endeavours of NIOS was presented on the occasion. In this documentary, 'All England Badminton winner Pullela Gopichand said that most of the players in his badminton academy are getting an education from NIOS.
NIOS alumni, Ms. Niranjana and Vinod Kumar Chaudhary were also felicitated on the occasion. Shri Vinod Kumar said that only due to his education in NIOS, he was able to get the credit of making the Guinness Book of World Records 10 times (8 in Typing and 2 in sports). A proud learner of NIOS, Ms. Niranjana is a successful ventriloquist. Prof. N. K. Ambasht, former Chairman, NIOS said that in this age of technology, innovations must lead to developing 'standalone' courses for the Indian Diaspora, to achieve the goals of the National Education Policy- 2020. Pro-Vice Chancellor, Prof. Sushma Yadav said that the role of NIOS increases in the light of New Education Policy. NIOS has such potential that the institute will be able to achieve the ambitious goals of National Education Policy 2020 in the coming years.
The half-yearly magazine of NIOS 'Pragyan' was released by Dr. Subhas Sarkar on this occasion.