Here's toasting the awardees for the year 2019… Shine on, Jewels of India!
ScooNews celebrated the work and tireless spirit of the Jewels of India for the year 2019 at the third edition of the ScooNews Global Educators Fest 2019 at Udaipur.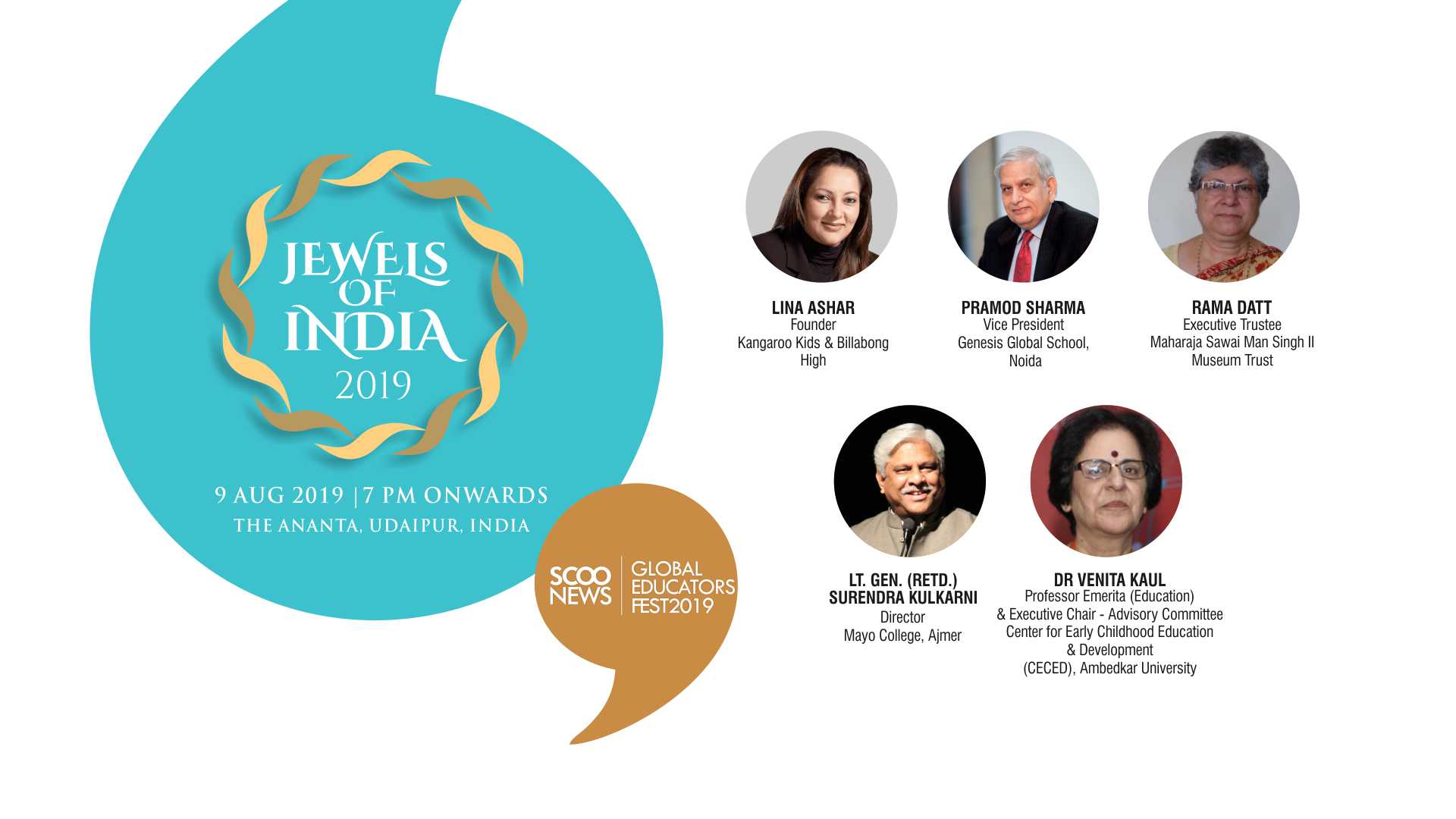 It is no secret that education has the potential to write and rewrite the destiny of generations. This responsibility is shouldered by no one in particular and simultaneously by all working in the field of education. Amidst the thousands of educators, a few shine brighter and become a beacon of inspiration, a benchmark that other educators strive to equal. 'Jewels of India' is a humble initiative by ScooNews to honour such extraordinary educators.
A truly unique initiative, the awardees are not selected on the basis of nominations. In-depth, year-round research has focused on identifying educators who are making a far-reaching impact in the field of education and have the potential to inspire fellow educators to change the game.
In our eyes and through the eyes of respected names from the field of education, these are the educators who have chosen not only to set new standards but have also blazed a path for others.
ScooNews felicitated the work and tireless spirit of the Jewels of India for the year 2019 at the third edition of the ScooNews Global Educators Fest 2019 at Udaipur.
Here's toasting the awardees for the year 2019… Shine on, Jewels of India!
When experience meets excellence…
Rama Datt
A committed and disciplined educationalist, Rama Datt is executive trustee, Maharaja Sawai Man Singh II Museum Trust, Jaigarh Public Charitable Trust, and Trustee, Shila Devi Temple Trust. She did her schooling and college in science stream in Dehradun. The inspiration came from her mother who was a strong and hardworking educationalist.
Datt has excelled in the field for more than 37 years and continues to make education easy, enjoyable and multidimensional at all levels. Her innovative policies have been accepted and appreciated by the entire nation. She has worked at Sawai Man Singh Vidyalaya, Jaipur from 1984 to 1996. She has held the position of founder principal of Mahaveer Public School, Jaipur from 1996 to 2003 successfully, where she introduced the lottery system. Datt has also steered Sanskar School, Jaipur from 2004 to 2017 and is an advisor to the same institution.
She is a member of the governing body of Maharaja Sawai Bhawani Singh School and The Palace School. Sticking true to her beliefs, she is also associated with Disha where she conducts teacher training programs. A worthy educator, resource-person and scholar, she has had various articles published in newspapers on parent-teacher relations, their role in the development of children, the concept of education and many such topics. Her emphasis on the student resource centre and teacher resource centre has brought a holistic change in the teaching process, especially in schools she has guided under her leadership.
Globally, Datt has been invited for exchange programmes to Germany, USA and UK for her outstanding contribution in the field of education while her work has been felicitated by various organisations. In 2002, she was honoured by the society of unaided private schools of Rajasthan along with Shri Radhakrishnan Samman by Avantika. Amidst the many awards that were bestowed upon her, she received Sawai Pratap Singh Award in 2005, Best Educationist Award in 2012, Certificate of Excellence by the International Institute of Management & Education and National Mahila Gold Medal by Indian Solidarity Council, to name a few.
Under her leadership, Sanskar School received an award for being one of the best schools in India; it also became the first Microsoft school.
Datt's philosophy in life is to work on something that outlasts life itself.
ScooNews salutes the feisty spirit of Rama Datt, a jewel of India indeed!
Bringing back the joy of childhood
Lina Ashar
Lina Ashar is the founder of Kangaroo Kids & Billabong High. Lina started her career as a teacher and today is one of the most renowned educators and edupreneurs in India. Lina did her primary schooling from England before moving to Australia, where she acquired a Bachelor's degree in Education from Victoria College, Melbourne.
In 1991, she came to India on a year-long sabbatical from college. While connecting with her roots, she ended up taking a teaching stint at a prestigious heritage school in suburban Mumbai, an experience that changed her life and led to the burning question "How can she bring back the joy of childhood for the children in India?"
Back then, the education system in India was still grappling with a straitjacketed approach to education. It was robbing children of their childhood.
The conviction to offer an education that set the child at the centre, began with a preschool in Bandra (Mumbai) in the year 1993 with 25 students. With a successful formula at hand, she went from one preschool (Kangaroo Kids) to a network of them, whilst branching out to high schools (Billabong High International School) as well. The journey of developing child-centric schools across 44+ different cities in India and across Dubai, Maldives and Qatar has been an outstanding one, supported by parents, education partners and a fierce team of dedicated, passionate and determined individuals at the school and central team level.
In her endeavour to make a difference in every child's life, she wrote her first book called 'Who Do You Think You Are Kidding'. The book dealt with parenting for children and is a complete guide for parents on how to build a positive child right from the start. Her second book 'Drama Teen', is a guide for both parents and teens.
The industry has recognised and awarded her efforts several times over for her unique and meaningful contributions to the sector, notable among them being the A.P.J Abdul Kalam Award for 'Excellence in Education' at the 46th National Summit on Start-Ups and Women Entrepreneurship and the Award for 'Exemplary Contribution in ECCE of the year working for young children and their education' by ECA Awards held at the Early Ed Asia Conference – Jaipur 2019.
A journey of commitment & change
Lt. Gen. Surendra Kulkarni
Known for his wit and honest thoughts on the changes required in the Indian education system, Lt Gen Surendra Kulkarni is an Old Boy of Mayo College. He joined in 1964 and completed his MSc in March 1970. He has served in the Army for nearly four decades. He was commissioned into the Armoured Corps in 1975. In his long and distinguished career, he has commanded the largest forces and held some of the most prestigious assignments. In recognition of his special contribution, he has been awarded a Vishisht Seva Medal twice, an Ati Vishishta Seva Medal and finally the highest peacetime distinguished service award in the Armed Forces, the Param Vishisht Seva Medal by the President of India.
Parallel to his Army career, he has pursued his academic interests. He is an Economics graduate from Fergusson College Pune. He was a post-graduate UGC Merit scholar before he joined the Army. He has four Master's Degrees including an M Phil degree. He would be one of the few officers to have been sent abroad thrice on academic assignments. He has taught at the Armoured Corps Centre and School, Ahmadnagar, Institute of Armament Technology, Pune and the Defence Services Staff College, Wellington. In Mayo, he was in Colvin and Rajasthan Houses. He was a keen sportsman, who played cricket, tennis, squash, football, and hockey.
He was also a part of the FICCI Arise Indian delegation that went to attend the Learning Conference in London in January 2019. He has spoken at various panel discussions such as the Mad Conclave and ScooNews Global Educators Fest 2018, to name a few and has provided some key insights using years of his experience.
He is known for blending the traditional approaches with modern practices, fostering knowledge through innovation and engagement and equipping the students with the best work habits, character traits, and 21st-century skills. Under his leadership, Mayo College got recognised as a "Great Place to Study" based on Student Satisfaction Index and received the National School Excellence Award for outstanding commitment and exceptional efforts in promoting co-curricular education. They are India's Best Boarding School branded by International Brand Consulting Corporation, USA. Some other awards include "Top 10 Boys Boarding School in India", "Top 50 Schools in India" and "Most Trusted Brand in Education", "Asia's Best Private Education Institute", India's Most Respected School", "Most Trusted Brand in Education" and "Green Schools Award".
Pioneer of early childhood education
Venita Kaul
Prof Kaul is currently Professor Emerita (Education) and Executive Chair of Advisory Committee for the Centre for Early Childhood Education and Development (CECED), Ambedkar University Delhi, since January 2017. She Joined Ambedkar University Delhi in 2009 as Professor and Founder Director of Centre for Early Childhood Education and Development (CECED) and later took over additional responsibility as Dean/Director of the School of Education Studies. She retired from these positions in December 2016.
Prior to 2009, Prof Kaul was a Senior Education Specialist in the World Bank for about 10 years, wherein she led several World Bank projects in India Elementary Education and Early Childhood Education (ECE), including World bank's support to Sarva Shiksha Abhiyan, ICDS, and District Primary Education Programme (DPEP). She was also involved in projects in other countries in the South Asian region viz, Maldives, Pakistan, Bangladesh, Sri Lanka, and Nepal. Preceding her tenure in the World Bank, Prof Kaul spent over 20 years at NCERT from 1975 to 1998, from where she took voluntary retirement as Professor and Head, Department of Preschool and Elementary Education. For two years she served as a headmistress of the IIT Nursery school, which was a collaborative initiative between NCERT and IIT, Delhi. She has a number of publications to her credit.
In the Ambedkar University Delhi, she established the Centre for Early Childhood Education and Development (CECED), primarily as a centre for policy research and advocacy, which is the first of its kind at the university level in India, and which has now been recognised as a national resource institution in ECCE. She led the establishment of a Master's programme in Early Childhood Care and Education, initially as a pilot, which has now been regularised and continues to draw a large number of students. She led a major longitudinal, mixed-method research titled India Early Childhood Education Impact Study (IECEI) in three states of India, the first of its kind. It provided valuable policy level insights and findings which have informed the recommendations of the Draft National Policy on Education (2019) which has duly acknowledged this source.
She received the award of Exemplary Contribution in ECCE of the Year for Working for Young Children and their Education in 2016 by the Early Childhood Association, India and she was as Felicitated for Lifetime Contribution to Early Childhood Development by Association for Early Childhood Education and Development (AECED), Mumbai in 2018.
Dr. Swati Popat Vats received the Jewels of India Award on behalf of Dr. Venita Kaul.
Inspiring educationists worldwide
Pramod Sharma
Pramod Sharma brings with him the experience of a career in education spanning 46 years. He started with teaching chemistry in 1972 at the Doon School, Dehradun. He also taught in India School, Kabul, Afghanistan from 1976 to 1979, then Ijebu Ode Grammar School, Nigeria from 1981 to 1985. He has served as a Principal for over 29 years across various institutions, including the TN Academy, Gangtok, Yadavindra Public School, Patiala, Mayo College, Ajmer and Genesis Global School, Noida. During his 13-year tenure at Mayo College, Ajmer, it was ranked repeatedly amongst the best two residential schools in India.
He was additional head examiner, CBSE, New Delhi Examiner 'O' level, West African Exams Council, Nigeria. He visited and stayed at Eton College, Loretto School, Edinburgh, Cheltenham college, Oakham School in the UK and Deerfield Academy, New England USA to study their teaching methods and resource utilisation in the summer of 1988 and again in 2000.
He was awarded the National Award for Teachers in 2000 by the President of India. His decade-long tenure as a member of the Governing Body of the CBSE was much commended. He is the ex-Chairman of the Indian Public Schools Conference (IPSC) and the recipient of the Lifetime Achievement Award from IPSC in 2008. He is an Honorary Member of Round Square and IPSC. As a Founder Principal, Director and now Vice-President of the Managing Committee of Genesis Global School, Noida, he feels very satisfied looking at the growth of GGS in such a short span of time. He has been Convenor INTACH, Ajmer and Pushkar, and Vice-Chairman of the Rajasthan Scouts and Guides. He is an honorary member of Round Square and IPSC. An avid sportsperson, he continues to enjoy tennis and badminton.
Most recently, he has been conferred with the Lifetime Achievement in Education Leadership Award 2018 by Education World.
World Students' Day: Celebrating Young Indian Entrepreneurs Shaping the Future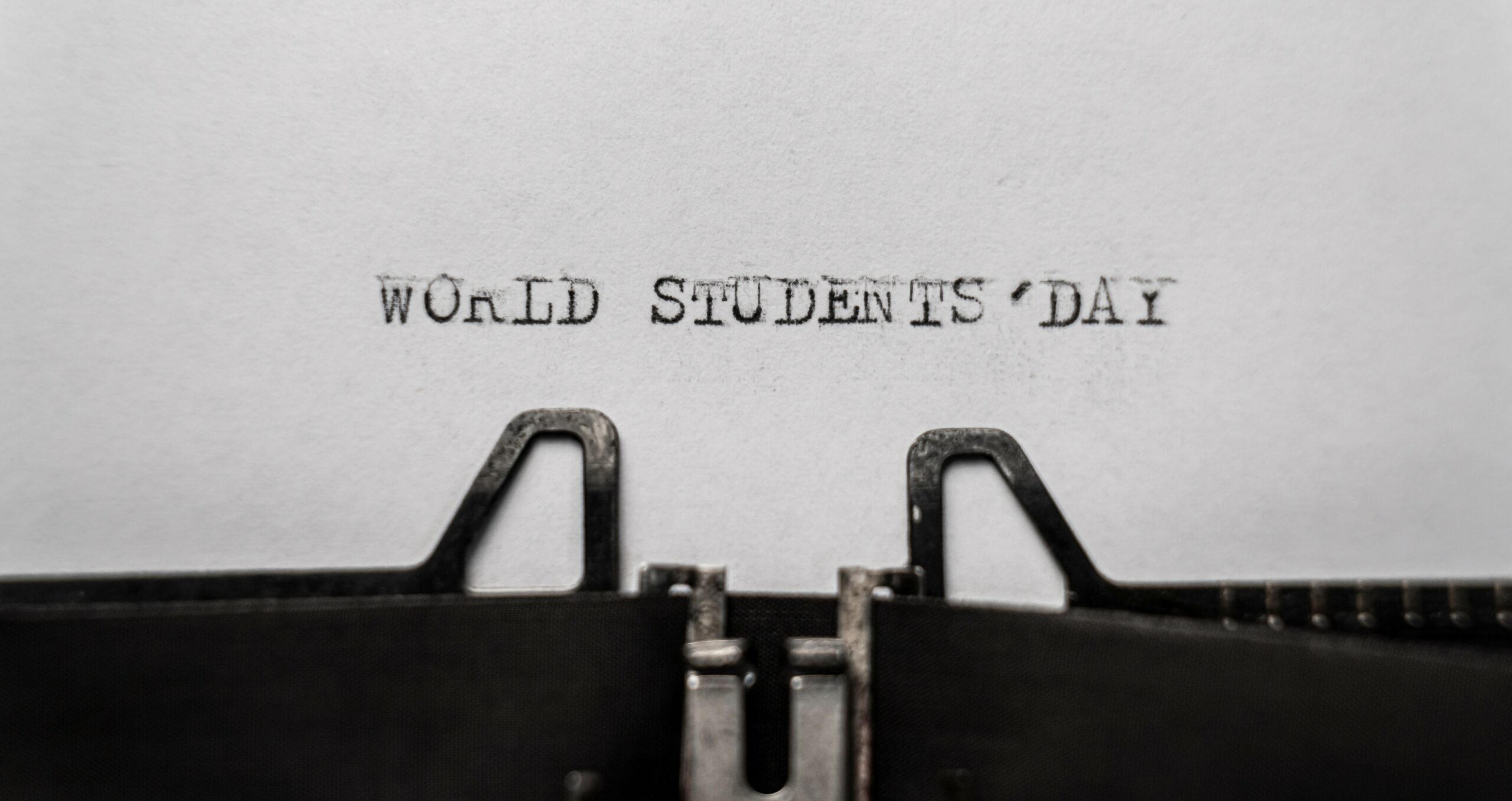 On the occasion of World Students' Day 2023, celebrated on 15th October 2023, we are showcasing stories of student entrepreneurs who are nothing less than an inspiration. They have left their indelible mark on the world through their work and innovation
Student entrepreneurs are young people who start their own businesses while pursuing their education. They are driven by their passion, creativity, and innovation to solve problems and create value in the market. Student entrepreneurship is a growing phenomenon in India, as more and more students are taking up the challenge of becoming their own bosses. According to the Global Entrepreneurship Monitor (GEM) Report 2020-21, approximately 81 percent of youth in India reported having the skills and knowledge needed to start a business. A survey by Amway India also revealed that over 60 percent of students in the country consider entrepreneurship as a good prospect for earning a livelihood. Some of the successful student entrepreneurs in India include Ritesh Agarwal of OYO Rooms, Bhavish Aggarwal of Ola Cabs, and Kunal Shah of Freecharge. Student entrepreneurship can be a rewarding career option for young Indians who want to make a difference in the world.
Aadit Palicha and Kaivalya Vohra are the young entrepreneurs behind Zepto, India's fastest-growing delivery platform that promises to deliver anything within 10 minutes. The duo met as childhood friends in Dubai and later enrolled in Stanford University, where they dropped out to pursue their dream of building a disruptive startup.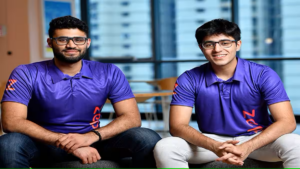 Zepto was launched in Mumbai in 2021, amid the COVID-19 pandemic, when the demand for online delivery services was soaring. The company leveraged its network of hyperlocal warehouses and delivery partners to offer a wide range of products, from groceries and medicines to electronics and fashion, at affordable prices and lightning speed. The company soon attracted the attention of investors and customers alike, reaching a valuation of $200 million in just one month of operation. By the end of 2022, Zepto had become a unicorn, valued at $900 million, and expanded to over 20 cities across India. The company also made history by making its co-founders the youngest billionaires in India, with Aadit Palicha's net worth estimated at Rs 1,200 crore and Kaivalya Vohra's at Rs 1,000 crore.
Palicha, just 23-year-old and Vohra, in his early 20's have also been recognized for their achievements by various prestigious platforms, such as Forbes' 30 Under 30 for Asia, Times of India's Unstoppable 21, and Wikitia. They are regarded as the rising stars of the Indian startup ecosystem and an inspiration for many aspiring entrepreneurs.
Tilak Mehta is a 15-year-old entrepreneur who founded Paper n Parcels, a delivery platform that offers same-day delivery services within the city at low costs. He started his business when he was 13 years old, after facing a problem of getting his books delivered from his uncle's place. He came up with the idea of using the Mumbai Dabbawalas, who are known for their efficient and reliable delivery of lunch boxes, to deliver other items as well.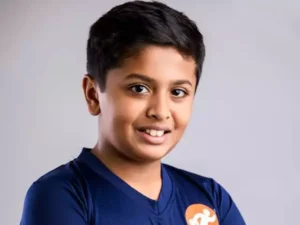 Paper n Parcels has grown to become one of the most successful startups in India, with an annual turnover of Rs 100 crore. The company provides shipping and logistics solutions to various businesses, using its online platform and network of partners and suppliers. Paper n Parcels also offers value-added services such as parcel tracking, order management, and shipping insurance.
Tilak Mehta is an inspiration for many young aspiring entrepreneurs in India. He has been recognised by various prestigious platforms such as Forbes' 30 Under 30 for Asia, Times of India's Unstoppable 21. He is also a TEDx speaker and the youngest Forbes panellist. He believes that age is no barrier to innovation and success.
Divya Gandotra Tandon is a rising star in India's entrepreneurial landscape. She is the founder and director of Scoop Beats Private Limited, a company that provides digital media solutions and content creation services. She is also the chief operating officer of ASTNT Technologies Private Limited, a company that offers web development, app development, and digital marketing services.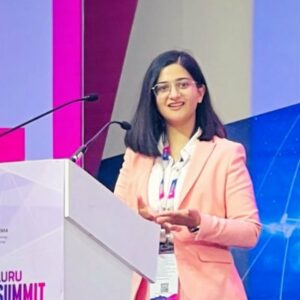 Divya started her career as a tech YouTuber at the age of 13, with a channel named Technical Divya. She later changed it to Tech Divya, which has over 30 thousand subscribers. She has collaborated with brands like Aquaconnect, Lazy Gardener, Coolpad, Infinix, and ASCENT Technologies. She has also attended launch events and confidential meetings of various tech companies.
Divya is not just an entrepreneur but also an influential figure in various domains. She is also the chairperson of the KiranPrakash Social Welfare Foundation, a role that reflects her commitment to giving back to society and making a positive impact.
Pranjali Awasthi is a teenage prodigy who has made a mark in the world of AI with her startup, Delv.AI She founded the company in 2022, when she was just 15 years old, and has raised nearly Rs 4 crore in funding at a valuation of Rs 100 crore.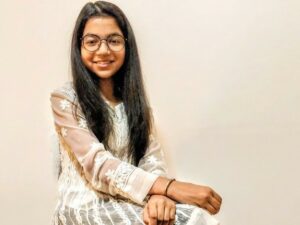 Awasthi's passion for technology and entrepreneurship was inspired by her father, who is a computer engineer and taught her coding when she was seven years old. She moved from India to Florida when she was 11 years old, where she got access to computer science classes and competitive math programs. She also landed an internship at the research labs of Florida International University, where she worked on machine learning projects.
Advait Thakur is a young and dynamic entrepreneur who has made a name for himself in the Indian tech industry. He is the founder and CEO of Apex Infosys India, a company that provides innovative solutions in automation, networking, and digital media. He is also a computer programmer, an AI researcher, and a tech influencer.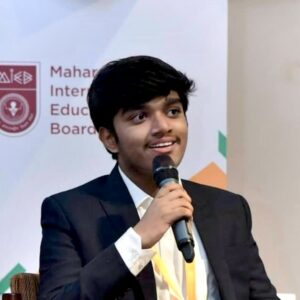 Advait's passion for technology started at an early age. He launched his first website at the age of nine and became a Google, Bing, and Hubspot certified professional. He has worked with Google's AI and Cloud Platform for several years and has developed various applications and projects using them. He has also collaborated with brands like Aquaconnect, Lazy Gardener, Coolpad, Infinix, and ASCENT Technologies.
Advait is not just a successful entrepreneur but also a social change-maker. He co-founded Crophle, a social enterprise that aims to improve the agricultural supply chain and empower small farmers. He is also the chairperson of the KiranPrakash Social Welfare Foundation, a non-profit organization that works for the welfare of underprivileged children and women.