How has Mayo College adapted to the 21st Century?
Lt Gen Surendra Kulkarni shares his thoughts on how Mayo College adapted to the 21st Century.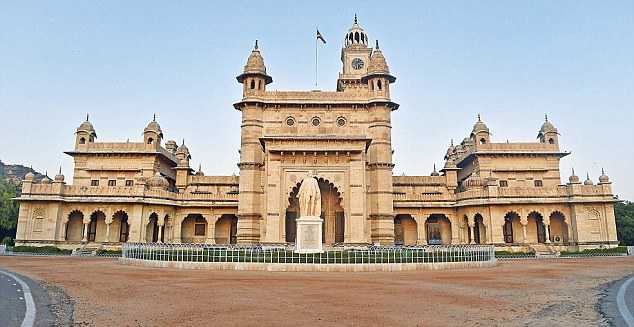 Our endeavour is to equip our students with Knowledge, Skills, Work Habits and Character traits that encompass the 21st Century Learning Skills. We foster Critical Thinking, Problem Solving, Global & Cultural Awareness amongst students using the Mayo College Museum and the entire campus as a Classroom.
Our pedagogy has been realigned to revolve around the students and their needs, make learning fun and evoking a curiosity that stays with our students, thereby helping them to become lifelong learners.
We have undertaken the following steps to sensitise our staff and students about the need to realign to current needs & trends viz. the 4 C's – Communication, Collaboration, Creativity & Critical Thinking and the 3 R's – Receptivity, Retention & Retrievability.
Concept and project-based learning, regular in-house and external workshops, seminars and interventions, inter-disciplinary approach to teaching and learning, helps both our students and faculty, co-relate and learn easier, retain better and also aids excellent retrieval.
Technology has been upped on campus over the past few years, overall, cloud technology been engaged to minimise dependency on ground infrastructure. Empowerment for staff to create content suiting their teaching methodology and a Wi-Fi enabled campus helps deliver excellence easily.
We follow the 3-R approach to learning and engage students in multiple ways viz. flipped classroom technique, design thinking workshops and case studies, group-learning using mind-maps, blended learning, online learning tools and field and industrial visits.
Concepts are introduced to our students up to class 8 and we follow an open curriculum and source, derived from best practices across Indian Boards and international curricula. This will ensure that they can adapt to any kind of curriculum or board or mediums in future.
In my view, 21st century learning skills enables organising (collect and retrieve) information, manage information, evaluate information, and analyse information. This can be achieved digitally by use of technology, inventive thinking, effective communication and high productivity.
Essentials of a 21st century enabled classroom
A 21st century enabled classroom should be able to communicate, share, and use information to solve complex problems. It should also be able to adapt and innovate in response to new demands and changing circumstances, involve the stake holders in being able to command and expand the power of technology to create new knowledge.
How modern classrooms will affect students…
A 21st century enabled classroom should enable students to acquire the creative thinking, flexible problem solving, collaboration and innovative skills they will need to be successful in work and life and also thrive in today's global economy. It should give them a good exposure of real world issues and how to tackle them. The communication and collaboration skill sets refer to the ability of individuals to communicate clearly, using oral, written, and non-verbal languages and collaborate effectively and responsibly with diverse populations. Students that follow traditional learning methods have communication challenges. They are often taught what is given in a text book and seldom do they relate to actual processes. Reference is made to many phenomena that are common like formation of ice and waves in water, baking of bread or for that matter formation of yeast, yet many students have never actually seen or felt it. While education has focused on the fundamentals of good communication – speech, writing, and reading- the demands of social relations and global economy call for a much more diverse set of communication and collaboration skills. Also with technological advances in the field of education, the students should be able to handle these devices at ease so that education can be holistic and not a formality. Collaborative learning cat fetch rich dividends in learning a concept and at the same time demonstrate the ability to work effectively and respectfully with diverse teams. It also teaches the art of flexibility and willingness to be helpful in making necessary compromises to accomplish a common goal and assume shared responsibility for collaborative work. It also teaches you to value individual contributions made by each team member.
Do modern classrooms help in critical thinking and problem solving?
Critical thinking and problem-solving skills include the ability of individuals to reason effectively, ask pointed questions and solve problems, analyse and evaluate alternative points of view and reflect critically on decisions and processes. They also specifically focus on the ability of learners to reason effectively and this can happen only if they understand the concept in-depth. It also helps the students to think in variable environments, make judgments and decisions and solve problems. Critical thinking is the ability to analyse, interpret, evaluate, summarize, and synthesize information. What gives these, perhaps traditional, critical thinking skills a twist in the 21st century is the availability of advanced technologies for accessing, manipulating, creating, analysing, managing, storing and communicating information.
How does technology foster creativity and innovation?
Numerous case studies have shown how technology allows individuals to produce high quality work in a range of media that provide opportunities for creativity and also highlight the interconnection between technology, learning and creativity. Lack of attention to developing creativity and innovation skills is often based on a common misperception that creativity is only for geniuses and is a domain for select few. With the help of technology, creativity can be nurtured by teachers and learning environments that encourage questioning, openness to new ideas and learning from mistakes and failures. Creativity and innovation skills can be developed, like other skills, with practice and over time. Just as successful business establishments constantly adapt to the rapid shifts with time, so must education. This calls for a culture of innovation supported by data, research and critical and creative thinking and this in turn develops the ability to work creatively with others. Though it is difficult to assess creativity, there are multiple instruments and assessments that have been designed to measure creativity in specific fields such as problem solving and design.
Smart environments in classrooms that aids collaborative learning is a sure shot way to instil creativity and innovation. Schools have developed innovative methods by introducing learning management systems that is mapped to the curriculum and teachers use it as a part of teaching to enhance the conceptual understanding of the processes involved. Smart Boards also play a very important role in enhancing collaborative learning practices amongst students and at the same time increase their participation in various activities that enhances academic interest.
Are smart boards/ classrooms helpful in enhancing required skills amongst students?
Smart board increases interactivity manifold and help the students in better participation during various class-room based activities. Multi-touch sensors helps group activities amongst students and at the same time help the introvert students to come out of their groove and participate. Group activities foster better understanding as the slow learner takes the assistance of some of his better placed students in his group. Carefully designed classroom activities help the teacher to reach out to the entire spectrum of students including the differently abled students. The collaborative feature in the board can be put to best use during group project work where all categories of students get a chance to take part. Technology helps in laying stress on the following to analyse (distinguish, examine, compare, contrast, investigate, categorize, identify, explain, separate, advertise) to Synthesise (create, invent, compose, predict, plan, construct, design, imagine, propose, devise and formulate) and Evaluate (judge, select, choose, decide, justify, debate, verify, argue, recommend, assess, discuss, rate, prioritize, determine) the capability of every students which enhances the level of teaching learning in the class. Overall, smart boards promote inquiry-based learning experiences, provide opportunities for collaborative project approaches to learning and focus on teaching students "how" to learn rather than "what" to learn.
Sarala Birla Gyan Jyoti honoured with prestigious 'Climate Action Project School of Excellence' Award
Only 250 schools globally were recognized because of their intense work on climate education in a whole-school approach. The recognition was awarded by Cartoon Network Climate Champions and Climate Action Project.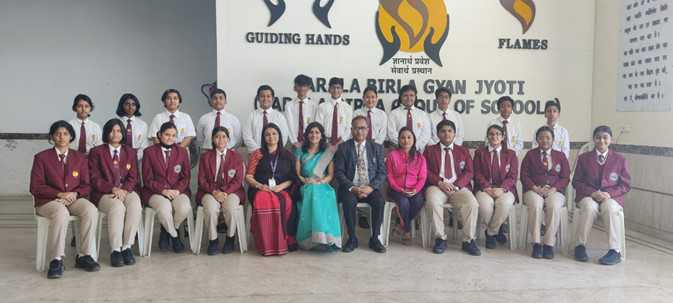 Sarala Birla Gyan Jyoti in Guwahati, India, was awarded the Climate Action Project School of Excellence. Only 250 schools globally were recognized because of their intense work on climate education in a whole-school approach. The recognition was awarded by Cartoon Network Climate Champions and Climate Action Project.
Cartoon Network Climate Champions is a climate change awareness initiative that sets out to inspire kids to take on daily challenges that collectively can make a big difference to the health of our planet. It has been developed in collaboration with WWF, a world-renowned environmental organization.
Climate Action Project is a free, global education project that was launched by Take Action Global, an education non-profit based in the USA, involving 2,700,000 teachers and students across 146 countries. The project aims to help students learn about the climate crisis in authentic ways and disseminate solutions online. The recognized schools submitted their work for the past year and met extensive criteria, including a school-wide commitment to climate education and student solutions.
Sarala Birla Gyan Jyoti has participated in global projects RiseUp4SDGs (India), Let's Be Human, Be One (Serbia), LeapEd Global Learning – Climate Change (Malaysia), the 17 Sustainable Development Goals competitions, implementing the three R's schoolwide and planting gardens in the community, at home and school. Students committed to training to become active Global SDG Ambassadors to raise awareness during virtual Student Hubs with 21 other countries. Students also actively collaborated with students in Brazil, Croatia, South Africa, Sweden and the UK in task-based projects. Currently, all Climate Change projects are student-led.
The selected 250 Climate Action Project Schools of Excellence were announced on 4 November 2021, during Climate Action Day, an annual online live event attended by 250,000 people globally. The event speakers included HRM Prince William, President James Alix Michel, Seychelles, Rick Davis, NASA, Matt Larsen-Daw, WWF, HRM Princess Esmeralda, Belgium, Juan Pablo Celis Garcia, UN Environment Programme, and other world leaders and climate scientists.
The winners were announced by Dan Russell, the voice actor behind several characters in Cartoon Network global hit series The Amazing World of Gumball, and Nandi Bushell, an 11-year-old musician, an influencer, and passionate climate advocate.
Statement by HRM Prince William "We need youth's creativity to repair our planet. We need students to invent and to innovate – to think beyond where we are now and to be optimistic about our future."
Statement by Koen Timmers, Climate Action Project: "Young people have the capacity to do more than learning about climate change. They all can come up with solutions, take small actions, and inspire others to change their lifestyles."
Statement by Dr. Jennifer Williams, Climate Action Project: "Our community of educators has come together in support of climate education for all. We are committed to ensuring students have access to information, ideas, and opportunities to take action for the planet, and, today, these Schools of Excellence are leading the way for the entire world."
Statement by Dr. Diganta Halder, Principal Sarala Birla Gyan Jyoti: "Stopping Climate Change has become a critical issue that needs to be addressed by every human being, but even more importantly in our schools. Students should be aware of Climate Action and the importance of achieving the goals set by the United Nations for peace and prosperity for all by 2030 and to become leaders of impact in the future."