How the Indian government is taking education to the masses using Technology and Internet
Narendra Modi and his government have been working since coming to power diligently to take education to the masses and the biggest support has come from the growth of low cost computer and internet technology.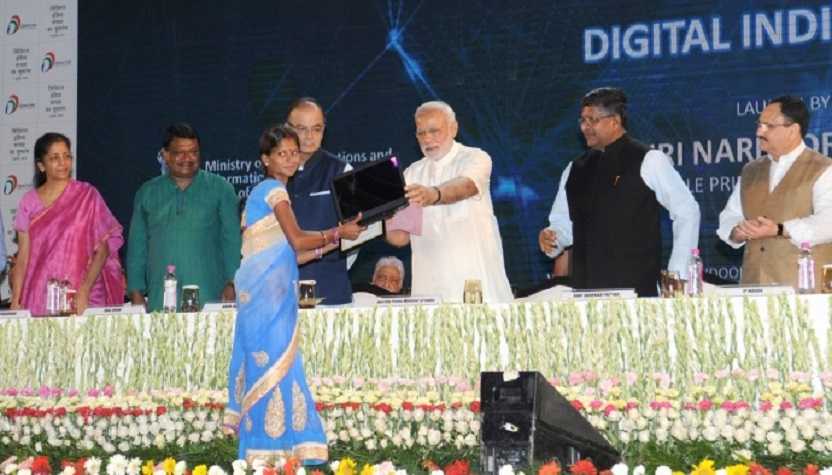 India has more than 220 million school going children and 14 million teachers, however the number of students moving from school to college is not proportionate. Earlier governments have taken many initiatives to use technology to take education to the masses however they have been more of populist or electoral nature.
Narendra Modi and his government have been working since coming to power diligently to take education to the masses and the biggest support has come from the growth of low cost computer and internet technology.
Here are some of the IT and ICT initiatives taken by the government and its various agencies: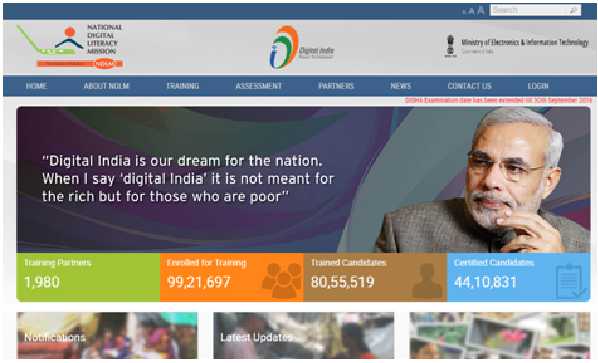 National Digital Literacy Mission – NDLM
The Digital Saksharta Abhiyan (DISHA) or National Digital Literacy Mission (NDLM) Scheme aims to impart IT training to 52.5 lakh persons, including Anganwadi and ASHA workers with the specific purpose of ensuring that the non-IT literate citizens are trained to become IT literate to enable them to actively and effectively participate in the democratic and developmental process and also enhance their livelihood.
In the first phase, 10 lakh beneficiaries will be trained under the scheme. Nine lakh beneficiaries will be eligible for training fee support from the government and theremaining 100,000 beneficiaries will be trained by the industry and civil society partners.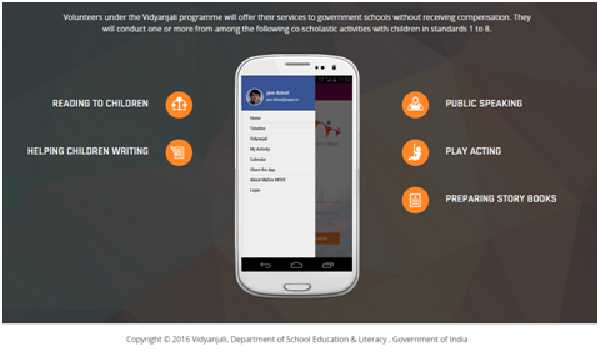 Vidyanjali – Sharing knowledge and education
Vidyanjali is an initiative to enhance community and private sector involvement in Government run elementary schools across the country under the overall aegis of the Sarva Shiksha Abhiyan. Through this initiative people from the Indian Diaspora, retired teachers, retired government officials including retired defence personnel, retired professionals and women who are home makers can volunteer at a school that requests for one.
Vidyanjali will also cover initiatives under the Corporate Social Responsibility (CSR) and Public Private Partnership (PPP), with Public Sector Undertaking (PSU) Companies, private corporate and others.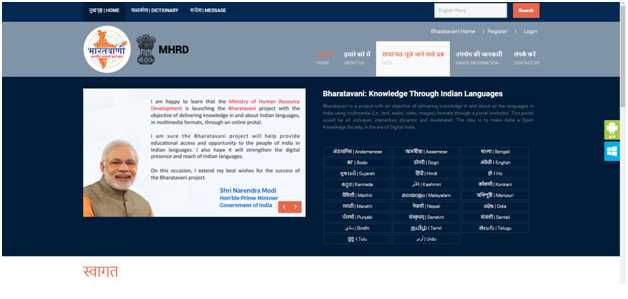 Bharatavani – Learning about India's culture and heritage through Languages
Bharatavani'sobjective is to deliver knowledge in and about all the languages in India using multimedia (i.e., text, audio, video, images) formats through a portal (website). The portal is designed to be all inclusive, interactive, dynamic and will be moderated to ensure quality content.
The Bharatavani Portal would publish content under the following main categories:
PaaThyapustaka Kosha: Textbooks
Jnana Kosha : Knowledge base (Digitisation underway)
Shabda Kosha: Dictionaries
Bhasha Kosha : Language learning
SuchanaaPraudyogikii Kosha : IT tools (Linked to TDIL)
Bahumaadhyama Kosha: Multimedia
Web Based School GIS – bettering SSA and RMSA delivery and resource utilization
Web Based School GIS application is an initiative of the Department of School Education and Literacy, Ministry of HRD for seamless visualization of school locations across the country. This is powered by NICMAPS.
Geographic location of schools collected by the various School Education Departments of the states has been collated and mapped on GIS Platform established by National Informatics Centre. Further, these school locations have been interlinked with the school report cards based on U-DISE database, developed and hosted by National University of Educational Planning and Administration.
This web service application comprises of administrative boundaries up to village level and location information up to habitation level along with basic GIS functionalities and measurement tools which will help to improve the quality of planning and better utilization of resources available under the Sarva Shiksha Abhiyan (SSA) and Rashtriya Madhyamik Shiksha Abhiyan (RMSA)
Shala Darpan – Monitoring and tracking students' progress in schools
Under Shala Darpan, launched by Kendriya Vidyalaya, the parents were allowed to keep a watch on their child's presence at the respective classrooms. They could also check their performance in the class and the teachings given to them.
The HRD ministry initiative will be in the lines of Shala Darpan, which will help the ministry to keep track of the enrolment of students to various schools. They will also keep track of their progress in the school and report of the students when they move to another class.
ePathshala – NCERT's push for digital books and note taking
The Digital India campaign has promoted extensive use of ICTs in the teaching learning process based upon the fact that mobile and technology can reach where sometimes even humans can't.
ePathshala is a joint initiative of Ministry of HRD, Govt. of India and National Council of Educational Research and Training (NCERT) and will be disseminating all educational e-resources including textbooks, audio, video, periodicals, and a variety of other print and non-print materials.
Students, Teachers, Educators and Parents can access eBooks through multiple technology platform that is mobile phones, tablets and from the web through laptops and desktops. Features of these books allow users to pinch, select, zoom, bookmark, highlight, navigate, share and take notes digitally.
CBSE's Saransh portal and mobile app – connecting schools and parents
Saransh is a tool for comprehensive self-review and analysis for CBSE affiliated schools and parents. It enables them to analyze students' performance in order to take remedial measures. Saransh brings schools, teachers and parents closer, so that they can monitor the progress of students and help them improve their performance.
SWAYAM Prabha – Education comes Direct-To-Home
The Government of India has recently approved the SWAYAM Prabha project which will provide 32 Direct to Home (DTH) channels serving educational content to teachers, students and other citizens. The channels are expected to launch in September this year.
The project will launch in English and the Ministry of Human Resource Development plans to add programs in regional languages as well. The channels will cover different subjects for 4 hours every day, with lessons repeated 6 times a day. These curriculum based programs will be designed like courses and will include classes in arts, science, commerce, performing arts, social sciences, humanities subjects, engineering, technology, law, medicine and agriculture.
National Institute of Open Schooling (NIOS) will be providing content for at least 3 channels under this project.
The government is using all technological and human resources it has to take school education to the next level and inculcate the importance of learning in citizens of all age groups and community background. The biggest show stopper or enabler will be the measurement and monitoring the efficacy of these initiatives and this must be the next big action on the government's to-do list for education.
A detailed list of government websites for school, college and vocation studies can be found at the GOI website director located at
http://www.goidirectory.nic.in/sectors_categories.php?ct=ST010.
Important links:
https://itunes.apple.com/in/app/epathshala/id1056118674?mt=8
https://play.google.com/store/apps/details?id=in.gov.epathshala&hl=en
https://play.google.com/store/apps/details?id=com.converge.saransh&hl=en
Image Courtesy:Govt of India websites named and referenced in this article
11 Free Mental Health Courses for Teachers
These free online courses on mental health will help teachers continue their development and improve the lives of their students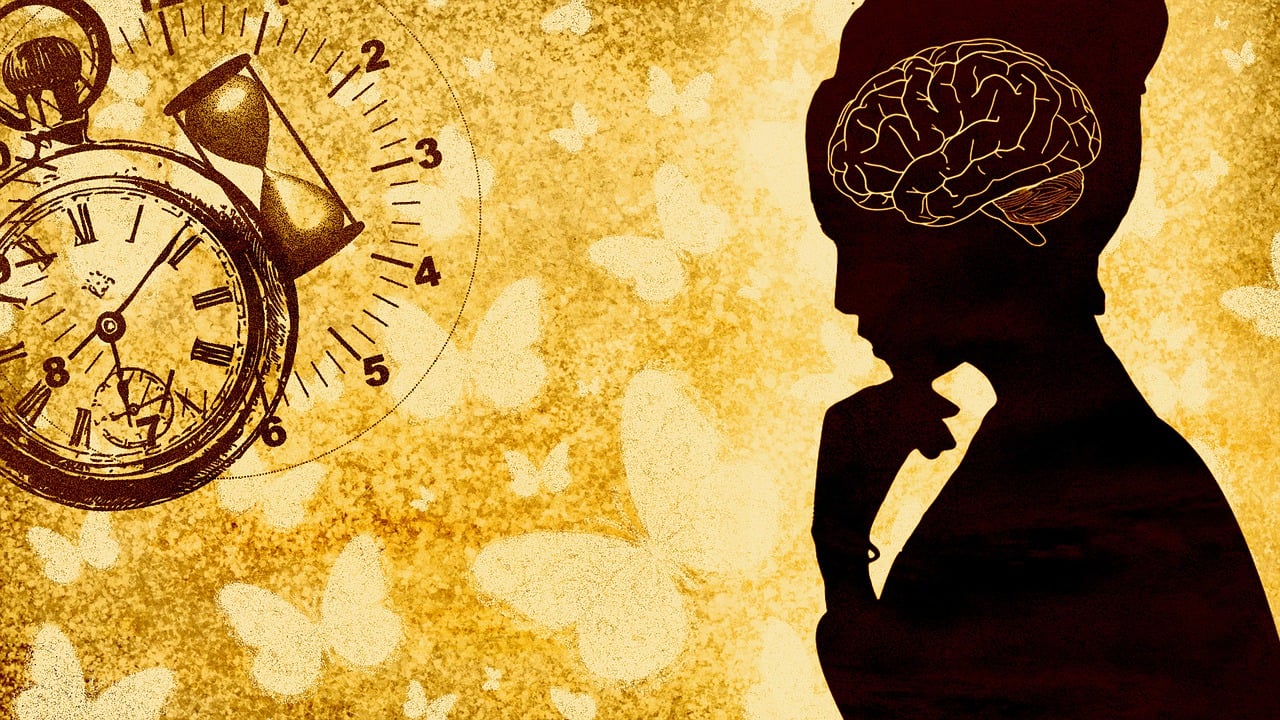 This article is a compilation of free mental health courses that seek to inspire teachers on handling mental health issues and provide mental health education and become better counsellors. 
What is mental health?
Mental health refers to people's cognitive, behavioral, and emotional well-being. It can be defined as a state of well-being in which an individual recognizes his or her abilities, can cope with everyday stresses, work productively, and contribute to their community.
"You don't have to be positive all the time. It's perfectly okay to feel sad, angry, annoyed, frustrated, scared, and anxious. Having feelings doesn't make you a negative person. It makes you human."

Lori Deschene
This article covers free online mental health courses. Some of these are available with free certification whereas a few allow you to learn for free, and charge a fee for the certificate.
Be There Certificate
The Be There Certificate is a free, self-paced learning experience designed to increase mental health literacy and provide the learner with the knowledge, skills, and confidence needed to safely support anyone who may be struggling with their mental health.
The Be There Certificate is offered by Jack.org, a Canadian youth mental health charity, in partnership with the Born This Way Foundation.
You can download a PDF of your certificate after completing all six modules of the free Be There Certificate online course.
Introduction to adolescent mental health
This course aims to raise awareness of mental health and a range of adolescent mental health problems. It has been designed with the latest research evidence in mind. It aims to provide you with the tools to explore different approaches which will help you reflect on the different ways that you can identify a young person who is struggling and consider how they can access support.
You will get a free Open University digital badge for completing the course and passing the quizzes! The badge can be displayed, shared, and downloaded as a marker of your achievement. 
Managing Happiness
What is happiness? What makes you happy?' Can you get happier through study and effort?
This, Harvard University designed course, answers these questions and shows you how you can use the answers to build a happier life. It introduces you to the modern science of human well-being and shows you how to practice it.
While the course is free to attend, you can get a verified certificate for $149 (on edX).
"Over the course of the past decade, there's been increased willingness to recognize mental health as an essential part of one's well-being."

Nicole Spector
Mental Health Training for Teachers
This free online training course will help you identify mental health issues in adults and children in a school setting.
This course trains you to recognize mental health problems in colleagues or students in a school setting. When you recognize mental health signs or symptoms, you can offer help or refer them to professionals. This course discusses the complexity of mental health and equips you with the skills to support others to manage their mental health effectively.
A digital certificate is available on successful course completion for €21.00.
Making sense of mental health problems
In this free course, Making sense of mental health problems, you will learn about how key perspectives in the field have made sense of mental health problems. By directly relating key perspectives to a case study, you will reflect on how the medical perspective, psychological perspective, and social need perspective come to make sense of mental ill-health.
A free statement of participation is issued on completion of this course.
The Science of Well-Being
This course by Yale will engage you in a series of challenges designed to increase your own happiness and build more productive habits. 
As preparation for these tasks, the instructor reveals misconceptions about happiness, annoying features of the mind that lead us to think the way we do, and the research that can help us change. 
Enrollment in this course is free, however, certification is available on a paid basis.
Supporting children's mental health and wellbeing
After studying this course, you should be able to:
understand the influences on mental health in young children aged 0–5

identify the factors that contribute to good mental health in children

explore national and global influences on children's mental health

develop knowledge about strategies and interventions to improve mental health in children

examine how adults and society can support children's mental health and well-being.
Enrolling in this course will give you the opportunity to earn an Open University digital badge. Badges are not accredited by The Open University.
"Things not to say to someone with mental illness: Ignore it. Forget about it. Fight it. You are better than this. You are overthinking."

Nitya Prakash
Suicide Prevention
This course explores the science of suicide research, prevention, and intervention.  
Topics will include terminology, epidemiology, historical and contemporary theories of suicide, modern approaches to suicide research, empirically supported approaches to prevention and intervention, and the lived experiences of those with suicidal thoughts and attempts.
Enrollment in this course is free, however, certification is available on a paid basis.
Teach Mental Health Literacy
In this course, educators will learn how to apply this classroom-ready, web-based, modular mental health curriculum resource as well as develop their own mental health literacy. 
Educators can then use this resource to successfully address mental health-related curriculum outcomes designed to be delivered by teachers to students aged 12 to 19.
Participation in this online course is free. An optional certificate of completion is available for $50 (Please select this option when you register as it cannot be selected once you finish the course).
Talk to Me: Improving mental health and suicide prevention in young adults
This course will help you learn strategies to improve the mental health of young people in your life, recognise concerning behaviours, and feel better prepared to have conversations about mental health.
Key topics in this MOOC include understanding contributing factors to poor mental health, how to talk about addressing poor mental health, and strategies to increase mental fitness.
Enrollment in this course is free, however, certification is available on a paid basis.
Mental Health and Nutrition
Interested in the fascinating interrelation between food and brain health?
This course is for you! This course is based on world-leading research into the links between nutrition and mental well-being. The course will cover evidence supporting the premise that eating better, and taking additional nutrients when appropriate, can improve mental health for many people.
Enrollment in this course is free, however, certification is available on a paid basis.